It is an annoying thing for many people even for Spotify music fans, that you open your computer and Spotify opens automatically and simultaneously, for the reason that it slows down the startup speed and more. So, how to forbid Spotify from opening on startup Mac or Windows computer becomes a problem demanding prompt solution.
In this article, we will introduce 2 methods for you, which are both feasible and easy-to-handle. Just follow the guidance to see how to stop Spotify from opening on Mac and Windows startup.
Part 1. Change the Auto-start Setting in Spotify
This simple method is suitable for all systems, whatever it is Mac or Windows or something else. What you need to do is to open the Spotify app before the operation. And let's check out how to handle it.
Quick Preview the Operation: Open Spotify > Select to settings > Enter "SHOW ADVANCED SETTINGS" > Disable Spotify automatically opens simultaneously when starting the computer.
Here are the details of the operation:
Step 1. Go to "Spotify".
Step 2. Select the drop-down menu beside the user's name. Then you can see that 5 types of settings are available for different functions, like Private Session, Account, Upgrade Your Account, Settings and Log out. And now click on the "Settings" section.
Step 3. Scroll all the way down to the bottom, here you should choose the "Show Advanced Settings" button.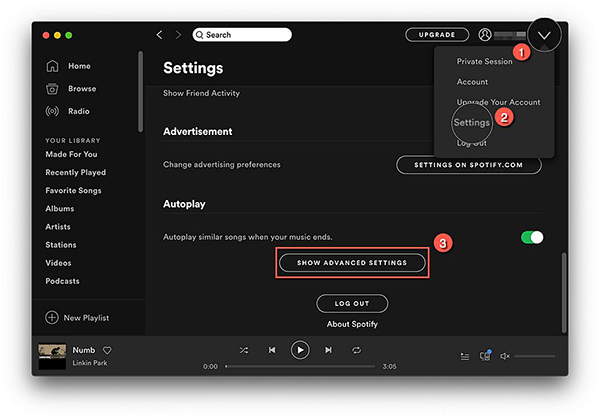 Step 4. After entering the advanced settings page, please scroll to the "Startup and Window Behaviour" bar. Then adjust the first line "Open Spotify automatically after you log into the computer" from "Minimized" to "No" by selecting the drop-arrow button.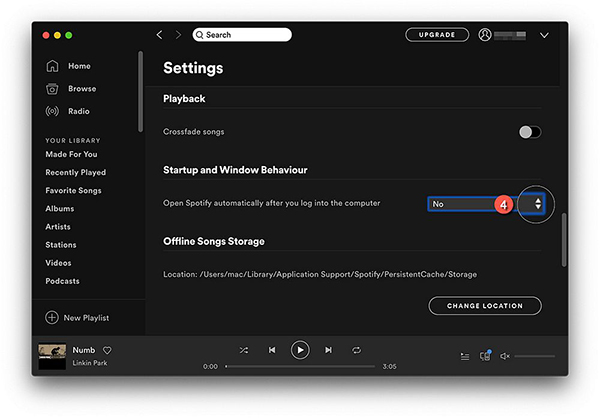 Once it's chosen,the adjustment is saved automatically. Now Spotify should no longer automatically activate when you open the computer.
It's worth mentioning that there is a way to prevent Spotify from opening when you launch the Spotify web player. You can close the "Allow Spotify to be started from the Web" function with the help of a service named "Spotify Web Helper".
Part 2. Adjust the Startup Settings on PC
However, if all the steps above were done but in vain, you can take the following 2 methods into account, to figure out how to stop Spotify from opening on startup Windows & Mac respectively.
A Quick Preview for Mac: Choose "System Preferences" > Access to "Users & Groups" setting page > Choose "Login Items" > Enter the password to unlock > Select "Spotify" and hide it in the automatically login items.
Particular Steps for Mac:
Step 1. Check the icon of Spotify on the menu bar. Choose "System Preferences" on the drop-down menu. Now you will see many system setting selections for your usage.
Step 2. Hit "Users & Groups" icon on the "System Preferences" page, then the settings such as "Password" and "Log in" options are displayed.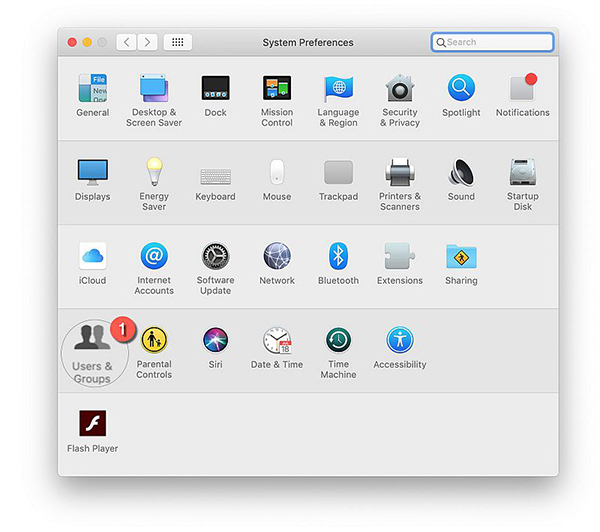 Step 3. Choose the Login item, now you can see all listed programs that will launch automatically when your computer starts. Then hit the Lock bar and input your Mac password. After that, you can click the checkbox to hide the Spotify from auto-activating.
Step 4. After hitting the Hide bar, click the minus button. And then choose to the "Lock" again to make sure you have successfully disabled Spotify from auto-starting.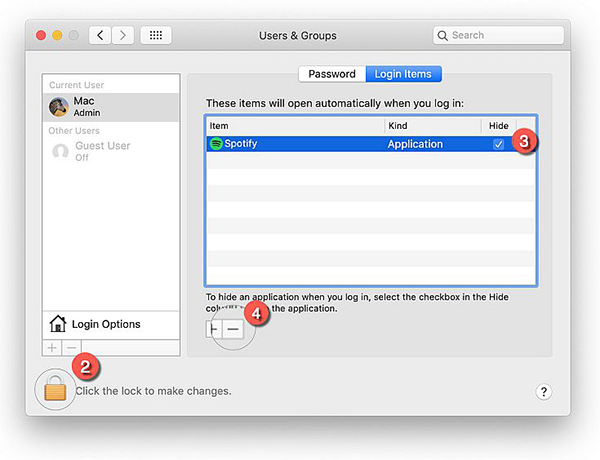 A Quick Preview for Windows: Press "Ctrl" + "Shift" + "Esc" > Check to "Startup" > Choose "Disable" to prohibit Spotify automatically opening.
Specific Steps for Windows:
Step 1. Enter the Task Manager in 2 shortcuts. One is to press the hotkey "Ctrl" + "Alt" + "Del" at the same time, the other one is to press the hotkey "Ctrl" + "Shift" + "Esc" in the meantime. After that, the "Task Manager" will be opened in a new window.
Step 2. On the "Task Manager" interface, you can manage all of the operations of your computer, like "Processes", "History" and more. Now click to "Startup". It is clear to see multiple listed programs that may automatically start when the computer is logged in.
Step 3. Here, scroll down to seek out Spotify, right click to it and choose "Disable". Then you are successful to disable Spotify from launching on startup.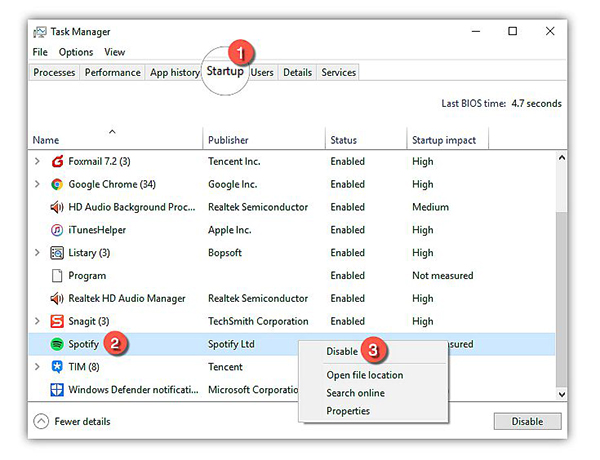 More tips: Play Spotify Music Offline without Opening Spotify App
Although the default setting of Spotify automatically opening brings a lot of troubles, Spotify still owns masses of fans in the streaming music markets, for its free-listening-online policy. The good news is that we have found a method to listen to Spotify music offline without opening it. With the help of AudFree Spotify Music Converter, you can easily convert and download Spotify streams. Spotify's DRM-protected format Ogg will be transferred to the universal formats such as MP3, FLAC, WAC and many more. Those converted songs can be saved locally, offers a great convenience to you to enjoy Spotify tracks offline.
AudFree Spotify Music Converter provides a free trial version for every user. You can install it to see if it meets your needs. Besides, there is a detailed source page to guide you how to convert Spotify music to MP3 so that you can play them on any device without using Spotify app anymore.