Most of the time, Spotify gives users an enjoyable music streaming service, but at the same time users also encounter some problems such as Spotify automatically playing. Especially when the popular streaming platform made its way into cars, Spotify started playing songs on its own, which largely impacted the listening experience.
If you're looking for ways to stop Spotify auto playing, here is the right place. This article discusses possible causes and a few proven tips to stop Spotify from automatically playing on iPhone, Android and car.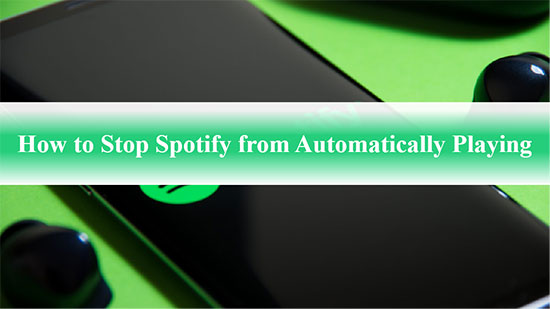 Part 1. Why Does Spotify Keep Automatically Playing
Sometimes, when Spotify finishes an album or all the songs in a playlist, it will automatically play other songs from the library. This happens mainly due to the Autoplay feature introduced by Spotify. Normally, the Autoplay setting is automatically and by default activated on all linked devices. However, there are ways to fix this problem, so read on to learn more about the solution to get Spotify to stop playing automatically.
Part 2. How to Stop Spotify Playing Automatically on Android/iPhone
Songs in your Spotify library will always auto play unless you have the settings in your Android or iPhone device. This can be annoying if you only want to listen to one Spotify song or an entire album before continuing your day. So follow the few available ways below to stop Spotify from auto playing on iPhone or on Android.
Spotify Autoplay feature makes it play random music after all songs in a Spotify playlist have been played. This feature is turned on by default. If you want to prevent Spotify from automatically playing on connected devices, you must turn this feature off.
Step 1. Open the Spotify app on iOS and Android.
Step 2. Open the gear icon in the top right corner and go to the Settings menu.
Step 3. Select Playback > Autoplay and tap the switch to gray to turn it off.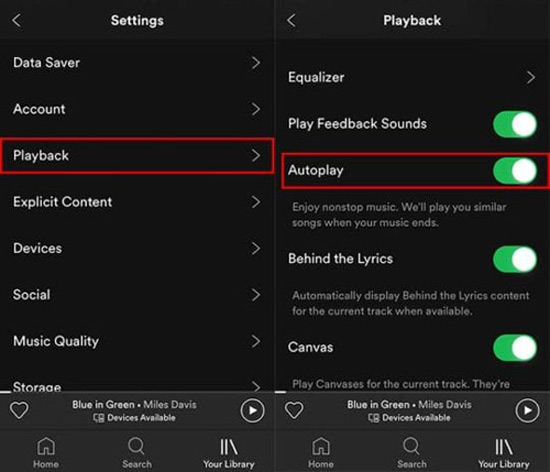 Fix 2. Turn off Battery Setting
You can disable background activity, as this feature allows Spotify to use data in the background as well as play music when the app is not active. If you find that Spotify is still playing music automatically, you can follow the steps below to disable the ability to listen to Spotify on the off screen.
Step 1. Go to the Settings menu of your phone and find the Apps section.
Step 2. Scroll to find Spotify, tap Battery settings, and disable the Allow Background Activity feature.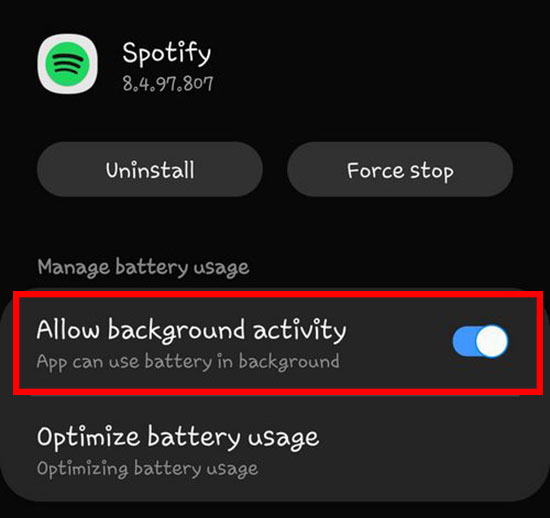 Fix 3. Cut Off Bluetooth
When you connect your phone to your car via Bluetooth, Spotify may start playing the last song you listened to automatically. In order to stop Spotify from auto playing when Bluetooth is enabled, please refer to the following tutorial.
Step 1. Open the Shortcuts app on your iOS device and select Automation > Plus icon > Create Personal Automation > Bluetooth.
Step 2. Then tap Choose next to Device and select the name of your car in the My Devices section.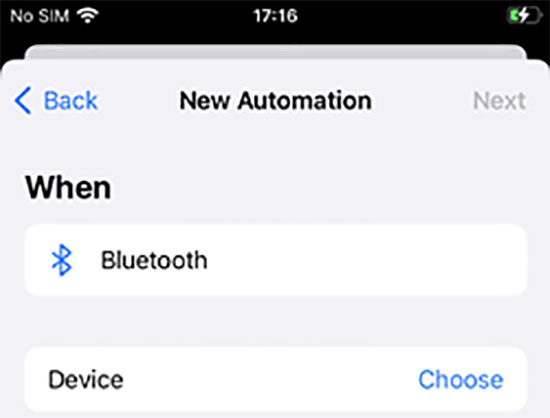 Step 3. Tap the Done button to go back to New Automation and hit the Next button.
Step 4. Click Add Action, search for Play/Pause in the search bar and select it under Media.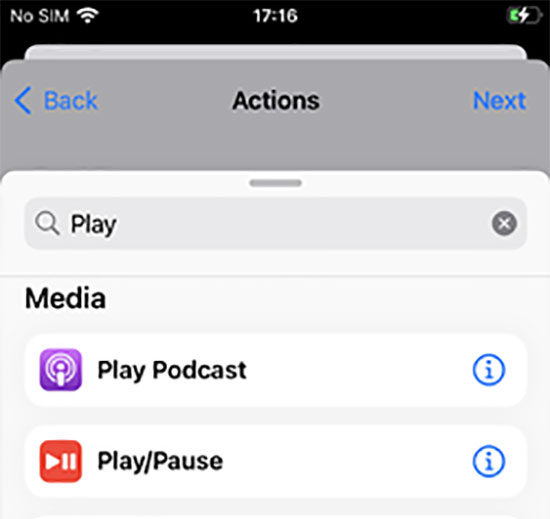 Step 5. Check the Play/Pause on iPhone action and select Pause. Hit Pause on iPhone > Next > Done button to go back to Automation.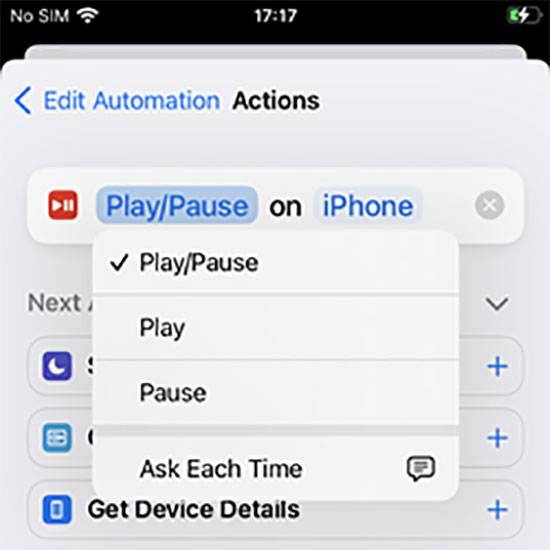 Step 6. After that, Spotify will not play automatically when the phone is connected to the car via Bluetooth.
Fix 4. Use Timer
If you're the kind of person who falls asleep listening to music, you'll want Spotify music to stop playing automatically when you fall asleep. As for how to do it, you can use the Spotify sleep timer on your phone to stop Spotify music from playing after a specific time.
Step 1. Open the Clock application on your phone and select the "Timer" button.
Step 2. Set the desired interval time and click on the "When Timer Ends" option.
Step 3. Scroll to the bottom and select "Stop Playing" and then click the "Set" button.
Step 4. Click the "Start" button and the Timer will start working to make Spotify stop automatically after a certain period of time.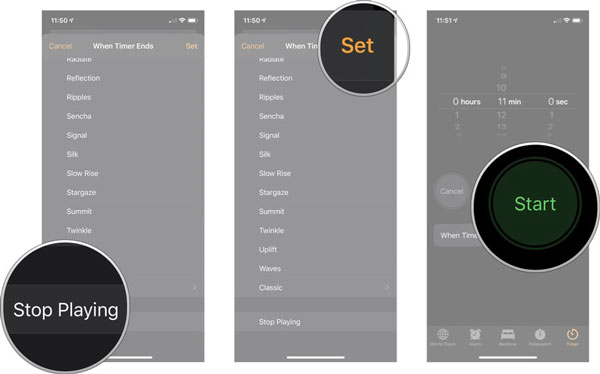 Fix 5. Use Shortcuts
Similar to the above, you can use the Shortcuts app on your iPhone to create an automatic timer to stop Spotify from auto playing.
Step 1. Open the Shortcuts application and select the Automation option at the bottom.
Step 2. Tap the Create Personal Automation button, hit Apps and select Spotify in the list of apps.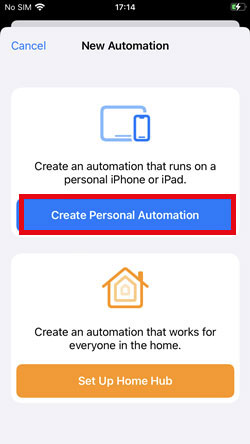 Step 3. Click Add Action and select the Play/Pause option in the Media area.
Step 4. The next time you open the Spotify mobile app, it will prompt a "When Spotify is opened Play/Pause" pop-up.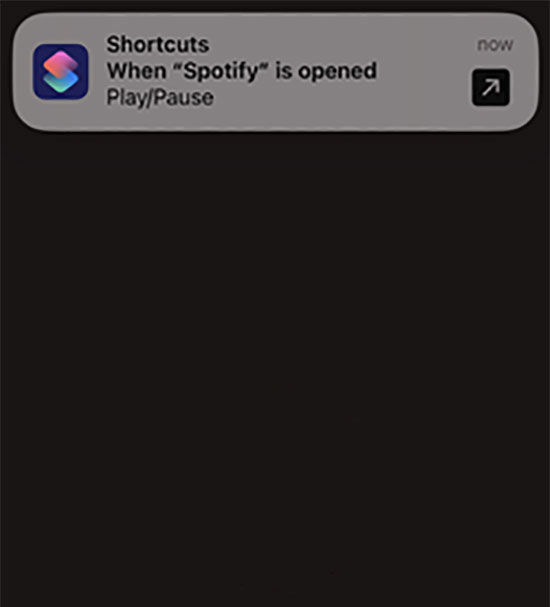 Part 3. How to Stop Spotify from Automatically Playing in Car
When you want to get Spotify to stop playing automatically in your car, there are two ways to do it. For Android users, you can disable the Android Auto feature. If you're using an iPhone, you can try to disconnect from Apple CarPlay, use Siri commands or force quit the Spotify app.
How to Stop Spotify Auto Playing in Car Android
Android Auto is a great way to interact with your car to listen to music, navigate, make calls and more. It makes it easy for you to connect Spotify to your car. In order to stop Spotify from automatically playing in car Android, you need to disable Android Auto.
Step 1. Navigate to the phone's Settings and tap on the "Apps & Notifications" option.
Step 2. Tap "See all apps", scroll down and select Android Auto from the list.
Step 3. Hit on the "Disable" button to turn off this setting.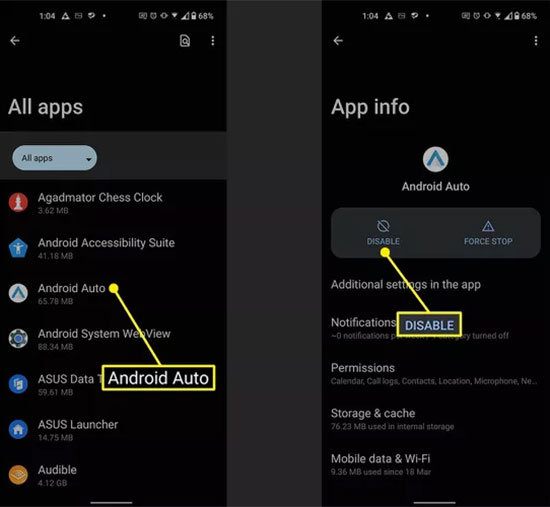 How to Stop Spotify from Auto Playing in Car iPhone
Fix 1. Turn off Apple Carplay
Similarly, Apple CarPlay is a built-in feature now available in many cars that allows users to easily sync their iPhone with their vehicle. You can turn off Apple CarPlay to stop Spotify playing automatically.
Step 1. Open the Settings app on your iPhone.
Step 2. Select "Screen Time" and "Content & Privacy Restrictions".
Step 3. Click Allowed Apps and toggle the CarPlay button to gray to turn it off.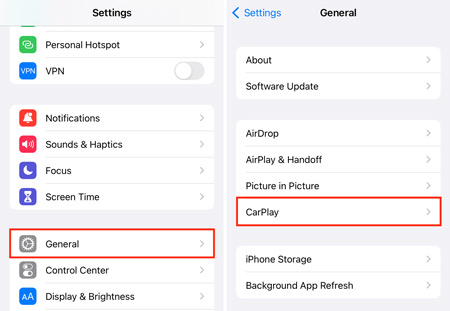 Fix 2. Ask Siri to Stop
In fact, you can also use voice commands to control what Siri plays at any time. Simply put: Siri, stop playing, and your iPhone will turn off any sound that's playing, including Spotify music.
Fix 3. Force Quit Spotify App
If Spotify continues to stay active in the background to automatically play songs, the most straightforward solution is to force close the Spotify app. You can do this by swiping up from the bottom of your iPhone and lifting your finger in the center of the screen. When the App Switcher appears, swipe right to position the Spotify screen and swipe up to close it.
Part 4. How to Make Spotify Stop Playing Automatically Forever
Is it possible to stop Spotify from playing automatically on any device in person? Here's a once and for all method, which is to use AudFree Spotify Music Converter. With it, you can simply download Spotify songs to your computer locally and convert them to MP3, FLAC, WAV and so on. After that, you can transfer Spotify to the desired device for offline playback without Spotify app.
This way, you don't have to worry about Spotify enabling the Autoplay feature. In addition, downloaded Spotify songs will keep lossless sound quality and all ID3 tags. You can even customize output parameters such as sample rate, channel, bit rate, etc. to enhance Spotify sound quality. Then you have the freedom to control Spotify playback as you wish on any device and media player.
AudFree Spotify Music Converter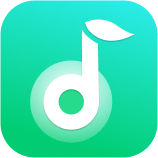 Download Spotify music, playlists, albums, podcasts, etc. with lossless quality
Convert Spotify to MP3, M4A, AAC, WAV, FLAC, M4B
Stop Spotify from automatically playing forever
Preserve Spotify with original audio quality and full ID3 tags
How to Make Spotify Stop Playing Automatically Forever
Step 1. Once you launch AudFree Spotify Music Converter on your computer, the Spotify app will open automatically after a few seconds. Locate the songs you like in the Spotify app, then drag and drop these songs directly into the main interface of the converter for importing.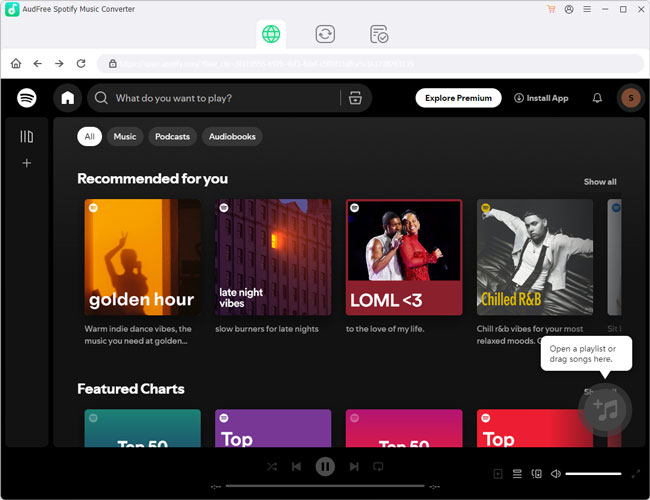 Step 2. Click Menu > Preferences to launch the settings window. Here, tap the Convert column to set the output audio parameters. There are six output formats for you to choose from, including FLAC, WAV, MP3, AAC, M4A and M4B. In addition, you can also edit parameters such as bit rate, sample rate and audio channel for Spotify music.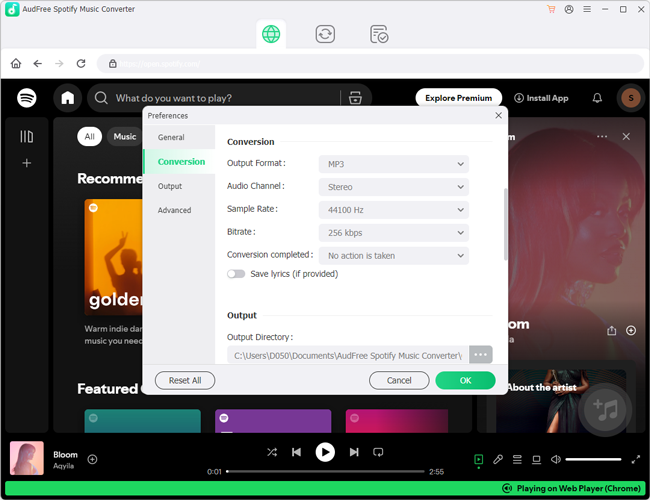 Step 3. Hit the "Convert" button to start saving your selected Spotify music to your computer locally. Just wait for a while and you can tap the "Converted" button to browse all the downloaded Spotify songs in your history. Then you can control Spotify songs anytime and anywhere without worrying about auto playing.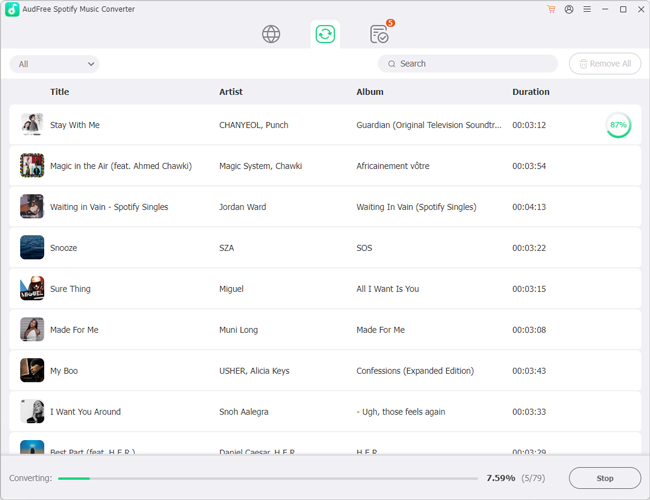 Part 5. Conclusion
With the above solutions, it is easy to stop Spotify from automatically playing. You can try them one by one to fix the error. By the way, the best way to avoid this problem is to use AudFree Spotify Music Converter to download Spotify songs locally. This way, you can transfer Spotify music to any media player you like for offline enjoyment without any problem.