AGPTEK is a mini MP3 player with lots of storage and the ability to play Spotify songs without disrupting the quality. The MP3 player has been famous among consumers who want a lightweight MP3 player without spending a fortune. It is slim, compact, and can easily fit your pocket while you carry on with your morning walk.
But can you play music from Spotify on AGPTEK 8GB MP3 Player? Streaming Spotify directly on the MP3 player is quite not possible. It is due to the restrictions on Spotify songs. But the good news is you can play Spotify on AGPTEK if you can download the tracks to your desktop as locally saved files.
This guide is all about getting Spotify on AGPTEK without sacrificing sound quality.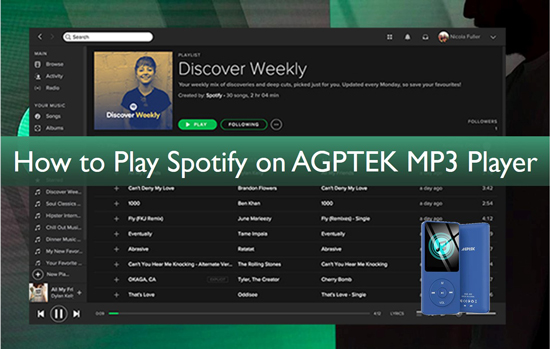 Part 1. Does AGPTEK Work with Spotify?
AGPTEK MP4 supports the Spotify app. But streaming Spotify songs on the AGPTEK MP3 Player is a bit difficult. Spotify songs are well-protected by the Ogg Vorbis format. This file format is not supported by the MP3 player which makes them incompatible with the player.
Besides, free Spotify users cannot download tracks for offline listening. They need a strong internet connection to play Spotify anywhere. As for Spotify subscribers, they can download as many songs as they want but to transfer music from Spotify to AGPTEK MP3 Player is not permitted by this music streaming service.
Part 2. Download Music from Spotify to AGPTEK 8GB MP3 Player - Tool Required
To remove the limitation from Spotify songs and to make them compatible with your AGPTEK 8GB MP3 Player, you need a powerful music converter.
AudFree Spotify Music Converter can conveniently support you in downloading all Spotify songs by converting them into an MP3-compatible format. It is designed to remove the Ogg Vorbis form on Spotify songs. Then convert Spotify to MP3, M4A, FLAC, WAV, M4B, and more popular file formats. The software with its advanced technology can help even Free Spotify users in downloading Spotify tracks for offline listening.
The high speed of the software is what makes it stand out among others. It can download songs at a superfast speed and in batch saving you much time and energy. By downloading Spotify songs along with their ID3 tags and metadata information. This way it keeps your music library well-organized. The tag contains track information such as genre, album, artist, and more.
Above, all the downloaded files can be transferred to any devices you have from the MP3 player to gaming consoles, car stereo, and iTunes as well. So, with the help of AudFree SpoDable, you can easily sync music from Spotify to AGPTEK.
Key Features of AudFree Spotify Music Converter
Part 3. How to Put Music on AGPTEK 8GB MP3 Player from Spotify
AudFree Spotify Music Converter has a very easy and simple user interface. With this converter downloading and converting Spotify tracks is just a breeze. Download the software on your desktop and then launch the software to start the conversion process. To batch convert Spotify songs, go through the following three steps.
Step 1

Import Spotify songs into AudFree

First, you need to import Spotify songs to the converter. AudFree Spotify Music Converter allows you to import tracks and playlists using two techniques. You can either import the songs or you can copy-paste the URL of the track into the converter. Use the "+" sign in front of the search bar to upload songs into the converter.
Step 2

Personalize the output format for AGPTEK MP3 Player

Before starting the downloading process, you must customize the output format of the songs. Go to the menu option and choose Preferences. Set the output format for your audios. You are able to choose from the various output formats to convert Spotify Ogg to MP3, M4A, FLAC, AAC, and M4B. For best results, we recommend setting the output format as MP3. You can also customize the bitrate, sample rate, channel, and archive settings for your audio files.
Step 3

Start the conversion of Spotify songs for AGPTEK MP3 Player

After adjusting all your settings according to your preference, click on "OK" and then click on "Convert". The software will automatically begin to download and convert the Spotify songs at once. When all the tracks have been converted into MP3 format, you can easily get Spotify music on AGPTEK MP3 Player.
Transfer Converted Songs to AGPTEK MP3 Players via USB Cable
Step 1. Connect your AGPTEK MP3 Player to your PC using a USB cable.
Step 2. Now, select all the converted Spotify songs from the local file folder and transfer them to your MP3 player for offline listening.
You can easily add music to the AGPTEK MP3 Player from Spotify using this simple method.
Part 4. How to Play Music from Spotify on AGPTEK MP4 Player
AGPTEK MP4 Player has been designed for music fans and supports live streaming music from Spotify. The 5" screen helps you focus on your MP3 player. It has a Wi-Fi function and has 2GB of internal memory so you can easily download the Spotify app in the MP4 player.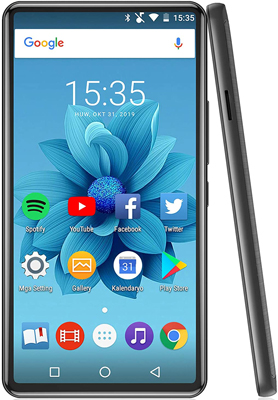 Step 1. Connect your MP4 player to your Wi-Fi.
Step 2. Download the Spotify app on the MP4 player.
Step 3. Subscribe to the music streaming software.
Step 4. Create an account and choose your favorite artist from the millions of songs available on the music streaming app.
Step 5. Download your favorite songs and listen to them while being offline.
Part 5. Top 3 Best AGPTEK MP3 Player You Can't Miss
Here we have handpicked the top 3 AGPTEK MP3 players that will allow you to enjoy Spotify music without compromising on sound quality.
1. AGPTEK A02 MP3 Player
This AGPTEK MP3 Player is considered to be the best one for listening to and storing Spotify songs. It has an 8 GB storage capacity along with a slot for a 128 GB memory card. This way you can store up to 2000 songs with ease. Small size, lightweight, and up to 70 hours of playback make it perfect for carrying around with you.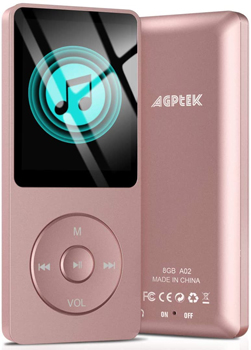 2. AGPTEK Clip MP3 Player
This one is perfect for sporty people. If you love to listen to music while jogging and running, pick this AGPTEK MP3 Player with a clip. The clip at the back eliminates is the need to carry in your hand. It also has a Bluetooth feature that enables you to connect it with your headset and enjoy clear sound quality without disturbance.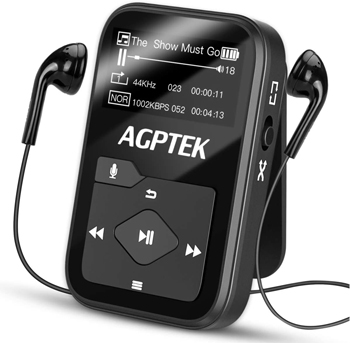 3. AGPTEK A05 ST MP3 Player
It is the most advanced option of the two discussed above. It supports Bluetooth, has a 16 GB built-in memory, supports Hi-Fi sound quality, and has 45 hours of playback timing. You can store up to 2000 songs and 4000 songs with the SD card.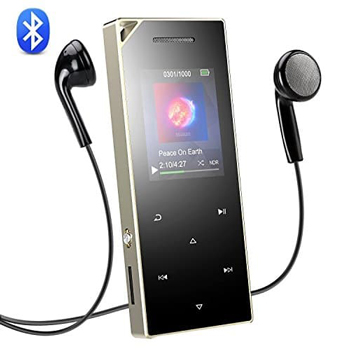 Part 6. In Conclusion
Listening to music while you get along with your daily routine helps you feel relaxed and robust. With AGPTEK MP3 Player, you can carry your music everywhere with you. And for playing Spotify on the MP3 player, all you need to do is download the songs to remove DRM from Spotify and then transfer them to your device.