Nothing can be more annoying than getting "Spotify can't play this right now. If you have a file on your computer you can import it." again and again while getting down to enjoy your favorite songs on Spotify. That can be mush anticlimactic, right? You may encounter such as Spotify fails to play local files or this songs right now on your PC, especially Windows 10. It also happens when you use the PS4 even players such as Sonos, be it Spotify Free plan or Premium plan.
You may have been frayed by this error for a long time. But you can solve this issue within a few minutes after reading this post. We will help you figure out why can't Spotify play this right now. Also, we will come up with effective solutions to fix it. Without ado, let's explore together!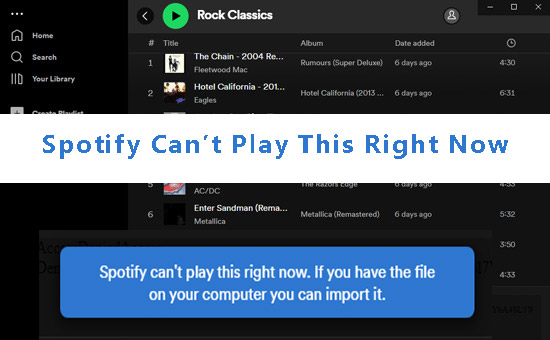 Part 1. Causes Behind Spotify Can't Play This Right Now
Potential reasons behind Spotify can't play this song or local file right now can range from hidden bugs on devices or Spotify to copyright reasons. We have listed several common factors below. Please check out which reason can account for your problem.
1.1 Copyright Restrictions
Some Spotify songs are unavailable in your region due to Spotify's copyright policies. In this case, Spotify can't play this song right now will exist if you attempt to play those songs on Spotify.
1.2 Audio Quality Unavailable Now on Spotify
The high-quality streaming feature will work once you subscribed to Spotify Premium. It is only provided for Spotify Premium users and is unable to turn off automatically. Yet, if you downgrade your Spotify account from Spotify Premium to Spotify Free, simultaneously, forget to turn off the high streaming quality, Spotify won't play this right now.
1.3 Enabled Hardware Acceleration
Defaulted hardware acceleration feature on desktop apps works to promote applications' smooth performance. But at times, it retards the running of Spotify, followed by the Spotify not playing this right now issue on your PC or Mac.
1.4 Corrupted / Excessive Caches
Have you installed third-party software to keep your desktop healthy? But it must be mentioned that the software is likely to detect the important files and regard them as bugs, and then it will ruin them. Besides, Spotify cache will accumulate over time and the RAM of the system is drained. Both factors can induce various errors such as the existing Spotify playback problem.
1.5 Crossfade Feature is On
The Crossfade feature could have ensured a smooth switch between songs. But it presumably is also a culprit triggering Spotify playback failure if you set crossfade as more than 5 sec.
1.6 Incompatible Output Audio Format
Some music lovers, especially audiophiles prefer to set the sample rate of audio output format as 384 Khz for high-fidelity music. But it is not compatible with the desktop hardware and makes Spotify can't play this song or local file right now.
1.7 Output Device is Out of Work
In most cases, you'd better set the playback output devices, for example, Voicemeeter, and audio speakers, as default. It facilitates handling all inputs and outputs on your desktops, the "Spotify can't play this right now" message will pop up.
Note:
Apart from this, the below factors can also become underlying sources leading to Spotify says can't play this right now:
● Outdated Spotify app or device firmware
● The Spotify app got frozen
● Bad internet connectivity
Since there are bugs or incompatibility with outdated the Spotify app and devices. And minor glitches come with the frozen Spotify app and poor Wi-Fi connection. To fix the error, you can resolve the existing issue by the following easures:
● Update your Spotify version
● Update device firmware
● Reinstall Spotify to improve compatibility
● Clearing cache files
● Checking internet connectivity
Part 2. How to Fix 'Spotify Can't Play This Right Now' Error
After examining the possible reasons that cause the Spotify playback error, it's time to find how to fix the error. You can try either way that is most suitable for you.
2.1 Check the Availability of Playlists or Songs on Spotify
You can set it to show unavailability songs in your playlists. Because it avoids playing unavailable Spotify songs or playlists and leading to the existing error.
Step 1. Open Spotify and click on the username to drop down the menu. Then select 'Settings'.
Step 2. Scroll down to the 'Display option' and toggle on the 'Show the unavailable songs in the playlist' option. In this way, you can make it to see if songs are unavailable in your playlist.

2.2 Change the Streaming Quality on Spotify
If your Spotify Premium subscription has been canceled or expired, disable the high-quality streaming feature on Spotify. Here's how to do it:
Step 1. On Spotify 'Settings' menu, scroll to 'Streaming Quality' under 'Audio Quality'.
Step 2. Pull down the list and select a suitable option such as automatic, low, mormal, etc.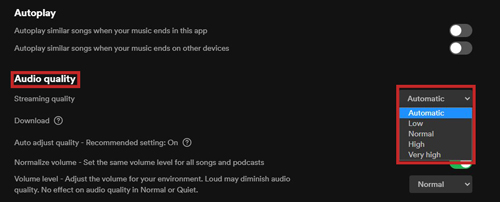 2.3 Disable Hardware Acceleration
You can disable the hardware acceleration on Spotify to get rid of the 'Spotify can't play this right now' problem. Please operate in the following steps:
For Windows:
Tap on the three-dot icon in the top left corner, and select 'View'. Deselect 'Hardware Acceleration'. Then the Spotify app will relaunch. Alternatively, go to 'Settings' section on Spotify and scroll down to the bottom to find out 'Compatibility'. Then swithc off the right button near 'Enable Hardware Acceleration'.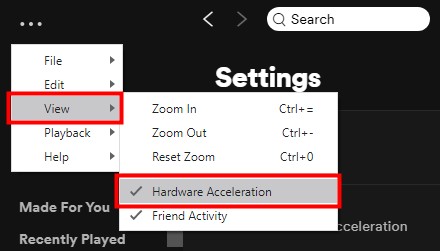 For Mac:
In the upper left corner of the Spotify interface, tap on 'Spotify' and deselect the 'Hardware Acceleration' option on the drop-down menu.
2.4 Lower Crossfade Feature
Try to lower crossfade from the original sec by the step-by-step tutorial below:
Step 1. On the Spotify settings section, look at the bottom and click 'Show Advanced Settings'.
Step 2. On the new page, shift your gaze at 'Crossfade songs' under 'Playback' and switch the right button off. Or you can drag the dot on the line from the original sec to 0.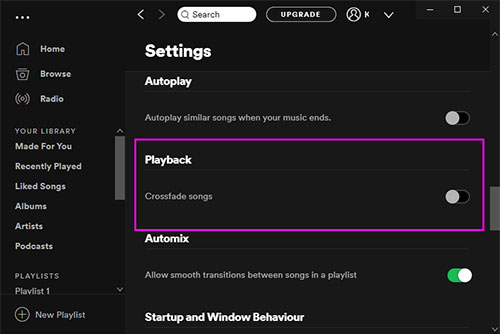 2.5 Set Default Audio Format
Changing the speaker output format on your device is also helpful to fix the 'Spotify can't play this song or local file right now' problem. First, make sure you have connected your device to your computer. If it is to no avail, follow the steps below:
For Windows 10/Windows 11:
Step 1. On the setting menu of your PC, click 'System' > 'Sound' on the left column.
Step 2. On Windows 11, select 'All Sound Devices' > 'Preoperties' > 'Speakers' under 'Output Devices'. Then find the 'Format' option under 'Output Settings'. On Window 10, select 'Speakers' on the new window > 'Speakers Properties' > 'Advanced'.
Step 3. On the drop-down menu, select the bit quality as 'DVD Quality'.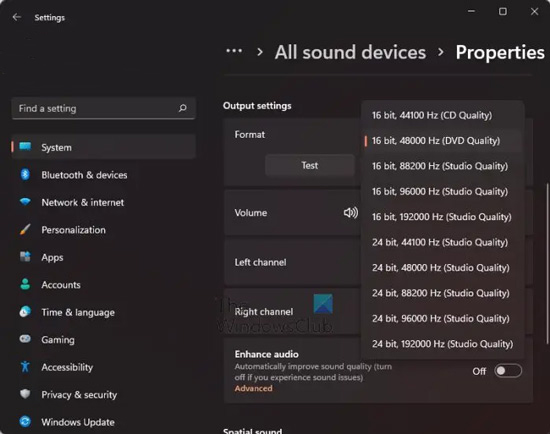 For Mac:
Step 1. Use the 'Command + Spacebar' shortcut key to open the new menu.
Step 2. Search for and launch 'Audio MIDI Setup'. From the left penal, choose the output device you use.
Step 3. In the output device section, adjust the sample rate to a suitable parameter.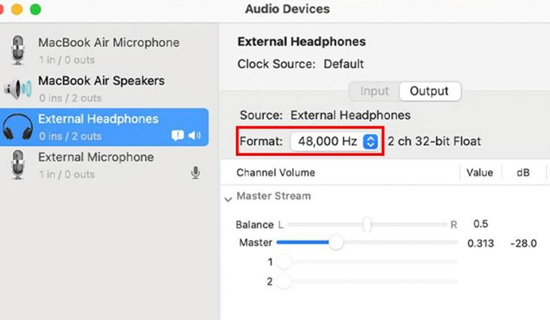 2.6 Change Default Output Device
Set your output device such as your earphones to default play a main role in troubleshooting the ''Spotify can't play this right now' error. You can refer to the steps:
For Windows 11:
Step 1. On the System panel, tap on 'Sound'.
Step 2. Click 'Volume Mixer' from the 'Advanced' section.
Step 3. Under the 'Apps' section, put your sight on 'Spotify Music' and change your output device to 'Default'.
For Windows 10:
Step 1. On the 'System' window, select 'Sound' from the left panel. Then scroll to the bottom 'Advanced Sound Options', and click it.
Step 2. On the new pop-up interface, look for 'Spotify Music' under 'App Volume'. Then set your output device to default.
2.7 Ultimate Way: Download Spotify Songs with AudFree Spotify Music Converter
If the described solutions fail to work, don't panic. Proceed to the ultimate way we prepared for you. That is, to download Spotify songs to local files with a third-party tool -- AudFree Spotify Music Converter. And then listen to them on other devices and players.
Distinct from above methods, in this way, you can get out of the 'Spotify can't play this right now' forever. It serves to download and convert all Spotify songs without a Spotify premium account. The smart tool allows you to convert Spotify music in multiple popular output formats such as MP3, WAV, FLAC, AAC, W4A, and W4B. Those audio formats are compatible with almost all devices and players. You're not required to set complicated settings as said above. But it removes DRM protection from Spotify for personal use legally and supports you streaming Spotify music offline forever even if you are not a Spotify Premium user.
Do you want to have a try with this program? Here's a user guide for you:
Step 1

Transfer Spotify Music to AudFree Spotify Music Converter

On the converter window, right-click on a Spotify track or tap the three-dot '...' icon on the right side. Copy and paste the URL link of Spotify songs to the gadget. Also, it is quicker to drag the playlists or single songs directly and drop them into the window of the tool. Then press the green '+' icon to add files.
Step 2

Select Output Format and Parameters for Spotify Music

By clicking on the top-right toolbar like three horizontal lines, you are able to drop down the setting panel. Then choose 'Preference' > 'Convert'. On the pop-up window, set Spotify output audio format as FLAC, WAV, MP3, M4V, M4B, or AAC. It also allows you to personalize other parameters such as audio channels, sample rates, bit rates, conversion speed, and others.
Step 3

Get Down to Convert Spotify Music Locally

Press the bottom-right 'Convert' button, the converter will convert Spotify audio at a fast speed and save them in a local folder. Click on the bottom downloading history and open one Spotify song with double clicks from the list. Then you can listen to Spotify audios offline after transferring them to any device or player. You won't face 'Spotify can't play local files or this song right now' permanently.
Part 3. Summary
Don't worry a lot while undergoing the 'Spotify can't play this right now' issue. Try those remedies we have talked about in this post to troubleshoot the annoying problem. By the way, to resolve the error forever with only a few steps, you can try AudFree Spotify Music Converter. It embraces more functionality beyond what we said. It helps you fix any playback errors such as Spotify keeps pausing. If you have any ideas, please leave your words in the comment region.