As we all know, Spotify, the most widely used music streaming platform in the world, provides music lovers with a huge library of tracks for entertainment. Moreover, it's able to enjoy streaming content on multiple platforms, including Mac, Windows, Android and iOS.
However, many users have recently complained about the problem of Spotify on Mac not working properly, which makes them very upset. Why does this happen and how to solve it? To answer users' questions, this article will discuss how to fix Spotify not working on Mac issue so that you can enjoy the smooth and stable Spotify Music without any trouble.
View also: How to Solve Apple Music Not Working on Mac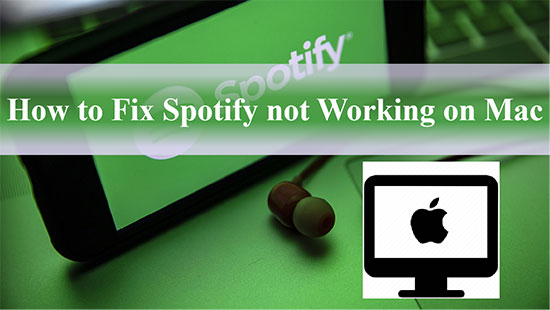 Part 1. Why is Spotify not Working on My Mac
According to some users, Spotify on Mac often appears to load slowly or buffer constantly, Spotify volume not working on Mac suddenly, or even worse, Spotify is unresponsive on the computer and doesn't work at all. So here's the question, why doesn't Spotify work on Mac? Is Spotify down? In fact, the above problems may be caused by a variety of reasons. For example, corrupt files or accounts, running outdated software on Mac, or it could be a temporary error or malfunction of the application and Mac.
Generally, the main reason for Spotify application not responding on Mac computers is the corruption of installed Spotify files, which is usually caused by viruses or other malicious files. Likewise, you will face the same dilemma if the application is not installed properly.
Part 2. How to Fix Spotify not Working on Mac
Here are the special solutions for Spotify not working on Mac, follow the steps below to try them out.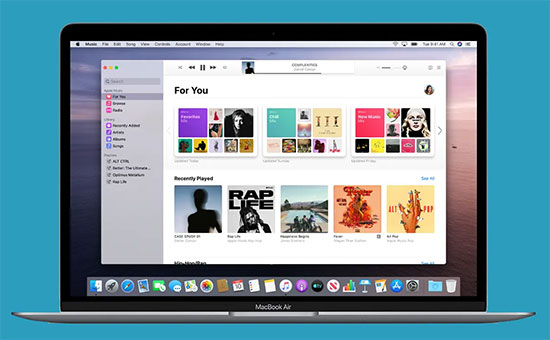 #1. Restart your Mac computer
This is the most straightforward and commonly used way to fix any crashes, glitches or temporary errors in Spotify. Refresh your entire system with a simple reset and give your device a brand new feel. You just need to restart your Mac, wait quietly for a minute or so, and try using Spotify again.
#2. Reset Spotify on Mac
In some cases, if you are experiencing a glitch where Spotify shows a black screen, it could be that your Spotify application is not starting properly. Don't panic, it's a minor issue, just remedy it easily by resetting Spotify. Then click on Spotify icon on the menu bar of your Mac, select the "Exit Spotify" option in the drop-down menu and restart the application afterwards.
#3. Close Other Software Running in the Background on Mac
In reality, once a large number of applications are running in the background of your Mac, the memory of your Mac will become strained. Generally, Mac computers have the capacity to run about 6 to 8 applications simultaneously and running too many applications often leads to crashes. Just try to close any currently unused applications running in the background to give your Mac some breathing space.
#4. Update Spotify App
Put simply, a software update resolves bugs, errors and glitches in the previous version, improving the performance of an application. So how to determine whether Spotify needs to be updated? Simply open your Spotify app, select the User Profile icon in the top right corner, and if there is a new update, the "Update available. Restart now" option will appear, just click on it.
#5. Update Mac's Operating System
If you don't update your Mac's operating system in time, the applications and even some features will become obsolete. Please click the Apple icon on the menu bar, select the "About this Mac" option, then press the "Software Update" button, and then follow the on-screen instructions to wait for the update to complete.
#6. Reinstall the Spotify App
In general, reinstalling Spotify usually solves many common problems and ensures that Spotify contains completely up-to-date features. Also, you will need to delete any folders containing Spotify data and download your Spotify songs and playlists again after reinstalling.
Part 3. How to Avoid Spotify not Working on Mac Forever
Obviously, the above solutions may only solve your Spotify problem on Mac temporarily. Here is a sustainable and a long-term solution to avoid Spotify not working on Mac forever, and that is to download Spotify music files to your Mac computer for offline playback. In the meantime, AudFree Spotify Music Downloader can make it possible.
Actually, AudFree Spotify Music Downloader and Converter is designed to download and convert Spotify songs to MP3, FLAC, WAV, etc. on your computer locally, in turn, it's capable of playing Spotify Music on Mac in freedom without Spotify application. In this case, it's a perfect idea to avoid these errors and failures of Spotify app on Mac, as the source of the failures may be Spotify application itself. Isn't that fascinating enough? Let's see the details below.
AudFree Spotify Music Downloader
How to Avoid Spotify not Working on Mac Forever
Step 1

Import Spotify Music to AudFree SpoDable

First, download and run AudFree SpoDable on your Mac computer. Both Spotify Premium users and free users can import songs according to the following two methods. The simple way is to drag and drop Spotify Music to the AudFree SpoDable conversion window. Or copy the URL of the track, paste the link into AudFree SpoDable's search box, and press the '+' tab next to it.
Step 2

Customize Spotify Music Output Format and Parameter

Please click Menu bar > Preferences in the upper right corner and select MP3, FLAC, M4A, etc. as Spotify Music output format in the newly appeared window. In this step, you can customize other output parameters such as bitrate, sample rate, audio channels, etc. according to your needs. Of course, if you want to organize the output music library better, you can categorize the output Spotify tracks into albums or artists.
Step 3

Download Spotify Music to Mac Computer

When the above settings are completed, please click the "Convert" button at the bottom right, and it's able to automatically download Spotify Music without Premium on Mac computer. Once the conversion is done, you can freely play Spotify Music on multiple devices for offline listening without Spotify app. In other words, you don't have to worry about Spotify not working on Mac anymore.
Part 4. In Conclusion
Still struggling with Spotify not working on Mac? Here're the detailed solutions and a once and for all method via AudFree Spotify Music Downloader. Don't hesitate and go ahead to make Spotify Music on Mac unrestricted and free from any interference.