Q: "I have received an email with the subject "Infringement Claim" from Spotify. It mentioned that I had violated their terms, so Spotify suspended my account. I want to know why or how can I get my Spotify account back. But they responded that they don't have further information when I contact support. I have been seeking help for many days. What should I do?" - from Reddit
You may have been hassled by the same issue as described above and fail to use Spotify as usual. In fact, unauthorized use of the Spotify service plays a main role when you receive a Spotify account suspended email. But don't worry! We will help you figure out why your Spotify account gets disabled and how to fix it. Let's get started!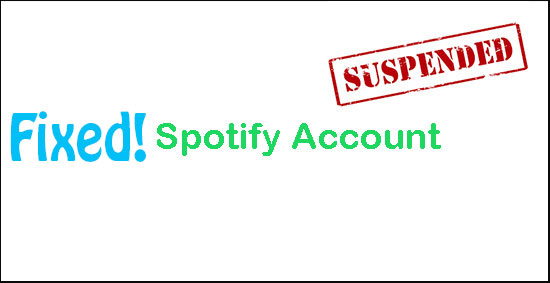 Part 1. Underlying Reasons Behind Spotify Suspended My Account
In the first section, we will take you through the most common culprits that result in this problem. Also, we will explain how Spotify finds out about the infringement action.
1.1 Generic Factors
Potential factors behind the suspended Spotify account vary. On the ground of distinct feedback from Spotify users, the following factors should be responsible for Spotify suspended:
1) High-Speed Recording
This is a main factor that can account for your banned Spotify account. Spotify is capable to track improperly high-speed recording actions of Spotify users. If you record or rip music with a listening time of 50 minutes from Spotify within 5 minutes, Spotify can detect this compressing and copying behavior. Since Spotify defines the copying and recording actions as against the Spotify terms and service, so your account will be banned by Spotify. Under this circumstance, you need a reliable converter, like AudFree Spotify Music Converter that allows normal conversion speed instead of a recorder.
2) Using a Shared Spotify Account
According to Spotify's regulations, one Spotify account is only available for one person. It does not allow you to share your Spotify account with others. Otherwise, it will disable your access to your account.
3) Using Other Else's Credit Card
It is worth mentioning that if you pay for Spotify subscriptions with a credit card that is in other people's names, Spotify potentially suspects it of fraudulent activity. To protect the legitimate interests of others, Spotify will disable your Spotify account.
4) Inappropriate Usernames / Playlists
Spotify prohibits using offensive and improper words or terms. For instance, discriminatory and biased expressions in your username or playlist.
5) Charge Back for Overdue / Unpaid Spotify Subscriptions
Of course, Spotify deems declining charges for subscriptions as a violation of the Terms. If you miss too many payments or charges, Spotify may even prevent you from registering for a new account or deleting your Spotify account.
6) Get Fake Plays or Followers
Have you heard the phrase "fake plays and followers"? It means that you purchase third-party social media marketing services that use fake accounts or robots to promote your Spotify visibility. In this case, your Spotify account may be disabled.
7) Harass Other Spotify Users
Providing that you always spam unknown artists' playlists and force Spotify to delete the playlist for an unfound reason, Spotify possibly gets your account banned. Because your behavior causes problems for the artists and their true fans.
1.2 How Can Spotify Detect Infringement Download Activity?
When you listen to Spotify music with infringement activities such as 'High-speed recording' mentioned above, the data such as ripping rates will be saved and sent to Spotify automatically. Spotify will track your streaming time, the way you access its content, and your region.
If it judges that you have engaged in unauthorized use of the Spotify service, you will receive a Spotify account suspended email. That is how to know if your Spotify account is banned. Or else, check why Spotify suspended via task manager and see if Spotify is frozen.
Part 2. Avoid Spotify Accounts Being Disabled Under Different Circumstances
In brief, you will find 'Spotify suspended my account' when you violate its terms or leave an adverse effect on other Spotify users. Lest Spotify pauses your access to your account, you can follow the instructions below:
Avoid Spotify Account Being Suspended for High-Speed Recording
Some recorders or rippers support 10X faster speed while recording, which is regarded as a violation by Spotify. To avoid Spotify banning your access to its service, we recommend you use a full-featured converter - AudFree Spotify Music Converter.
It serves to download and convert all types of Spotify music as local files in popular formats including MP3, FLAC, WAV, AAC, M4A, and M4B. Most importantly, this smart gadget supports you to convert Spotify songs with normal 1X speed safely for legal personal use. With it, you can preserve Spotify downloads forever even if your Spotify Premium subscription is canceled or expired.
AudFree Spotify Music Converter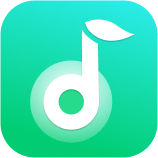 Download Spotify tracks without Premium for legal personal use
Convert Spotify music to MP3, AAC, FLAC, M4A, WAV, etc.
Play Spotify songs on various devices or players offline permanently
Support normal 1X conversion speed without Spotify account suspended
Download Spotify Music with Normal Speed
Step 1. Transfer Spotify Music to AudFree Spotify Music Converter:
On Spotify, locate your cursor on a single song or playlist and right-click on it. Then click 'Share' > 'Copy Song Link' or 'Copy link to playlist' and paste the link to the AudFree Spotify Music Converter. Also, it will be quicker to drag and drop the playlists or single songs directly to the interface of the converter. Then tap on the green '+' icon to add files.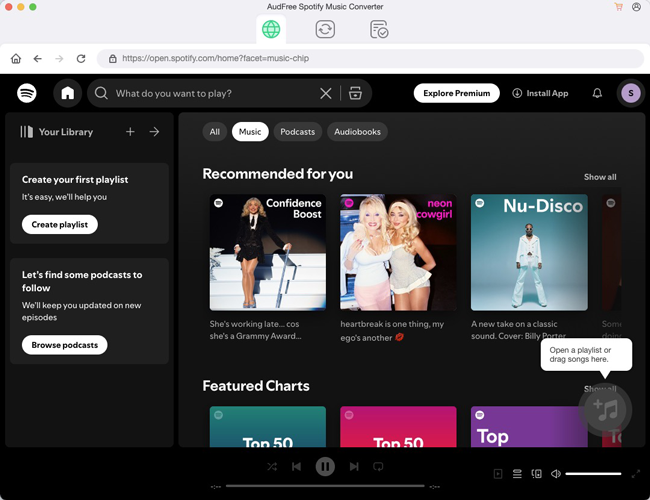 Step 2. Personalize Conversion Speed as Normal 1X and Output Format for Spotify Tracks:
Click on the top-right icon with three horizontal lines to drop down the setting menu. Then select 'Preference'>'Convert'. From the pop-up panel, you can set the output format of Spotify audio as FLAC, WAV, MP3, and more. Also, it allows setting audio channels, sample rates, bit rates, conversion speed, and other parameters to ensure better sound quality. Please note that setting the conversion speed as '1X' in a bid to prevent the 'Spotify suspended my account' issue.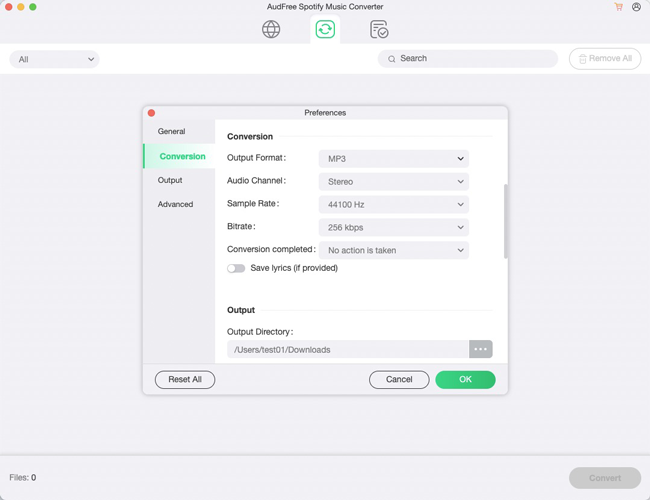 Step 3. Begin to Convert Spotify Music as Local Files:
Hit the 'Convert' button towards the bottom right corner. And the smart tool will convert Spotify audio at normal speed and save them in a destination folder. Open the bottom downloading history and double-click one Spotify song from the list, you can play Spotify audios on multiple devices or players offline.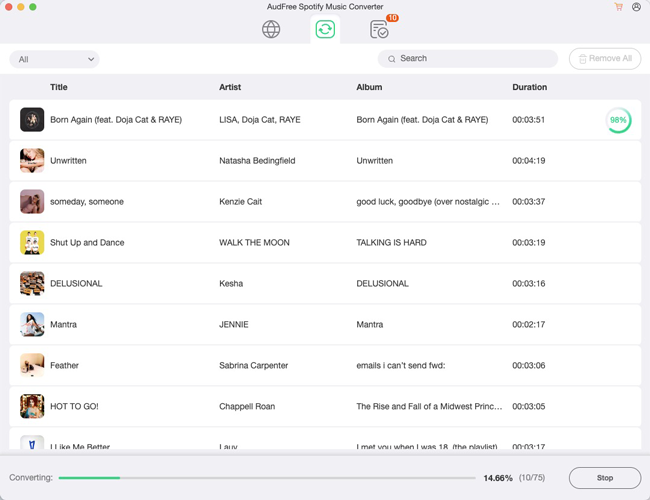 Avoid Spotify Account Being Suspended Under Other Situations
Besides, abide by the regulations and terms of Spotify lest Spotify suspends account such as:
● Don't share your Spotify account with others;
● Pay for Spotify subscriptions with your own credit card on time;
● Utilize canonical expressions in your username and playlist;
● Stop harassing other Spotify users or buying "fake plays and followers".
Part 3. More FAQs About Spotify Account
Q1. How to Get My Spotify Account Back?
It works when you contact Spotify support. Navigate to Spotify Support Team and reach out to Customer Service. Describe your problem: Spotify account suspended or Spotify account disabled. Then prove that you didn't engage in infringement activities. Otherwise, confirm you will not engage in unauthorized activity from Spotify service if your Spotify account suspended for unauthorized downloads. Spotify will all you to access your account again.
Q2. How to Transfer Music from the Spotify Suspended Account to Another Account?
If you can access the suspended Spotify account with your new account, you can follow the former account. Then collect the Spotify songs from the playlists of your previous account. Otherwise, you have to contact the Spotify support team.
See Also: Transfer Spotify Playlist to Another Account
Q3. How do I Suspend My Spotify Subscription?
Navigate to your account page on the Spotify website and find the 'Change plan' section. Tap on 'Cancel Premium' > 'YES, CANCEL'. Then you can hit a pause on your Spotify premium.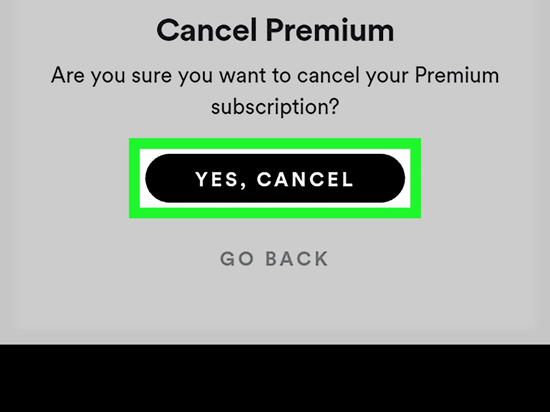 Part 4. In Conclusion
With this post, you may have a further understanding of 'why Spotify suspended my account' and find out proven solutions on how to get back a disabled Spotify account. To avoid a disabled Spotify account, you need to comply with Spotify's Terms and Conditions of Use.
Also, keep in mind that download Spotify music at normal speed instead of using a third-party recorder. Here, we introduce AudFree Spotify Music Converter. Since it offers 1X conversion speed for you and allows listening to Spotify songs offline without premium. With it, you needn't worry that Spotify bans your account.
Choose a suitable method for yourself and just give it a shot! If you have anything else to share, please leave your words in the comments section.