If you enjoy listening to Tidal music without any breaks or delays between tracks, you could test out Tidal's crossfade feature. Crossfade enables the seamless transition between the end of one song track and the start of the next, enhancing the listening experience. Sounds cool, right? Well, it is!
But Tidal has removed this charming feature for some reasons. So, this article will demonstrate how to use crossfade Tidal in another efficient way. Let's get underway!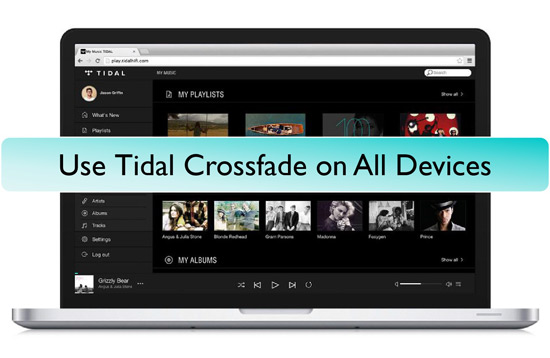 Part 1. Everything We Know about Tidal Crossfade
Before we dive into the grand scheme of things, here are the basics you need to know about Tidal Crossfade:
What Is Tidal Crossfade
Does Tidal have Crossfade? The answer is yes. Tidal Crossfade is a feature that enables you to seamlessly transition from the conclusion of one music to the beginning of the next. It is comparable to the crossfade function on other music streaming services, such as Spotify and Apple Music.
You can adjust the crossfade duration from 0 to 12 seconds based on your preference. Crossfade is beneficial for producing a seamless blend of tracks, particularly for electronic, dance, and hip-hop genres.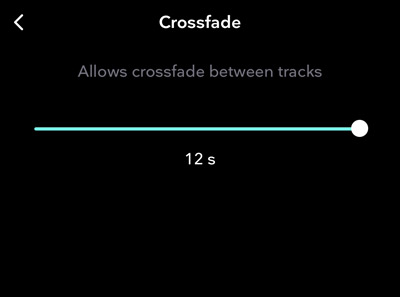 Why Did Tidal Remove Crossfade
Tidal removed the crossfade feature from its most recent update in 2018, citing that it did not enhance the consumer experience. According to some users who contacted Tidal's support staff, the crossfade feature was removed because only a small percentage of users utilized it.
Nonetheless, many users were discerned and aggravated by this decision, as they appreciated using the crossfade feature for various purposes, including parties, workouts, and personal enjoyment.
Some users hypothesized that Tidal eliminated the crossfade feature to cut costs or to prioritize other features, such as sound quality, exclusive content, or offline mode. However, Tidal provided no official explanation or justification for removing the crossfade feature.
Part 2. How to Download Tidal Music Locally for Crossfading
Now that Tidal Crossfade is gone, to make Tidal music fade in and out, you need the support of third-party audio editing software or play Tidal music via other players that have crossfade feature. But Tidal songs are encrypted to prevent unauthorized use of the platform. In this case, you need a powerful tool to help you download and convert Tidal songs to common audio formats without protection. AudFree Tidal Music Downloader is one of the best solutions for this purpose.
It is a professional and easy-to-use tool that can convert Tidal music to MP3, FLAC, WAV, AAC, and more, with preserved lossless sound quality and original ID3 tags. AudFree Tidal Music Converter works well with Tidal Free, Tidal HiFi, and HiFi Plus subscriptions. It can download Tidal MQA, HiFi, and high-quality music at up to 5X faster on Windows PC and 1X on Mac. You can customize the output parameters, such as bit rate, sample rate, channel, codec, etc., according to your needs.
With AudFree Tidal Music Converter, you can easily get unlimited access to your favorite Tidal songs, playlists, and albums on any device or player without the Tidal app. You can also enjoy crossfading effects on your local Tidal music files with any music player that supports this feature or use an audio editor to fade in or fade out Tidal music. AudFree Tidal Music Converter is a must-have tool for all Tidal music lovers who want to enjoy their music without limitations.
AudFree Tidal Music Downloader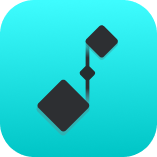 Download and convert Tidal music to MP3 and other various formats
Preserve the raw sound quality and original ID3 tags of Tidal tracks
Support fast and stable conversion speed
Customize output parameters and music library
Check out these easy steps to use AudFree Tidal Music Converter to download Tidal music for crossfading.
Step 1

Change Tidal audio output settings

Download and launch AudFree Tidal Music Converter on your device. Navigate to the Preferences > Convert tab. Change the output format and adjust other audio settings if necessary in this configuration window. Then choose 'OK'.
Step 2

Import playlists from Tidal to AudFree Tidable

Now choose the Tidal tracks you want to convert. Then copy and paste the Tidal Music link into the search box at the top and click the '+' button. Or simply drag and drop the songs, to add them to AudFree Tidable.
Step 3

Download Tidal for crossfading

After all the settings are done, tap the Convert button to initiate the download process. After the process completes, go to the Converted button to access your downloaded Tidal music as local files, which are available to crossfade.
Part 3. How to Crossfade Tidal Music via Descript
If you have met Tidal Crossfade not working issue, you can transfer downloaded Tidal files to other music players that support the Crossfade feature, including Windows Media Player, Media Player Morpher, VLC Media Player, AIMP, Audacious, etc. to crossfade Tidal on Android and iOS devices and Mac and Windows desktops.
Another possible solution to crossfade on Tidal is to use Descript, a creative tool that lets you edit audio and video as easily as editing text. Descript can help you create smooth transitions between your downloaded Tidal songs with its crossfade feature. Here are the steps to crossfade Tidal music via Descript:
Step 1: Import your downloaded Tidal songs into Descript.
Step 2: Zoom in on your audio track timeline to make it easier to select your edit boundary and be more precise when creating audio fades.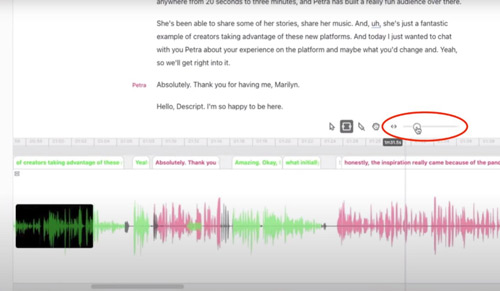 Step 3: Find your desired edit boundary where your crossfade occurs. Hover over the edit boundary, and a vertical gray line will appear.
Step 4: Drag the gray line left or right to create a crossfade between the two adjacent clips. You can adjust the length and shape of the crossfade by dragging the handles on the fade curve.
Step 5: Preview your crossfade by playing back the audio. You can also adjust the volume of each clip by dragging the horizontal line up or down.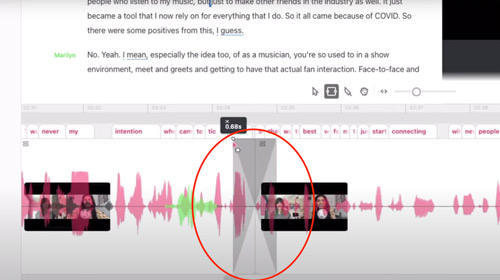 Part 4. In Conclusion
Tidal users love the crossfade feature for the right reasons. And once it was removed, many were disappointed. Fortunately, you can now enjoy crossfading effects on your downloaded Tidal music files using AudFree Tidal Music Converter.
AudFree Tidal Music Converter is the best solution to download and convert Tidal music to various formats with lossless sound quality and original ID3 tags. After doing this, you can use any music player or audio editor that supports the Crossfade feature to crossfade Tidal without a problem.