Tidal is one of the most popular music streaming platforms worldwide with a collection of 90+ million tracks. You can enjoy high-resolution videos and high-fidelity music on the Tidal app. 
Whether on a free or paid subscription, users may create a playlist on Tidal. The application also allows you to download songs for offline listening. 
However, there are some downsides to streaming music on the Tidal app. Many users reported that it was a little complicated to delete songs from a playlist on Tidal. Moreover, if you uninstall the app, it will remove the downloaded content from your system. 
So, in this article, we have provided a comprehensive guide to help you remove a song from your Tidal lists. This ensures you can remove unwanted tracks and keep enjoying your favorite numbers.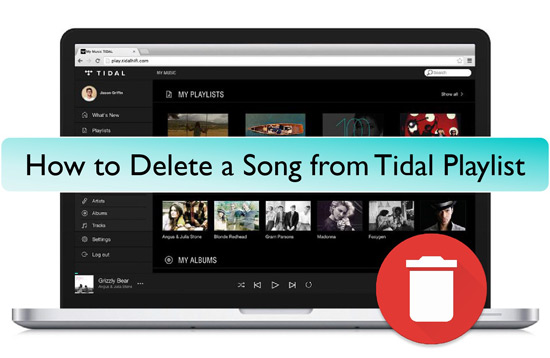 Part 1. How to Delete a Song from Tidal Playlist on Mobile
You can remove a track from a playlist on the Tidal app on all Android or iOS devices. If you do not know how to delete a song from Tidal playlist on your smartphone or tablet, herein are a few simple steps to do it quickly.
Step 1. Open the Tidal app on your phone and log in to your account.
Step 2. From the list on the left side of the screen, choose and tap 'Playlist'.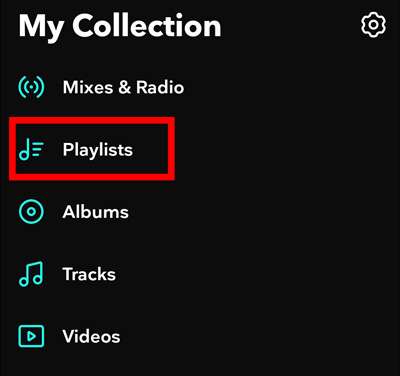 Step 3. Open the playlist and select a song to delete.
Step 4. Tap the 'three dots' icon on the right side of the selected song.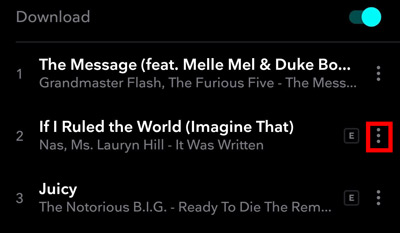 Step 5. On the box window, tap 'Delete'.
Step 6. You will see a message with two buttons- 'Remove' and 'Cancel'.
Step 7. Tap 'Remove' if you want to delete the song.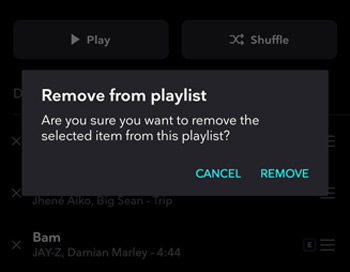 That's it! Repeat the same process to delete other songs you wish to remove from the playlist. This process may not help you remove multiple items at a time. 
Part 2. How to Delete a Song from Tidal Playlist on Desktop
Removing a single song from the Tidal desktop application is very easy. However, new users who are not quite familiar with the interface may find the things a bit confusing. Below is a step-by-step guide on how to remove song from playlist Tidal on a laptop or desktop PC: 
Step 1. On the Tidal site on your desktop and sign in.
Step 2. Choose and open 'Playlists' from the options.
Step 3. Select a song from the Tidal playlist that you want to remove.
Step 4. Click the 'three dots' on the right side of the specific item.
Step 5. On the pop-up window on the right side, choose and click 'Delete'.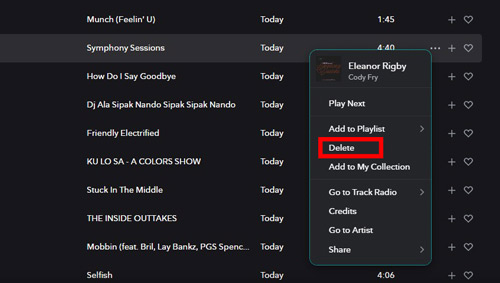 The same process follows if you want to delete more tracks on the playlist. 
On the Tidal Web Player for desktop, you may also add songs to your favorites by clicking the 'heart' icon beside a song in the playlist. You may also remove a song from the list of favorites in a few clicks:
Step 1. Select a song in the list of your favorite songs.
Step 2. Click the 'three dots' on the right side.
Step 3. Choose and click 'Remove from My Collection' on the box window.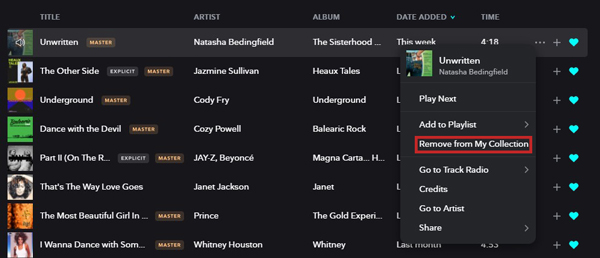 Alternatively, you may also click on the blue heart icon to turn it to grey. This will also remove the song from your favorites.
More Tips: How to Download and Keep Tidal Playlists Anywhere
The above steps are easy to do but there are often persistent problems with Tidal playlists. Many users get error messages when removing songs from the playlists. In many cases, you may see a deleted song in the playlist. In worst cases, it leads to a waste of time when you are removing multiple songs at a time. 
To ease things, you may use AudFree Tidable - a feature-packed Tidal music converter software. This Tidal music converter tool is your one-stop solution to download and convert Tidal music files into the desired standard format.
With it, you can download Tidal songs at 5x speed on your Mac/Windows computer. Then you can listen to your favorite tracks on portable devices, gaming consoles, and more. The best part is that you can keep these downloaded Tidal playlists forever, even if you've deleted the Tidal app.
AudFree Tidal Music Downloader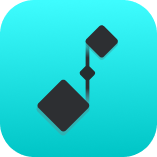 Download Tidal playlists, albums and other content to your device
Convert music from Tidal to multiple formats like MP3, FLAC, etc.
Start the Tidal conversion at 5X faster speed
Enjoy Tidal offline on any device with high quality
If you are new to AudFree Tidable, here is how to download songs from Tidal and delete songs from Tidal using this tool: 
Step 1

Import Tidal Tracks to AudFree Music Library

Download and install AudFree Tidable from the official website or the 'Download' button above.
*Depending on your OS system, click the appropriate download button (with iOS and Windows icons)
Then you can import songs from Tidal to the AudsFree music library in 2 ways:
1) Drag and drop the items from Tidal to AudFree Tidal Downloader.
2) Copy the links from Tidal and paste them on the dashboard and click on '+'.
Step 2

Choose Output Format for Tidal Playlists

Click on the top-right 'menu' icon and then choose 'Preferences' > 'Convert'. On the pop-up window, you can customize the output format, channel, sample rate, and bit rate.
Step 3

Download Tidal Playlists and Delete Songs from Playlist

Simply click on the 'Convert' button and you'll see the download process. When the downloading ends, all Tidal playlists will store in your computer's local folder. Then you can easily delete songs in your local folder. You can also directly remove songs from the playlist on the AudFree Tidal Downloader in the 'Converted' tab.
Part 4. In Conclusion
This is how to delete songs from a playlist on Tidal on mobile and desktop. Tidal has emerged as the most preferred music streaming platform across the US and many other countries over the past few years. But if you opt out of the paid subscription, you will lose access to all premium content in playlists. AudFree Tidal Downloader boasts cutting-edge technology to give lossless music quality when you download Tidal without premium for offline playing. Download the tool, purchase the user license, and the rest is a breeze to do on the user-friendly interface.