Q: "How to clear Tidal cache on iPhone? I listened to several HiFi quality songs, However, it takes almost one-gigabyte storage! Is there any way to clean them?" - From Reddit
A growing number of Tidal users complain that Tidal takes so much storage space but nothing has been downloaded. If you are getting stuck in such as problem, then you come to the right place. Please never miss this post where you can find the best solution to clear cache of Tidal on all devices. Come with us to fix it!
Part 1. Something You Need to Know about Clearing Cache on Tidal
First, let's take a look at the reason why we have to delete Tidal cache files and where to find them. Thus, you can avoid such issues in the future.
Why Does Tidal Take Up So Much Data
Cache serves as a kind of computer memory that can store frequently used data to facilitate quick retrieval and access to data later compared to the slower types of storage such as hard drives and solid-state drives.
It is acknowledged that Tidal features High Fidelity music with multiple and innovative audios such as Tidal Dolby Atmos, MQA, and Sony 360 Reality Audio, which requires a large bit rate and sample rate to support high-quality playback. In this case, it will need more space and calculate more caches to access and use Tidal documents and data more quickly and properly.
Especially, Tidal offers music lovers high-resolution audio, which drains more data than standard lossless audio. And among all music streaming services, Tidal soaks up more data while listening or downloading even tapping likes of songs, taking up approximately 184MB compared with others.
Where Is the Tidal Cache
The Tidal cache location rides on what kind of operating system or device you are using. Generally speaking, Tidal cache files are stored in a temporary folder located on your device.
For PC: The cache of Tidal is typically saved in a folder named 'AppData' in the user's directory.
For Mac: Tidal music caches can be found in the 'Library' folder which is located in the user's home directory.
For Android: By clicking 'File Manager' > 'Music' > 'Tidal', or tap on the 'Android' folder from the file management app to find the related files.
For iPhone: Different from other devices, Tidal caches on iPhone are stored within the Tidal app itself and under the management of the app, which excludes you from access to cache files directly on your iPhone. However, it allows you to clear cache Tidal files within the Tidal app.
Part 2. How to Clear Tidal Cache on iPhone/Android/PC/Mac
Now you come to the important part to clear cache Tidal files on all devices. After understanding the Tidal cache location, we will make a further acknowledgment of cleaning those cached files from Tidal. Here, we have prepared the detailed steps for you.
On iPhone
Step 1. On the home screen of Tidal, tap on 'Settings'.
Step 2. Scroll the page down to find and click on the 'Tidal' app.
Step 3. Toggle on the 'Reset Cache on next launch' option to free up the storage space of Tidal.
Step 4. Reopen the Tidal app. And now, the Tidal caches have been deleted.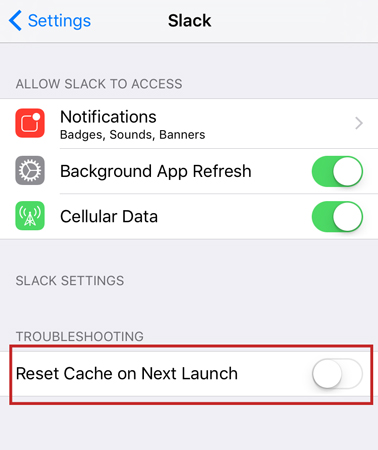 Note: If it does not work, to stop Tidal from taking up more storage space, on your iPhone, you can also go to 'Settings' > 'General' > 'iPhone Storage' > 'Tidal'. Then choose 'Offload App' or 'Delete App'. This way, the Tidal cache files will be cleared but the Tidal documents and data remain.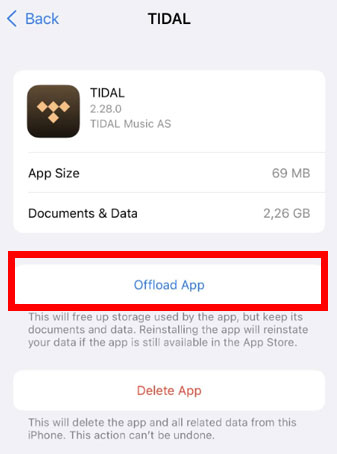 On Android
Step 1. Press and hold the Tidal icon from the Android screen until the widget appears.
Step 2. Tap on the 'App Info' option like an exclamation point.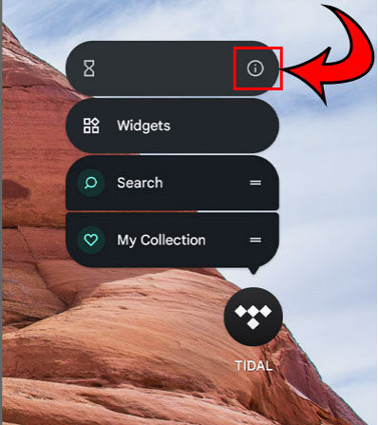 Step 3. From the pop-up window, choose 'Storage & cache' > 'Clear cache'.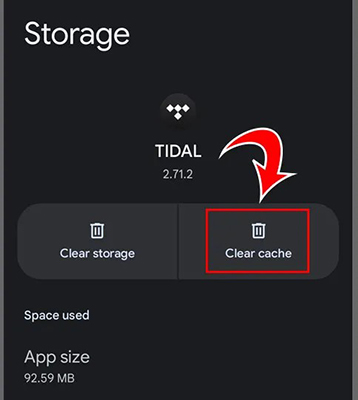 On Mac
Step 1. Launch the Tidal app on your Mac by clicking on the top left corner of the main screen.
Step 2. From the drop-down menu, choose the 'Preferences' option.
Step 3. Then touch on 'Cache'.
Step 4. Tap on the 'Clear Cache' tab. Then choose 'Clear' when a confirmation message pops up.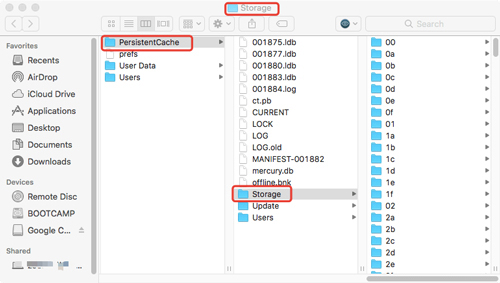 On PC
Step 1. On the Tidal PC app, tap on the top-left menu bar like three horizontal lines.
Step 2. From the new menu, choose 'Help' > 'Troubleshooting' > 'Clear Cache'.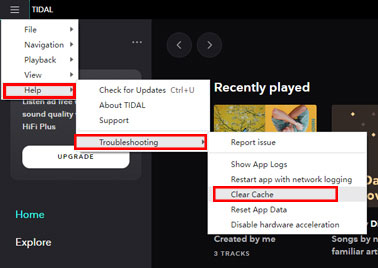 Then you can clear the cache of Tidal successfully.
Part 3. Best Way to Free Up Tidal Storage on All Devices
The above-described methods to clear Tidal cache are not long-term solutions. As a matter of fact, the cached files will accumulate within a short time while using Tidal. Whether you download Tidal songs, create Tidal playlists, or simply add songs to likes, Tidal will require heaps of data, which may result in some Tidal glitches. For example, Tidal stops playing when the screen is off or Tidal keeps pausing, etc.
Fortunately, an all-in-one solution can resolve this issue. That is to download Tidal content as local files instead of cache files. Then the downloaded Tidal downloads can be stored on your computer which has a much larger storage space than the Tidal app. Thus, you can listen to Tidal on any device without crashing.
It requires a professional Tidal downloader or converter such as AudFree Tidal Music Converter. As a multi-purpose and all-at-once program, AudFree Tidable is capable of downloading Tidal music locally and converting them to a variety of output formats without premium, alongside more additional features.
AudFree Tidal Music Downloader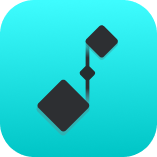 With easy-to-use and intuitive interface
Batch download Tidal music as local files with Tidal Free, Tidal HiFi, or Tidal HiFi Plus
Convert Tidal music to universal formats at 5X fast speed
Reset Tidal output parameters to retain lossless quality or free up storage
Play Tidal music on all devices anytime without clearing Tidal caches anymore
Keep ID3 tags and manage local music library
How to Use AudFree Tidal Music Convert to Reduce Tidal Caches
Refer to the following how-to guide to download Tidal music to your computer's local drive without Tidal cached files.
Step 1

Put Music from Tidal to AudFree Tidable without Creating Tidal Caches

This converter for both Mac and PC offers two ways to add Tidal music without cached Tidal files. One is to copy and paste the Tidal songs URL links to AudFree Tidable and tap on the '+' tab. Alternatively, drag and drop the single item directly to this tool. Amid the two processes, it won't use Tidal documents or data, so it won't make cached files on Tidal.
Step 2

Personalize Tidal Output Audio Settings

Touch on the top-right toolbar symbolized with three horizontal lines to open a new window. Then select 'Preferences' > 'Convert' where you can reset your preferred output audio quality of Tidal music. If you prefer smaller-sized Tidal files to reduce occupied storage, you can choose to convert Tidal to MP3 and set the bit rate as 256 Kbps, 320 Kbps, or even smaller. If you are an audiophile, you can choose the output format as lossless WAV or FLAC. Then set the bit depth as 24-bit or 32-bit and the sample rate as 196 kHz.
Step 3

Start to Convert Tidal Tracks to Backup Files on Computer

Please simply hit the 'Convert' button in the bottom-right corner of AudFree Tidable. This powerful gadget will convert Tidal items at 5X speed and save the downloaded Tidal file to your computer instead of the Tidal app. You need not worry it will occupy Tidal storage space. Afterward, you can transfer Tidal music to USB, SD card, or other devices.
Part 4. More FAQs about Clearing Cache of Tidal
Q1: How do you delete downloads on Tidal?
To delete downloads on Tidal, please follow these steps:
Step 1. On the Tidal app, click on the 'My Collection' tab from the bottom navigation bar.
Step 2. Go to the 'Downloads' section and choose the downloads you want to delete later.
Step 3. Swipe left on it and tap on the appearing 'Delete' button to remove the download from Tidal.
Q2: Why is Tidal so glitchy?
As we stated above, Tidal space is drained with many cached files, so it cannot run smoothly before you clear cache Tidal files. Also, it may stem from other reasons such as connectivity issues, server errors, or device-specific problems. To troubleshoot the issue, you can try restarting the app or your device, checking your internet connection, or contacting Tidal support for further assistance. If they are of no avail, it is recommended to try using AudFree Tidal Music Converter to download Tidal tracks on the hard drive of the computer.
Part 5. In Conclusion
Common and advanced methods on how to clear Tidal cache on iPhone, Android, PC, and Mac have been discussed. After analyzing, we recommend you give AudFree Tidal Music Converter a shot. Since with this software, it is unnecessary to clean the Tidal cache all the time and can resolve all Tidal not working issues. After getting Tidal downloads on your computer, you can play Tidal music on multiple devices without the Tidal app