As an artist-led global music and entertainment streaming platform, Tidal offers high-quality audio that music fans are ecstatic about. As you may know, Tidal HiFi and HiFi Plus subscribers get ad-free access to millions of catalogs and expertly curated playlists for a superior music listening experience, which is exactly what free users aspire to.
So, is there any way to get free Tidal in order to try out all the premium services? Yes, Tidal sometimes partners with brands like T-Mobile to offer free trials. In this post, we'll showcase the T-Mobile Tidal program so you can effectively get Tidal free with T-Mobile and enjoy your favorite Tidal Music in immersive sound.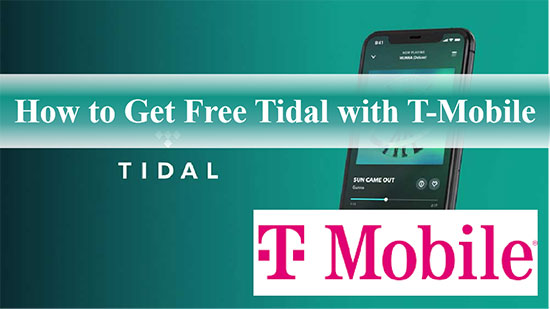 Part 1. How to Get Free Tidal with T-Mobile
Thanks to the Tidal T-Mobile partnership, now you can get a 3-month Tidal free trial to listen to and download Tidal songs, music videos, artist-curated playlists, and more, as long as you're a new T-Mobile subscriber. What's amazing is that the data used to listen to Tidal songs will not be charged. Without further ado, you'll be eager to find out how to stream Tidal on T-Mobile.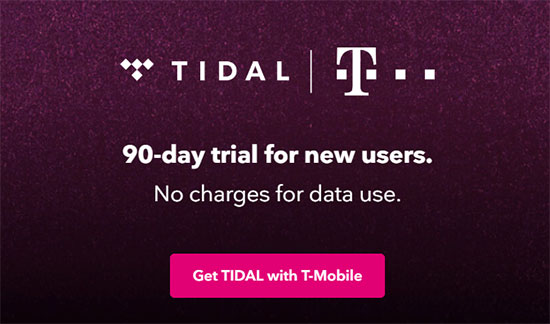 Step 1. Please navigate to the URL: https://tidal.com/partners/t-mobile-pl.
Step 2. You will see the pink "Get TIDAL with T-Mobile" option, click on it.
Step 3. On the registration page, you will need to enter your mobile number. Remember, to make sure you are a T-Mobile new user, the mobile number must not be registered with T-Mobile.
Step 4. At this point, you will receive a password on your phone, proceed to enter that password to complete the registration.
Step 5. After successful registration, you can start enjoying a 3-month free trial of Tidal and use Tidal with T-Mobile as long as you like.
Part 2. How to Get Free Tidal Forever without T-Mobile
It's really pleasant to listen to Tidal music for free, isn't it? But a three-month trial period does seem a bit short, and it always expires. In that case, instead of getting free Tidal T-Mobile briefly, you can turn to the professional AudFree Tidal Music Downloader to listen to Tidal songs for free forever. It works by downloading Tidal songs as local files so that you can listen to Tidal Music offline whenever you want.
Whether you are Tidal free user or HiFi subscriber, you are allowed to use this best tool to download and convert Tidal Music to MP3, FLAC, WAV without any problem. It is intelligent enough to retain 100% original quality and ID3 tags from Tidal. With the assistance of this tool, you can hold the downloaded Tidal Music files for life and enjoy Tidal Music on any device for free.
How to Get Free Tidal Forever without T-Mobile
Step 1

Customize Tidal Music Output Parameters

Launch the AudFree Tidal Music Downloader from your computer, and you will see that the Tidal app will then open as well. To adjust the Tidal Music output format, click on the menu button and select the Preferences > Convert option. At this point, you can set the format to MP3, AAC, FLAC, etc. according to your needs. It is also possible to adjust parameters like bit rate, sample rate, etc. to change the output audio quality.
Step 2

Add Tidal Music to AudFree Tidable

Browse and find your favorite Tidal songs in the Tidal app, then drag and drop them to the main page of the downloader directly. Or copy and paste the music link into the search box at the top, after that press the Add button next to it to load the music.
Step 3

Get Tidal Music for Free Forever

Press the big "Convert" button and it will start the downloading and converting process. Generally, the conversion time depends on the number of Tidal tracks added. When it's done, you can navigate to your computer's target folder to view all Tidal Music. Now, you can get Tidal for free and listen to Tidal music offline without a subscription account and app.
Part 3. FAQs of T-Mobile Tidal
Q: What is T-Mobile?
T-Mobile is the super Un-carrier in the United States, offering advanced 4G LTE and nationwide 5G network that will provide reliable connectivity for all. It continues to create competition and innovation in wireless and other areas with its undisputed services.
Q: Do You Get Tidal with T-Mobile?
Yes, new T-Mobile customers can get three months of free Tidal service, after that 19.90 PLN will be added to your monthly bill. In addition, T-Mobile users will not be charged any data usage fees while using Tidal.
Q: How to Cancel Tidal Subscription with T-Mobile?
If you want to cancel your Tidal subscription, you can do so by texting "TIDAL ANULUJ" to 8017. Incidentally, the text message is completely free.
Part 4. In Conclusion
In this post, you will be well equipped with a detailed tutorial to get free Tidal with T-Mobile. Besides, with the aid of the AudFree Tidal Music Downloader, you can always enjoy Tidal Music for free without a subscription. Choose the right method to listen to Tidal Music according to your situation, but in the long run, the latter will be the smart move.