Tidal is featured with its lossless high-fidelity music quality and various spatial audio, vying for a mounting number of music fans, especially audiophiles. However, to enjoy Tidal HiFi, MQA, Tidal Dolby Atmos, and Sony 360 Reality Audio, you need to subscribe to Tidal HiFi and HiFi Plus first ($9.99 and $19.99 per month), which is costly over time.
Amid such issues, some Tidal users are seeking a free way to listen to Tidal HiFi and Master music. Therefore, Tidal BIN emerges on demand. It may be alien to you. Take it easy! We will guide you through what it is and how to use it. Additionally, we will introduce an alternative to Tidal HiFi BINs.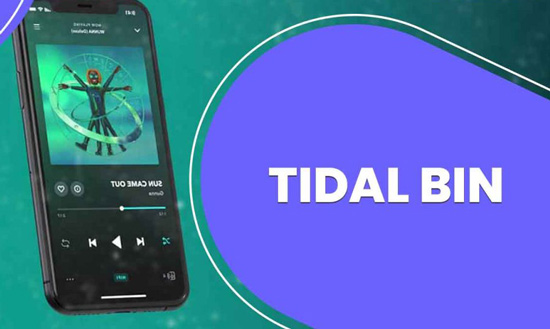 Part 1. Something You Need to Know about Tidal BIN
BIN, also called bank identification number, serves as the initial set of 4 to 6 digits on a credit or debit card and is applied to identify issuing bank or financial institution. Tidal HiFi BIN is designed as a set of unique numbers that can be used to generate a virtual credit card in specific online BIN generators. You can find or purchase one from Twitter, Telegram, or other third-party sellers alike as shown in the below figure. It helps you access the exclusive features provided for Tidal HiFi and Tidal HiFi Plus tiers for free. In other words, you can use the Tidal premium BIN to get a Tidal HiFi or HiFi Plus account without charging.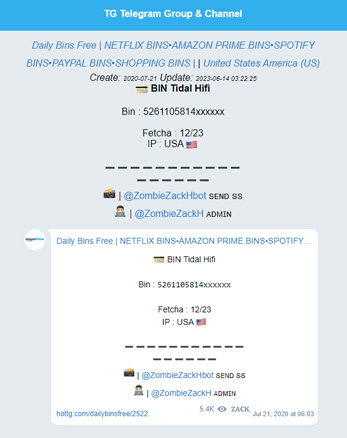 This way, resemble Tidal subscribers, you can enjoy over 100 million tracks and 650,000 curated playlists without annoying ads and limited interruption. Furthermore, you are allowed to download Tidal MQA or HiFi music for offline listening. It is also possible for you to stream spatial Tidal Dolby Atmos and Sony 360 Reality Audio.
Part 2. How to Get Tidal Subscriptions for Free via Tidal BIN
After figuring out what is the premium BIN of Tidal, in this part, we will take you through how to get one and use it. Here, we have listed the requirements you need to meet and the details to create a live credit card with premium BIN codes for Tidal HiFi.
Requirements to Use Tidal Bank Identification Number
1) Find a valid Tidal HiFi premium BIN (You can refer to Part 3)
2) Use a great internet browser (such as Firefox Focus)
3) Install a reliable VPN app (like ExpressVPN)
4) Get a stable Internet connection
5) Select a practical BIN generator
6) Choose a live credit card check gadget
How to Use Premium Tidal BINs to Get Tidal HiFi/HiF Plus Account for Free
After having the above work done, please look into the instructions as follows.
Step 1. Connect your smartphone or computer to a strong VPN with the relevant IP for the BIN such as the US, Mexico, etc.
Step 2. Go to the live BIN generator website and enter the valid Tidal HiFi premium BIN code to create a virtual credit card.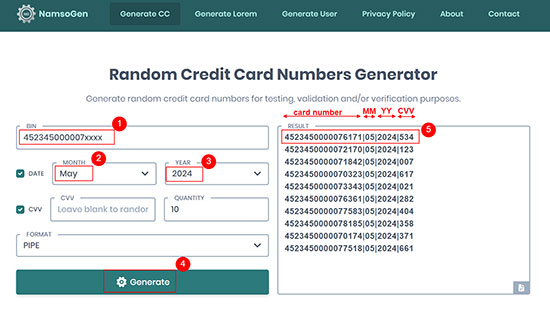 Step 3. Copy the generated credit card numbers and paste them to a credit card checker to see if they are live ones.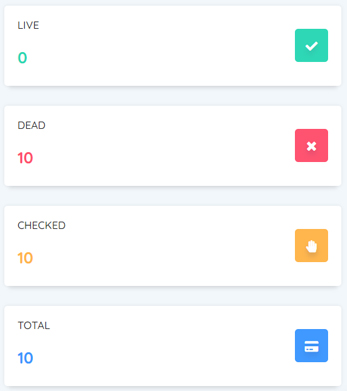 Step 4. Then on the browser, navigate to Tidal.com to get Tidal subscriptions.
Step 5. Type the live credit card information following the instruction. Voila! Now, you can get Tidal for free.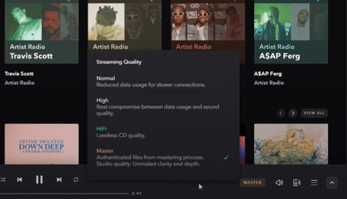 Part 3. New 100% Working Premium Tidal HiFi BINs
To save you time, we have prepared several valid premium BINs for Tidal HiFi, please refer to the table and choose one. Hope that it can help you.
| BIN Tidal HiFi | FECHA/Date | CVV | IP | ZIP Code |
| --- | --- | --- | --- | --- |
| 51546200xxxxxxxx | RND | RND | USA | 10080 |
| 51546200271xxxxx | 12/26 | RND | USA | 10080 |
| 458453200307xxxx | 06/23 | RND | USA | 10080 |
| 5261105814xxxxxx | 12/23 | RND | USA | 10080 |
| 51628900068xxxxx | RND | RND | USA | 10080 |
| 515942013401xxxx | 07/25 | RND | USA | 10080 |
Part 4. Alternative to BIN Tidal HiFi
Tidal HiFi BIN methods are popular among some Tidal users and it does work sometimes. However, it gets you more vulnerable to risk since it will reveal your personal information such as your emails. So, is there any way to get Tidal Master or HiFi music free of charge? The answer is 'Yes'. By getting aid from a secure and professional Tidal downloader, you can download music from Tidal onto computers without Tidal subscriptions. When it comes to the best Tidal converter, please look no further than AudFree Tidal Music Converter.
AudFree Tidable is dedicated to downloading all content from Tidal as local files to your PC or Mac, be it Tidal Free or Tidal HiFi account. With advanced conversion technology, it is capable to convert and export Tidal music to the most commonly used formats such as MP3, AAC, WAV, and more. Thus, you can play Tidal music on any device and player without Tidal subscriptions forever.
Most importantly, this smart tool allows you to customize the output parameters to make lossless high-quality audio. In other words, it can preserve the original audio quality of Tidal music and ID3 tags to listen to Tidal songs in the original order.
How to Get Tidal HiFi Music without Tidal Subscriptions
There is a user guide for you. After installing this safe software on your computer, you can follow the steps to get free Tidal music. It is legal and secure to use it.
Step 1

Drag and Drop Tidal Music to AudFree Tidable

Launch AudFree Tidal Music Converter on your computer and you will see the Tidal app open in sync. Drag the single track or playlist from Tidal and drop it into the converter. Alternatively, there is a quicker channel: Copy and paste the Tidal songs or playlists URL link to the search box of the converter and then tap on the '+' tab to add Tidal audio files.
Step 2

Choose Tidal Music Output Formats and Other Parameters

Head over to the top right corner of the AudFree Tidable and click the three horizontal lines to draw down the menu. Next choose 'Preferences' > 'Convert' where you can set the output format for Tidal music as MP3, FLAC, WAV, AAC, M4A, or M4B. To keep lossless Tidal audio, we recommend you choose FLAC or WAV. Then you can change the bit rate or sample rate to get original high-quality audio.
Step 3

Export Tidal Music as Local Files Losslessly

Hit the 'Convert' button in the bottom right corner. After a while, this gadget will output Tidal songs at a fast 5X speed and save them in the destination folder you set before. Press the bottom 'Converted' to view your conversion lists. Afterward, you can listen to Tidal music offline anywhere whenever you like for free without using premium BIN for Tidal HiFi.
Part 5. In Conclusion
In this post, we have talked about what is Tidal BIN and how it works. Besides, we display some useful Tidal premium BINs. Most importantly, we present a more secure method to download and listen to Tidal music on multiple devices for free. That is to use AudFree Tidal Converter. It can also keep the converted Tidal music forever.