Q: Can I download Tidal on Fitbit Versa 2 for offline playback? I have received this professional Fitbit Versa as a birthday gift from my brother. As a heavy Tidal music addict, I'm eager to play Tidal music on Fitbit. To my surprise, there is no Tidal smartwatch app to install. What should I do?
With its onboard music storage, it's easy to listen to music on Fitbit Versa without a phone. But it's a pity that Fitbit doesn't support the Tidal streaming music service. Although the demand for 'Tidal on Fitbit' is large, until now, you can only get a negative official answer. 'If the vote is up to a certain number, we will take it into consideration'.
Please don't give up. There must be an answer if there is a question. You can get help from a Tidal to Versa converter, called AudFree Tidal Music Converter. It can help you download and add music to Fitbit Versa 2 from Tidal HiFi and Premium. In this article, we will introduce the complete tutorial to do it.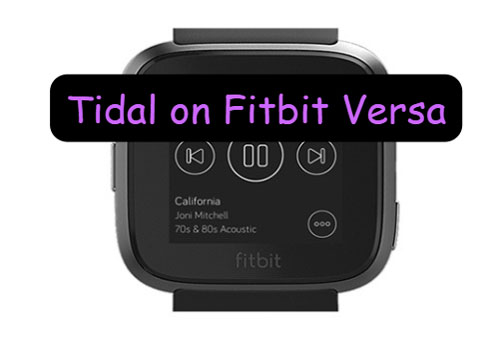 Part 1. Make 'Tidal Fitbit' Available - Tool Required
When you search 'Tidal on Fitbit' on the Fitbit Community, you will find out you are not alone. There are more and more people who would like to get the Tidal app on Fitbit watches:
Q1: Is there any plan to make Tidal available for the Fitbit Versa or the Ionic? This feature could make the smartwatch 100% perfect.
Q2: Deezer seems to work well with the Fitbit Versa but I'm a Tidal user. Could I confirm whether a Tidal app to be available as well?
Q3: Do you integrate the Tidal application on Fitbit? This is the only app that enriches my Versa experience. Please let us listen to your playlist on Tidal!
To add music to Fitbit Versa 2 from Tidal, please download AudFree Tidal Music Converter on your computer. It is a professional Tidal music converter and downloader. It has the ability to download Tidal music to computers. And it can convert them to common audio files, such as MP3, FLAC, WAV, and more. With this smart tool, you can put Tidal music on Fitbit Versa, and other portable devices. After that, it's able to listen to Tidal music on all devices without any limitations.
It's available for both Mac and Windows operation systems. And it works at 5X faster speed to get Tidal streams with 100% lossless HiFi quality preserved.
Part 2. How to Add Music to Fitbit Versa from Tidal
The following tutorial is the detailed steps on how to download and play Tidal music on Fitbit Versa. Before getting started, please make sure you have downloaded and installed two tools on your computer. One is the Tidal desktop app, the other is AudFree Tidal Music Converter.
Step 1

Add Tidal music to AudFree Tidal converter

Please click the shortcut icon of AudFree Tidal Music Converter from the computer desktop. And then, you will see it and the Tidal app will be launched automatically at the same time. Search the target Tidal music and playlists that you'd like to play on Fitbit Versa. Open the overview page of this item, click the '3-dot' icon to choose the 'Share' > 'Copy Tidal Track' option to copy Tidal music link. And then you can paste it to the address box to load the Tidal music.
Step 2

Adjust Tidal output settings for Fitbit Versa

After you have added Tidal music, you can customize output settings according to the Fitbit Versa's needs. You can adjust the Tidal output formats and other audio parameters.
When you are using a Windows computer, please click the top-right menu from the main interface. Select the 'Preferences' > 'Convert' icon to open the setting window. Now, you can set the output format as MP3, FLAC, WAV, AAC, M4A, or M4B. In the same window, you can customize archive output tracks by artist or album.
For Mac users, you can find the 'Preferences' option by clicking the 'AudFree Tidal Music Converter' from Apple's top menu.
Step 3

Download Tidal music for Fitbit Versa 2

When the customization finishes, you can simply press the 'Convert' button. AudFree Tidal to Fitbit Converter will enter into the 'Download' mode. It will start to download added Tidal tracks to Versa compatible audio files. You can see the real-time downloading process in the above window. In general, it works at a 5X faster conversion speed.
Step 4

Add converted Tidal music to Fitbit Versa

After conversion, you can click the 'history' > 'search' icon or the 'file' icon to locate all downloaded Tidal songs. Now, please use iTunes or Windows Media Player to create a new Tidal playlist. After that, you can use the Fitbit Connect app to add Tidal music to Fitbit Versa just like adding your own music.
Note: When you use AudFree Tidal Music Converter to download Tidal on Fitbit Versa, there is one thing you need to keep in mind. It allows free users to convert the first one-minute of each Tidal song. You need to purchase the full version to break this limitation.
Part 3. In Conclusion
As one of the best flagship products from Fitbit, Versa sets many excellent features in one. It includes a water-resistant, lighter design, built-in GPS, a long battery life, and more. There is no doubt that Fitbit Versa is a recommended fitness-tracker smartwatch that can't be missed.
Now, you can not only play local music but also Tidal music and playlists on Fitbit Versa. You can use Fitbit to listen to more music you want to listen to while exercising. It can increase your endurance and enthusiasm for exercise. Besides, when exercising, you can listen to Tidal music on Fitbit Versa without a phone directly. It makes everything more convenient.