With the boom in music streaming, the hot Tidal Music has gradually captured the spotlight, offering users more than 90 million songs, exclusive releases, and a plethora of interviews and music videos. Nowadays, Tidal is moving into the automotive industry, partnering with various car brands. This is mainly due to the fact that more and more people like to play their favorite music during car trips, which is considered to be extremely relaxing and fatigue relieving.
Surprisingly, Tidal first targeted the high-end luxury Mercedes, establishing a long-term partnership with Mercedes back in 2017. Try to imagine how nice it would be to drive your dream car, a Mercedes, accompanied by Tidal Music all the way. Therefore, this article will describe how to play Tidal in Mercedes, thus follow the procedures below to make your dreams come true.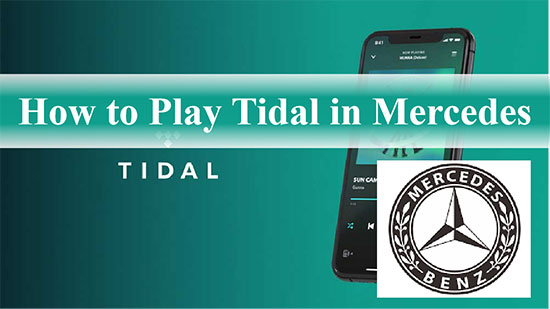 Part 1. What You Should Know about Tidal and Mercedes
In fact, Tidal, a global popular music streaming platform that connects artists and fans through unique music experience, currently serves users in 61 countries. It has a strong focus on audio quality and offers three levels of subscriptions - Free, HiFi and HiFi Plus. Generally speaking, Tidal HiFi is considered the entry-level subscription, allowing you to listen to music in lossless high fidelity audio, while HiFi Plus is the only service that allows you to listen to music in lossless hi-fi audio, certified master quality audio and immersive audio formats all in one place.
In addition, Tidal and Mercedes-Benz have announced an ongoing partnership to provide customers with a premium luxury music experience. According to an official statement, owners of select Mercedes-Benz vehicles can experience a free 3-month trial of Tidal HiFi Plus, which gives them access to Tidal hand-picked playlists and exclusive events. The partnership between Tidal and Mercedes allows users to experience their favorite Tidal Music on a whole new level.
Part 2. How to Play Tidal in Mercedes Officially
As mentioned above, Mercedes-Benz owners can experience a free 3-month trial of Tidal HiFi Plus through your Mercedes me adapter and Mercedes me account. You'll have access to a huge selection of exclusive music, music videos and playlists. If you want to stream Tidal's unparalleled music in your Mercedes, follow the steps below to give it a try.
How to Play Tidal in Mercedes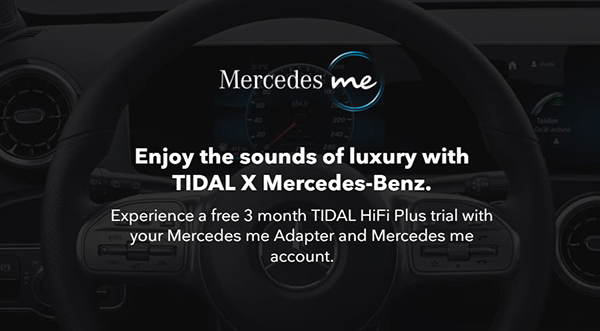 Step 1. Go to the Mercedes me portal and create your new Tidal account. And sign in with your Mercedes me credentials.
Step 2. Click on the "Go to my vehicle" option, select the image of your vehicle, and go to the online music icon.
Step 3. Enter your preferred email/username and password to activate your new Tidal account. Click Register to confirm your account creation and you are well on your way to getting a free 3-month trial of Tidal HiFi plus.
Step 4. Confirm that your vehicle has the new MBUX , if you are not sure, please ask your dealer. So your Mercedes me account can linked to your vehicle.
Step 5. Select Media > Online Music > Tidal tab on your car screen and sign in with your new Tidal account. Then you'll be able to play Tidal Music on your Mercedes.
Part 3. How to Use Tidal in Mercedes Freely
Once the three-month free trial period expires, you still have no way to continue listening to Tidal Music on Mercedes. Don't worry, here's a foolproof solution, all you need is a Tidal Music downloader, then you have the privilege to download Tidal Music and save it on a USB drive without any restrictions, thus it's able to play music on Tidal offline by plugging the USB into your Mercedes.
After meticulous research and comparison of various Tidal Music downloaders on the market, AudFree Tidal Music Downloader stands out. Whether you are a Tidal Free, Tidal HiFi or HiFi Plus Subscriber, this best Tidal downloader and converter can easily help you download and convert Tidal playlists or albums to MP3, FLAC, WAV, Lossless, AAC, etc. Then you'll have the freedom to play Tidal songs with great experience anytime and anywhere.
Besides, with the help of AudFree Tidal Converter, you can retain the metadata information and ID3 tags of Tidal songs without any loss. What's more, this perfect Tidal media downloader also allows you to personalize the output Tidal Music parameters such as bit rate, sample rate, audio channels, codecs, etc. to get good audio quality.
How to Use Tidal in Mercedes Freely
Step 1

Customize Tidal Music Output Format and Other Settings

Install and run AudFree Tidable on your computer. Go to the top menu bar and select the "Preferences" option, then click the "Advanced" section to define the output format. For example, you can convert Tidal Music to MP3, FLAC, WAV, etc. After that, please customize other audio parameters such as bit rate, audio codec, etc. according to your needs. Also, you can click on the "Archive output tracks" option to export Tidal songs by album or artist.
Step 2

Add Tidal Music to AudFree Tidable

Once the above settings are complete, click 'OK' to leave the main screen. Now it's time to find your favorite Tidal playlist or album, once you have found it, click directly on a blue '+' icon at the bottom right to add Tidal Music to AudFree Tidal. It's worth noting that the software does not support you to upload a single Tidal song, it must be a playlist or album.
Step 3

Download and Convert Tidal Music for Mercedes

Now, click on the "Convert" button and AudFree Tidable will automatically download and convert Tidal Music. Once the conversion is complete, click on the "Converted" button marked with a red number and you will be able to see all the converted Tidal Music downloads. Or you can access the target folder on your computer locally.
Step 4

Play Tidal Music in Mercedes Offline

Transfer the Tidal Music file from your computer to a USB drive and then plug it into your Mercedes Benz. In turn, you are able to enjoy Tidal Music in your Mercedes without hassle.
Part 4. In Conclusion
In reality, you can use the official way or free method to play Tidal on Mercedes. Comparatively, downloading and converting Tidal Music is an optimal solution, as you can always play Tidal on Mercedes offline and let Tidal accompany you along the way.