Whether you are a professional musician or a lover of great music, you will agree that the audio quality is of supreme importance at all times. The higher the audio quality, the more pleasurable the music listening. Many factors determine the audio quality, and the format of the audio file is one leading factor on which it depends.
With technology, you will also note that the music industry has undergone a significant change, and the audio streaming services have now occupied a primary role in all of it. Can you ever have too much music? Music streaming services are fighting for your attention and dollars. In the current times, the key to victory is ad-free unlimited high-resolution streams at a price that won't break your bank account! And amidst all the music formats, the Tidal music format has become incredibly popular, and it is for good reasons.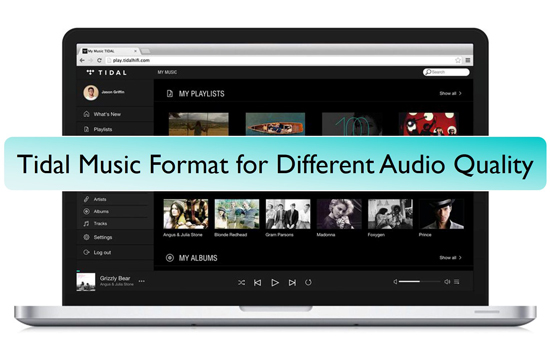 Part 1. What Audio Format Does Tidal Use and Stream
Tidal is the perfect music streaming service for those who want to listen without commercials. True, it has a less impressive library than Spotify but what makes this app stand out are its features and customization options that will make your experience with Tidal uniquely yours!
Like many other services out there on today's market, you're granted access after logging in via browser or mobile application. In either case, though (browsers OR smartphones), users have 25 million tracks at their fingertips as well as 75K videos. What is most impressive about it is that it has no pesky ads means more time watching incredible visuals while jamming some tunes by all your favorite musicians.
Tidal Audio Format for Tidal HiFi Quality
Get Tidal HiFi memberships to enjoy Tidal music with the best audio quality. You can choose from HiFi and HiFi Plus subscriptions. Tidal's Hi-Fi offering enables the audio streaming service to stream crystal clear audio that surpasses other competitors.
What audio format does Tidal HiFi use? Tidal Hi-Fi subscription service streams music at 1,411 kbps. It is much higher than what is being offered by its competitors. It makes downloading and streaming its songs more bandwidth-intensive. The Tidal file format streams FLAC allows it to use the lossless FLAC file format, providing superior sound over other compressed audio files. These include the audio quality by its competitors like Spotify or Apple Music.
Tidal File Format for Tidal Master Quality
Tidal HiFi plus membership gives you three benefits - Authenticated Master Quality Audio, lossless audio, and immersive audio formats (in one package).
Sony 360 Audio with better sound quality than what humans can hear! The latest technology makes it possible to enjoy high-quality audio without worrying about file sizes. Some high-end audio devices offer 9216 kbps (Hi-Res) and support Tidal Masters via Master Quality Authenticated (MQA) technology, allowing you to listen to immersive music in Dolby Atmos Music.
Part 2. How to Convert Tidal Music Format
If you are fond of listening highest quality audio music and songs, then it is possible that at some point, you might also look for the Tidal music format conversion. The good news is that now you have many options to convert them.
The AudFree Tidal Music Converter is designed to be the perfect music solution for subscribers who want more control over their playback experience on PC and Mac.
We can say that this is the best music converter and streamer for Tidal. It does not matter whether you are using the Premium or HiFi subscription can quickly help convert playlists from its web player into plain audio files like FLAC, WAV, MP3, AAC. You can freely enjoy songs with a pleasant experience anywhere at any time!
Here you also have the option of higher conversion speed. It can be done utilizing 5X. The AudFree Tidal Music Converter for Windows runs at a 5X faster when you convert and download Tidal HiFi music, no matter what type or quality you want. Thus, it is the best that you can have. With the help of AudFree Tidal Music Converter, you can organize your Tidal format local files by album or artist.
A Guide to Do Tidal File Format Conversion
Make sure you have downloaded and installed AudFree Tidal Music Converter on your computer. Also, it requires the Tidal app to complete this process.
Step 1

Download AudFree and log into Tidal

Download AudFree software on your computer. Log into your Tidal account. Tidal now is free for every user to use.
Step 2

Reset Tidal file formats on AudFree

Click on the Preferences option from the menu and choose a suitable output format from the Advanced tab. Customize the output format of Tidal to FLAC, WAV, Lossless, or any other for your Tidal audio format.
Step 3

Add Tidal music to AudFree software

Search for Tidal tracks or playlists on AudFree's interface, which shows you the interface of the Tidal web player. When you open a playlist or album, click the blue tab from the right bottom to select the songs you need to convert.
Step 4

Convert Tidal file formats to the ones you need

Click on the Convert button to start downloading and converting your favorite songs to your desired format. When the conversion is done, you can go to the Converted option and further access the converted Tidal local files on the computer.
Part 3. Conclusion
In conclusion, we hope that we have provided you with sufficient information about Tidal. Owing to the high audio quality it provides, it has become an instant success as an Audio App.
As already mentioned earlier, Tidal is a streaming music service that offers unmatched sound quality. But it is seen that many people don't have an app or can't download it for whatever reason. Fortunately, AudFree Tidal Music Downloader allows you to easily download all contents offline and transfer them onto any device, so they're playable without being on the official app!