As the best shot for audiophiles, Tidal gives you everything you wished to have from a streaming platform: high-fidelity quality and collection. It is a combination of mobility and convenience with the prestige of a CD-quality music collection. Even, more music artists invested in the platform and claimed to pay higher royalties to songwriters and artists than other streaming platforms. However, it is unproven. Nonetheless, Tidal gives you a compelling proposition worthy of your consideration as an alternative to Spotify and other streaming platforms.
Thus, in this Tidal music review, you will find out about everything related to the service. Then you can decide to switch to other platforms or not based on this review.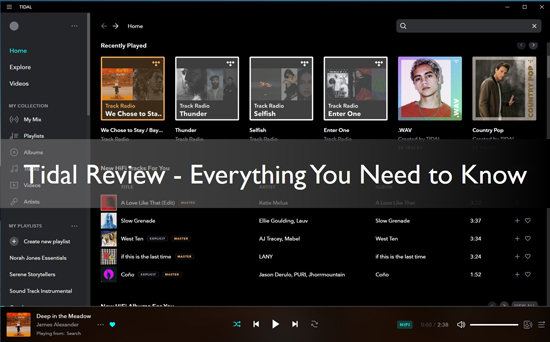 Part 1. What is Tidal Music Streaming Service
Tidal, launched in 2014, is mastered by the artist Jay-Z's firm Project Panther Bidco although it was previously founded by Aspiro company. The streaming service allows people to opt for the week's trial before choosing the preferable subscription plan. Also, it provides a free version but with ads and lower quality. With a wide range of music library of more than 100 million songs and 650, 000 exclusive videos, Tidal is popular among many countries. Currently, Tidal has been used by approximately 60 million users across over 60 countries, among which 5 million music lovers opted to subscribe to its HiFi and HifI Plus Plans.
See also: How to Use Tidal in India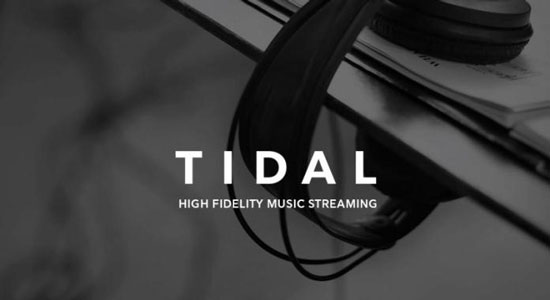 This audiophilic service is compatible with Android, iOS, Mac, and PC. You can also use it via its web player. After being its membership, you can enjoy immersive spatial audio with ultra high-quality on supported devices.
Main Features
✨High-fidelity audio streaming and spatial audio for audiophiles
✨ Partner with artists and record labels to offer exclusive content
✨ Extensive and content-rich music catalog with curated playlists
✨ Offline playback on mobiles without losing data
✨ Allows to DJ with Tidal music via the DJ session on Tidal
✨ Available on various devices via Tidal Connect or other channels
Pros
● Lossless high-resolution music quality
● Exclusive curated playlists and music videos
● Specific DJ session for music lovers
● Convenient to cast wireless music via Tidal Connect
● Allow users to download music for offline listening
● Higher compensation for artists
● Various Tidal promotion for free trial with the partnership with third-party services
Cons
● Higher cost for Tidal subscriptions
● Cannot download music from Tidal on computers
Basic Information
Tidal Music
Launched In
2014
Supported Countries
60+
Total users
over 60 million
Subscribers
5 million
Music Library Size
100 M+ tracks & 650 K+ videos
Plans
Free Plan
HiFi Plan
HiFi Plus Plan
Required Sysytem
Android, iOS, PC, Mac
Free Trial
Yes
Part 2. Desktop App & Mobile App Review
Tidal has the same amount of functional sections on mobiles and computers, but these sections are located in different areas on the Tidal mobile and desktop app.
The Tidal mobile app includes the Home, Explore, Search, and My Collection sections at the bottom navigation bar. Among this, you can browse Mixes & Radios, playlists, albums, tracks, and videos in My Collection. Similar to the desktop version, on the full screen of playing music, you can choose to turn on or off shuffle mode and choose to like your favorite songs or playlists. However, the mobile version owns a unique offline mode, which is not included in the app on the computer.
On the Tidal desktop app, most functional sections are presented on the left-hand panel, in which you can choose to pin other features you want. If you want to put the currently playing music into full-screen mode, you can tap on the bottom-right icon. You will find there is a suggested tracks feature. Also, similar to the Tidal app on phones, the computer app provides its users with real-time lyrics while playing music.
However, what a pity that you cannot download music from Tidal on computers. What's more, the downloads you get with HiFi and HiFi Plus accounts are temporary cache files that will disappear once you cancel Tidal subscriptions. Fortunately, a professional tool AudFree Tidal Music Converter for Windows can be used to download Tidal music as permanent local files. Additionally, you can convert the music into FLAC, AAC, WAV, M4A, and M4B without losing quality or ID3 tags. Plus, you can play all the converted music files on any media device, such as MP3 players, smartphones, gaming consoles, and smart speakers.
Part 3. Tidal Subscription Price Review
| Subscriptions(/month) | Tidal HiFi | Tidal HiFi Plus |
| --- | --- | --- |
| Individual | $9.99 | $19.99 |
| Family (6 accounts) | $14.99 | $29.99 |
| Student | $4.99 | $9.99 |
| Military/First Responder | $5.99 | $11.99 |
As stated in this chart, besides Free Plan, Tidal also provides HiFi and HiFi Plus subscriptions. On top of that, there are four plans for the two subscriptions: Individual, Family, student, military, and first responder. Among that, Tidal provides a 50% discount for students and a 40% discount for both military and first responder. Moreover, the family plan for HiFi and HiFi Plus is ideal for a family of six members, covering a total of six members and costs respectively $19.99 and $29.99 a month. And the price of the Tidal HiFi plan is going up to $10.99/month.
For Tidal Free users, this service only provides limited features, like 110 M+ tracks, 160kbps audio quality with expert and curated playlists, and unlimited skips. Distinct from Tidal Free users, besides the above features, every member that subscribes to HiFi or HiFi Plus has access to 650 M+ high-definition videos, offline mode, ad-free listening, Tidal Connect feature, listening habits tracking, etc. And different from the 160 kbps for Tidal Free plan, Tidal provides innovative Hi-Fi music, Master music, spatial audio such as Tidal Dolby Atmos and Sony 360 Realty Audio, exclusive music videos, and curated editorial. But no matter which plan you'd like to choose, don't forget to get Tidal for free via its free trial version in advance.
View Also: How to Cancel Tidal Subscriptions in 4 Ways
Part 4. Tidal Audio Quality Review
Apart from subscription costs, streaming quality also plays a significant role in reviewing a music service. If you prefer to get the best Tidal quality, you'd better choose the Hi-Fi Plus subscription plan. Although the Tidal cost for this plan is expensive, you will receive the highest quality available on the platform. Having a device supporting high-fidelity or MQA audio further helps you enjoy the lossless music available with the streaming service provider. It even collaborated with Dolby Atmos to enable you to stream music in spatial audio through a set-top box, TV, and speaker system consisting of Dolby Atmos feature. As a member of Tidal, you can choose the audio quality from:
• Master (Tidal HiFi Plus): Artists themselves authenticate the quality of the MQA with 9216kbps. These files are from the mastering process and have studio quality with depth and unmatched clarity.
• Hi-Fi (Tidal HiFi): Lossless CD clarity with 1411kbps.
• High (Tidal HiFi): It is suitable for those who want to balance sound quality and data usage. The clarity is standard at 320 kbps AAC.
• Normal: The option is suitable for those with slower internet connections.
View Also: Tidal HiFi vs Tidal Premium vs Tidal Master
Part 5. How Big Is Tidal Music Library
As the stats we displayed in the above table, Tidal endows its listeners with a large size of the music library, including 100 million tracks, and curated playlists as well as over 650, 000 music videos tailored for particularly Tidal subscribers.
As for the music content, Tidal owns 25 music genres and 29 categories with tailored and rich content. There, across-genres section, like Decades, Activities, Tempo, etc. is also included. Furthermore, interviews, behind-the-scenes, live sessions, and 150,000 specific podcast episodes. Most importantly, now, Tidal provides synchronized lyrics for subscribers.

Part 6. Compatibility Review
Tidal is widely supported on a variety of devices and players, such as smart TVs, wearables, mobiles & desktops, etc. This website is feasible for you to check whether your device is compatible with Tidal. You can check and filter devices by various types of devices and also Tidal main features.
And like Spotify Connect, Tidal Connect empowers you to stream Tidal tracks on all supported devices over directly Tidal servers or Wi-Fi networks. With it, you can listen to Tidal music on those devices without a phone. Moreover, it has a wider availability than Apple AirPlay 2 since it can be used on not only Apple products but also many non-Apple devices.
Part 7. Artist Compensation Review
It is well known that Tidal is mastered by its artist, like Jay-Z. Without a doubt, compared with other streaming platforms, the benefits that Tidal offers to its artists are the best. According to definitive data, Tidal gives $0.013 per stream while the most popular platform Spotify only pays $0.0033 for each stream. In other words, Tidal artists are able to earn $1000 after no more than 80,000 streams while Spotify artists need over 300,000 streams.
Part 8. Tidal Customer Service Review
Tidal provides a catalog of common problems for people who have the same questions. You can find answers by clicking on relevant problems. However, if you have unique issues, you need to submit a request and wait for its email. Then you can solve you problem according to the instuction in the received email. Different from Spotify, it is difficult to contact Tidal via intuitive chat window, which is not as convenient as Spotify.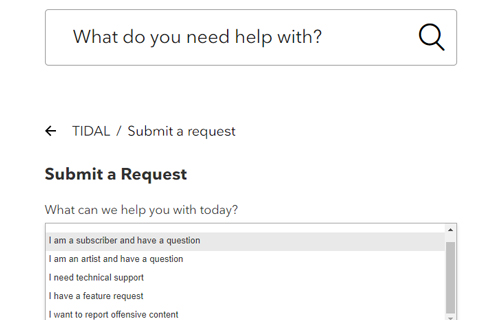 Part 9. FAQs about Tidal Music Streaming Service
Q1. How to create a playlist?
You can create a playlist on the desktop under the My Playlist column and start adding music. You can enter a name and fill it with your favorite songs. You can create unlimited playlists.
Q2. Where Tidal works?
Tidal works on your computer, Android smartphones, and iOS devices.
Q3. How to authorize a device?
Tidal authorizes a device automatically when you create a playlist for offline use. However, offline listening is available only for the mobile app version.
Q4. Is it possible to block content?
Yes, Tidal allows you to block tracks and artists. However, you must log in via the web player to act. If you wish to block content on your mobile, you must open the app, navigate to Settings, and select Blocked. You can manage all the blocked content.
Q5. How to identify an account without an email address?
If you forget your initial email address registered, then Tidal has different ways to locate the email address. You can give an alternative email address, the last four digits of the credit card, the first and last name of the cardholder, the expiration date, and the exact amount of the transaction. If you used a PayPal account, you must provide a billing agreement number and transaction ID number. If you used Apple Wallet, then contacting Apple Support is preferable.
Q6: Can you buy music from Tidal?
Nope. It is a pity that the Tidal download store had closed down, which means there are no native channels to purchase Tidal tracks. However, if you want to keep FLAC Tidal music locally forever, please give AudFree Tidal Music Converter a shot.
Q7: Can Tidal music have lyrics?
Yes. Tidal now provides in-time lyrics for its HiFi and HiFi Plus subscribers.
Test Result and Verdict
Tidal works well on both phones and computers. And after canceling the HiFi subscription before it ends, it allows us access to premium features of HiFi. However, we have to download Tidal music only on mobiles. And the download will disappear from the Tidal music library after getting the Tidal subscriptions canceled. It claims that we have to subscribe to them again so that we can keep downloads again. To solve this problem to keep Tidal music locally forever, we opt to adopt AudFree Tidal Music Converter. It does provide lossless FLAC files.