Tidal as a platform gives you everything you wished to have from a streaming platform: high-quality music and collection. Tidal has come a long way since it started six years ago.
It was a shining beacon for music lovers who wanted to listen to high-quality music over anything else. It is a combination of mobility and convenience with the prestige of a CD-quality music collection.
Today, several music artists invested in the platform and claimed to pay higher royalties to songwriters and artists than other streaming platforms. However, it is unproven. Nonetheless, it gives you a compelling proposition worthy of your consideration as an alternative to Spotify and other streaming platforms.
It even collaborated with Dolby Atmos to enable you to stream music in spatial audio through a set-top box, TV, and speaker system consisting of Dolby Atmos feature. In this Tidal music review, you will find out about everything related to the service.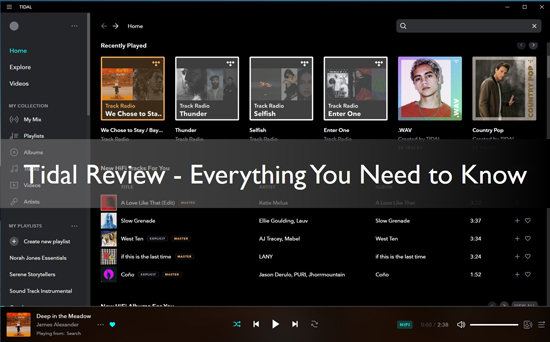 Part 1. What is Tidal
What is Tidal? Tidal is suitable for any individual who is up for some high-fidelity audio. The streaming service allows people to opt for the week's trial before choosing the preferable subscription plan.
The service gives you the chance to listen to lossless audio, including music, podcast, and videos. Although launched by Aspiro, Tidal belongs to Project Panther Bidco today. With an agreement with three major record label companies and several independent labels, the streaming service platform boasts of offering over 70 million tracks and over 250,000 music videos.
Part 2. How Much Does Tidal Cost
You do have the answer to what is Tidal music. But do you have details about the plans and how much does it cost? The specifications will help you choose the one that fits your budget and sound quality. However, remember that the Tidal cost increases based on the sound quality, and the least quality that you get is the standard version of 320kbps.
• Premium: $9.99 for a single month with standard sound quality, HD videos, and access to curated editorial.
• Hi-Fi: The plan costs you $19.99 a month and gives access to High-Fidelity sound, Dolby Atmos music, HD music videos, Sony 360 Realty Audio, and curated editorial.
• Family Premium: The family premium subscription is ideal for a family of six members. The plan costs $14.99 a month with access to standard music, HD music videos, and curated editorial.
• Family Hi-Fi: The family Hi-Fi plan is suitable if you want to listen to High Fidelity music. The plan covers a total of six members and costs $29.99 a month. Every member has access to Hi-Fi music, HD music videos, and curated editorial.
• Student Premium: $4.99 a month
• Student Hi-Fi: $9.99 a month
• Military Premium: $5.99 a month
• Military Hi-Fi: $11.99 a month
• First Responder Premium: $5.99 a month
• First Responder Hi-Fi: $11.99 a month
No matter which plan you'd like to choose, don't forget to get Tidal for free via its free trial version in advance.
Part 3. What Is Tidal Quality
If you like to get the best Tidal quality, you must choose the Hi-Fi subscription plan. Although Tidal cost for this plan is expensive, you will receive the highest quality available on the platform. Having a device supporting the High-Fidelity further helps you enjoy the lossless music available with the streaming service provider. As a Hi-Fi member, you can choose the audio quality from:
• Master: Artists themselves authenticate the quality of the MQA. These files are from the mastering process and have studio quality with depth and unmatched clarity.
• Hi-Fi: Lossless CD clarity with 1411kbps
• High: It is suitable for those who want to balance sound quality and data usage. The clarity is standard at 320kbps AAC.
• Normal: The option is suitable for those with slower internet connections.
View Also: Tidal HiFi vs Tidal Premium vs Tidal Master
Part 4. How to Cancel Tidal
If you have chosen the free trial and do not wish to continue, then it is possible to cancel the Tidal membership with ease. However, learning how to cancel Tidal is essential, as it will prevent unwanted subscription loss if you have any. If you have subscribed to a plan through a third-party provider, then you must cancel through them. The following details will provide you details related to the same:
• Tidal Website: You can visit the Tidal website and log in using your account credentials. Click the "Subscription" feature and then click the "Cancel My Subscription" link. You must confirm the cancellation to allow Tidal to de-activate your account.
• Android: You can open the application on the smartphone and navigate to the "My Collection" feature. From there, click "Settings>Edit Profile>Manage Subscription." You can press "Subscription" and then cancel the subscription by clicking the "Cancel Subscription" link.
• Sprint: You will receive the subscription in your Sprint bill related to the device. You must open the Sprint website, log into your account, and choose "Tidal." Likewise, you can use "My Sprint" on your mobile and contact customer support for assistance.
View Also: How to Use Tidal with Sprint
• Mobile Carrier: If you are using a non-Sprint account registered through your cell phone provider, you must contact the cell phone company's customer service center for assistance in canceling the subscription plan. As part of privacy features, Tidal does not make or view changes to your account.
• Apple and iTunes Wallet: If you have registered through iPhone, your Apple Wallet will show the Tidal account. You can click the link provided to cancel the subscription. However, if you do not see any active subscription in the Wallet, you pay them for the service through a different payment method. In such cases, you can contact Apple Support directly and seek assistance.
Part 5. How to Delete Tidal Account
You have gone through the Tidal music review above. However, if you do not wish to continue your account with the provider for personal reasons, deleting the account is preferable.
How to delete a Tidal account? The following instructions provide you the opportunity to delete your Tidal account with ease:
Method 1: Using email.
You must send a mail to the company from the registered email address, requesting them to delete your account from their database. You should also specify the reason and ask them to wipe away all the data related to your registered email id and account.
Method 2: Using the website.
You can submit the contact form available on the website and request to delete the account. Likewise, you can also have a live chat with customer service to learn about the process.
Part 6. Other Tidal FAQs - What You Need to Know
Q1. How to create a playlist?
You can create a playlist on the desktop under the My Playlist column and start adding music. You can enter a name and fill it with your favorite songs. You can create unlimited playlists.
Q2. Where Tidal works?
Tidal works on your computer, Android smartphones, and iOS devices.
Q3. How to authorize a device?
Tidal authorizes a device automatically when you create a playlist for offline use. However, offline listening is available only for the mobile app version.
Q4. Is it possible to block content?
Yes, Tidal allows you to block track and artist. However, you must log via the web player to act. If you wish to block content on your mobile, you must open the app, navigate to Settings, and select Blocked. You can manage all the blocked content.
Q5. How to identify an account without an email address?
If you forget your initial email address registered, then Tidal has different ways to locate the email address. You can give an alternative email address, the last four digits of the credit card, first and last name of the cardholder, expiration date, and exact amount of transaction. If you used a PayPal account, you must provide a billing agreement number and transaction ID number. If you used Apple Wallet, then contacting Apple Support is preferable.
Bonus Tips – How to Keep Tidal Music Forever
If you want to keep Tidal music forever, then use AudFree Tidal Music Converter for Windows. It is a full-featured software that helps you download music from Tidal and convert it into the required file type.
The fascinating element is its ability to download songs from Tidal. Additionally, you can convert the music into FLAC, AAC, WAV, M4A, and M4B without losing quality. Plus, you can play all the converted music files on any media device, such as MP3 players, smartphones, gaming consoles, and smart speakers.
How to Keep Tidal Music Forever
Step 1: Visit the AudFree website to download the software. You can proceed with the registration and then complete the installation on your Windows PC. Click the icon on your desktop to open the software.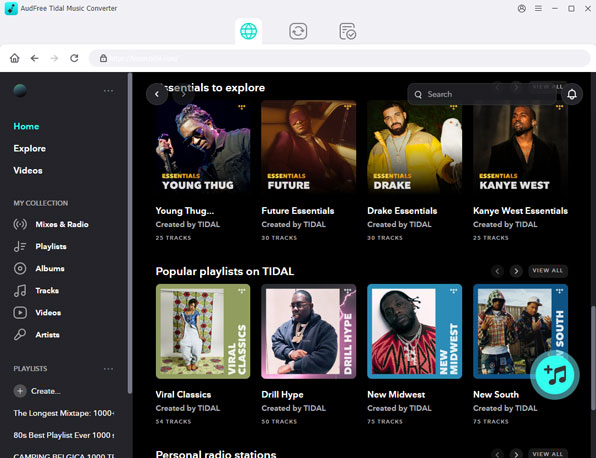 Note: The trial copy of AudFree converts only the first one-minute of each song. Registering or upgrading by purchasing the license helps you to convert unlimited songs.
Step 2: Once you launch the software, it will automatically open the Tidal software on your computer. You can discover the songs that you want to convert and begin converting the same. Upon identifying the songs, click the "three-dots" and press "Share>Copy Playlist Link" to copy the link. You can then paste it into the AudFree program and click the "+" sign.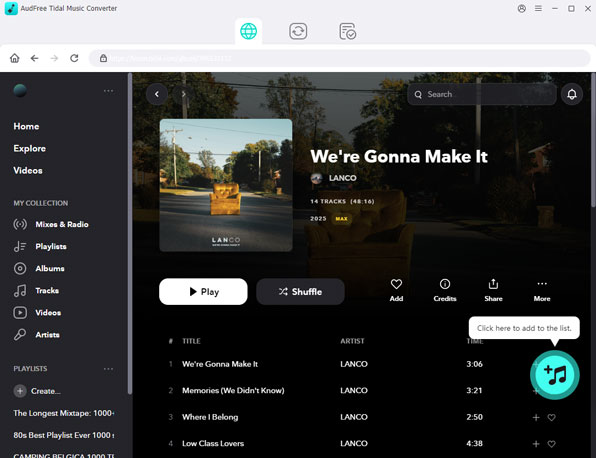 Step 3: Click the "Preferences" tab at the top to open the settings window. From the message, click the "Convert" tab, and define the output parameters. You can set the output, change the channel bit rate, and sample rate. Further, you have the option to archive the output playlist songs by artist or albums.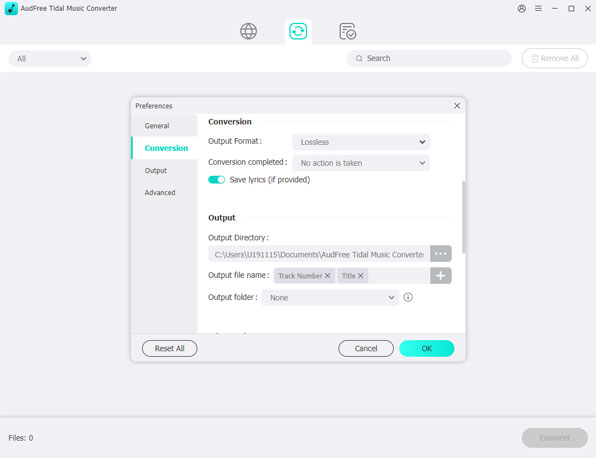 Step 4: You can now click the "Convert" button to start the conversion process. The time to complete depends on the number of songs selected and the settings in the "Preferences" window. Therefore, allow the software to complete the process. After completion, you can browse to the output folder to check for the converted songs from Tidal. You can use them for offline listening on any device.