Tidal is vying for a great number of music lovers, especially audiophiles for its incredible and innovative sound quality and effects such as MQA, Dolby Atmos, Sony 360 Reality Audio, etc. But, not all devices and players accept Tidal Dolby Atmos or 360 Reality Audio sound. So many people are looking for the answer to whether Tidal on Samsung HW-Q950TS is possible.
Fortunately, Samsung has cooperated with Tidal and rolled out Samsung Multiroom App, enabling you to stream Tidal with wireless immerse audio on Samsung devices including Samsung Soundbar such as Samsung Q60 Soundbar, Samsung Q70 Soundbar, etc. If you buy this soundbar system and want to enjoy Tidal on it, this post can provide you with everything you wonder including the official ways and a better method to play Tidal on Samsung Soundbar. Let's explore together!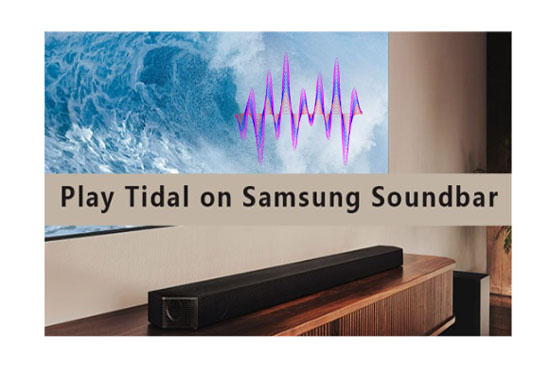 Part 1. How to Connect Tidal to Samsung Soundbar with Tidal HiFi Plus [Official Way]
Samsung Soundbar empowers you to listen to Dolby Atmos and 360 Reality Audios from Tidal in wireless. In other words, it allows you to skip the HDMI cable to connect to Tidal in an official way by using the Samsung Multiroom App since Tidal is available on Samsung Multiroom. You can make it by following the instructions below.
How to Pair a Samsung Soundbar with Tidal
Before looking through how to play Tidal music on Samsung Soundbar, please figure out how to pair a Samsung Soundbar with Tidal now. You are required to install the Samsung Multiroom App on your device such as mobiles and computers in advance. Then you can proceed to the following steps to connect Samsung Soundbar to Tidal.
Step 1. Enter the Multiroom app on your device and navigate to the speaker menu by clicking on the top-right 'Speaker icon'. Then choose the Samsung Soundbar you wish to connect to Tidal.
Step 2. Select 'More' > 'Tidal' from 'Music Source' under the speaker icon and log onto your Tidal account. Finally, you can start to play Tidal music and enjoy the sound on Samsung Soundbar seamlessly.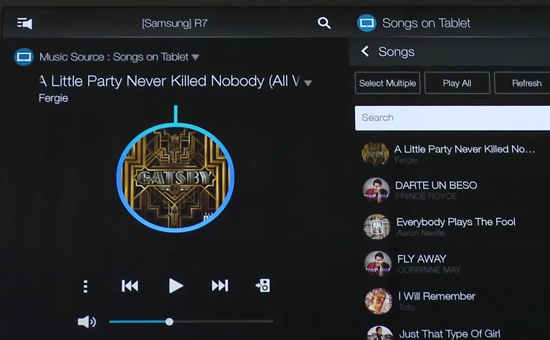 Note: You can also try to pair a Samsung soundbar with Tidal by Tidal Connect. Look at the bottom 'Now Playing' bar and tap on 'Device Selector'. Then hit on the target Samsung Soundbar to connect to it. But not all series of Samsung Soundbars support Tidal Connect all the time. And it requires you to subscribe to Tidal HiFi or Tidal HiFi Plus.
How to Play Tidal Dolby Atmos on Samsung Soundbar
After pairing your Samsung Soundbar with Tidal, proceed to play Tidal music such as Tidal Dolby Atmos or 360 Reality Audios on the soundbar. You need to become a Tidal HiFi Plus member and make sure that you have enabled Dolby Atmos on Tidal beforehand.
Stream Tidal to Samsung Soundbar from Mobile / Desktop
Then click 'Explore' > 'Dolby Atmos' on your device such as a phone to search for Tidal Dolby Atmos albums. On Tidal, you will be presented with Dolby Atmos tracks symbolized with a DD badge. Now, you are ready to immerse yourself in the dynamic and unparalleled Dolby Atmos sound with Samsung Soundbar.
Stream Tidal to Samsung Soundbar from Samsung Smart TV
The Samsung Soundbar Q series harbors the world's 1st built-in wireless Dolby Atmos connection, which facilitates enjoying Tidal Dolby Atmos on Samsung Soundbar via Samsung Smart TV. So if you also have a Samsung Smart TV that is compatible with Dolby Atmos sound, you can connect your Samsung Soundbar to the TV with HDMI first.
Set the Dolby Atmos option by clicking 'Settings' > 'Sound' > 'Expert Settings' > 'Dolby Atmos Compatibility' on the TV. At the same time, Set the 'HDMI e-ARC Mode' and 'Digital Output Audio Format' to 'Auto'. Then open Tidal music encoded with the Dolby Atmos icon on Samsung TV's Tidal app, you can experience the surround and room-filling Dolby Atmos sound.
See Also: Play Tidal on Samsung TV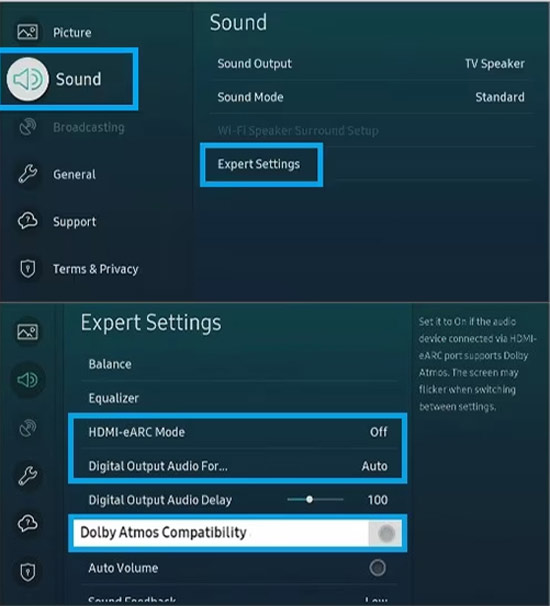 Part 2. Stream Tidal on Samsung Soundbar Offline Forever for Free [Better Way]
With Tidal HiFi Plus, you are allowed to stream Dolby Atmos, Sony 360 Reality Audio, MQA, and High-Fidelity music from Tidal on the soundbar. However, once you stop the Tidal HiFi Plus subscription, you can not access those Tidal audios and the downloaded cache files on Samsung Soundbar. What's worse, there is no sound sometimes while playing Tidal on Samsung Soundbar, or will prompt an 'Invalid ID' message while using the Samsung Multiroom App.
Tool You Need -- AudFree Tidal Music Converter
To avoid such disturbing issues when you stream Tidal on Samsung Soundbar, we will provide a better way for you. That is to download or convert Tidal music in playable audio formats for offline listening with a third-party tool and play the Tidal contents back on your Samsung Soundbar. Here, we would like to introduce a full-featured gadget -- AudFree Tidal Music Converter.
It serves to download and convert Tidal Free, Tidal HiFi, and Tidal HiFi Plus music to local files in popular output formats such as MP3, FLAC, and more for free instead of cache files. It supports playing the downloaded Tidal content with the lossless sound quality on all devices and players including Samsung Soundbars offline forever.
Step 1. Transfer Tidal music to AudFree Tidal Music Converter:
Enter the AudFree Tidal Music Converter on your computer once downloaded successfully, Tidal will launch simultaneously. Select your favorite music including Tidal Dolby Atmos or 360 Spatial Sound Audio. Copy the tracking link from Tidal and paste it on the converter. Or drag and drop the track from Tidal to the converter directly. Then tap the upper-right '+' icon of the interface to add files.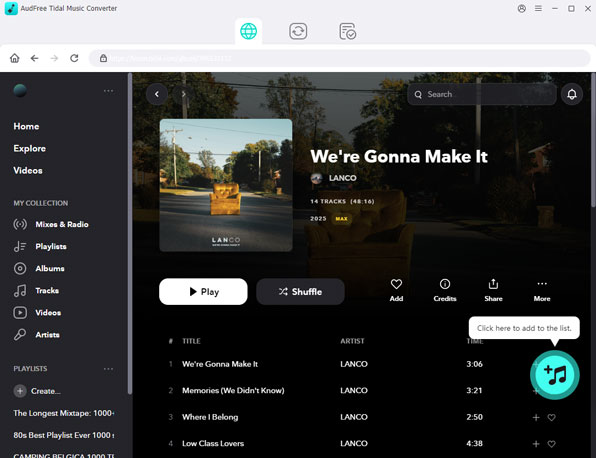 Step 2. Personalize Tidal Audio Format and Parameters for Samsung Soundbar:
Tap on the upper-right toolbar. Select 'Preference' > 'Convert' to customize the output formats as MP3, FLAC, WAV, AAC, M4A, or M4B for Tidal tracks. Likewise, you can choose other parameters such as bit rate, sample rate, or audio channels as you like. To create better sound quality, please personalize Tidal audio output format as FLAC or WAV and set the bit depth as 24 bit.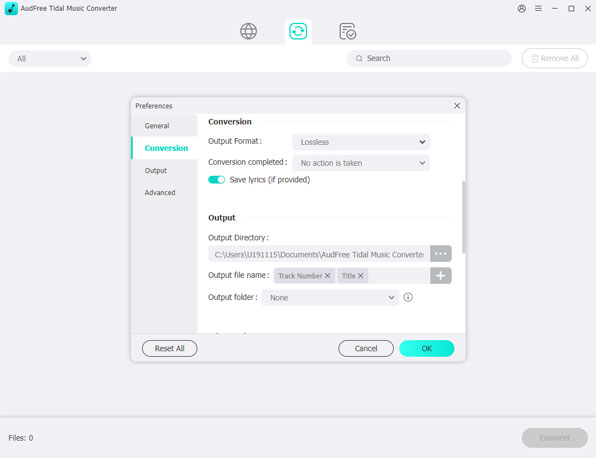 Step 3. Start to Convert Tidal Audios for Soundbar Locally:
Hit on the lower-right 'Convert' button and wait for several seconds. The converted Tidal audios will be stored in the destination folder. By tapping the bottom 'Converted History' with the red badge, you can find those Tidal downloads.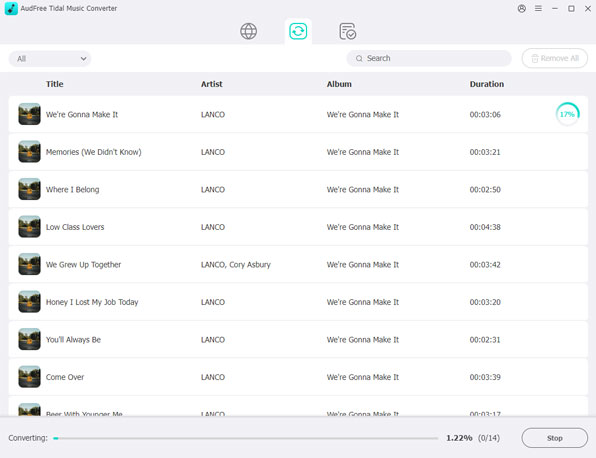 Step 4. Stream Tidal on Samsung Soundbar Offline Forever
Once found the Tidal downloaded music, you can begin to listen to Tidal music on Samsung Soundbar. You can choose to connect Samsung Soundbar to your computer with USB cables. Alternatively, import the local Tidal audio files to your mobiles and pair your mobiles to Samsung Soundbar via Bluetooth if you prefer to stream music on phones.
1) Make sure Samsung Soundbar is turned on. Hold the source button or press 'Bluetooth Pair' on the remote until the 'BT PAIRING' appears on the soundbar' s display, which means you are in Bluetooth paring mode.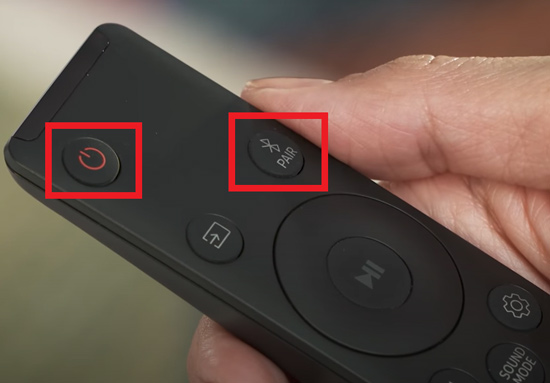 2) Navigate to and enter the 'Settings' app on the device you hope to connect. Tap 'Connections' > 'Bluetooth' to turn on Bluetooth on your device.
3) From the available devices list, select your Samsung Soundbar and finish connecting according to the on-screen prompts.
4) Rotate the dial to select your favorite Tidal songs to begin the playback of Tidal downloads or open the Tidal songs on your device directly. Then you can experience your music journey with better sound dispersion and no dead spots on your Samsung Soundbar forever.
Part 3. In Conclusion
As described above, this post demonstrates the official ways to stream Tidal on Samsung Soundbar with Samsung Multiroom App or Tidal Connect. However, the official methods leave you with various limitations. So we prepare a better way: use a third-party converter. we recommend AudFree Tidal Music Converter.
With it, you can download Tidal tracks locally and keep them permanently. It allows you to download Tidal MQA, Tidal Dolby Atmos, 360 Spatial sound audios, and more on Samsung Soundbar as well as any other devices and players whenever you like.