Q: "I've always been a loyal Tidal subscriber being attracted by Tidal's HiFi and Master music. Generally, I am used to listening to Tidal songs on my Mac and iOS devices. Recently, I purchased a Galaxy Watch 4 because of its function to stream music on the go. In this case, I would like to know how to get Tidal Galaxy Watch 4 connected?"
In fact, Tidal and Samsung Watch have been integrated in order to access Tidal music and playlists on the Galaxy Watch directly. If you're also interested in this topic, you've come to the right place. In this article, there are three methods to connect Tidal to Samsung Galaxy Watch. Let's move on.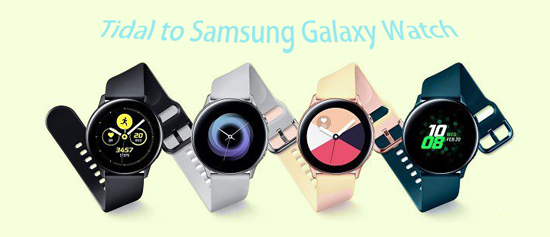 Part 1. How to Get Tidal Wearable App on Samsung Galaxy Watch 4/5 Pro
Now, Samsung's various wearable devices become compatible with the Tidal app. This expands the convenience of Tidal. It is able to play Tidal from your Galaxy watch via the Tidal wearable app officially. Please note that you will need to sign up for the Tidal Hi-Fi or Hi-Fi Plus subscription plans beforehand.
If you don't have a Tidal account, it is highly recommended that you sign up for Tidal through Samsung Watch directly. By doing so, you will automatically get Tidal for free within 3 months at no cost to you. And then You can refer to the tutorial below to learn how to hook Galaxy Watch to Tidal.
How to Install Tidal on Samsung Watch
Step 1. Whether you are using an Android phone or iPhone, please launch the Galaxy Watch App on it.
Step 2. For iOS phone users, search for "Tidal" by clicking on "View More" under "Recommended Watch Apps". For Android users, you just need to search for "Tidal" directly.
Step 3. Once you have found it, install the Tidal wearable app on your mobile phone and open it on your Samsung Galaxy Watch.
How to Set Up Tidal on Samsung Galaxy Watch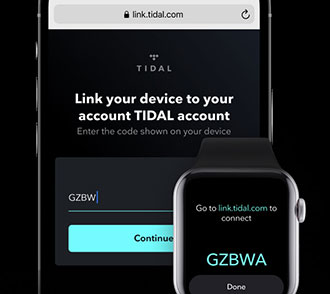 Step 1. Go to link.tidal.com on your Mac, Windows, or mobile phone.
Step 2. Sign in to your Tidal account. If you don't have one, sign up for one through the Galaxy Watch to get a free Tidal Hi-Fi or Hi-Fi Plus account.
Step 3. Enter the code displayed on your Samsung Galaxy Watch to connect it to your Tidal account.
Step 4. Now, you can begin to stream and play Tidal on Galaxy Watch 4 or other Samsung Watches without any problems.
Extention: Play Tidal on Galaxy Watch 4 via Web Player
In fact, Samsung Galaxy Gear owns a Samsung Internet Browser that allows you to access Tidal music library via its web player. This way, you needn't install a Tidal wearable app. Now, let's see how to make it.
Step 1. From the Play Store on Galaxy Watch, install the Samsung Internet Browser app on your smartwatch.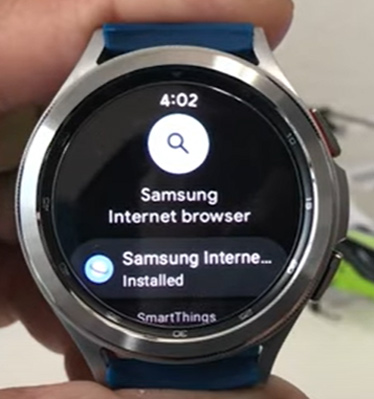 Step 2. Open the browser and then navigate to Tidal's official website.
Step 3. Log into your Tidal HiFi or HiFi Plus account. Afterward, you can browse and play Tidal music via the Tidal web player on a Galaxy device.
Part 2. Best Way to Play Tidal on Samsung Galaxy Watch 3/4/5 Pro/Active 2
Obviously, the above approach relies on the Tidal Wear app and a subscription account, which is not practical for Tidal Free users. Therefore, a perfect method for all users will also be presented here. As is well known, the Samsung Galaxy Watch app allows users to upload media content to it. As a result, people can listen to local music on Galaxy Watch via the built-in music player.
According to this feature of the Galaxy Watch device, we can download Tidal music. Then transfer them to Galaxy Watch app for playback without having to use the Tidal app. To make it possible, we need to turn to the professional AudFree Tidal Music Converter.
This tool is dedicated to downloading music from Tidal locally. Besides, this sought-after gagdget facilitates converting Tidal music to Galaxy Watch-compatible audio formats such as MP3, AAC, WAV, etc. This way, you can put music on Galaxy Watch 3/4/5/5 Pro/Active 2 from Tidal smoothly. In addition to the Samsung Galaxy Watch, you can also play Tidal on almost any smartwatch, including Fitbit Versa, Garmin Watch, and more.
How to Download Tidal Music to Galaxy Watch 4
You can install AudFree Tidal Music Downloader on both PC and Mac computers, which is safe and legal for personal and educational use. Then you can follow the below user guide to download Tidal music to MP3 or other supported formats for Samsung Galaxy Watch.
| | |
| --- | --- |
| Galaxy Watch-supported Audio Formats | MP3, M4A, OGA, WAV, WMA, 3GA, AAC, OGG, AMR and AWB |
| Format that Tidal Uses | Specific protected AAC, WAV, and FLAC |
| AudFree Audible Convert-support Formats | MP3, M4A, WAV, AAC, FLAC, M4B |
Step 1

Load Tidal Music into AudFree Tidal Downloader

Open the AudFree Tidal Music Downloader and the Tidal app will launch at the same time. Simply search for the Tidal music you want to download to Samsung Galaxy Watch 4 or other watches, then copy and paste the URL of the Tidal track into the tool's search box. Proceed to click the "+" tab and all Tidal playlists will be loaded into the main screen. Alternatively, drag the single track, playlist, or album from the Tidal app and drop it into the feature-rich Tidal downloader.
Step 2

Set Tidal Music to Galaxy Watch supported formats

Please click on the Preferences > Convert option to select the output format of Tidal music as Galaxy Watch-enabled formats. It is recommended that you convert Tidal music to FLAC, MP3, WAV, AAC, etc. In addition, you can customize the bit rate, sample rate, channels, and other audio parameters of Tidal tracks.
Step 3

Download and Convert Tidal Music for Galaxy Watch

After customizing all the settings for the output Tidal songs, click the "Convert" button to start the process. After conversion, you can find all your Tidal files by clicking on the "History" > "Search" icon. In turn, you can start preparing to play Tidal offline on Samsung Galaxy Watch.
How to Transfer Music to Galaxy Watch 4 from Tidal
Once downloaded Tidal music as MP3 or other format files, please transfer those files to Galaxy Watches by referring to the following steps:
For Android: Via Galaxy Wearable App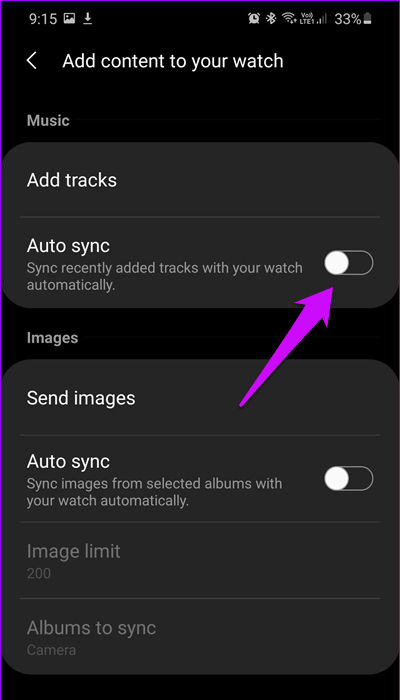 Step 1. Connect your phone to your computer via USB cables, after which sync all your Tidal songs to your phone.
Step 2. Launch the Galaxy Wearable app from your mobile device and tap on the "Add content to your watch" > "Add tracks" option.
Step 3. Select the desired Tidal song and tap the Done option. Afterward, the Tidal music will be successfully imported to Samsung Watch 4 and other Samsung Gear.
Step 4. Now, you can open the Music app on your Galaxy Watch and stream your favorite Tidal music without the Tidal app and subscription.
For iOS: Via Gear Music Manager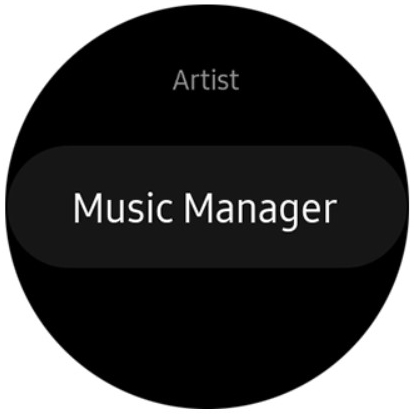 Step 1. Connect your computer and your wrist to the same Wi-Fi network.
Step 2. Open the Music app and tap the phone icon to select the watch as the music source.
Step 3. On the Now Playing screen, click on Music Manager from the bottom and then tap on 'START'.
Step 4. Navigate to a browser on your computer, and type the IP address showing on your watch into the address bar to connect the computer to your watch.
Step 5. Once connected, choose 'Add new tracks' from the browser and select the converted Tidal audio files, and then tap 'Open'.
Step 6. After uploading, click 'OK' from the computer's browser and 'DISCONNECT' from the watch.
Part 3. Control Tidal from Galaxy Watch to Enhance Music Experience
If you are new to Samsung Galaxy Watch, you may be curious about how to get an enhanced Tidal experience on the Galaxy Wear OS. This part can help you out.
Control Tidal Playback Manually
Volume control: Rotate the gear on Samsung Galaxy Watch to set the volume level.
Switch device: Go to Music, tap on the watch and phone icon as well as More options and Music Player to alternate between your phone or watch's playlist.
Next track: From the Music app on Galaxy Watch, you can skip to the next track.
Play or Pause: On the Now Playing screen, you can start or pause the track that is playing via the Play or Pause button.
Note: Please go to the Settings app on Samsung Watch. Then tap 'Display' and toggle on 'Show media controls'.
Control Tidal Music Playback via Bixby
The Samsung-developed voice AI assistant Bixby has been available on Samsung wrists. It helps you control Tidal music playback without taking your mobile from the pocket. This hand-free way only needs the Bixby app.
Step 1. Install the Bixby app from the Play Store on Galaxy Watches.
Step 2. Give Bixby permission to various functions and review the Privacy Notice, Follow the prompts to set up it.
Step 3. You can say "Hi, Bixby" or press and hold the Home key on your smartwatch to wake up it. Post the commands to play Tidal music by saying the name of track.
Note: Bixby is only available for Samsung Galaxy Watches with Tizen 4.0 or higher. Please remember to update your Wearable system.
Part 4. More about Tidal on Galaxy Watch
Q1: Does Tidal have a watch app for Samsung Galaxy Watch?
The answer is yes. For Samsung users, the Tidal app is compatible with the Galaxy Watch, Gear Sport, Gear S2, and S3, as well as the Gear Fit2 and Fit2 Pro.
Q2: What Music Apps Work on Galaxy Watch besides Tidal?
At present, Spotify and YouTube Music are available with the Galaxy Watch. You can install the Spotify and YouTube Music apps on your Samsung Galaxy Watch in order to play music with ease.
Q3: Is Tidal free on Samsung Galaxy Watch?
Nope. It requires a Tidal HiFi account to stream Tidal music on the Samsung Gear. And once you sign up for a Tidal account on Galaxy Watch for the first time, you will automatically get a 3-month free trial of Tidal HiFi service. After that, you will need to keep the renewal for Tidal subscriptions.
However, it is highly recommended to use AudFree Tidal Music Converter to convert Tidal songs for Galaxy Watch. It couldn't be easier to download music to Galaxy Watch from Tidal for offline listening without any subscriptions.
Part 5. In Conclusion
By now, you should be aware of the three effective ways to connect Galaxy Watch to Tidal. Whether you have a Tidal subscription or not, you can take advantage of AudFree Tidal Music Converter to download and convert Tidal Music. Then you can listen to Tidal offline on Samsung Galaxy Watch and other smartwatches such as Fitbit Versa, and Garmin Watch without hassle.