Q: Attracted by the HiFi quality of Tidal music, I have been a long-time subscriber of Tidal. In general, I listen to Tidal on my Mac and iOS devices. Recently, I purchased a Galaxy Watch to enjoy Tidal music on the go. In this case, my question is has anyone explored music with the Tidal app on the Samsung Galaxy Watch? How to connect Galaxy Watch to Tidal?
The Tidal wearable app is available on Samsung Galaxy Watch for months. It means that you can directly access music and playlists on Galaxy Watch via the Tidal app. If you have no idea about how to listen to Tidal on Galaxy Watch, you are in the right place. There are two methods to walk you through linking Tidal to Galaxy Watch in this post. Let's move on.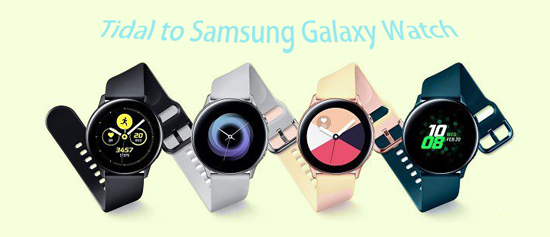 Part 1. Tidal to Galaxy Watch: Use the Tidal Wearable App
As a subscription-based streaming music service, Tidal offers two tiers for users to access its music library. Tidal Premium for high-quality songs and Tidal HiFi for lossless CD-quality streams. To play Tidal on Galaxy Watch, please sign up for one of the subscription plans.
If you don't have a Tidal account, you're highly recommended to sign up for Tidal through the Samsung Watch directly. By doing this, you can get 3-months of Tidal's Premium service with no cost automatically. And then you can refer to the following tutorial to learn how to use the Tidal app on your Galaxy Watch.
Install Tidal on Samsung Watch
Step 1. No matter you are using an Android phone or iPhone, please launch the Galaxy App Store on it.
Step 2. For Android phone users, please tap the 'View More' under the Recommended Watch Apps to search for 'Tidal. For iPhone users, you just need to search for 'Tidal' directly.
Step 3. Once discovered it, please install the Tidal Wearable app on your mobile phone and open it on your Samsung Galaxy Watch.
Connect Galaxy Watch to Tidal
Step 1. Go to the link.tidal.com on your Mac or Windows computer or mobile phones.
Step 2. Log in your Tidal account details. If you don't have one, please sign up one through the Galaxy Watch to get Tidal for free.
Step 3. Enter the code displayed on your Samsung Galaxy Watch and you can link it to your account.
Step 4. Now, you can begin to stream and play Tidal playlists on Galaxy Watch without a problem.
Play Tidal on Samsung Galaxy Watch
First of all, you can get your music collection on the 'Main Menu' screen. To serve up editorial content and look for your favorite Tidal's albums and playlists, please navigate to the 'Explore' option. Your favorite playlists will show up under the 'My Collection' screen. By the way, there are highlight workout playlists available for fitness man to get power.
Part 2. Tidal on Galaxy Watch: Download Tidal Music to Galaxy Watch Directly
Apart from the above way, there is an alternative choice for music lovers to hook Galaxy Watch to Tidal. It's well-known that the Samsung Galaxy Watch app allows users to upload media content to it. So that people can listen to local music on Galaxy Watch via the built-in music player.
According to this feature of the Galaxy Watch device, we can download Tidal music and transfer them to the Galaxy Watch app for playing them on it no need to use the Tidal app. To make it possible, we need to use AudFree Tidal Music Downloader to download music from Tidal and convert Tidal downloads to Galaxy Watch compatible audio formats.
This method is very easy to operate. By the way, following this way, you can not only play Tidal music on Galaxy Watch but also on almost all smartwatches, including Fitbit Versa, Garmin Watch, etc.
How to Link Tidal to Galaxy Watch without Tidal App
Step 1

Load Tidal music to Tidal downloader

AudFree Tidal Music Downloader is compatible with the latest Tidal desktop app. Please download them on your computer. When you open the AudFree Tidal software, the Tidal app for desktop version will be launched at the same time, which could be a benefit for adding Tidal files. Just search the Tidal music that you'd like to download to Samsung Galaxy Watch, and then copy and paste the URL of Tidal tracks to the search box of AudFree tool's. Hit on the '+' button, all Tidal playlists will be loaded in the main interface.
Step 2

Set Galaxy Watch supported audio format

Samsung Galaxy Watch supports MP3, FLAC, WAV, and AAC format. To make Tidal music available for Galaxy Watch, please click the 'Preferences' > 'Convert' option to choose the output format as Galaxy compatible audio format. In addition, you are able to customize the bit rate, sample rate, channel and other audio parameters of your Tidal tracks. Check the '1X' box can make the conversion more smooth.
Step 3

Download and convert Tidal for Samsung Galaxy Watch

Upon customizing all settings of the output audio tracks, please start to download and convert music from Tidal for playing on the Samsung Galaxy Watch by clicking the 'Convert' button. After conversion, you can get all offline Tidal files by clicking the 'history' > 'search' icon to locate them.
Step 4

Listen to Tidal music on Galaxy Watch

To sync lossless Tidal music to Galaxy Watch app, please click the 'App' icon to choose the 'Samsung Galaxy Watch' > 'Settings' option. Now touch the Send Content to Galaxy Watch' > 'Select tracks' to import Tidal music to your Galaxy Watch. When the syncing process finished, you can select a music player under the 'Home' button to listen to Tidal on Samsung Galaxy Watch.