There are numerous music streaming services that are popular right now. Also, they are really useful, particularly while you are at the house or on the go. What happens, although, if you're driving or doing housekeeping and want to enjoy the same ambiance?
Tidal over Bluetooth is a music streaming service popular among music fans. The Tidal Bluetooth quality is incredible, and the service is fantastic, with over a million tracks to choose from. Tidal may be played on Bluetooth-enabled devices, including Tidal Bluetooth speakers, Tidal HiFi Bluetooth headphones, and even your automobile. This article will show you how to play Tidal on Bluetooth across several devices.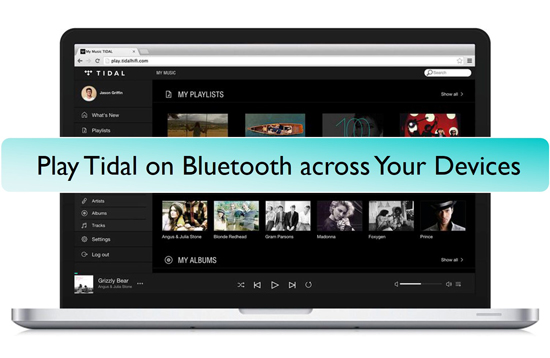 Part 1. How to Play Tidal on Bluetooth Speakers
You can manage the audio playback on your smart Bluetooth headset with a voice command. Most music streaming services, including Tidal on Bluetooth, allow songs on smart speakers.
You can use Bluetooth to make Tidal accessible on those Bluetooth smart speakers. The Bluetooth-enabled speakers can only play Tidal when connected through Bluetooth. If you're holding the party outside, you can use Bluetooth to experience it.
Step 1: Turn on Bluetooth on your speaker and smartphone.
Step 2: Go to your cell device's options and pick Bluetooth.
Step 3: Locate the Bluetooth speaker and pair it with your smartphone.
Step 4: In Tidal, open music and press the Play button to listen to your favorite Tidal tunes on Bluetooth speakers.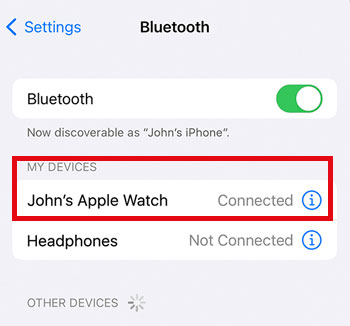 Part 2. How to Play Tidal HiFi over Bluetooth Headphones
Tidal HiFi subscriptions are the finest method to listen to music in the best possible audio quality. Tidal offers two subscription plans: HiFi and HiFi Plus to explore better music quality, including HiFi quality, MQA quality, Dolby Atmos quality, and Sony 360 Reality Audio quality.
Tidal HiFi is the most basic HiFi membership, allowing you to hear music in lossless high-fidelity sound.
Tidal HiFi Plus is the only system that provides lossless high definition audio, Master Quality Authenticated sound, and realistic music files in one place. A Tidal HiFi Plus subscription ensures that you'll be the first to hear about new sound technologies before other members.
You can connect Tidal to your headphones via Bluetooth for playback.
Step 1: Go to your iPhone or Android smartphone's options and turn on Bluetooth.
Step 2: Select the headphones from the list of accessible devices in your Bluetooth options.
Step 3: Open it on your smartphone and listen to Tidal HiFi music over your Bluetooth headphones.
Part 3. How to Stream Tidal via Bluetooth in a Car
Many people enjoy listening to music while driving. So, if you're a Tidal music subscriber, how can you listen to your favorite playlist through this platform?
If your car model has Bluetooth integrated into the audio, you can connect your smartphone and play Tidal in the car through Bluetooth. You should connect your smartphone to the car stereo to communicate better. Then, open the Tidal app and start playing the playlist you choose on your smartphone. The Tidal music will be streamed over the car's audio system. (If your car lacks built-in Bluetooth, you can purchase a universal Bluetooth car kit or a vehicle-specific Bluetooth adapter.)
Part 4. How to Listen to Tidal on Bluetooth without Using Data
A reliable network connection is required for playing Tidal music. A few streaming platforms will enable you to listen to Tidal music without being connected to the internet. Some applications call it "offline mode", which means you can enjoy music even if your phone isn't connected to the Internet. Tidal also does include this feature. But it requires a Tidal HiFi or HiFi Plus subscription to get the Tidal music download option.
What should you do if you don't have a premium account? AudFree Tidal Music Converter is a distinctive and excellent Tidal music solution that allows users to greater manage the playing of Tidal music tracks via Bluetooth.
It quickly let you convert and download Tidal tracks or songs from its web player to simple sound recordings, such as FLAC, WAV, MP3, AAC, and more in excellent quality retained, whether you're using the Basic, HiFi, or HiFi Plus membership. After that, you may listen to Tidal tracks on all devices offline without data wherever and whenever you want.
You can now refer to the following tutorial to use the AudFree Tidal Music Converter to effortlessly download all Tidal music material offline. All Tidal songs will be saved to your user's computer. And then, you can transfer it to any platform for playback without using the official Tidal app.
Step 1. Download and install the AudFree Tidal Music Converter and then log in to your Tidal account, no matter it's a free or premium version in the built-in Web Player.
Step 2. Set the output format of Tidal music downloads. To make Tidal files available for more devices and platforms, it's better to set the Tidal output format as MP3, which has a high combability.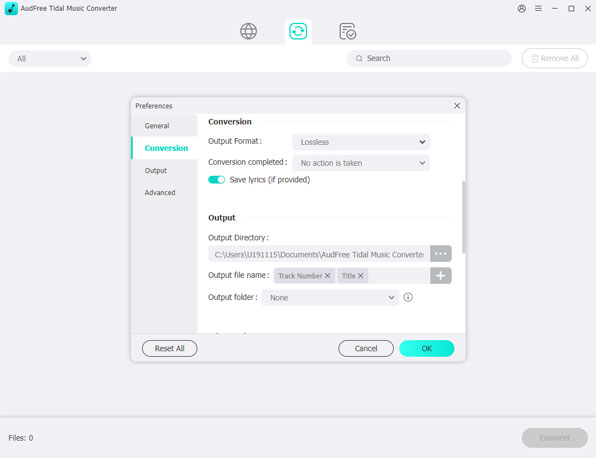 Step 3. Search for Tidal songs that you'd like to play via Bluetooth. Tap the item and click the blue '+' button to load them. After that, you can hit on the 'Convert' tab to download songs from Tidal onto computer.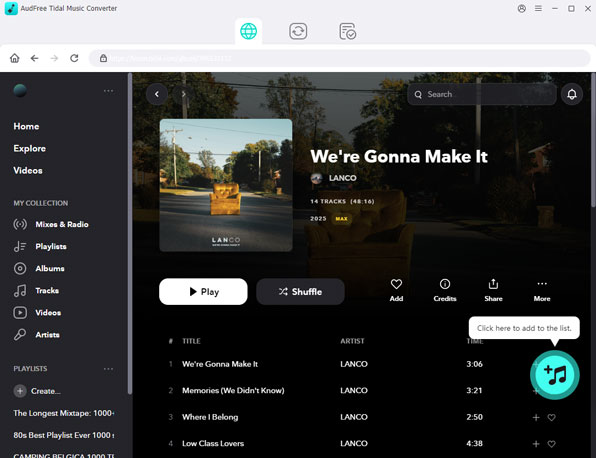 Step 4. After that, you can transfer downloaded Tidal music tracks into your mobile devices. And then pair your phone with your Bluetooth speakers to listen to Tidal on Bluetooth offline.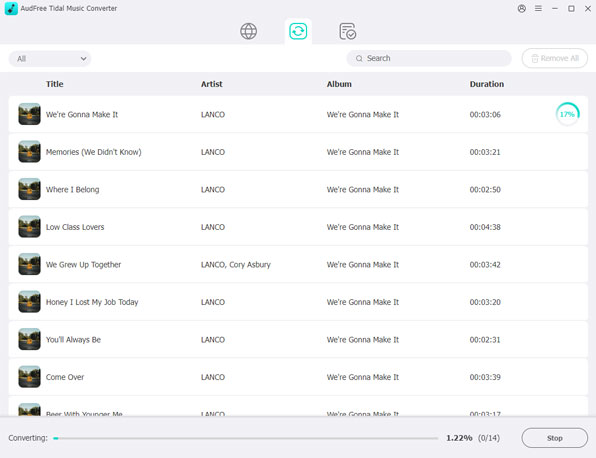 Part 5. Troubleshooting of Tidal for Bluetooth Not Working
It's possible that Tidal didn't play through Bluetooth or that you'll have other strange problems. Even if other apps work fine, you won't be able to play Tidal music if this occurs. But don't be concerned. If you encounter any of the errors listed below, such as it won't stream through Bluetooth, you can use these ways to rapidly resolve the issue.
Failure to Register an Apple ID
If you get a "Service Unavailable" error when signing into Tidal with your Apple ID, take these steps to correct the problem:
Step 1. Go to Apple ID Management to manage your Apple ID.
Step 2. Sign in with the Apple ID and passcode.
Step 3. Go to 'Security' and select 'Manage' under "App stores & Webpages With Apple Device".
Step 4. A pop-up screen will display once you select "Tidal app".
Step 5. "Stop Utilizing Apple ID" and "Done" are the two options.
Step 6. After completing these instructions, go to Tidal and log in with your Apple ID.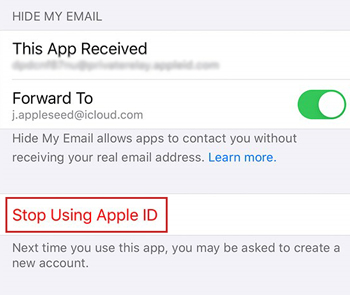 Tidal Isn't Working
If your Tidal application stops, breaks, closes unexpectedly or is otherwise inaccessible, attempt the following simple troubleshooting procedures to fix Tidal not working.
Step 1. Check to see if your device's window updates.
Step 2. Check to see if your Tidal app is up to date.
Step 3. Tidal must be uninstalled before it can be downloaded.
Step 4. Clear your browser's cache.
No Sound on Tidal via Bluetooth
If Tidal seems to be playing the music, but you cannot hear it, follow these simple troubleshooters to address the problem.
1. Ensure the gadget is not muted and that the volume is turned up.
2. Make sure the Sound Output setting is accurate.
3. Other streaming apps are worth a look.
Part 6. Conclusion
There are lots of official methods to play Tidal on Bluetooth across your devices and they are easily accessible. But here, we recommend using AudFree Tidal Music Converter to download Tidal music to local offline storage for Tidal playback over Bluetooth. You will have more control of Tidal tracks on all devices and platforms offline via Bluetooth. Now, you can stream Tidal via Bluetooth anywhere as you like.