Tidal is a special music service featured with its high-quality audio. Since 2019, Tidal has become the second music streaming service that includes Dolby Atmos music-encoded in the playlists for its Tidal HiFi Plus subscribers, following Amazon Music Dolby Atmos integration. With Dolby Atmos available to Tidal, this music service provides its users with a spatial and three-dimension audio effect, vying for a great number of audiophiles that prefer an immersive audio experience.
If you have never heard about Tidal Dolby Atmos and are piqued curiosity by it, or you are seeking more details on your browser or Reddit, please take a few minutes and read this post quickly so that you are enabled to know about almost everything about Tidal Dolby Atmos, especially the best solutions on how to listen to Dolby Atmos on Tidal. Let's start now.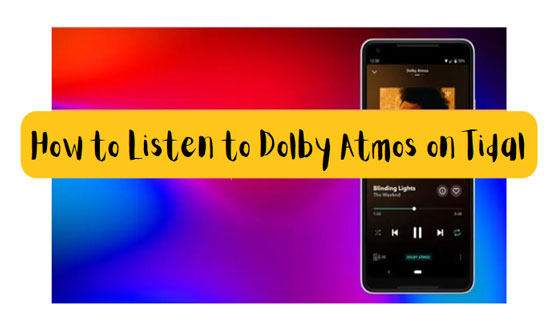 Part 1. What Is Dobly Atmos Music on Tidal?
Tidal Dolby Atmos serves to offer listeners a next-level immersive audio experience with a full audio atmosphere. It places sounds precisely with a three-dimension spatial effect. Also, it enables Tidal HiFi Plus members to get in the vision of artists and their favorite songs. In other words, hear the song they hear it in a whole new way as you were the artist.
It immerses you in a song with Dolby's surround-like 3D sound and is accessible to discover hidden details and subtleties you had never noticed even the subtle breath in the song before with unequaled clarity. It provides Tidal listeners with an unparalleled degree on account that Dolby Atmos endows more space for different types of sounds and presents all details and emotions with which artists want to share.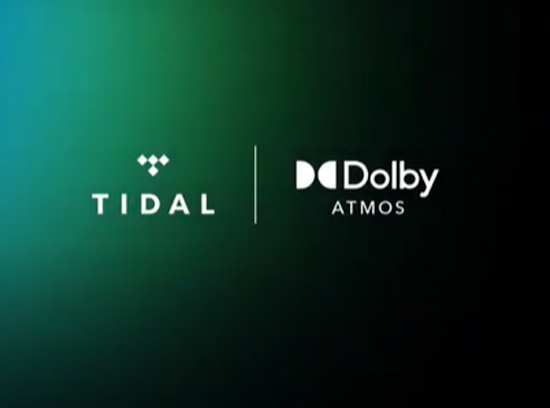 Part 2. How to Listen to Dolby Atmos on Tidal?
Before you experience Dolby Atmos on Tidal, you need to meet the three requirements: A Dolby Atmos-enabled device, a Tidal HiFi Plus tier, and mixed music in Dolby Atmos. Then you can start to proceed with the following steps:
Step 1. Open Tidal App on Dolby Atmos-enabled Devices
Launch the Tidal app on your mobile device, tablet, or TV that is compatible with Dolby Atmos and supports Tidal. If your TV or other playback device does not have a Tidal app, you can click 'Tidal Connect' on a mobile device to pair with a TV or playback device that supports Dolby Atmos technology, then cast the Tidal music on the playback device. Alternatively, you can also connect enabled AVRs and sound bars directly.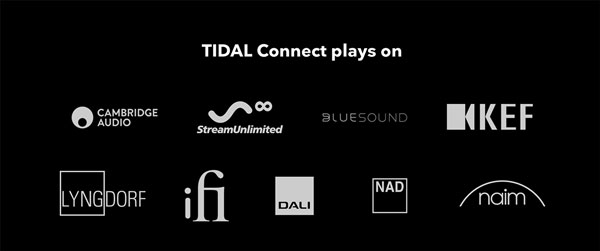 Step 2. Turn On Tidal Dolby Atmos
After opening Tidal app, proceed to turn on Tidal Dolby Atmos on those Dolby Atmos-enabled devices. On Tidal, please open 'Settings' and scroll down to 'Sound quality and effects'. If the right button of Dolby Atmos shows in blue, it means the sound effect 'Dolby Atmos' is on. And when you switch the button to off, it will turn gray from th blue.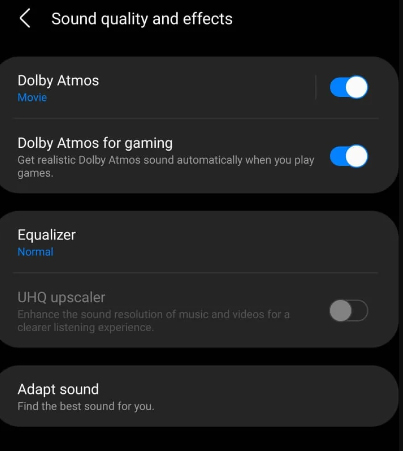 Step 3. Explore Dolby Atmos Albums
Now, you can step into the next part. Explore the Dolby Atmos on Tidal by clicking the 'Explore' tab and the 'Dolby Atmos' menu option then. Dolby Atmos albums will be presented to you, for example, Dolby Atmos: Staff Picks, Dolby Atmos: Just Released, and Dolby Atmos: New Arrivals. But for TV users, please get into the Home screen. Then search and tap the 'Available in Dolby Atmos' option, so that you can play Tidal Dolby Atmos on smart TV.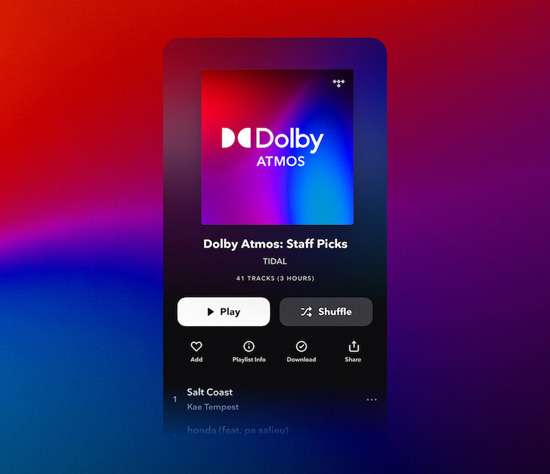 Step 4. Select Dolby Atmos on Tidal
Please select Dolby Atmos tracks you wish to stream. You can find that those tracks are symbolized with a DD badge or encoded by Dolby Atmos. Next, you can immerse yourself in Dolby's spatial sound and atmosphere on Tidal.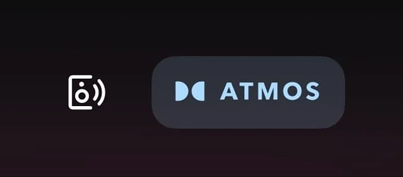 Part 3. Alternative Way to Play Tidal Dolby Atmos Offline [Best]
However, Dolby Atmos is only limited to users with a Tidal HiFi Plus subscription ($19.9/month) and is only available to compatible devices that support Dolby's technology instead of any device. What's worse, you cannot get access to Dolby Atmos albums and is not able to enjoy downloaded tracks offline if you stop the subscription to Tidal HiFi Plus.
But don't worry! We have put the issues into our consideration and come up with an alternative way for you in this post. You only need a third-party tool to download Dolby Atmos on Tidal as local files, then you are allowed to play Tidal Dolby Atmos offline at any time you like. The third-party tool we'd like to introduce to you is AudFree Tidal Music Converter, working with all Tidal plans such as Tidal HiFi Plus.
AudFree Tidal Music Downloader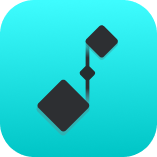 Work with Tidal Free, Tidal HiFi and Tidal HiFi Plus
Download and convert Tidal music at fast speed locally
Convert Tidal to MP3, FLAC, AAC, M4A, M4B, etc.
Keep lossless sound quality and original ID3 tags
It specialized in downloading and converting all Tidal tracks, playlists, and albums including Tidal Dolby Atmos quickly to local files with the most popular output formats like MP3, FLAC, and more so that you can play Tidal Dolby Atmos albums on any device or player offline whenever you like. On top of that, this smart gadget will enable you to enjoy the lossless sound quality of Tidal audios and preserve the original metadata and ID3 tags that are helpful to organize and categorize downloaded music according to 'Artist' or 'Album'.
Can't help wondering how to use it? There is a user guide for you to download Tidal Dolby Atmos via AudFree Tidal Music Converter:
Step 1. Add Tidal Dolby Atmos audio files:
After installing AudFree Tidal Music Converter, open the tool on your computer. Tidal will launch in sync. Then search and select Dolby Atmos albums or single songs you want to download later, and copy its track link and paste it on the search box of AudFree Tidal Music Converter. Then tap '+', a little tab located in the upper right corner of the interface, and start to add files.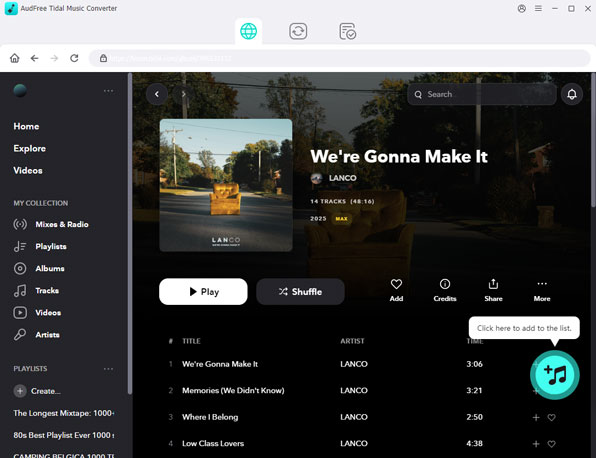 Step 2. Customize audios output format and other parameters:
Tap into the menu bar with a gear icon at the upper right corner. Click 'Preference' and 'Convert', and you will get into a setting interface where you are enabled to customize output formats for Tidal Dobly Atmos Music like FLAC, WAV, and other parameters such as bit depth, sample rate, or audio channels as you like.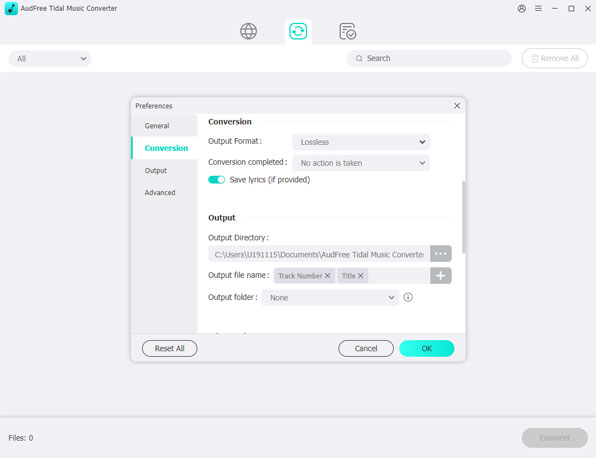 Step 3. Start to convert Tidal Dolby Atmos audios for offline listening:
Now it comes with an amazing step. Press the sky-blue 'Convert' button. After a while, the Tidal Dolby Atmos music will be converted and automatically saved in the local folder you set before. You can enjoy the Dobly Atmos music downloads on other devices or players offline forever.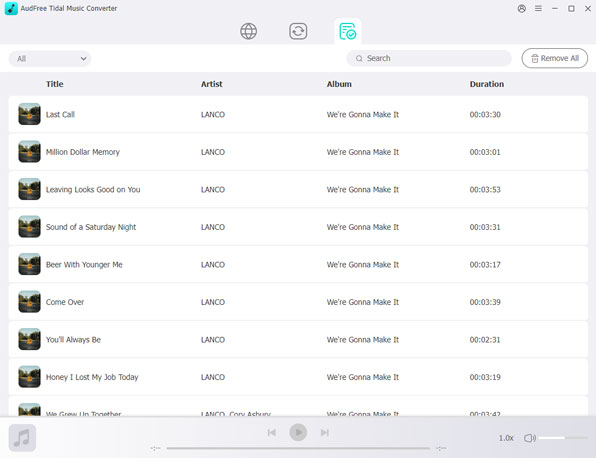 Part 4. More FAQs About Tidal Dolby Atmos
Q1: What Tidal plans cover Dolby Atmos Music?
Tidal only empowers its users to the Tidal HiFi Plus tier with the ability to stream Dolby Atmos songs. If Tidal Free users or Tidal HiFi users want to turn on Tidal Dolby Atmos, they need to upgrade their plan to Tidal HiFi Plus through account.tidal.com.
Q2: What devices support Tidal Dolby Atmos?
There are all Tidal Dolby Atmos-supported devices:
1) Smartphones (both Android and iOS)
2) Tablets
3) the Apple TV 4K
4) Fire TV Stick 4K
5) Fire TV Cube
6) Fire TV Stick (second-gen)
7) Fire TV (third-gen)
8) the 2019 models of the Nvidia Shield TV or Shield TV Pro
9) Sony smart TVs that support Atmos and run Android TV
10) Philips smart TVs that support Atmos and run Android TV
Q3: Whether Tidal Dolby Atmos works over headphones?
Yes! Both iOS and Android headphones such as airpods pro work with Tidal Dolby Atmos and if you subscribe to Tidal HiFi Plus plan the smartphones support Dolby's technology.
Q4: Dolby Atmos vs Master on Tidal, which is better?
Tidal Dolby Atmos:
It is featured with its powerful immersing audio atmosphere and place sounds precisely with more space, which facilitates listeners to capture more details and subtleties such as slight breath or what is lost in stereo recordings. The music mix is used as the 3d surrounds/center effect to promote the sound atmosphere of the stage with ambiance and reverb, which is like you are surrounded by the musicians on stage.
Compare with Tidal Dolby Atmos, it lacks the surrounding 3D audio effect. But it is designed with audio bit rates are 2,304 – 9,216 kbps, which is ultra-high quality. Besides, Tidal Master Quality Authenticated (MQA) is compatible with more devices than Dolby Atmos on Tidal
If you prefer mixed surround sound, the Dolby Atmos can meet your need. Otherwise, the Master is also a great shot.
Part 5. In Conclusion
More details about Tidal Dolby Atmos and solutions on how to listen to it have been presented for you in this post. Most Importantly, we recommend a Tidal music converter: AudFree Tidal Music Converter, which is the best solution for you. It helps you download Dolby Atmos music from Tidal as local audio files and convert the music to commonly used output formats quickly. With it, you can play Tidal Dolby Atmos downloads on all devices and players offline whenever you like. If you have any else question, please leave a comment below.