It's been barely two years since Tidal made this drastic move, selling a 33 percent stake to Sprint, Wireless Carrier Company. This meant that Tidal got access to Sprint's 45 million customers despite owning about 1 million paying subscribers. Tidal is the second music streaming company that follows Spotify's merger suite with Sprint in 2014. A lot is still in the cooking pot on how Sprint and Tidal will carry on although the deal looks good for the two big names on the block. It's kind of a win-win since Tidal is a fully functional, artist-friendly streaming service and Sprint boasts of the millions of subscribers at its bosom.
And it doesn't end there! The Unlimited Plus and Unlimited Premium are plans that continue to unleash new tidings to Tidal's customers. There is also the Sprint Unlimited Basic that price as the old Freedom plan but with high density streaming. So, Sprint customers have access to Tidal on these three exclusive plans. You may be wondering what really is Tidal on Sprint. Let's uncover that and many more on Tidal Sprint.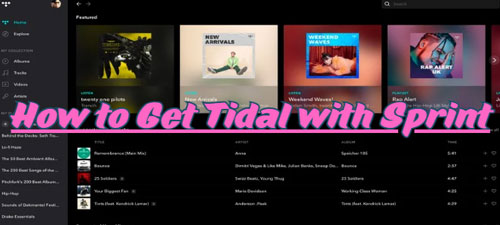 Part 1. What Is Tidal on Sprint
As mentioned earlier Sprint Tidal has three plans. Sprint Unlimited Plus, giving its customers access to unlimited HD video streaming, texting, allowance for a 50GB hotspot, Hulu, and Tidal subscriptions for a price of $70 per month.
You also get a treat from the Sprint Unlimited Basic plan for $60 per month. With this, you get limited gaming to 2Mbps speeds, hotspot allowance of 500MB, music streams at 500kbps, free Hulu, and Unlimited texting to about 185 countries. But if you happen to live in Canada or Mexico, you get an additional 5GB of 4G LTE data.
While Sprint Unlimited Premium plan is the newest addition, the plan comes with some hi-tech features including free Amazon Prime. And like the first two options, this plan throws you free Hulu and Tidal subscriptions, a massive 100GB hotspot allowance for $80. Canada and Mexico residents still enjoy unlimited 4G LTE data with this plan.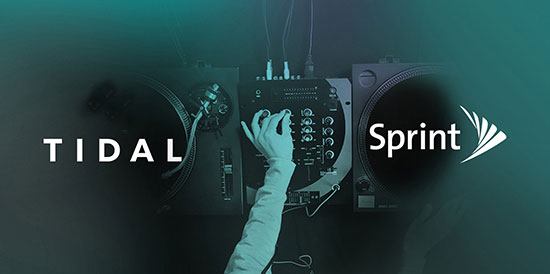 Part 2. How to Get Tidal with Sprint
Perhaps the next thing thronging your mind right now is how to get Tidal with Sprint. Follow these steps to get Tidal with your Sprint account.
Step 1. First, log in to your Sprint account using a valid username and password.
Step 2. Next, scroll to your desired PTN or device and choose the 'Manage plan' option.
Step 3. You'll then be automatically redirected to the next page. Select the 'Manage Services' option on your PTN or device.
Step 4. This should take you to the 'Service add-ons' page. Select 'TIDAL' option to add it. You can alternatively uncheck the 'Services' to remove it so that you remain with TIDAL only.
Step 5. Then scroll to the bottom of your device screen and click the 'Save' button.
To finish up, click the 'OK' button.
Voila! You've just added TIDAL to your Sprint account. Now wait for about 2 hours for the changes to be effected on your online account. Look out for any text message with a link for promotions.
Part 3. How to Cancel Tidal Sprint
It is also vital to know how to cancel Tidal Sprint whenever you want to. The good news is that Sprint users get up to six months free Tidal service with the Unlimited Plus plan. Follow these steps for cancellation.
Step 1. Log into your MySprint account.
Step 2.Then select your device and select the 'Change my services' option.
Step 3. Scroll down and select the 'TIDAL' option.
Step 4.Then click the 'Unsubscribe' tab to cancel your Tidal Sprint.
Part 4. How to Get Tidal Free Forever
It may sound next to impossible but just hold your horses. You can get Tidal for free with no limits. AudFree Tidal Music Converter lets you control the playback of your Tidal tracks in the best way possible. Use it to extract and convert any Tidal music and playlists to any format of choice. With such, you'll get the privilege to enjoy your Tidal music offline anywhere and with any device. Nice experience to play Tidal on game consoles, smartphones, smart speakers and other portable MP3 players like Fitbit and Fiio, among many others. Follow these steps to get Tidal for free forever.
Step 1

Copy and paste your music to AudFree

Once to launch AudFree Tidal Music Converter to your device, head to the main interface and copy then paste the URL of the tracks and other playlists you wish to download to the search bar. You can add more links by clicking the '+' button.
Step 2

Set the parameters

The next step is to set Tidal Music parameters for your download output. Go to the top-right menu bar and click on the 'Preferences' option. Once the setting window opens, you can specify the output preferences like the format, sample rate, bit rate, and even the conversion speed among other parameters. Ascertain that everything is correct then click the 'OK' option and next, the 'Convert' button.
Step 3

Convert Tidal Music and get it for free

AudFree Tidal Music Converter will download and convert your Tidal Music to your preferred format. But MP3 is mostly recommended for offline listening. You can check the 'History' icon to locate your Tidal converted tracks. With this, you can then save your music to your computer and also transfer it to other devices.
Part 5. Conclusion
When Sprint and Tidal first made that drastic move, it took many Carriers and Music subscription services by surprise. But here it is! Many users find it a haven for most goodies like free Hulu and hotspot GB offers. And as reported by its Chief Commercial Officer, Draper, Sprint has duly upped the ante.
Sprint Tidal has nailed the nail on the head and offered what it promised, allowing customers to get just about everything they ever wanted. And for getting free Tidal music, AudFree Tidal Music Converter has upped the game. Use it to convert Tidal Music for offline listening anywhere you go.