Tidal is highly praised and loved by millions of music fans for its superior audio quality. And it is currently available in more than 60 countries. Besides, it is constantly expanding its international presence. Yet, you will find some questions on the web like 'Is Tidal available in India?' or else. And the answer will disappoint you. Why? Now, Tidal has not yet officially launched its service in India.
It is indeed a pity that India is not on the list of Tidal services. But don't give up as there is always a way to cope. To meet your needs, here we have come up with some solutions to use Tidal in India with no restrictions. Needless to say, keep reading for more details.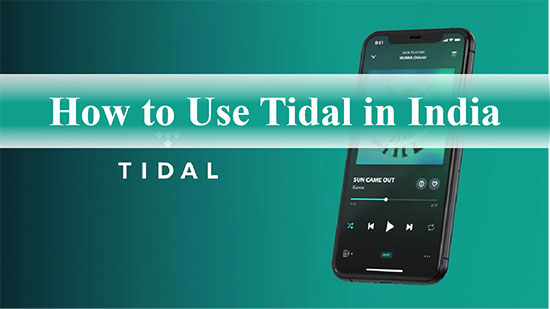 Part 1. How to Get Tidal in India via VPN Service
Since Tidal is not available in India, you can try a VPN (Virtual Private Network) to bypass geographical restrictions and connect to the Internet from a server in another country. Here in this part, we have specifically selected the trustworthy Hola VPN for you. It can simply be added as a browser extension. Now, check the guide below to see how it works.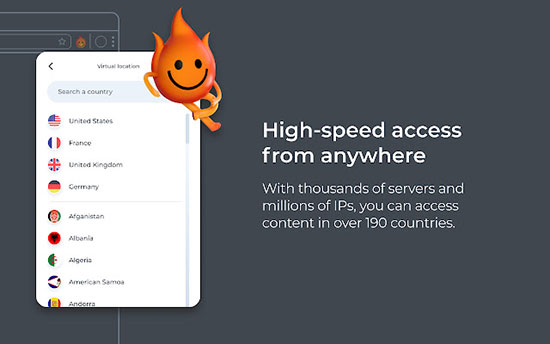 Step 1. Visit the Hola website and install the Hola VPN on your browser. When the installation is complete, you will be prompted to select a country, please choose USA/UK.
Step 2. Go to the Tidal website, click on the 'Try Now' option and select the subscription plan that suits your needs to create an account.
Step 3. Use PayPal or a credit card with international payments enabled to complete the payment.
Step 4. Now you can install Tidal on your device. Then you can login to your Tidal account to enjoy your favorite Tidal music in India without any hassle.
Part 2. How to Use Tidal in India via DNS
Using DNS, you can mask your geographical location and access Tidal from the rest of the world through the addresses of the new dedicated Smart DNS servers. In fact, DNS (Domain Name System) is a protocol that allows domain names to be translated into Internet Protocol addresses. Therefore, Smart DNS can be a solution to get Tidal in India.
If a VPN can hide your IP address to access Tidal service in India, then Smart DNS service is masking the original DNS address. When it comes to the speed of getting Tidal in India, Smart DNS is a winner. While VPN is better in terms of security and privacy because it protects you from surveillance and hacking by encrypting online traffic. Here you will learn how to operate it.
Step 1. Go to the Smart DNS official website via a web browser on your device.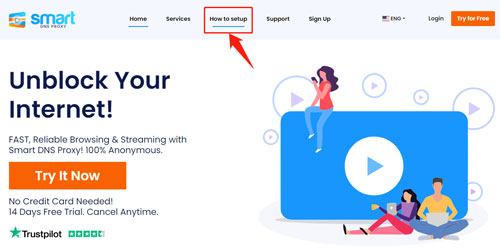 Step 2. Click on 'How to Setup' at the top menu bar on the screen.
Step 3. Scroll down and you will see kinds of devices for you to choose from. Then hit on the box to choose your device.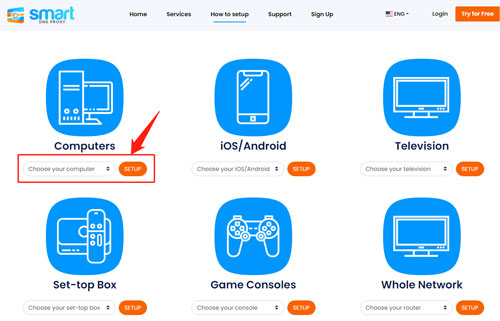 Step 4. Then hit on 'SETUP' and follow the instrutions to set DNS on your device to use Tidal app in India.
Part 3. How to Play Tidal in India via Proxy Server
Another solution is to use a proxy server to make Tidal available in India. It can act as a relay between the website you visit and your device, helping you to surf the Internet anonymously. In this event, you can make use of a proxy to go beyond the access barrier and thus use Tidal in India.
Yet, please note that proxies only work at the application level, as they only reroute traffic from a single application that you set up. Also, most of the proxies available online are free and overcrowded, which may make your Tidal experience slower and less secure.
Part 4. How to Play Tidal in India for Free by AudFree Tidal Music Converter
Although you can make Tidal work in India by following the steps above, these are not permanent solutions after all. In this case, we find a perfect solution to get Tidal in India forever with ease. It's AudFree Tidal Music Converter. This tool is designed to download songs, albums, artists, playlists and more from Tidal and save them as local files on your local device.
More so, it enables users to convert Tidal music to MP3, AAC, FLAC and other common formats. By using innovative technology, it can achieve no quality loss and complete preservation of metadata information for Tidal music tracks. Besides, you can change sample rate and bit rate for Tidal audio files before converting. In turn, you can save all Tidal music files forever and play Tidal songs/playlists/albums in India without any limits.
Now, let's move forward and learn how to use AudFree Tidal Music Converter to convert music from Tidal and make Tidal available in Tidal.
Step 1

Import Tidal Music to AudFree Tidal Converter

Install and then launch the AudFree Tidal Music Converter on your computer. In the meanwhile, the Tidal app will pop up also. Next, move to the Tidal app and start looking for the Tidal song you want to download. After that, copy and paste the URL of the music into the top search box on the AudFree tool. Then remember to click the '+' button to finish loading. Or, drag and drop Tidal songs to the AudFree program is also a way to import music for converting.
Step 2

Customize the Tidal Music Format

Tap the top menu bar, click the 'Preferences' to open the settings window and press the 'Convert' option. Now, it's able to define the output format for Tidal songs as MP3, FLAC, etc. If needed, you can also adjust parameters like bit rate, sample rate, audio channel, and more.
Step 3

Play Tidal in India Forever

After finishing the setup, hit on the 'Convert' button at the bottom right corner. Then the program will automatically start downloading Tidal music to the target folder on your computer. Once done, you are allowed to keep Tidal Music forever and get Tidal in India whenever and wherever possible.
Part 5. FAQs about Tidal in Indian
Q1: Does Tidal Have Indian Music?
A: Yes. In the Tidal music service, you can search for Indian music, Bollywood music, Hindi songs, etc. You will find lots of Indian albums, playlist, tracks and so on. And then you can listen to them online or offline.
Q2: When Will Tidal Come to India?
A: Sorry, now there is no official announcement on when Tidal will be available in India yet.
Part 6. In Conclusion
This article provides several effective options for you to use Tidal in India. Whether it is VPN, DNS or proxy server, you can make the right choice according to their features and your own reality. By the way, if you want to get Tidal in India forever, then AudFree Tidal Music Downloader will be beneficial to you. It will remove DRM from Tidal and change Tidal music to plain audio files. And you can save them on your computer forever. Also, you can play Tidal music offline anywhere and anytime without any limitations.