Amazon Music goes viral among music lovers including many audiophiles. In 2019, Amazon Music became the first music streaming service that comes with Dolby Atmos, followed by Tidal. Amazon Music Unlimited subscribers can stream growing Dolby Atmos-badged songs on supported devices freely.
If you are a newcomer to Amazon Music Dolby Atmos, you should never miss this post. It can be regarded as a full guide, taking you through what Atmos means on Amazon Music and how to find or play those Atmos songs. Without further ado, let's get right to it now.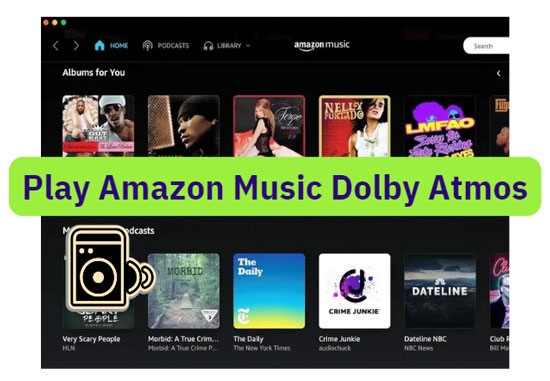 Part 1. Does Amazon Music Have Dolby Atmos
Yes. As stated at the beginning, Amazon Music is the first Dolby Atmos-adopted music service. It provides a mounting catalog all mastered in Spatial Audio including Dolby Atmos and Sony 360 Reality Audio for its subscribers to its Unlimited plan.
What Is Amazon Music Dolby Atmos
Dolby Atmos serves as an advanced audio technology that provides listeners with a three-dimensional sound environment. Adding more clarity, depth, and height to the sound you hear that hits deeper, putting you to a more captivating and realistic vibe like in a theater. Many occasions such as home/movie theaters alongside audio systems resort to this technology, ensuring awesome sound quality and immersive listening experience.
Amazon Music Dolby Atmos places a sense of dimension and space onto its selected songs, leaving you a dedicated atmosphere that you are inside the song. All the songs coded with the Dolby Atmos badge are created with this innovative audio technology. You can even hear subtitle sounds the artist put in different places while listening to the Atmos track. Any user who subscribes to Amazon Music Unlimited is entitled to access and enjoy a surround-3D spatial audio effect with more bass and booster that Dolby Atmos brings.
You can stream Dolby Atmos in Amazon Music on Google Chromecast, Echo, and more select devices with the Unlimited plan.
Part 2. How to Find and Play Dolby Atmos on Amazon Music Officially
After understanding the benefits of Dolby Atmos, you may be captured the interest to experience it on Amazon Music. Thus, in this part, we will help you figure out how to find Dolby Atmos songs on Amazon Music. You can follow the below four parts.
Subscribe to Amazon Music Unlimited
It is admitted Dolby Atmos is only accessible to people who have an Amazon Music Unlimited account. Please make sure you have upgraded your subscription to Amazon Music Unlimited. Just navigate to Your Amazon Music Settings and start your 30-Day Amazon Music Unlimited free trial.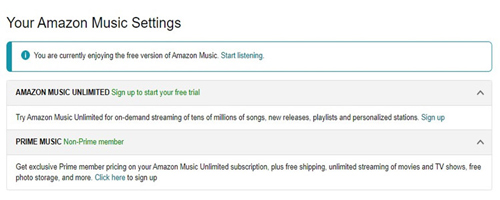 Connect to Mobiles Devices or Echo Studio
For select devices that support Dolby Atmos and have an Amazon Music app such as mobile phones, launch the Amazon Music app. You may have those devices without the Amazon Music app but are compatible with Dolby Atmos such as smart speakers or headphones. Don't fret, tap on the 'Available Devices' feature in the extremely bottom right corner of Amazon Music to connect your mobile phones to those devices.
📌 Note: Select smart speakers include:
Echo Studio
Sony SRS-RA3000
Sony SRS-RA5000
Google Chromecast
Google Chromecast 4K TV
Enable Dolby Atmos on Amazon Music
Before searching Amazon Music Atmos songs, please make sure you have activated the Dolby Atmos feature from Amazon Music Settings. If not, refer to the following step-by-step tutorial on how to enable Dolby Atmos on Amazon Music.
📌 Note: You can only customize the Dolby Atmos option from Amazon Music on your mobile and Fire TV instead of your desktop or other devices. But you can find and listen to the Dolby Atmos playlists on the Amazon Music desktop app.
On Mobiles
Step 1. Tap on the top-right gear icon on Amazon Music and choose 'Settings' from the draw-up list.
Step 2. Scroll down to the 'PLAYBACK' section and click on 'Streaming Audio Quality'.
Step 3. Switch off the 'Dolby Atmos / 360 Reality Audio' option.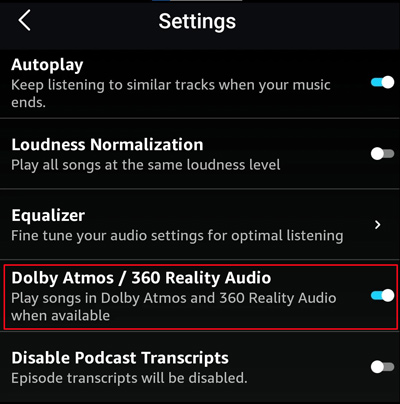 On Fire TVs
Step 1. Tap on the top-right gear icon of Amazon Fire TV.
Step 2. Click the 'Display & Sounds' tab from the Settings screen.
Step 3. Proceed to select 'Audio' > 'Surround Sound' and enable the 'Best Available' option.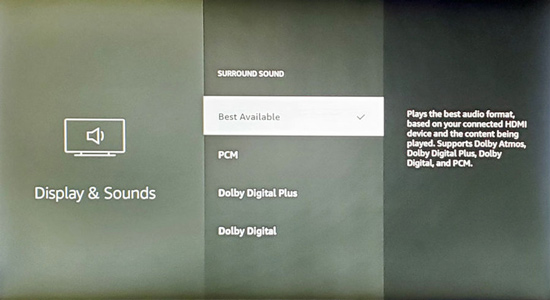 Find and Listen to Atmos Music on Amazon Music
Once you finished the above three parts, you can get ready to find Atmos music on Amazon Music. Look at the options below:
Search 'Best of Dolby Atmos' on the Amazon Music app.
Tap on 'My Music' from the bottom navigation bar and choose 'Songs'. Then use the Filter feature to choose the 'Dolby Atmos' option.
Browse on the Home screen and find Albums or Playlists labeled with the 'Dolby Atmos' tab.
On Echo Studio or other Alexa-enabled devices, say 'Alexa, play the best of Dolby Atmos songs on Amazon Music'.
Go to the Dolby Atmos page on Amazon Music directly.
Then you can find the songs badged with the Dolby Atmos icon. Play a song to start your immersive listening. You can tap on the Available Devices icon on the Now Playing bar to cast Dolby Atmos audio from your iPhone or Android to Echo Studio or other select speakers.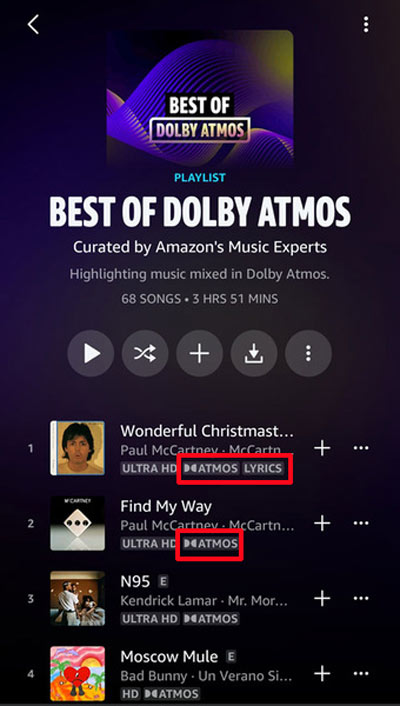 Part 3. Advanced Way to Play Amazon Music Dolby Atmos Offline
As you know, what you download from Amazon Music with its Unlimited account is only a cache file that is playable on its app and will disappear when the subscription expires. To listen to Amazon Music Dolby Atmos songs on a wider selection of Dolby Atmos-supported devices and keep Dolby Atmos songs offline forever, you can never miss this part.
AudFree Amazon Music Converter, designed for all Amazon Music users, is such a one-stop tool that can suffice for your needs. It aims to download all catalogs from Amazon Music and convert all content to MP3, AAC, WAV, FLAC, M4A, and M4B. This expert software empowers you to add an unlimited amount of Amazon Music tracks as much as possible to download them in batches.
Beyond those features, it also works to preserve the original audio quality such as the HD and Ultra HD quality, sound effects, and ID3 tags after conversion with innovative conversion technology. With it, you are able to customize the output parameters for higher quality.
AudFree Amazon Music Converter
How to Download Amazon Music Dolby Atmos Losslessly
Hit the green Download button to install the secure software on your PC or Mac computer. Later, look into the following user guide to nail down how to convert Amazon Music to MP3, FLAC, or other format files.
Step 1

Personalize Output Settings for Amazon Music Atmos Playlist

Just touch on the upper-right Menu icon and pick 'Preferences' from the pop-up menu. Next, choose the 'Convert' tab. Now, you can select an output format for the Dolby Atmos playlists. other audio parameters like sample rate, bit rate, channel, etc. can be edited to enhance the audio quality, among which the 'Stereo' option can keep the Dolby Atmos Spatial Audio effect. The audio quality this software can provide is up to 32-bit/192kHz.
Step 2

Copy Amazon Music Atmos Playlists to AudFree Amable

Go back to Amazon Music. Tap on three dots to the right of the track or playlist badged with the Atmos icon and click on 'Share' > 'Copy Link'. Then paste the link to AudFree Amable's search bar. Later, touch on the '+' icon to load the track. Alternatively, drag and drop the Atmos-coded track or playlist to AudFree software directly.
Step 3

Kick Off Conversion for Amazon Music Atmos Songs

Once added, hit the 'Convert' button from the bottom-right corner. Later, the top Amazon Music downloader will export the added Dolby Atmos playlists in bulk automatically. Afterward, touch on the bottom 'Converted' button to find your conversions. You can listen to them on any Dolby Atmos-friendly device you have such as Sonos, Nvidia Shield, Denon Receiver, etc. without issues.
Part 4. Ultra HD vs Dolby Atmos Amazon Music
Both of the Amazon Music Dolby Atmos and Ultra HD are advanced audio technologies. The Ultra HD on Amazon Music serves as a high-resolution audio, aiming to enhance the audio quality. Amazon Music Dolby Atmos is designed more as a spatial audio, contributing to offering a 3D-surrounded sound environment and adding emphasized bass or booster effect to songs.
You can check the following table to differentiate between Dolby Atmos and Ultra HD Amazon Music:
Amazon Music Dolby Atmos
Amazon Music Ultra HD
Property
Spatial Audio
High Resolution Audio
Feature
Offer 3D sound experience
Provide higher-quality resolution audio
Audio Quality
Lossless: 16-bit/48kHz
Lossless: 24-bit/192kHz
Compatible Device
Less
More
Bit Rate
Range from 448 to 786 kbps
Up to 3730 kbps
Supported Audio Format
Dolby Digital Plus Joint Object Coding
(DD+JOC / EAC3-JOC)
FLAC (Free Lossless Audio Codec)
Bit Rate
384/448/786 kbps
1600/2800/5000 kbps
Amazon Music Subscription
Unlimited
Unlimited
Part 5. More FAQs about Amazon Music Atmos
Q1: What are supported Amazon Music Atmos devices?
A: There are a variety of devices compatible with Dolby Atmos on Amazon Music:
iPhone 12 and later/Androids
Android phones
Fire TVs (Stick/Cube, etc.)
Fire tablets
Samsung mobile phones
Echo Studio
Laptops (Huawei/Microsoft/Lenovo)
Apple tablets
PCs (Windows 10/11)
Google Chromecast/4K TV
Sony SRS-RA3000/5000
Q2: What are the best Atmos songs on Amazon Music?
A: You can search 'Best of Dolby Atmos Playlist' on Amazon Musi to get the best Amazon Music Atmos songs. It is recognized that all songs in Billie Eilish's album "Happier than Ever" are mastered in Dolby Atmos.
Q3: What other music devices have Dolby Atmos?
A: Apart from Amazon Music, both Apple Music and Tidal support Dolby Atmos.
Part 6. Verdict
You may have made a further understanding of what is Amazon Music Dolby Atmos and how to find or play it on mobile devices, Echo Studio, Fire TVs, etc. Through reading, you have known that AudFree Amazon Music Converter is able to download Dolby Atmos songs in batches from Amazon Music losslessly. Thus, you can play Atmos songs from Amazon Music offline on more devices such as Apple TV, Denon Receiver, and the like. Now, dive into the awesome spatial audio!