For those who are facing Amazon Prime Music Error 200 while trying to download songs through Amazon Prime Music app on Android/iOS/Windows devices, the answer is here. The error code for Amazon Prime Music is "200". When you try to download a song from Amazon Prime Music and receive error code 200, you will not be able to download it. 'Sorry, this is no longer in our catalog' indicates that you cannot download a song file from Amazon Prime Music for some reason.
In reality, this problem can be caused by several things, including the fact that the Amazon Prime Music app not having the necessary storage permissions on your device. Below you may get all your answer about Amazon Music Error 200 and learn how to fix the problem with a few simple steps/methods.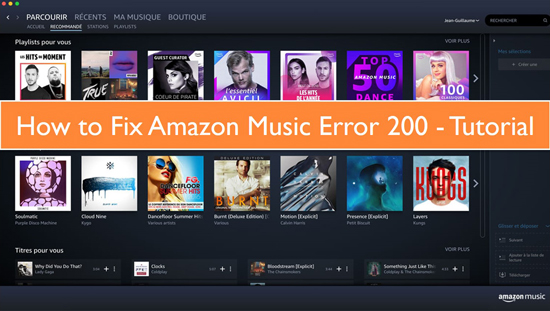 Part 1. What Is Amazon Music Error 200
The Amazon Music app for Android is used by many who have problems. We received many reports from people who could not download an album from their Amazon Music account because of an error number of 200. Android and iOS users appear unaffected, while Windows phone users are.
Updates to Amazon Music are required for Android users, even if they have the most recent version of the Amazon app. As a result, some updated Amazon customers are still experiencing problems downloading music. You've come to the right place if your what is error 200 amazon music isn't working and you're getting error code 200. Amazon Music Error 200 may be solved by following the following procedures.
What Caused Amazon Music Problem Code 200?
Amazon Music has informed us that your SD card may be corrupted or complete, which may produce this issue. Before attempting to play Amazon Music, we recommend that you format your SD card. Try inserting a different SD card if the first one fails. Officials from Amazon Music say that formatting your SD card should fix the issue. If the problem remains, switching to a different SD card can be a solution.
Part 2. How to Fix Amazon Music Error 200 (Common Solutions)
How to fix these issues secretly. In the end, there are 5 possible solutions to this problem. To get rid of the error 200, you can follow these steps. Let me walk you through each step so you can avoid making the same mistake again and fully appreciate the music.
1. Use 'PC Repair Tool' to Fix Amazon Prime Music Issues on Windows PC
If a problem with your Windows machine causes this problem, you can solve it with the 'PC Repair Tool'. With only a few clicks, you can use this software to discover and fix BSOD, DLL errors, EXE errors, difficulties with programs/applications, malware or virus issues, system files or registry issues, and other system problems.
2. Check the Amazon Prime Music Server/Service Status
It would help if you verified Amazon Prime Music's server/service status. If you discover that the Service is down temporarily or is undergoing maintenance, you will need to wait until the issue is repaired. A Down Detector Tool or an internet browser visit to https://downdetector.com/status/amazon-prime-music/ will tell you whether or not Amazon Prime Music's servers are down.
3. Check the Internet Connection on Your Device
There may be a problem with your internet connection causing this problem. To avoid slow or unstable internet, check if you have a reliable connection. Inspect the WIFI or mobile data network connection on your smartphone. It's possible to restart or reset your router/modem to fix the network problem. If the problem persists, your Internet Service Providers are probably at blame (ISPs).
4. Force Stop Amazon Prime Music
Occasionally, the Amazon Prime Music app has a temporary bug that causes this problem. It's as simple as restarting the Amazon Prime Music app after being closed or forced to stop.
Step 1: Open "Settings" on your device and select "Applications" or "Application Manager".
Step 2: Once you've found and activated the "Amazon Prime Music" app, you can tap on it and select "Force Stop".
Step 3: Ensure the Amazon Prime Music app has been relaunched to see if the error is now fixed.
Step 4: Clearing the Amazon Prime Music app cache.
5. Clear Amazon Prime Music App Cache Corruption
Step 1: Open the 'Settings' app and selecting 'Apps'.
Step 2: Locate the Amazon Prime Music app and tap the Clear Cache option in the 'Storage' and 'Clear Cache' menu.
Step 3: Restart Amazon Prime Music and see if the error is fixed.
Step 4: Amazon music download error 200 and Converter in One Program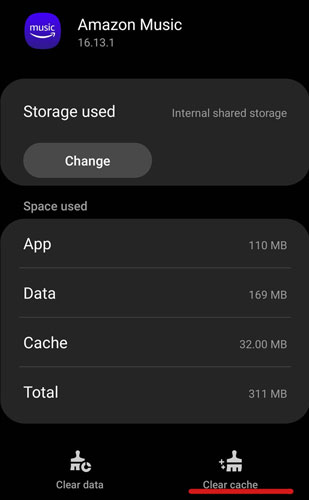 Part 3. How to Avoid Amazon Music Error 200 Forever
In fact, although you can try to fix Amazon Music Error 200 with the above solutions, here is a once and for all solution to help you prevent Amazon Music Error 200 permanently, namely downloading Amazon Music to your computer locally for offline use. As you know, official Amazon Music downloads are protected and cannot be played on other devices. To solve this problem, a powerful AudFree Amazon Music Downloader will be your indispensable helper.
To tell you the truth, it is specially designed for Amazon Music downloading and format conversion, and can losslessly convert Amazon Music to MP3, FLAC, WAV and other formats. Further, all Amazon songs and playlists are now available for listening on PC, Mac or mobile devices. After that, you won't have to worry about the Amazon Music Error 200 anymore.
How to Prevent Amazon Music Error 200 Permanently
Step 1

Install AudFree Amazon Music Converter

At fiest, install AudFree Amable and the Amazon Music app on your computer. You then register the account for both applications once the AudFree software is launched.
Step 2

Personalilze the Amazon Music audio setting to fix error 200

Click the "Three lines" icon at the top right of AudFree Amable and select the Preferences and Convert section. From here, start defining the Amazon Music output format and other audio parameters. You may change the format to get Amazon Music FLAC files, MP3, or WAV files, etc.
Step 3

Select songs from Amazon Music to AudFree

To import files to the AudFree program, select the desired Amazon Music song from its app, click 'Share' and 'Copy Link' button to copy the link to the playlist, and then paste the link into AudFree Amable's search box and click '+' button to load those songs for conversion.
Step 4

Convert the added Amazon Music to fix Amazon Music error 200

Press the 'Convert' button to download Amazon Music to computer at a faster speed. Once the conversion is done, the songs from Amazon Music are for all your use. Now, you can freely transfer and play Amazon Music offline without being bothered by Amazon Music Error 200.
Part 4. Conclusion
This article describes solutions for Amazon Music Error 200 and an effective third-party tool to prevent Error 200 Amazon Music permanently. Choose the right solution for you to enjoy Amazon Music better according to your situation. By the way, if you have other alternatives to solve Amazon Music Error 200, please feel free to leave your comments below.