Are you troubled that Amazon Music autoplays similar songs based on the music you have been listening to on your iPad, Alexa device, or car all the time? Actually, it results from the Amazon Music autoplay settings. Many Amazon Music users are foraging solutions to stop Amazon Music from playing automatically on those devices. Providing that you encounter the same problem, please never miss this article.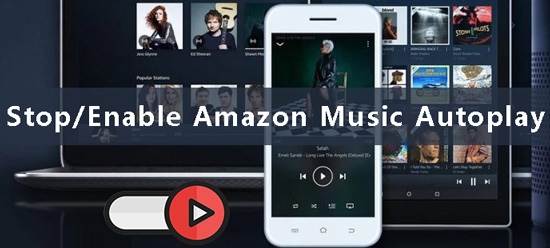 Part 1. What Is Amazon Music AutoPlay
Amazon Music Autoplay is one of the Amazon Music playback settings. It has the capability to automatically play songs similar to the one you just finished listening to. In other words, it will take you to a nonstop listening and recommend and play the music from the similar genre you just listened to.
It works to provide a seamless listening experience by continuously playing music without any interruption. Furthermore, it eliminates the need to manually select new songs or playlists. Plus, with the autoplay feature, you can enjoy new songs and artists that you might not have discovered otherwise. This way entitles you to a fresh and exciting listening experience for you.
Many users are confused with the difference between the autoplay feature and the shuffle mode. The autoplay feature automatically plays recommended songs based on your listening history. But the shuffle feature randomly plays songs from a selected playlist or album.
Part 2. How to Enable Autoplay on Amazon Music
If you prefer to enjoy the music you collect into the playlist instead of the new music recommended by the Amazon Music autoplay mode, please follow the below step-by-step instructions:
On iOS/Android
Step 1. Fire up the Amazon Music app on your iPhone, iPad, or Android.
Step 2. Tap on the three-dot icon in the top right corner to pull up a menu.
Step 3. Select the 'Settings' option from the draw-up menu.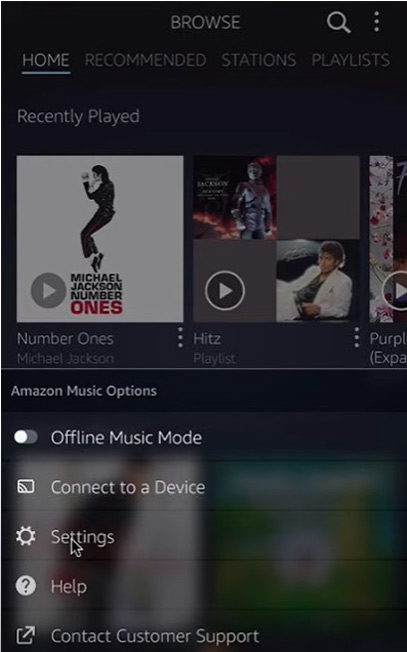 Step 4. Scroll down to the 'Playback' section and turn on the 'Autoplay' button.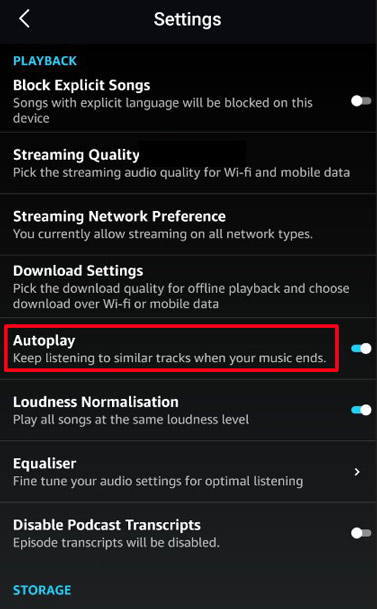 On PC/Mac
Step 1. On the Amazon Music desktop app or its web player, tap on your Profile icon to draw down a list.
Step 2. Choose 'Settings' from the menu.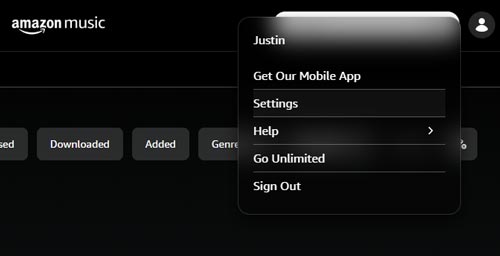 Step 3. You can find the 'Autoplay' option under the 'Playback' section. Please switch the toggle on to enable Amazon Music autoplay.
On Alexa
You may stream Amazon Music on Alexa devices. To stop Amazon Music from automatically playing similar songs, you need also to disable the autoplay feature on the Alexa app.
Step 1. On the Alexa app, tap on the 'More' option which looks like three lines.
Step 2. Choose 'Settings' from the pop-up menu.
Step 3. Proceed to click 'Music & Podcasts' > 'Autoplay' and turn it off. Then you can stop Amazon Music autoplay on your Alexa devices.
Note: You can also make it with the voice assistant. Just say: "Turn on/Enable autoplay".

On Car
If you want to enable the Amazon Music autoplay in cars for a nonstop listening experience while driving, please turn on the Amazon Music car mode after activating the autoplay feature on your mobile.
Step 1. Turn on the autoplay option on your phone according to the above steps.
Step 2. On the Amazon Music Settings, choose 'Car Mode'.
Step 3. Then switch the 'Start Car Mode Automatically' toggle on. Then you can also play Amazon Music in car with similar songs automatically.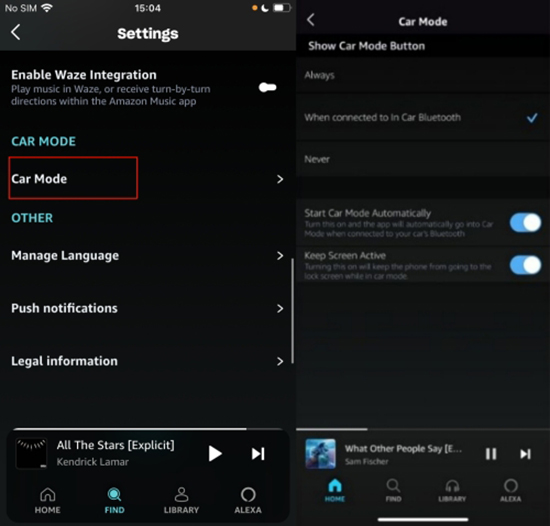 Part 3. How to Stop Amazon Music Autoplay
Turn Off Autoplay on Amazon Music On Mobile
Step 1. Go to Amazon Music's Settings section by clicking the top-right three-dot tab on the app.
Step 2. Find and toggle off the 'Autoplay' option under the 'Playback' section.
Disable Amazon Music Autoplay on Desktop
Step 1. Click on the Profile picture on the Amazon Music app and choose 'Settings'.
Step 2. Scroll to 'Playback' and switch the 'Autoplay' toggle off.
Turn Off Play Similar Music on Amazon Music on Alexa
Step 1. Go to the 'More' section from the bottom navigation bar on the Alexa app.
Step 2. Pick 'Music & Podcasts' and the 'Autoplay' option. Choose 'Disable'.
Note: You can also stop Amazon Music from automatically playing on Alexa using your voice. Simply say "Turn off/Disable autoplay".
Stop Amazon Music Autoplay in Car
Step 1. Head to the 'Car Mode' on the Amazon Music Settings on your mobile device.
Step 2. Toggle off the 'Start Car Mode Automatically' button.
Part 4. Fix: Amazon Music Autoplay Not Working
If you're experiencing issues with Amazon Music autoplay not working, please try the steps:
Step 1. Check your device: Amazon Music autoplay is only available on its native app. It is not a part of the integration of Amazon Music and third-party devices such as Bluesound. To make Amazon Music autoplay similar songs on those devices, please play Amazon Music songs on the device through Bluetooth.
Step 2. Check Amazon Music autoplay settings: Make sure that autoplay is on in your Amazon Music settings. Go to the Amazon Music settings and toggle on 'Autoplay'.
Step 3. Update Amazon Music app: If the 'Autoplay' is on. Proceed to ensure you have installed the latest version of the Amazon Music app. Please check for Amazon Music updates in the App Store or Google Play Store.
Step 4. Clear Amazon Music Cache: Once the app is updated, please try deleting the cache files on the Amazon Music app.
Then play a song on the Amazon Music app to see if it will play similar songs after the last one is finished.
Part 5. Extension: Download Amazon Music Songs for Offline Forever
It is recognized that, even with Amazon Music subscriptions, the downloads are temporary cached files from Amazon Music. That means you won't really own the downloaded Amazon Music songs. Also, Amazon Music Free and Prime users can play songs on-demand only on the Amazon Music All-Access Playlists. Plus, even if you are an Amazon Music Prime member, you can enjoy offline listening only on the All-Access Playlists.
So, how to stop Amazon Music autoplay and shuffle mode absolutely and play songs on-demand offline forever? What you need is an expert Amazon Music downloader.
When it comes to it, AudFree Amazon Music Downloader can be given a shot. It works to download Amazon Free, Prime, and Unlimited Music to your computer as permanent local files at 5X speed. This smart tool can convert Amazon Music tracks, playlists, albums, podcasts, etc. to unprotected MP3 or other files. Even if you cancel your Amazon Music plans, you can keep the Amazon Music downloads permanently without subscribing to Amazon Music or purchasing songs.
What's more, this all-around music downloader provides the best solution for music lovers especially audiophiles with keeping the lossless streaming quality and ID3 tags after conversion. Thus, you don't need to worry about the audio quality. It empowers you to listen to Amazon Music songs on any device and player with original quality at any time.
AudFree Amazon Music Converter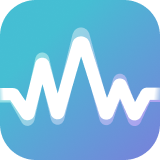 Download Amazon Music Prime and Unlimited content to local files
Export Amazon Music audio to FLAC, MP3, WAV, AAC, M4A, etc.
Stop Amazon Music autoplay and play songs on-demand on all devices
Preserve original audio quality and metadata info
How to Download Amazon Music Playlists for Offline Playback
Tap on the above green button to download and install this safe software on your PC or Mac. Then please look at the following user guide to convert your Amazon Music playlists to MP3 or other local files for offline listening on any device forever.
Step 1

Customize Output Setting for Amazon Music Playlists

Open the AudFree Amazon Music Converter on your computer and the Amazon Music app will launch at the same time. Head over to the top-right menu bar like a 'three lines' icon to draw down the menu. Next, choose 'Preferences' > 'Convert' to reset the output audio format, bit rate, sample rate, etc. for the highest audio quality.
Step 2

Load Amazon Music Playlist to AudFree Auditior

Go to the Amazon Music app and copy the URL links of your Amazon Music collections. Then go back to the converter to paste the links into the top search box and tap on the '+' aside tab to load playlists. Another way is to drag and drop the single track, album, playlist, and the like to the main interface of AudFree Amable directly.
Step 3

Export Amazon Music Playlists Lossleely and Locally

Finally, hit the 'Convert' button in the lower right corner to start converting. You can click the 'Cancel' button to pause the process and keep adding Amazon Music files. The Amazon Music downloader will run at 5X faster speed to export your added audio files to the local drive on computers with full ID3 tags and lossless quality kept. Just touch on the bottom 'Converted' tab with a red spot to find your Amazon Music conversions. You can play Amazon Unlimited or Prime Music songs on any MP3 player or any other device now.
Part 6. Summary
A comprehensive tutorial on how to turn on and turn off Amazon Music autoplay similar songs has been demonstrated in this article. Beyond that, we have introduced an all-in-one tool called AudFree Amazon Music Converter. It can help you out when you want to play Amazon Music on-demand and listen to Amazon Music songs offline forever. If you have any questions, please leave your words in the below comment area.