Amazon Music serves as a subscription-based music platform and always provides more offers for its users. Exclusive promotions can play a role in keeping more customers. Currently, as we know, Amazon Music users can get a free trial for 1, 3, 4, or 6 months via its app or third-party platforms such as Best Buy.
Today, this post will demonstrate 7 ways to get those Amazon Music free trials as well as an advanced way to get Amazon Music free forever for offline playback.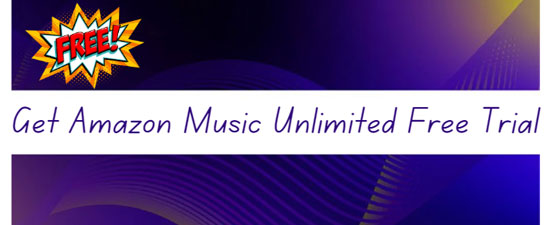 Part 1. Is Amazon Music Free
Amazon Music provides both free and paid versions for its users. The Free users can stream music from thousands of stations and Top Playlists at no cost, however, with annoying ads.
The paid version includes two subscription plans: Amazon Music Prime and Unlimited. Among the two subscriptions, Amazon Music Prime is included as a part of Amazon Prime Membership, which is priced at $14.99. On the other hand, Amazon Music Unlimited costs $10.99 (without an Amazon Prime membership).
Yet, please note that both Amazon Music Prime and Unlimited entitle you to a free trial for 30 days, allowing you to experience its full performance.
Part 2. Best Way to Get Amazon Music Unlimited Free Trial Forever
What makes Amazon Music Unlimited stand out is it empowers you to access and download all content from the whole Amazon Music library and catalogs. However, it is recognized that the downloads are only cache files, which are not accessible offline if the free trial ends or the Unlimited subscription is canceled. But never yield to it.
To prolong the period of enjoying the benefits of Amazon Music Unlimited free trial, you can try another way. That is to download your music collections or Unlimited catalogs as local files with a third-party tool. AudFree Amazon Music Converter can suffice for your demands. This all-in-one software allows all Amazon Music Free, Prime, and Unlimited users to download songs, playlists albums, podcasts, etc. from the music service locally. It works to export Amazon Music content to local files in various plain formats.
Its innovative conversion technology makes it a reality to keep 100% original audio quality and full ID3 tags after converting. And its additional features endow you with the ability to customize output parameters to make higher-quality audio. With this great gadget, you can play Amazon Music songs on any device or player anytime.
AudFree Amazon Music Converter
How to Get Amazon Music Downloads Free
The above download button helps you install AudFree Amazon Music Converter on a PC or Mac. Once you start the 30-day free trial of Amazon Music Unlimited according to Part 5, you can refer to the following user guide to download and export Amazon Music to MP3, AAC, FLAC, or other formats locally for free.
Step 1

Adjust Output Settings for Amazon Music Unlimited Tracks

Click the top-right Menu icon on AudFree Amable. Then choose the first 'Preferences' option and switch to the 'Convert' window. There, you can choose one format for your Unlimited songs. To ensure the lossless Ultra HD quality of Amazon Music Unlimited tunes, it is recommended to convert Amazon Music to lossless FLAC or WAV. The maximum music quality can be 32-bit/192kHz. More output parameters including channels, sample rate, bit rate, and the like are customizable to promote the audio quality.
Step 2

Put Amazon Unlimited Music onto AudFree Amable

On the Amazon Music app or web player, click the vertical three dots on a track, album, or playlist. Then choose 'Share' and hit on 'Copy Link'. On AudFree software, paste the URL link to the search bar and tap on the right Add icon. Or, try another way: Drag and drop Unlimited songs or playlists to the converter.
Step 3

Start Converting Amazon Unlimited Music Locally

Simply click the 'Convert' button at the bottom right. Then the converter will work at 5X faster speed to convert added Amazon Unlimited Music in batch to your computer. Later, tap on the 'Converted' tab at the bottom of the screen to find the downloaded content. Afterward, you can listen to the downloaded Amazon Music on multiple devices or players whenever you like.
Part 3. How to Get Amazon Music 6 Months Free
To your surprise, Amazon Music also provides a free trial of Prime or Unlimited for 6 months. Refer to those steps to get it.
# Prime Student
Sometimes, Amazon will offer more benefits exclusively for students who subscribe to Amazon Prime membership, which includes a 6-month free of Amazon Music Prime. Look at the following steps:
Step 1. Go to Amazon.com and then tap on your Profile in the top right corner to skip to Your Account page.
Step 2. Hit the 'Prime' tab and head over to the page of Amazon Prime Student.
Step 2. Select either 'Verify with Age' or 'Verify with Student Status'. Then tap the 'Try Prime Student' button.
Step 3. Complete your information details and finalize the process according to the prompts.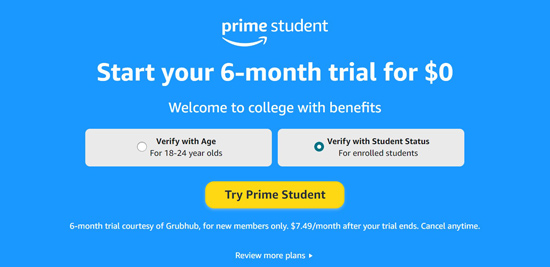 # Echo Owners (For New Subscribers)
At times, Amazon Music will give a special deal for people who have bought eligible products such as Echo devices. If the Echo owners subscribe to Amazon Music Unlimited for the first time, they are entitled to enjoy an Amazon Music 6-month trial. Just click here and click the 'Try now' tab.

Part 4. How to Get Amazon Music Free Trial 3 Months
If you are not eligible to use Amazon Music Unlimited 6 months free trial, then, try this Amazon Music Unlimited 90-day free trial in accordance with the following two channels.
# Amazon EU Sarl
To keep more users, Amazon provides users with more promotional trials. People who purchase the eligible Fire TV devices which are shipped and sold by Amazon EU Sarl from Amazon.com can use a 90-day free trial of Amazon Music Unlimited. Let's see how to make it.
Step 1. Go to amazon.com and search for 'Fire TV'.
Step 2. Complete the purchase for it.
Step 3. Once delivered, you will receive an email from Amazon. Please follow the inside instructions and get the Amazon Music free trial promo code to redeem this offer.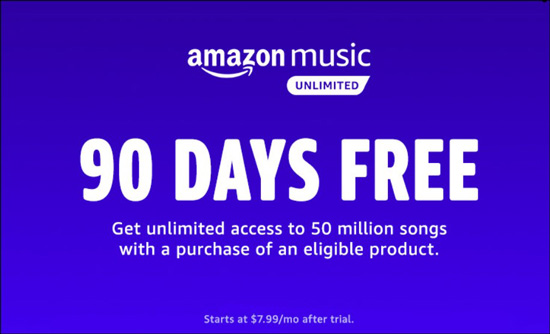 # Register Alexa Built-in Devices (For Amazon Music Unlimited New Subscribers)
Apart aside the above way, you can also enjoy benefits provided by Amazon Music Unlimited free for 3 months via registering an Alexa built-in device. But the premise is that you are a new subscriber to Amazon Music Unlimited.
Part 5. How to Get Amazon Music Unlimited 30-Day Free Trial
Amazon Music's official website provides a channel to apply for an Amazon Music Unlimited 30-day free trial. Take a look at the below tutorial to start it.
Amazon Music Unlimited Free Trial (Only for New Subscribers)
Step 1. Go to amazon.com/music.
Step 2. Hit the 'Amazon Music Unlimited' tab on the top menu bar and choose one plan.
Step 3. Proceed to tap on the 'Try it free'. Then finalize the purchase according to prompts.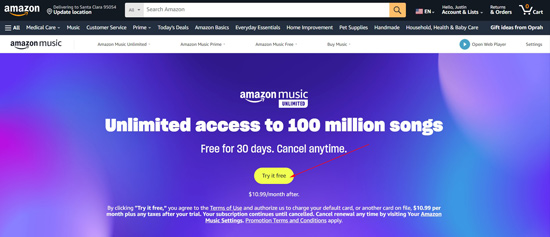 Part 6. How to Get Amazon Music 4-Month Free Trial
# Buy Echo Devices from Best Buy
As we know, Amazon Music always cooperates with the shopping platform Best Buy to give users more offers and promotions. Recently, it offered a 4-month Amazon Music Unlimited free trial for people who buy select products from Best Buy. Just search 'Best Buy Amazon Music Unlimited Offer' on a browse. Later, you can reach the offer page to complete your shopping and get an Amazon Music free trial for 4 or 6 months.

# Amazon Prime Day
Amazon Prime Day serves as an annual savings event worldwide designed exclusively for Amazon Prime members. During this period, Prime members can enjoy a wide range of deals and discounts, including a chance to get an Amazon Music Unlimited free trial for 4 months without extra charge. Just navigate to the Amazon Prime Day website and search for 'Music' on the screen, and then you will find the promotional deals.
Note: Amazon Prime Day for 2023: 7/11-7/12 & 10/11-10/12. You can keep your attention on it later to see if it will appear later again.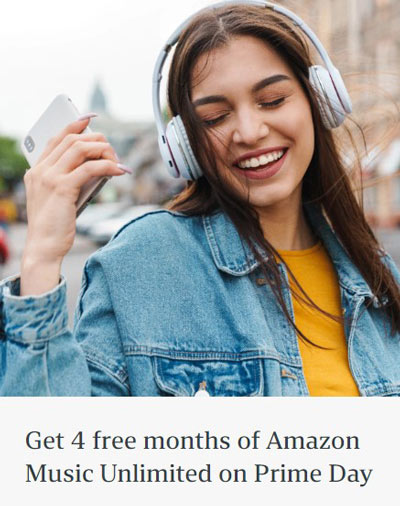 If you don't want to continue the renewal after the free trial, you'd better cancel the Amazon Music Unlimited free trial before it ends. View the how-to guide to stop the free trial below:
Step 1. Head over to Your Amazon Music Settings website.
Step 2. Scroll down to the 'Amazon Music Unlimited' part.
Step 3. Go to the bottom 'Subscription Renewal' details and choose 'Cancel Subscription'.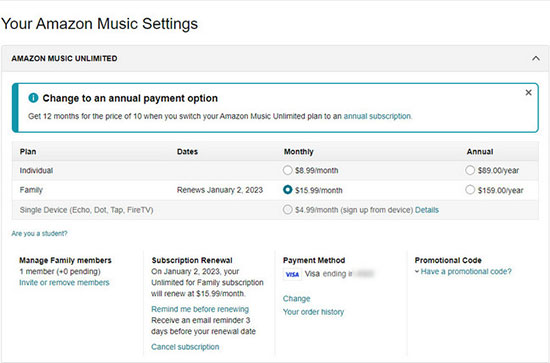 Part 8. More FAQs about Amazon Music Free Trial
Q1: Amazon Music Unlimited free trial not working. How to fix it?
A: Some users complain that they cannot access the Amazon Music Unlimited free trial account or that the Alexa device doesn't start the Unlimited free trial for them. Don't fret! Try the following methods to check the reasons behind the problem and help you out:
1) Check whether you're eligible: Navigate to the Your Amazon Music Settings webpage to check if you meet the conditions to get the trial. For example, make sure you have bought the select and eligible product.
2) Amazon Music Unlimited free trial has ended: If the free trial has expired and you don't renew the subscription, you will fail to access the features the Unlimited offers.
3) Make sure Amazon Music Unlimited Trial is activated: Go to Your Amazon Music Settings again to see if the trial gets activated or not. If not, switch to this website to set the payment address as 'Default'. Then reset your Alexa device.
4) Contact Amazon Music Customer Support: Send your problem to Amazon's official staff for further assistance.
Q2: Can you download music from Amazon Music for free?
A: Generally speaking, Amazon Music Prime subscribers can download songs only from the Amazon Music All-Access Playlists. And the Unlimited members can download all songs from Amazon Music's library.
But some expert intelligent converters such as AudFree Amazon Music Converter allow you to download and convert songs, playlists, and albums from Amazon Music for free.
Q3: How long is Amazon Music Unlimited free trial?
A: Amazon Music officially offers a free trial period of 30 days for new subscribers who charge for the Unlimited Plan. However, you can keep an eye out for extra offers from the third-party integration between Amazon Music and other platforms. This way, you can find there are 3-month, 4-month, and 6-month free trials.
Part 9. Conclusion
Here are the total 8 methods to get Amazon Music free trial for 1/3/4/6 months or forever. Generally speaking, AudFree Amazon Music Converter is the best solution for its all-around features. It allows both Amazon Music free and paid users to download songs locally and listen to Amazon Music offline on multiple devices. With this great software, you don't need to purchase extra products to get Amazon's offer.