Q: "I have tried different methods of sharing my Amazon Music playlists with my family via my Amazon Music Unlimited Family plan. But I cannot follow any instructions I found online because the options are not available when I click through things. Is there a definitive way to share playlists from my Amazon Music account with someone on my family plan?"
Amazon Music, as the top 4 music streaming service, offers a large size of music library for music lovers. It facilitates sharing your favorite songs or playlists with your friends, strangers, and particularly family members, for example, your spouse or kids.
However, as stated above, some listeners are unable to find a practical way to do that. If you have no idea to make it, please look no further than this article, which provides five methods to share Amazon Prime or Unlimited Music with your family.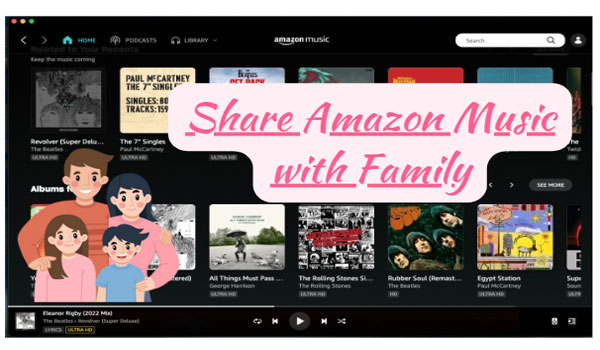 Part 1. Can You Share Amazon Prime with Family
The answer is 'Yes'. It is feasible for you to share Amazon Prime music with family through Amazon Household. In this way, you are able to have up to six accounts including adults, teens, and even children in your Amazon Household to enable them enjoy selected Amazon Prime benefits with the family members, including free shipping, streaming of movies and TV shows, and access to Kindle books. But the premise is that all of them have an Amazon Music account.
Amazon Music Unlimited Family plan also facilitates you to achieve that. It allows you to share Amazon Music with up to 6 family members as long as you pay $14.99 per month. In fact, there are also other better alternatives. And we have presented detailed instructions for each method below. Please read on.
Part 2. How to Share Amazon Prime/Unlimited Music with Family via Subscriptions
As the statement aforementioned, you can subscribe to the Amazon Music Family Unlimited plan to share both Prime music and Unlimited music with your family. The family plan allows up to six family members to enjoy all benefits of Amazon Music Unlimited at a discounted price. The primary account holder sets up the plan at $14.99 monthly and invites family members to join. It also provides Amazon Music Unlimited Family Plan Yearly priced at $149 per year.
To achieve that, you can follow these steps:
Step 1. Navigate to the web page of the Amazon Music Unlimited's Family plan and then tap on the top-right 'Settings' option.
Step 2. On the 'Your Amazon Music Settings' window, choose 'Invite or Remove Members'.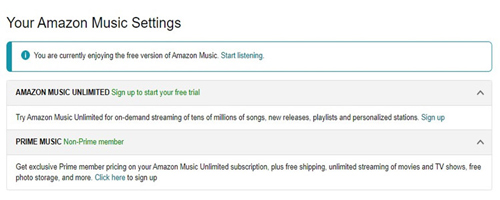 Step 3. Proceed to invite up to five additional family members to join the plan by copying and pasting the invitation link to them through email or text message.
Step 4. Each family member will receive an email invitation to join the plan. They need to accept the invitation.
Once they accept the invitation and sign up for Amazon Music Unlimited, they will have access to the same benefits as the primary account holder, including ad-free streaming of over 100 million ad-free songs, offline playback, and unlimited skips.
Note: To make maximum use of the Amazon Music Unlimited Family Plan successfully, please make sure you have satisfied the following requirements:
1) Have an active Family Plan subscription.
2) Each family member has their own personal Amazon Music account and playlists.
3) Invitee must live in the same country as you.
Part 3. How to Share Amazon Prime with Family via Amazon Household
Apart from subscriptions, Amazon Household is also a great channel for you to emjoy songs with your family together on Amazon Music. But you are required an Amazon Prime account.
But how does Amazon Household work? In fact, Amazon Household serves as a feature that allows up to six family members (Two adults, four teens, and four children) to let them get Prime benefits. Those benefits include: free Prime delivery of two-day free shipping, access to the Prime Video streaming library, Amazon photos or albums communion, and more. What's more, the Amazon Household enables you to invite or remove family members and share digital content such as applications, games, eBooks, audiobooks, etc.
How to Set Up Amazon Household to Share Amazon Prime Music with Family
Here, we have listed the specific steps for sharing Amazon Prime Music with your family through Household.
Step 1. Go to the Amazon Household website.
Step 2. Click on 'Add Adult', 'Add a Teen', or 'Add a Child' to invite another adult or teenager to your household.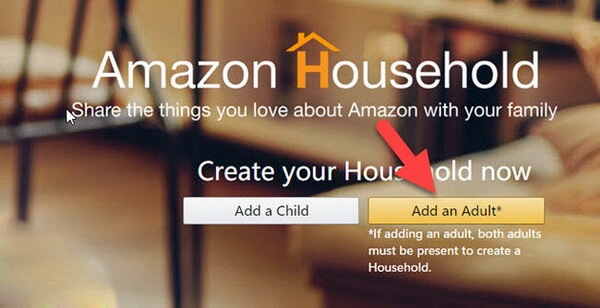 Step 3. Follow the instruction to enter their 'Name' and 'Email'. Then tap on 'Continue'.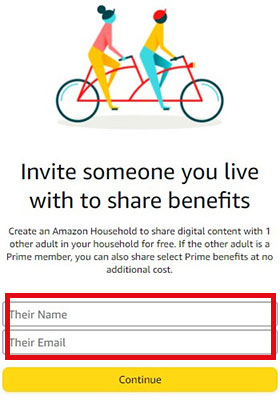 Step 4. Tap on 'Agree and continue'.
Step 5. On the new page, choose the content you want to enjoy with others.
Step 6. Continue to send them an invitation. Once they accept the invitation, the Amazon Prime benefits can be granted to them.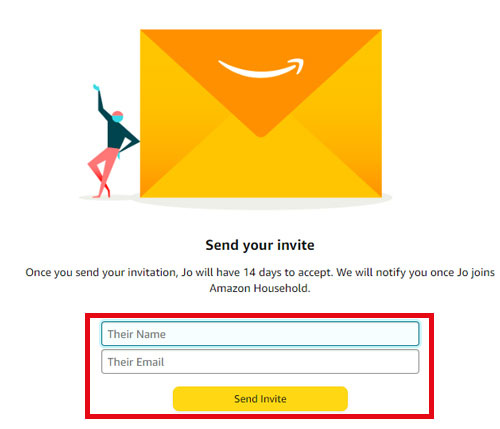 Note: For adults, you can email them or choose to sign up with them together to verify the household account. Teenagers can accept their parents' invitation to complete their teen login.
Part 4. How to Share Amazon Music Playlist with Family via Sharing Feature
There is also an easier way to share Amazon Music tracks even purchased Amazon Music with your family members. That is to use the sharing feature of Amazon Music. The process is quite simple:
Step 1. Create a playlist including all songs you want to listen to with your family.
Step 2. Click on the 'More' tab like three dots and pick up 'Share Playlist'.
Step 3. You can send the Amazon Music playlist to your family members through Facebook, Twitter, or messages. Alternatively, copy and paste the link to your family.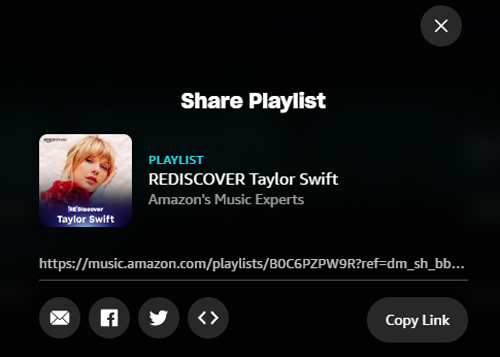 Note: Sharing your Amazon Music account directly with your family is also feasible. However, you cannot use your account at the same time. And the sharing feature does not always work. If you share Prime or Unlimited music, it is only available to people who have Amazon Music Prime or Unlimited. If not, the invitee will encounter the 'Amazon Music greyed out' issue.
Part 5. How to Use Alexa-Enabled Devices to Share Amazon Music with Family
Surprisingly, with Amazon Household, you can also share songs from Amazon Music with your family. If you have an Alexa-compatible device, you can set up Alexa profiles for each family member in your home. Each profile can have its own Amazon Music account, so everyone can listen to music together.
Step 1. Open the Alexa app on your phone.
Step 2. From the bottom, click the 'More' tab.
Step 3. Select the 'Settings' icon.
Step 4. Tap 'Your Profile & Family'.
Step 5. Touch on 'Add someone else'.
Step 6. Choose the existing profile or tap the Enter their name option depending on your preference.
Step 7. Type each family's new profile name. Then press on 'Next'.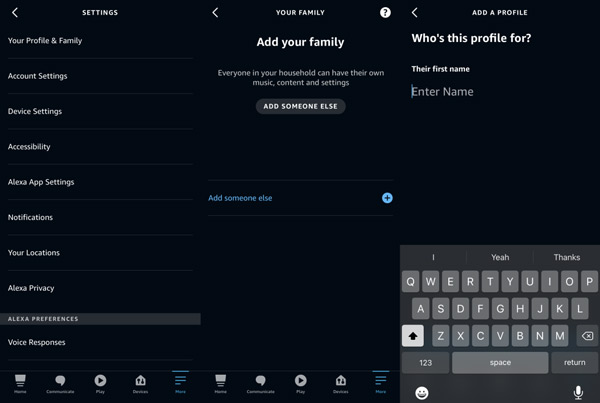 Once you've completed these steps, each family member should be able to access the Amazon Music Unlimited Family Plan benefits through their own Alexa profile. You can share Amazon Music Unlimited with your family.
Part 6. Best Way to Share Amazon Music with Family Members
The above four ways require Amazon Music Unlimited or Prime subscription. Once you stop paying for it, you will fail to display and enjoy your Amazon Music library with your family. In other words, you need to renew all the time provided that you want to share music with the family, which is costly.
To save money, we recommend you download Amazon Music content on your computers and transfer them to your families without Amazon Music subscriptions anymore. You just need an all-in-one gadget - AudFree Amazon Music Converter. It is designed to download and convert all types of Amazon Music locally and convert them to common MP3, AAC, WAV, and more formats, supporting sharing Amazon Music with your family and other people else whenever you like. Besides, you can play Amazon Music on any device you want, for example, play Amazon Prime Music on MP3 players.
Since this smart third-party tool preserves the lossless audio quality and full ID3 tags, you can enjoy Amazon Music with the original order, just like on the Amazon Music app.
How to Share Amazon Music with Family Members without Amazon Music Subscriptions
A user guide has presented below. Please install the Amazon Amable app and refer to the instructions.
Step 1

Copy and Paste Amazon Music URL to AudFree Amable

To add audio files from Amazon Music to the AudFree Amazon Music Converter, please copy the sharing link of songs or playlists from the Amazon Music app and paste the URL link to the converter. Then tap on the '+' icon. Or, try quicker access: Drag and drop Amazon Music songs or playlists directly to the main window of AudFree Amazon Music Converter.
Step 2

Customize Audio Quality Settings to Output Amazon Music Losslessly

Head over to the converter's top-right toolbar. Then select 'Preferences' > 'Convert' to choose the desired output formats and parameters to make your own high-quality or lossless Amazon Music audio. There are six formats: MP3, FLAC, WAV, AAC, M4A, and M4B. By personalizing the sample rate and bit rate, you can keep the original quality of Amazon Music.
To share Amazon lossless Prime or Unlimited music with family, we recommend you select WAV as the format and reset the quality as 24-bit or 32-bit/192kHz. It is worth mentioning that you can enjoy spatial Amazon Music audio by selecting 'Stereo' as an audio channel.
Step 3

Start to Export Amazon Music for Sharing with Family

To kick off the conversion process, hit the 'Convert' button in the bottom right corner of the converter. This smart gadget will convert Amazon Music even purchased Amazon Music as unprotected local files and save them to your computer. Afterward, you are allowed to share Amazon Music with your family at any time without the pricey Amazon Music Prime Unlimited subscription.
Part 7. Amazon Music Individual vs Family
The main difference between Amazon Music Individual and Amazon Music Family Plan is the number of users who can access the account. Amazon Music Individual allows only one user to access the account, while Amazon Music Family Plan can be shared with up to six family members. Besides, the individual plan supports listening to Amazon Music on only a single Fire TV or Echo device. But the Family subscription empowers you to stream Apple Music on all compatible Amazon Music devices. Amazon Music Family Plan offers a discounted price per user compared to Amazon Music Individual, with up to six devices at a time.
Part 8. More FAQs about Amazon Prime Music Share with Family
Q1: How to upgrade to Amazon Music Family Plan?
On the Amazon Music mobile app, click on your profile image. On the pop-up window, select the 'Upgrade to Family Plan' option. On computers, go to the website of 'Your Amazon Music Settings'. Then you will see all your subscriptions there and change your subscription to the Family Plan.
Q2: How do I accept an Amazon Music invite?
After receiving an invitation email, just tap on 'Get Started'. Then you will be directed to the Amazon Music app or website where you can start enjoying your music.
Q3: How to fix Amazon Music Family Plan not working issue?
There are several conditions while using the Family subscription. If you don't meet one of them, the Amazon Music Family plan won't work. Please check the following conditions:
1) With an active Amazon Music Unlimited Family account.
2) Invitee and you must live in the same country.
3) The children must be aged 13+ years old.
4) The invitee can only accept one Family plan invitation.
If it is of no use, please give AudFree Amazon Music Converter a shot. It will help you share Amazon Music with family offline without the Family Plan. On top of that, it enables you to play Amazon Music on multiple devices simultaneously.
Q4: If you share Amazon Prime, can they see your purchase?
Nope. If you do that with another adult and both have individual accounts, then you won't be able to see each other's orders or content. However, if you have a teen in your household, as an adult, you can review and approve the items, shipping, and payment information of their orders. Additionally, you can set a spending limit for your teen's account without needing approval.