Anyone who uses Amazon Music knows how beneficial this music streaming platform is. It gives you access to a plethora of songs, albums, podcasts, and more. Since Amazon Music is the hub of songs, you may want to use Amazon Music on different devices.
This brings us to the question of whether you can get Amazon Prime music app for iPad or not. The answer is yes, the Amazon Music app for iPad is available. Once you have Amazon Music, you can start listening to songs on the go. If you want to use Amazon Music on iPad, this post will help you learn how to do that. Also, we will tell you two ways to do that. You can choose one of the ways. So, without further ado, here's what you need to do.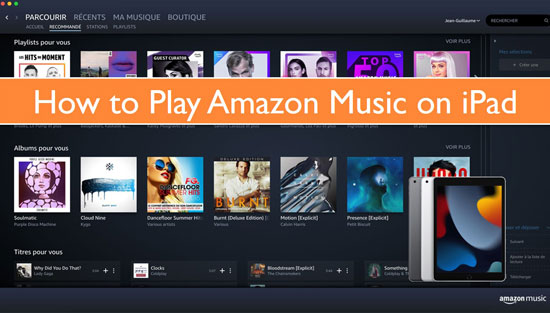 Part 1. How to Download Amazon Music to iPad via Its App
Amazon Music doesn't only let you listen to different songs online, but to save your data plan, you can even download the songs and listen to them offline whenever you want to. But before we share the steps to download Amazon Music to iPad, let's follow the steps below to download the app first.
Install Amazon Music iPad
Step 1: First, go to App Store and download Amazon Music. Once you have downloaded it, log in using your Amazon Prime account details.
Step 2: You will have to enter your email ID and password that you use for Amazon Prime. Then, click on the Sign In option, and you will be logged in.
Step 3: To start listening to songs, use the search bar and enter the song's name or the artist's name.
Step 4: The song or the artist's name will be displayed. Tap on the search and click on the Play option to start playing the song.
Download Amazon Music on iPad
Now that you know how to download Amazon Music on your iPad, let's find out the steps you need to follow to download the songs and listen to them offline.
Step 1: Launch the Amazon Music application on your iPad.
Step 2: Once it is open, click on the song/songs you want to download.
Step 3: You will see the Download option. Please click on that, and the song/songs will be downloaded.
Step 4: To find the downloaded songs, please click on the Cloud Library option, then click on the Offline Library. The downloaded songs will be stored there, and you can listen to the songs offline on your iPad whenever you want to.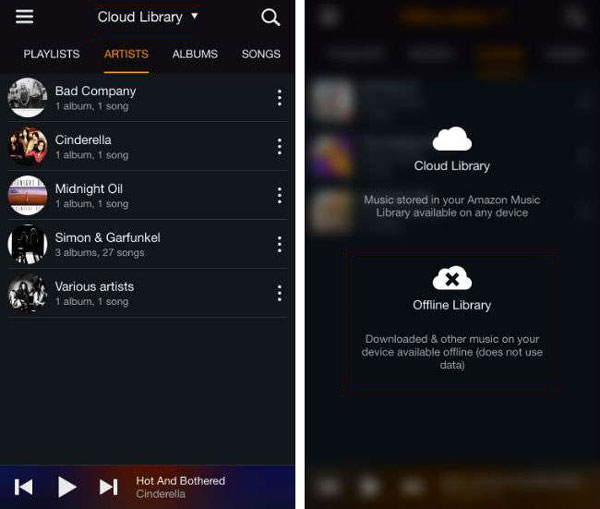 Please note that the downloaded songs will be saved in your Amazon Music application on the device you are using. Unfortunately, this means that even if the songs are saved, you can't play them on any other device. Moreover, the songs don't get saved on your iPad but in the app only. But if you want the freedom to listen to the songs on any device you wish, find out how to do that in the next part.
Part 2. Better Way to Play Amazon Music on iPad without App
As said, the downloaded songs can only be played on Amazon Music on iPad. That's because Amazon Music limits its usability by making it available only for app users. In addition, all the songs you will download are encrypted, so it becomes impossible to play them offline without being dependent on the app.
But if you want to listen to the songs without opening the app over and over again, you can do that by downloading the songs for offline listening. So, when you download the songs on the computer, you can quickly transfer them to the iPad via iTunes and never worry about opening the Amazon Music app.
And the best way to download the Amazon Music songs is by using an Amazon Music converter and downloader that will let you do that conveniently. So, we recommend using AudFree Amazon Music Converter. It is a professional Amazon Music converter and downloader that can download unlimited Amazon Music songs. Moreover, this tool allows you to convert the songs into multiple audio formats, such as MP3, WAV, FLAC, and more. And once the songs are downloaded, you can not only listen to them on your iPad but on many other devices as well.
To download AudFree Amazon Music Converter, you can visit the official website and download the Windows or Mac version. The songs get downloaded at 5X speed, which means you will not have to wait long to start listening to the songs. Also, you don't have to be a Prime member to download the songs. The tool launches the Prime Music library automatically, which means you can select whatever songs you want, and that's about it.
So, go on and download AudFree Amazon Music Converter on your computer, and follow the following steps to start using the tool.
Step 1

Launch AudFree and adjust audio parameters

First, launch AudFree Amazon Music Converter, and click on the Preferences option. Once you do that, click on the Advanced option. Here, you can choose an audio format for the song, channel, sample rate, and bit rate. Along with it, you will have to select an output path where you want the songs to be saved.
Step 2

Upload the Amazon Music songs for iPad

When the Amazon Music interface appears, select the songs that you want to convert and download. Then, click on the + icon to start adding the songs. You can add multiple songs as well to do batch conversion.
Step 3

Convert Amazon Music songs for iPad

Once everything is done, all you need to do is click on the Convert option, and the songs will start getting downloaded Amazon Music to MP3 at 5X speed. You will find the songs in the local folder that you have selected in step 1.
Step 4

Add Amazon songs to iTunes

Finally, launch iTunes on your iPad and upload the converted Amazon Music songs on iTunes. Once done, you can play the songs straight from iTunes and enjoy them whenever you want without opening Amazon Music.
Part 3. Conclusion
So, that's it. You have reached the end of the post and have learned how to listen to Amazon Music on iPad in two easy ways. If you are a Prime member and fine opening the app to listen to the songs, just get the Amazon Music app on your iPad and download the songs. However, if you want more freedom, you have AudFree Amazon Music Converter that will let you listen to the Amazon Music songs without being dependent on the app.