Music lovers will change the music volume in different places. Many Amazon Music users complain that Amazon Music app volume is too low. But they have no idea how to make Amazon Music louder, especially after the new update. Fortunately, after analyzing and testing, this post provides 6 common methods and one advanced solution to increase the Amazon Music app's volume. Without further ado, come with us to find a suitable fix now.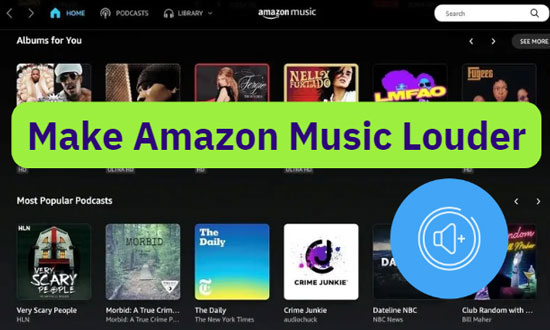 Part 1. How to Make Amazon Music Louder [Common Methods]
The reason behind the low volume of Amazon Music can result from several different factors. You can check the possible reasons as follows:
➡️ The volume control setting keeps low;
➡️ The low volume level of the music quality;
➡️ Bluetooth connectivity is unstable;
➡️ The battery of your headphones is running low;
➡️ Unknown bugs of Amazon Music app.
Now, we will take you through 6 commonly used methods to make Amazon Music sound louder on iPhone, Android, Mac, and PC.
🏷 Method 1. Turn Off Amazon Music Loudness Normalization
First, the volume control setting plays a significant role in low Amazon Music volume. If you turn the volume down in a quiet environment but forget to turn it up again in a noisy place, you need to change the volume setting. Also, according to Amazon Music users' comments, Amazon Music loudness normalization in the volume setting has implications for lower or louder Amazon Music sound. If it turns on, the sound will come out with a lower volume.
Now, please follow the step-by-step tutorial to turn off the loudness normalization of Amazon Music and change its volume control settings.
On iPhone/Android
Step 1. On the Amazon Music mobile app, tap on the top-right cog icon.
Step 2. Choose 'Settings' from the draw-down menu.
Step 3. Scroll down to the 'Playback' section and switch the 'Loudness Normalization' toggle off.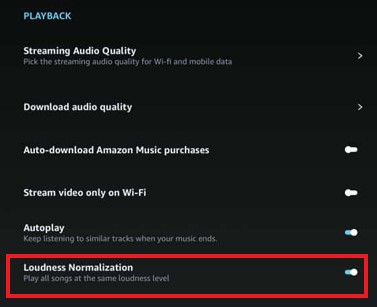 Step 4. Press the volume button of the phone directly to make Amazon Music sound louder. Alternatively, you can say "Increase the volume" if the voice assistant is on.
On Mac/PC
Step 1. On Amazon Music, click on the Profile in the top right corner and choose 'Settings' from the pull-down menu.
Step 2. On the second 'Playback' section, turn off the 'Loudness Normalization' option.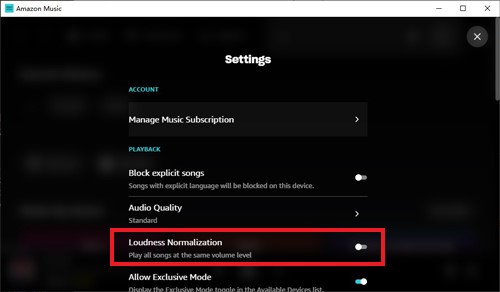 Step 3. Go back to the main interface of Amazon Music. Tap on the speaker icon on the right side of the bottom playing bar.
Step 4. Adjust the volume slider to make Amazon Music louder.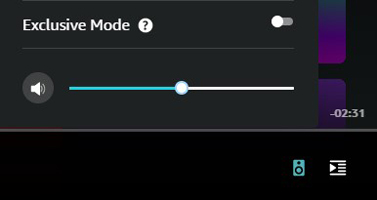 Step 5. Also, to turn up the volume of your computer, you can do as follows:
For Windows: please search 'Sound Setting' on the Windows Search Box. Then move the volume slider to the place you want to adjust the sound.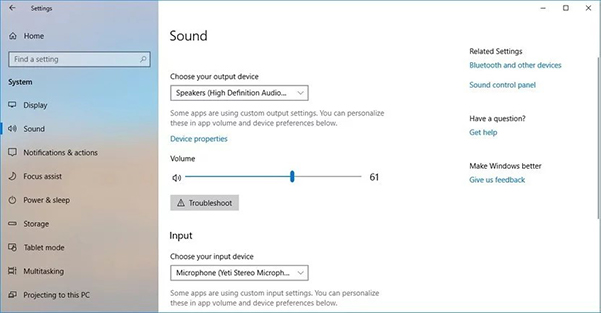 For Mac: Tap on the Apple icon from the top menu bar. From the draw-down list, choose 'System Preferences' > 'Sound' > 'Output'. Then drag the volume slider to adjust the sound.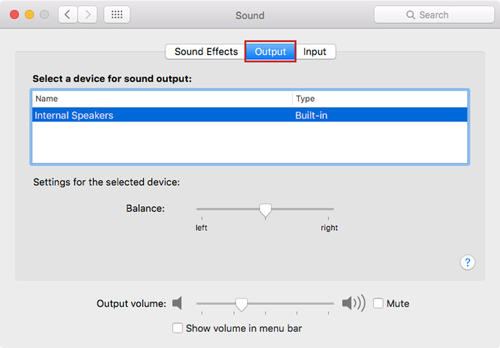 🏷 Method 2. Change Amazon Music Quality Settings
Adjusting the audio quality settings on your device can improve the audio quality of your music on Amazon Music, which in turn can make it louder. This is especially noticeable when using an output device like a Bluetooth speaker. Now, please read on to nail down how to make Amazon Music louder by changing its audio quality.
On iPhone/Android
Step 1. On the Home section, click the top-right gear icon and select 'Settings'.
Step 2. Find and choose the 'Streaming Quality' option under 'Playback'.
Step 3. You can choose 'Best Available' which offers the highest quality and louder sound.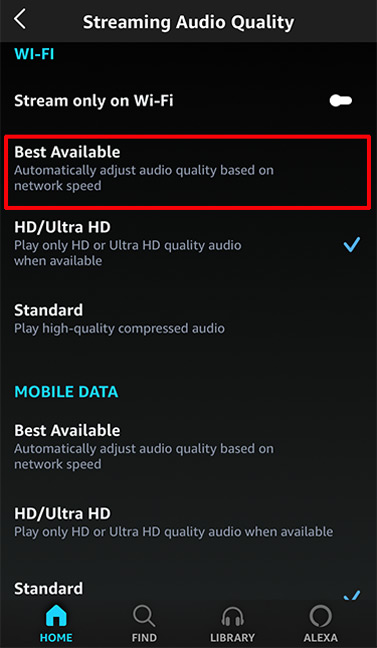 On Mac/PC
Step 1. Touch on the upper-right Profile icon and choose 'Settings' from the menu.
Step 2. Scroll down to the 'Audio Quality' option above 'Loudness Normalization'. Toggle it on.
Step 3. Select 'Best Available' to make Amazon Music louder.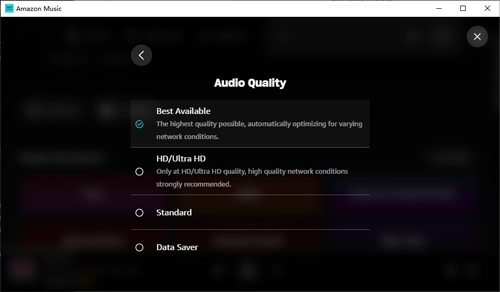 🏷 Method 3. Check Bluetooth Connection
If the Bluetooth Connectivity is unstable, the Amazon Music will sound lower due to a long distance between your headphones and your device. Also, with a lower battery of your Bluetooth-supported speakers or headphones, you will hear lower sound. To get rid of this problem, please charge your headphones and keep them closer to your phone or computer.
🏷 Method 4. Switch to Another Output Devices
The volume of Amazon Music may vary on different output devices available on your computer. You can try switching to another output device to check if it makes Amazon Music louder. Please look into the how-to guideas follows.
Step 1. Go to your Computer's Settings window and choose the 'Sound' section from the left panel.
Step 2. Find 'Choose your output device' under the 'Output' section.
Step 3. Select the speaker or headphones you want to use from the pull-down list to get a louder sound on Amazon Music.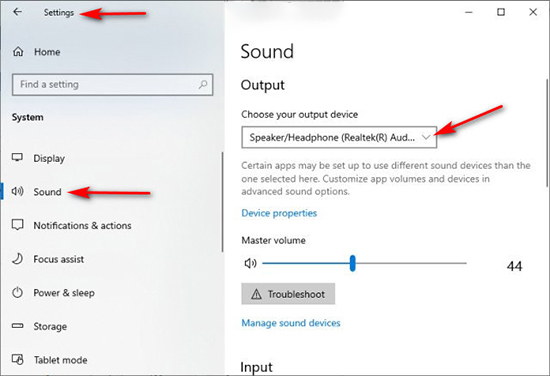 🏷 Method 5. Use Amazon Music Equalizer
An Amazon Music equalizer also contributes to adjusting the music volume. Also, with many equalizing settings, it can emphasize the sound, making it more clear and louder. More effects like beats, bass boost, etc. can be added to your Amazon Music songs, getting better streaming sound. However, Amazon Music doesn't have an in-app equalizer. You are required to install a third-party equalizing tool for Amazon Music such as Equalizer Pro, etc.
To do that, please visit this relevant article: Top 9 Best Amazon Music Equalizers to Make Sound Better
🏷 Method 6. Move to Amazon Music Mobile or Desktop app
Sometimes, the Amazon Music desktop app has some bugs or glitches while its mobile app doesn't, and vice versa. Also, you will get a distinct listening experience on the different versions. Before it gets resolved by Amazon, you can move between the mobile app and the desktop app to get a louder sound while listening to Amazon Music.
Part 2. How to Make Music Sound Louder on Amazon Music [Advanced Methods]
If none of the above methods works, you can try the advanced way. That is to download and convert encrypted Amazon Music songs to unprotected MP3, FLAC, AAC, WAV, and other format files. It allows you to play Amazon Music songs on other players or devices with louder sound. To achieve that, an Amazon Music downloader or converter is requisite.
AudFree Amazon Music Converter is more competent than many converters. It is designed to download all content from Amazon Music including podcasts to permanent local files. Without an Amazon Music subscription, you can keep the downloads forever. Moreover, this smart tool is capable of converting Amazon Music tracks to MP3, FLAC, WAV, AAC, M4A, and M4B files. With expert decoding technology, it can preserve the 100% original sound quality and ID3 tags of Amazon Music tracks.
Beyond that, it entitles you to customize output settings such as bit rate/depth, sample rate, audio channels, etc. to get better audio quality. With a 5X faster speed and easy-to-use interface, you can get Amazon Music downloads with ease. Afterward, you can listen to the downloaded Amazon Music songs on other players or devices for louder sound without issues.
How to Convert Amazon Music Losslessly
To install AudFree Amable on your Mac or PC computer, you can hit the above green Download button. Don't fret. It is safe and legal to use for personal and educational purposes. Now, let's look into the user guide to convert Amazon Music to MP3 or other formats.
Step 1

Define output settings for Amazon Music tracks

Open the AudFree Amazon Music Converter and the Amazon Music app will launch simultaneously. Touch on the 'three lines' icon in the upper right corner of AudFree Amable. Choose 'Preference' and then the 'Convert' section where you can customize the output format and other parameters.
Step 2

Load Amazon Music playlist to AudFree Amable

Whereafter, copy the URL links of the songs, playlists, albums, etc. from Amazon Music and paste them into the search box on AudFree software. Next, tap on '+' to add them. Or, drag the single track or playlist to the converter's interface directly.
Step 3

Convert Amazon Music for Other Players with louder sound

Proceed to hit the bottom-right 'Convert' button to kick off the conversion. This Amazon Music downloader will export those added items at 5X speed and save them to the target folder you set before. Just click the bottom 'Converted' tab with a red spot to access your Amazon Music downloads on your computer. Afterward, you can play those audio files on other players or devices to get higher volume easily.
Part 3. FAQs about Amazon Music Volume
Q1: Why is Amazon Music app Volume too low?
A: Several factors may play roles in the Amazon Music low volume issue. For example, the unstable Bluetooth connection, the low volume settings of both devices and the app, and the audio files' low volume level are several common reasons that can result in this problem. Sometimes, if you use headphones with low battery to listen to Amazon Music songs, Amazon Music sound will turn lower.
Q2: How to fix Amazon Music volume control missing error?
A: Many Amazon Music users say that the volume control has gone with the new update. In fact, the volume slider is behind the speaker icon in the bottom right corner. Please tap on the speaker icon to pull up a menu. Then you can see the volume control under the 'Exclusive Mode'.
Part 4. In Conclusion
7 workable solutions to make Amazon Music louder have been demonstrated above. According to your Amazon Music app's situation, please select a suitable one to solve this error. If you have no idea which you should adopt, you can give AudFree Amazon Music Converter a shot. Since it endows you with opportunities to listen to Amazon Music songs offline and make Amazon Music louder on other easy-to-use players.