Even though Spotify is among the top music streaming platforms, it doesn't offer HD quality like Tidal or Apple Music. It leaves audiophiles with one choice, to make their music louder. You can improve the sound quality with a pair of high-quality headphones or better tailor your playlists to make Spotify sound louder. Several options are at your disposal. Please find out in the next section how to make your music loud on all devices.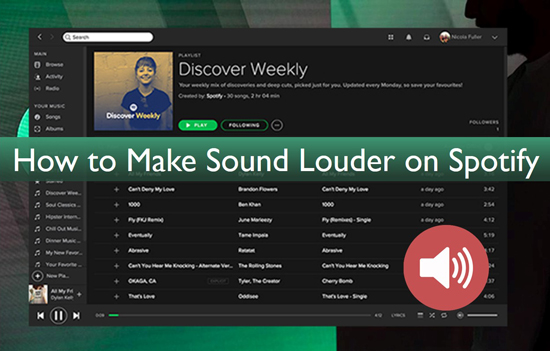 Part 1. How to Make Spotify Louder iPhone/Android/PC/Mac
A majority of people prefer to stream music on a mobile phone or desktop. Thus, in the first part, we would like to describe 5 working methods we have tested to increase the volume on Spotify for iPhone, Android, PC, and Mac. Without further ado, let's start.
Change Volume Settings on Spotify
The easiest and fastest channel to raise Spotify volume of songs is to adjust the volume setting. You can find the Spotify Volume Booster at the bottom "Now Playing" bar. Simply drag the slider on the Volume Control bar to the right to increase the volume of Spotify.

Disable Spotify Normalize Volume Feature
The Volume Normalization on Spotify works to automatically adjust the volume of each track to keep all songs at the same volume. It helps reduce variation in loudness between tracks, providing a consistent and more balanced listening experience for users. However, the sound of most tracks will lower after normalizing. Therefore, it is recommended to disable the Spotify Volume Normalization feature.
On iPhone/Android
Step 1. On the Spotify mobile app, tap on the upper-right Menu tab like a gear icon to open the Settings pane.
Step 2. Scroll down to the "Playback" section.
Step 3.  Toggle off the "Normalize volume" button. Then you will find the Spotify music sound louder.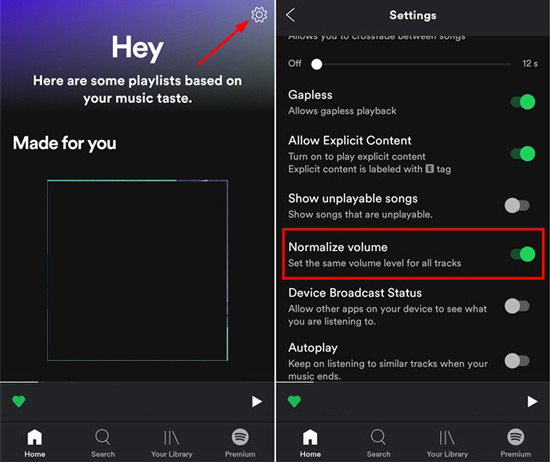 On PC/Mac
Step 1. Open the Spotify desktop app and touch on your Profile picture in the top right corner.
Step 2. Select "Settings" from the drop-down menu.
Step 3.  Search for the "Audio quality" section and switch off the "Normalize volume" button under it.
Switch Spotify Volume Level
The volume level on Spotify controls the overall loudness of the Spotify audio playback. It can be reset to make the Spotify music louder or quieter to your needs. Look at the following tutorial to boost volume on Spotify.
On iPhone/Android
Step 1. First, launch the "Spotify" app, then tap on the "Gear" icon and open the "Settings" section.
Step 2. You'll be redirected to the next screen, tap the "Playback" option from the list.
Step 3. Then scroll down to the "Volume level" section and set the sound to "Loud".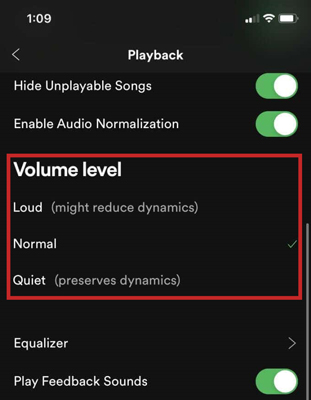 On PC/Mac
Step 1. Go to the Spotify app. Then click on the upper-left "three-dot" menu.
Step 2. Next, select the "Edit" > "Preferences" option from the pop-up list.
Step 3. Check under the "Audio quality" section and select the dropdown menu that's located on the right of the "Volume level" option. Set the sound to "Loud". This should automatically increase the volume of any track when you listen to Spotify on a desktop.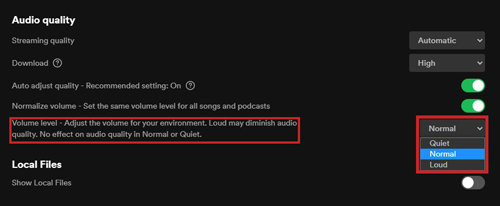 Adjust Spotify Audio Quality
Higher audio quality makes audio sound louder and clearer on Spotify. Here's how to make music louder on Spotify by improving the audio quality.
On iPhone/Android
Step 1. Boot up Spotify and tap on the "Gear" icon to open the "Settings" page.
Step 2. Then scroll down to the "Audio Quality" option.
Step 3. Click on the right dropdown box located on the right of the WiFi or Cellular streaming.
Step 4. Choose the "Automatic" option to adjust your audio quality to the strongest signal strength your mobile can manage. There is also the fifth option "Very High" that is available to paid subscribers.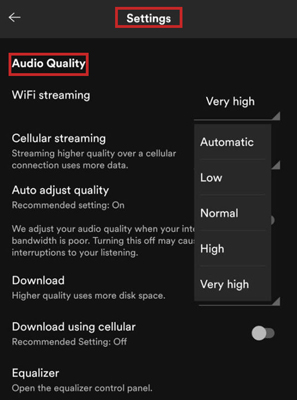 On PC/Mac
Step 1. Launch the Spotify app on your Windows or Mac computer.
Step 2. On Mac, click on the "Spotify" tab from the top toolbar and select "Preferences" from the pull-down list. On PC, just click on your top-right Profile picture and pick "Settings".
Step 3. Click on the "Streaming quality" drop-down menu that's located beneath the "Audio Quality" section.
Step 4. Choose your preferred option to increase the sound level of your Spotify. You can choose either "High" or "Automatic" for free users or "Very High" for paid subscribers.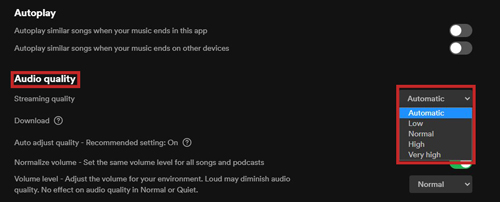 Use Spotify Built-in Equalizer
You can also learn how to make sound louder on the Spotify mobile or desktop app via its inside equalizer. Here's the how-to guide. The process is available on both the Spotify mobile and desktop app
Step 1. Go to the Settings pane of Spotify.
Step 2. Locate your cursor on the "Playback" title.
Step 3. Choose "Equalizer" and toggle on its button.
Step 4. Select one available preset like Piano, Pop, R&B, or Latin from Spotify equalizer, which is proven to the whole volume of Spotify music. Or drag the sliders up to increase the volume of the frequencies you want to amplify.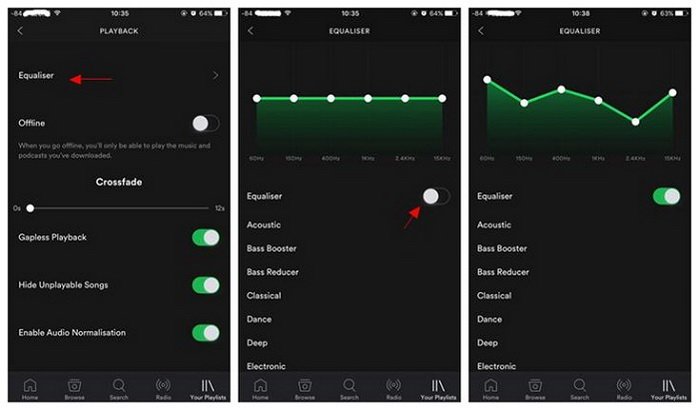 Part 2. How to Increase Volume on Spotify Car/Xbox/PS5/AirPods
Many Spotify users responded that Spotify volume is low in their cars with Apple CarPlay, game consoles like Xbox or PlayStation5, and headphones like AirPods with Bluetooth. How to make your Spotify louder on those devices? First, you can take a stab at the above-mentioned methods to adjust Spotify settings. If they are of no avail, proceed to read on and explore answers in this part.
How to Make Your AirPods Louder on Spotify
If you stream Spotify music through AirPods, you can give the following fixes a shot to make Spotify music sound louder.
# Check Bluetooth Connection of AirPods
An unstable Bluetooth connection can result in the volume and sound clarity of Spotify music on AirPods and other headphones. Therefore, disconnect your Bluetooth between AirPods and the phone or tablet and then re-connect it.
# Make Bass Louder on Spotify Equalizer Setting
Increasing the bass on Spotify may give the perception of a louder sound because bass frequencies are often associated with a sense of volume and impact, especially with headphones.
How to Make Spotify Louder in Car
If you encounter the low volume issue while playing Spotify in a car, you can take a look at those workarounds below:
# Increase the Volume of Apple CarPlay in Car
Apart from adjusting the volume of Spotify itself, it is requisite to boost the volume setting of the car stereo system.
See Also: Fix Spotify on Apple CraPlay Not Working
# Check Bluetooth or Cable Connection
If you cast music from your phone to your car, please make sure you have connected the phone to your car via Bluetooth or cables correctly.
# Change Output Speakers in Car
If it doesn't work even though you adjust the Spotify settings, the issue may relate to the bugs of the output speakers. You can try changing a new one.
# Increase the Headset Volume
While playing games on console, you will use a headset. Just go to the Audio settings on your game consoles to adjust the headset volume.
# Drag the Volume Slider for Music on PS5
PlayStation5 owns a dedicated volume slider designed exclusively for music playback. The slider is always turned down automatically when you launch your PS5 for a better gaming experience. So, just find the switcher by pressing on the PS button and then choose the Sound > X icon. Then pick Music and click on the X icon underneath the "Media Volume". Afterward, you can use the d-pad to drag the slider to increase the Spotify music volume on PS5.
Part 3. How to Make Spotify Music Louder on All Devices
The best way to make the sound louder on iPhone Spotify and other devices is to use AudFree Spotify Music Converter. Spotify offers over 110 million songs but these have been encrypted with a special OGG Vorbis format. Thus, you cannot access Spotify music outside its app on most devices. That's where AudFree Spotify Music Converter comes in. It will convert Spotify tracks to common formats like M4A, FLAC, AAC, MP3, and other formats in a few clicks.
It also works at a 5X speed, managing a batch conversion as it utilizes its innovative decoding and recording technology. Likewise, all lossless audio quality and full metadata info including ID3 tags will be preserved after conversion. It empowers you to customize the output parameters like sample rate, channel, and bit rate to get better quality. With it, you have the ability to stream the converted Spotify music on other players or devices that support louder sound.
Main Features of AudFree Spotify Music Converter
How to Download Spotify to MP3 to Play on Other Players for Louder Sound
Many audiophiles often ask "How loud will my mix sound on Spotify?" Well, you can have loud sounds as you wish on any device of your choice. AudFree Spotify Music Converter works in easy steps to convert Spotify playlists and albums to any format as stipulated below.
Step 1

Install AudFree Spotify Music Converter

AudFree SpoDable is compatible with both Windows and Mac OS devices. To use it, first, download the right version for your computer by clicking on the above Download button. Then install and launch it on your computer. Also, ensure you have installed the Spotify app on your computer.
Step 2

Copy Spotify Music to AudFree SpoDable

Copy the URL link of your playlist from Spotify and then paste it into the search box in AudFree SpoDable. Next, press on the upper-right "+" tab to add the songs. Likewise, you can opt to drag and drop the playlist or album into the conversion window directly.
Step 3

Reset Output Format to Make Spotify Music Louder

Go to the top "Menu" tab resembling three horizontal lines and choose the "Preferences" option to open a new window. Then switch to the 'Convert' pane where you can select output settings like output formats, audio channel, bit rate, sample rate, etc. You are recommended to convert Spotify to MP3 since this format is supported by most devices and players.
Step 4

Download Spotify Playlists Locally for Louder Sound

Once set, please click on the bottom "Convert" tab to kick off the conversion process. AudFree SpoDable app will automatically download music from Spotify to a computer with the set preferences. Finally, locate your music on your computer's local disk by tapping on the bottom File icon. You can then play them on any device that can make music sound louder.
Part 4. More FAQs about Making Spotify Louder
Q1: Why is Apple Music louder than Spotify?
Because the Volume Normalize option on Spotify is enabled to keep all songs at the same volume level. You can go to Settings on Spotify. Then turn off 'Normalize volume' under the 'Audio quality' section to make it louder.
See Also: How to Make Apple Music Louder
Q2: What's the best app to make Spotify louder?
You can adjust the volume control setting or disable the volume normalization feature using the Spotify app itself.
Part 5. In Conclusion
We have checked out how to make music sound louder on Spotify in several ways. You can either change the quality from the "Settings" section in Playback, choose "High" or "Very High" quality, or download and convert your music locally. By the way, AudFree Spotify Music Converter lets you get music in any format that is playable on any device offline to make Spotify sound louder.