Most Apple Music users prefer to get a higher volume of songs while playing music to get a better listening experience. But Apple Music some songs sound louder than others. Also, you may find Apple Music volume is too low compared to other music services like Spotify. This problem is not insoluble if you read this post. We will introduce multiple working fixes to make Apple Music louder on your Mac, iPhone, cars, AirPods, and more devices. Let's have a look together.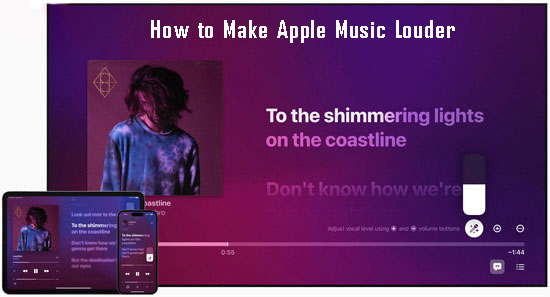 Part 1. Why Is Apple Music Volume So Low
Apple Music low volume results from a lot of factors. Here are some potential reasons as follows:
Apple Music Dolby Atmos/Lossless Audio: Some songs like Apple Music Dolby Atmos and Lossless Audio generally keep low volume while non-Atmos audio is louder on account that it is mixed and mastered in this way by artists. Or the audio settings of your device may not be optimized for Dolby Atmos playback.
Low Volume Control Settings: The default volume setting may be intentionally low on Apple Music or your device.
Wrong Equalizer Settings: The Apple Music equalizer settings are possibly set to reduce the volume.
Incorrect External Output Devices Connection: The headphones or external speakers you use to listen to Apple Music may be not connected or working correctly.
Apart from the above-mentioned culprits, other Apple Music playback settings such as Sound Check, Volume Balance, etc. should be blamed for this issue. But don't fret, please read on to find a suitable fix.
Part 2. How to Make Apple Music Louder on iPhone/Mac
Fix 1. Adjust Volume Control Settings
Reset the default volume control settings to enough level to make Apple Music sound louder.
On Apple Music
On the top playing bar of the music window, drag the volume slider to the right place directly. On an iPad or iPhone, you need to put the playing song into the full-screen mode and find the volume slider at the bottom.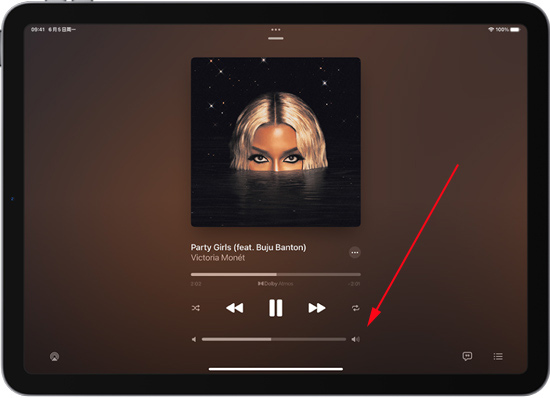 On iPhone/iPad
To increase the device volume settings on your iPhone and iPad to make Apple Music louder, just press the side volume button on your iPhone.
On Mac
Generally, locate your cursor in the top menu corner, then you will find a speaker icon, tap on it, and move the volume slider to turn up the sound. If you cannot find it, just go to the top Apple icon > System Preferences > Sound > Output. Then drag the slider of Output volume.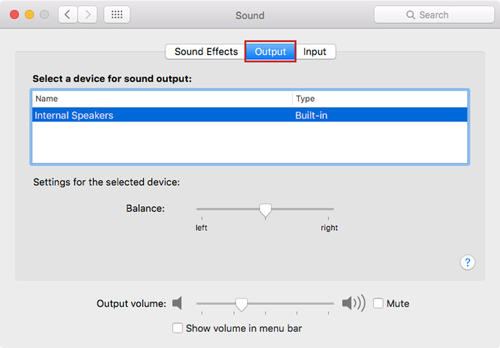 Fix 2. Turn Off Apple Music Sound Check Feature
Apple Music Dolby Atmos sounds lower than its stereo songs. Sound Check is such an Apple Music volume normalization feature that automatically adjusts and normalizes the playback volume of those two kinds of songs to play at the same volume in your library. It works to ensure that they are all played at a consistent volume level, especially when you have a mix of songs with varying volume levels.
But this playback setting will lead to Apple Music volume low to keep the same volume level between Atmos and stereo songs. Thus, you can turn it off to make your Apple Music louder. Please see the how-to guide below to stop Apple Music volume changes.
On iPhone/iPad
Step 1. Launch Settings on the iOS device.
Step 2. Scroll down and choose the Music tab.
Step 3. Under the 'AUDIO' section, toggle off the switch of 'Sound Check to disable the Apple Music volume normalization feature.
🗒️Note: On different Apple Music versions, it may be shown as 'Volume Balance'.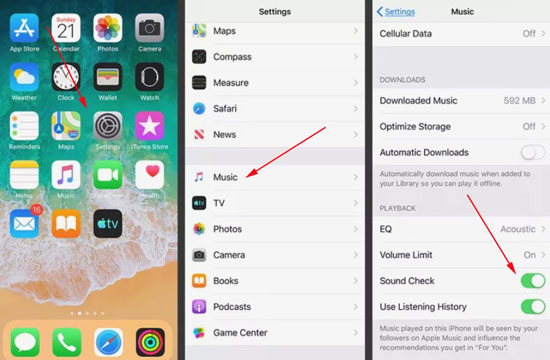 On Mac
Step 1. On the Apple Music app on Mac, choose 'Music' > 'Preferences or Music' > 'Settings' from the top menu bar.
Step 2. Switch to the 'Playback' section.
Step 3. De-select the 'Sound Check' option and choose the 'Sound Enhancer' tab.
Step 4. Drag the slider to the right 'High' tab to boost Apple Music volume.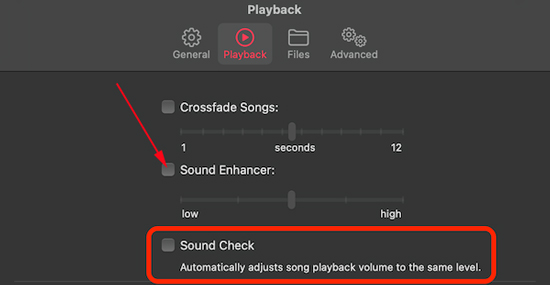 Fix 3. Disable Volume Limit on iOS
The iOS Volume Limit Setting is a feature that allows you to set a maximum volume level for your device. This contributes to protecting your hearing or preventing others from turning the volume up too loud. But it may also restrict the volume of Apple Music songs. Read the following tutorial to close it.
Step 1. Head to the Settings app on iOS devices.
Step 2. Select the Music icon.
Step 3. Under the 'PLAYBACK' section, opt to turn off the 'Volume Limit'.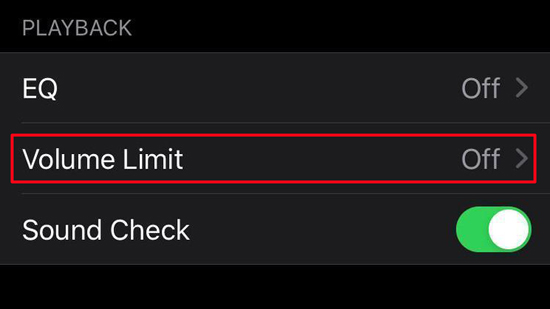 Apple Music inside EQ settings like 'Late Night' and 'Bass Booster' can boost the bass and treble, which play roles in making Apple Music louder. Now we will take you through how to use it.
On iPhone/iPad
Step 1. Navigate to Settings on your iPhone or iPad.
Step 2. Pick the 'Music' icon to a new page.
Step 3. From the 'AUDIO' section, choose 'EQ'.
Step 4. Enable 'Late Night' from the EQ list.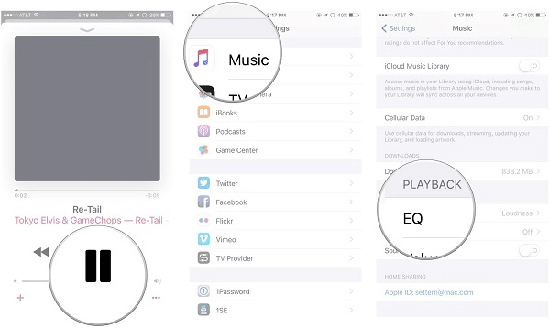 On Mac
Step 1. On the Apple Music Mac app, pick 'Window' and then 'Equalizer'.
Step 2. From the pop-up window, set the present as 'Bass Booster'.
Step 3. Drag the right Preamp slider up to a desired level to increase Apple Music volume.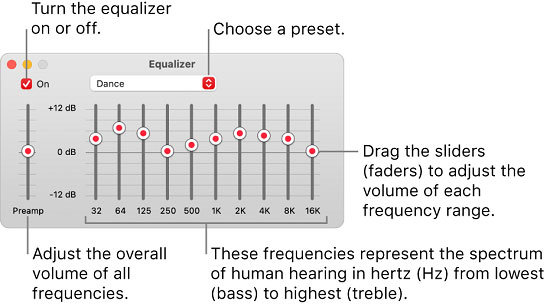 Fix 5. Deactivate Apple Music Dolby Atmos/Lossless Audio Quality
On iPhone/iPad
Step 1. Go to the Settings app > Music.
Step 2. Scroll down until you view 'AUDIO'. Then switch the 'Dolby Atmos' option off.
Step 3. Click on the below 'Audio Quality' tab.
Step 4. Disable 'Lossless Quality'.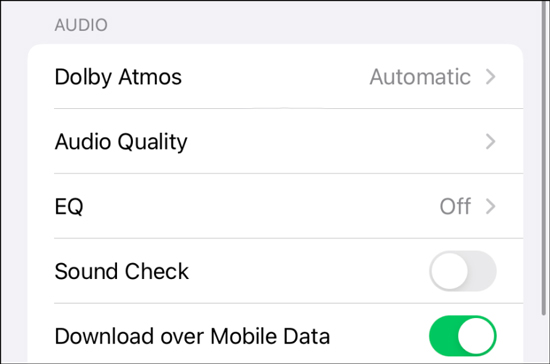 On Mac
Step 1. On Apple Music, tap on 'Music' and choose 'Preferences or Music' > 'Settings'.
Step 2. Switch to the 'Playback' section.
Step 3. Set 'Dolby Atmos' off.
Step 4. De-select the 'Lossless audio' option.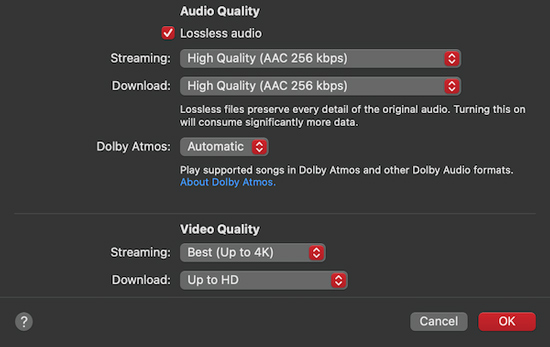 Part 3. How to Make Apple Music Louder on AirPods/Car/Xbox
If you are listening to Apple Music on other devices such as AirPods headphone, Car, or game consoles Xbox, please never miss this part that describes how to make Apple Music louder.
Fix 1. Disable Headphone Safety Feature for AirPods
When listening to Apple Music with AirPods, please check if you have the Headphone Safety feature enabled. Headphone Safety refers to listening at safe volume levels to protect your ears while using headphones or earbuds. It will avoid turning up the volume too high in noisy environments. Therefore, you need to disable it to increase Apple Music volume.
Step 1. Head over to the Settings app on phones and choose 'Sounds & Haptics'.
Step 2. Under the 'Headphone Audio' section, click on the 'Headphone Safety' tab.
Step 3. Get the 'Reduce Loud Sounds' off. Then you can boost the volume to make Apple Music sound louder.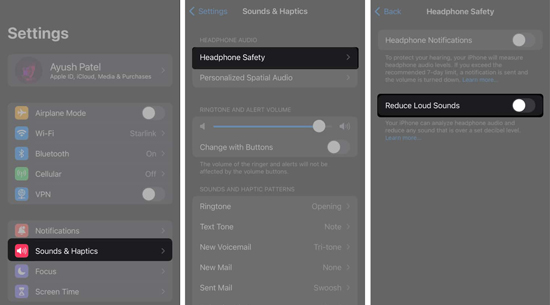 Fix 2. Adjust Volume Settings of Xbox/TV
To play Apple Music on Xbox with a louder sound, you can try adjusting the volume settings on your Xbox or on your TV if you have connected your Xbox to it. You can also try adjusting the volume settings within the Apple Music app itself. If these options don't work, you may need to connect external speakers or a soundbar to your Xbox for a louder audio output.
Fix 3. Check Bluetooth Connection
When playing Apple Music in cars, besides turning up the volume of both music and voice assistant from the car's audio system, you can also check if the Bluetooth is correctly connected. Without a stable connection, the volume through Bluetooth will be reduced in a car. You can disconnect and repair it again.
Part 4. Advanced Way to Increase Apple Music Volume on All Devices
If those methods are of no avail for you and you have no time to contact Apple Music Customer Support, it is worth trying this one-stop way. That is to download Apple Music tunes locally and play them on another user-friendly music player to boost Apple Music songs volume. What you need is just an all-in-one Apple Music downloader.
AudFree Apple Music Converter is such tool that is designed for both Apple Music Free and Paid users. It works to download Apple Music songs, playlists, podcasts, albums, and any other Apple Music audio as local files for permanent offline listening. It is capable of converting Apple Music tunes to a variety of commonly used formats, including MP3, FLACM AAC, WAV, etc. Full ID3 tags and original sound quality will be retained after conversion with its top-notch decode technology.
This digital music tool facilitates you to stream Apple Music tracks on any device or player you have that can make your Apple Music louder without the Apple Music app.
AudFree Apple Music Converter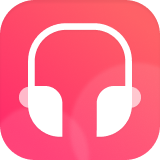 convert Apple Music to MP3, WAV, AAC, FLAC, M4A, and M4B losslessly
Download Apple Music tracks for unrestricted offline listening forever
Preserve original ID3 tags and audio quality
Customize output settings such as audio quality to get higher sound
How to Convert Apple Music Songs for Playing on Other Players
Hit the green Download tab to install AudFree Auditior on your computer. Here is a step-by-step user guide on how to use it. Note, please download your music collection from Apple Music with your current Apple Music account beforehand.
Step 1

Load Apple Music Audio Files to AudFree Auditior

Tap on the first Add tab at the bottom left to load the downloaded Apple Music audio files from iTunes. Or try a more effective way: Drag and drop those downloads to this best Apple Music downloader directly.
Step 2

Customize Output Format and Quality for Apple Music

Click the first Audio icon in the lower right corner and the 'Format Setting' window will appear. At this point, choose an output format you want for your Apple Music collections. MP3 is recommended for its high compatibility. Proceed to customize the codecs, bitrate, sample rate, audio channels, etc. to create higher-quality audio.
Step 3

Convert Apple Music Collection Losslessly for Other Players

To kick off the converting process, please hit the large 'Convert' button at the lower right. This digital music converter will export added Apple Music files at 30X speed and save them into the local drive on your computer. Once done, you can transfer those Apple Music songs to Spotify or other user-friendly music players that offer louder sound than Apple Music.
Video Demo: How to Convert Apple Music to MP3
Part 5. FAQs about Apple Music Volume
Q1: Is Apple Music louder than Spotify?
A: Apple Music songs sound louder than the same one on Spotify due to the following factors:
Loudness Normalization Settings: This feature leaves all songs on Spotify to keep the same volume level.
Audio Compression: Spotify's compression algorithm possibly changes the audio volume to reduce audio documents' length.
Default Volume Level Setting: The default volume level may be set lower on Spotify.
Based on the above underlying reasons why is Apple Music louder than Spotify, fixes as follows can be applied to solve this problem:
Turn Off Loudness Normalization on Spotify: It can resume the original sound volume of Spotify music.
Change Audio Quality: Set higher quality for Spotify songs to get music louder.
Increase Default Volume: Turn up the volume from the volume control on Spotify.
Q2: What app makes Apple Music louder?
A: Professional speaker sound amplifiers or equalizers designed for Apple Music serve to make your music louder on Apple Music. For example, the Louder Volume Booster app is able to adjust the Apple Music sound level.
Q3: Why are some songs louder than others on Apple Music?
A: Apple Music tracks' loudness can vary due to several factors: the way it was recorded, mixed, and mastered. Some songs may be intentionally created louder to be more prominent, while others may be quieter to get a more subtle effect.
To get rid of this situation, you can turn on the loudness normalization feature called Sound Check from Apple Music's settings or use an Apple Music equalizer to equalize the volume among songs.
Part 6. In Conclusion
Here are 9 ways to make Apple Music louder in this post. Please check the potential factor behind the low Apple Music volume first. Then choose a suitable method to get around this issue. Generally speaking, AuFree Apple Music Converter can help a ton. It serves to download all content from Apple Music for offline playback on all devices without limitations. You can switch output devices at will to get the highest sound. Install it to get your wonderful listening experience now.