Music streaming services have become a staple for music lovers worldwide. Apple Music is one of the hottest music streaming services, offering a vast collection of songs, playlists, and podcasts. However, managing your Apple Music account and keeping track of your listening history can be challenging. That's why Receiptify is here.
Receiptify is an innovative tool that allows you to generate receipts for your Apple Music account, making it easier to track your listening habits and share them with friends and family. In this article, we will explore all about Receiptify Apple Music and how to make Apple Music receipts.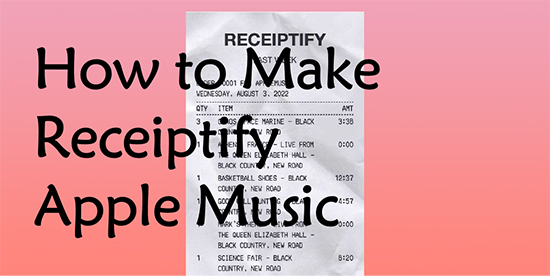 Part 1. What Is Receiptify Apple Music
Receiptify is a web-based application that for music enthusiasts who want to gain insights into their listening habits across multiple platforms, including Spotify, Last.fm and Apple Music. In general, you can use Receiptify to get Spotify receipts and thus find out the top 10 most played songs in the last month, six months and all time.
However, Receitify's integration with Apple Music is different from other streaming music services because Apple Music API only provides a "Heavy Rotation" list. By connecting Apple Music accounts to Receiptify, users can generate reports on their music consumption habits, including the most played tracks, albums, playlists and more over an undefined period of time.
Part 2. How to Get Receiptify for Apple Music
By generating detailed Apple Music receipt on music consumption, Receiptify makes it easy for users to understand their preferences and make informed decisions about what to listen to next. Now, we will show you how to make an Apple Music receipt via Receiptify.
How to Make Apple Music Receiptify
Step 1. Visit the Receiptify website and click on the "Log in with Apple Music" button.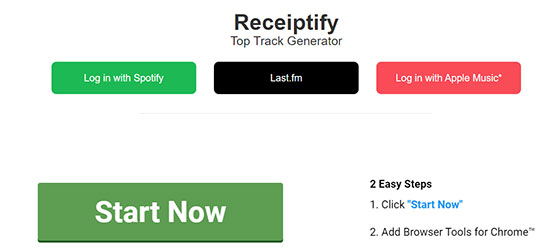 Step 2. Follow the prompts to enter your Apple ID.
Step 3. Hit the "Allow" button to authorize Receiptify to access your Apple Music data.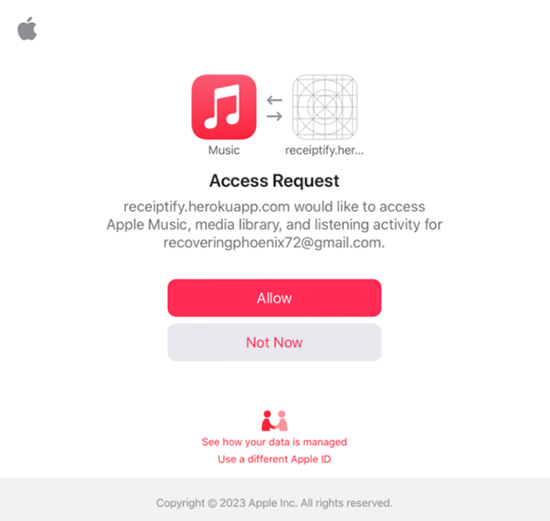 Step 4. With your Apple Music account connected, you can now generate a receipt for Apple Music.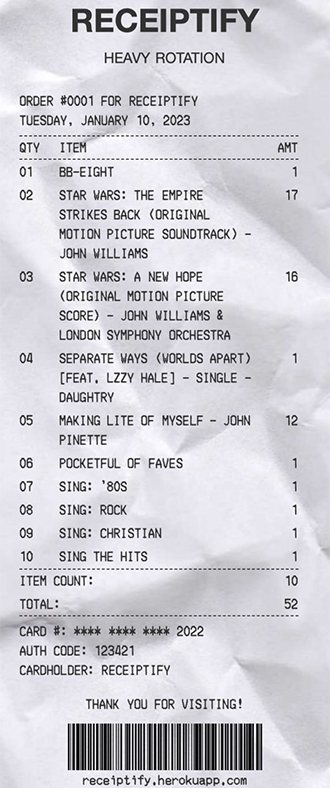 How to Share Apple Music Receipt on Social Media
Sharing your Apple Music receipt on social media can be a great way to show off your favorite tunes or just keep your friends in the loop. Therefore, we'll walk you through the steps to share your receipt on social media like Twitter and Facebook so you can start sharing your music with the world.
Step 1. Once you have gotten your Apple Music receipt via Receiptify, click on the "Download Image" button below the receipt.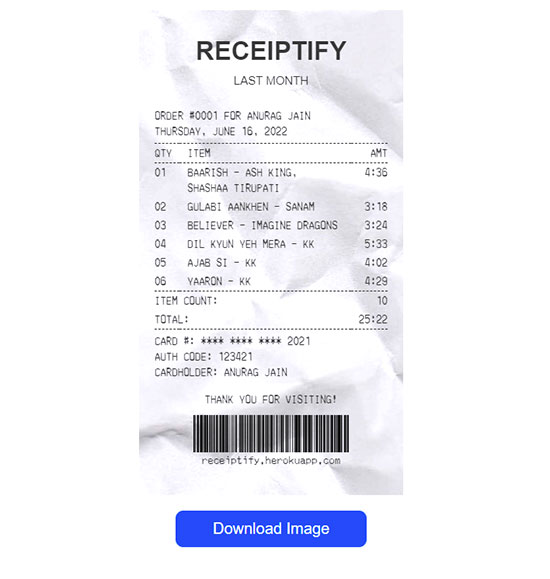 Step 2. Then select "Download" to save your receipt, or just take a screenshot of the receipt.
Step 3. Choose the social media platform you want to share on (e.g. Twitter, Facebook, Instagram).
Step 4. Start posting your receipt and add any additional text.
Part 3. How to Download Most Played Songs on Apple Music Receiptify
While Receiptify can help you easily see the top 10 most played songs on Apple Music, it doesn't let you download songs for offline listening. If you want to keep the songs on your Apple Music receipts forever, AudFree Apple Music Downloader can come in handy.
This powerful tool is dedicated to downloading Apple Music locally and converting it to various common audio formats including MP3, FLAC, WAV, AAC and more. It also offers various customization options that allow you to choose the output format, bit rate, sample rate, etc. With it, you can nicely download your favorite songs on Apple Music receipt and get Apple Music forever without subscription.
How to Download Most Played Songs on Apple Music Receiptify
Now, you can refer to the following steps to download the most played songs on Apple Music and listen to them offline.
Step 1. First, download and install AudFree Apple Music Downloader on your PC, then launch it. Click the first "Add" button in the bottom left corner to add the songs you want to download on your Apple Music receipt.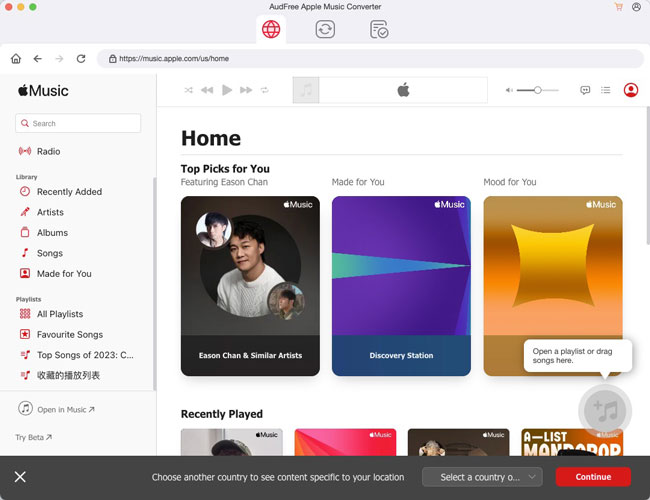 Step 2. Tap the "Format" button at the bottom right corner to open the Settings window. Here, you can set the output format, codec, channel, bit rate, sample rate and other parameters for Apple Music songs according to your preference.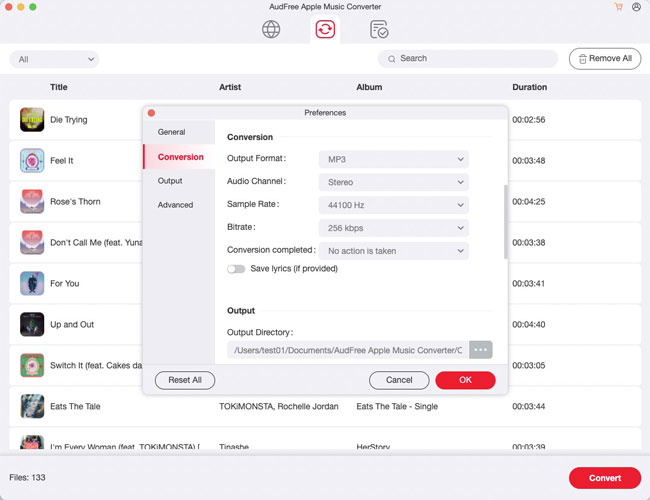 Step 3. Once you have set your preferences, click on the "Convert" button to start downloading Apple Music. Wait for the process to complete. Once done, you can locate the downloaded songs in the output folder you previously set. Then you can enjoy listening to your downloaded Apple Music songs offline anytime and anywhere you want.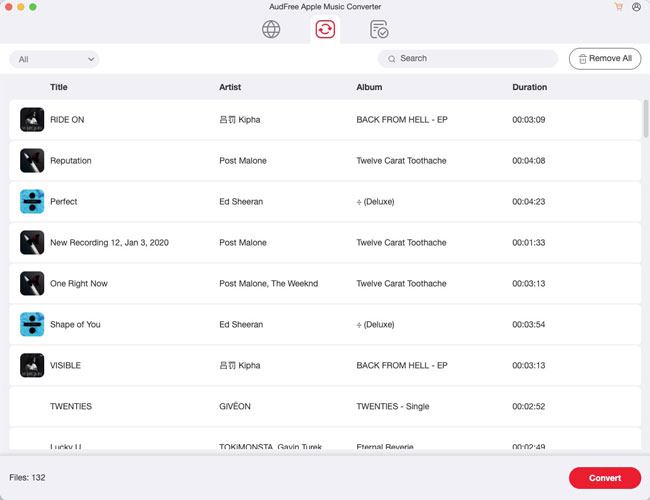 Part 4. How to Fix Receiptify Apple Music Not Working
If you are experiencing issues with Receiptify and Apple Music, there are several solutions you can try. You can reload the website, log out and log back into your account, disable pop-up blockers, etc. These steps can help refresh your account and fix any issues you may be experiencing. Let's see the specific details.
💡 Reload the Receiptify Website
Sometimes, reloading the Receiptify website can fix the issue. To do this, simply click on the refresh button on your browser or press the F5 key on your keyboard.
💡 Log Back into Your Apple Music Account
If you are having problems viewing your Apple Music receipts on Receiptify, try logging out of your account and then logging back in.
💡 Block Pop-Ups Will Block Receiptify
If you have pop-up blockers enabled on your browser, this may be preventing Receiptify from working properly with Apple Music. Try disabling pop-up blockers and see if that resolves the issue.
💡 Clear Browser Cache and Cookies
Clearing your browser's cache and cookies can also help fix issues with Receiptify not working Apple Music. To do this, go to your browser's settings and select "Clear browsing data." Make sure to select "Cookies and other site data" and "Cached images and files" before clearing.
💡 Use a Different Browser
If none of the above solutions work, try using a different browser to access Receiptify. Sometimes, compatibility issues can arise with certain browsers, so switching to a different one may resolve the issue.
Part 5. FAQs about Receiptify Apple Music
Q: How Does Receiptify Work with Apple Music?
Receiptify can automatically capture and organize your Apple Music receipts, allowing you to easily track your listening habits.
Q: Is Receiptify Safe for Apple Music?
As for safety, Receiptify uses bank-level encryption to protect your data and does not sell or share your information with third parties.
Part 6. In Conclusion
Receiptify is an excellent tool for anyone looking to keep track of their music listening habits. With it, you can generate detailed Apple Music receipts and then download your most played songs locally via AudFree Apple Music Downloader. Give it a try and simplify your Apple Music management today!