One of the easiest ways to play Apple Music in the car or portable players is through a USB flash drive. However, it is recognized that Apple Music subscribers cannot take full control of Apple Music in a wanted way. Don't fret, though. Here, we'll share two easy methods to help you copy Apple Music to USB efficiently. This way, you can play Apple Music on USB sticks and other devices, including unauthorized ones.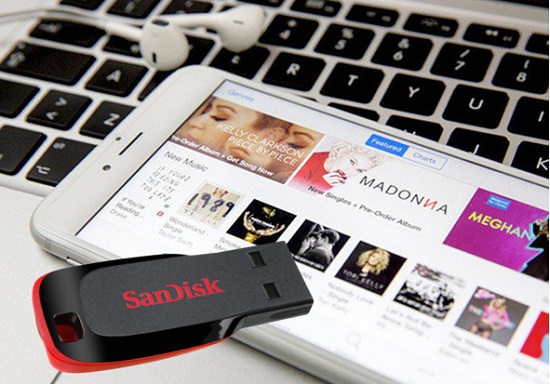 Part 1. Official Way of Copying iTunes Songs to Flash Drive
Apple Music files are under protection and encoded in a unique M4P format. Even if you can transfer Apple Music to USB, they can't be recognized by a USB stick.
But Apple allows its users to buy Apple Music songs from its other product iTunes. To your surprise, the purchased Apple Music tracks will be stored in unprotected AAC format, which is compatible with a USB Flash Drive. Once bought, iTunes provides an effective way to transfer Apple Music purchases to your USB. Please buy the Apple Music songs from iTunes first. Then look into the how-to guide:
Step 1. Oen the 'Preferences' on iTunes, then switch to the 'Advanced' section.
Step 2. Look at the 'iTunes Media folder location' and copy the location '\Users\[username]\Music\iTunes\iTunes Media' under it.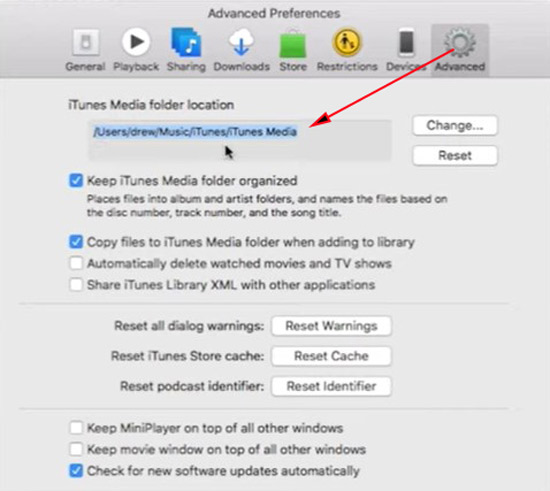 Step 3. Then paste the location into your search bar on your computer to open the 'iTunes Media' folder.
Step 4. Plug your USB drive into your computer and open the USB hard drive.
Step 5. Right-click on the USB folder to create a new folder named 'iTunes Media'.
Step 6. Copy the folder containing the purchased Apple Music tracks and paste it into the new 'iTunes Media' folder in the USB drive.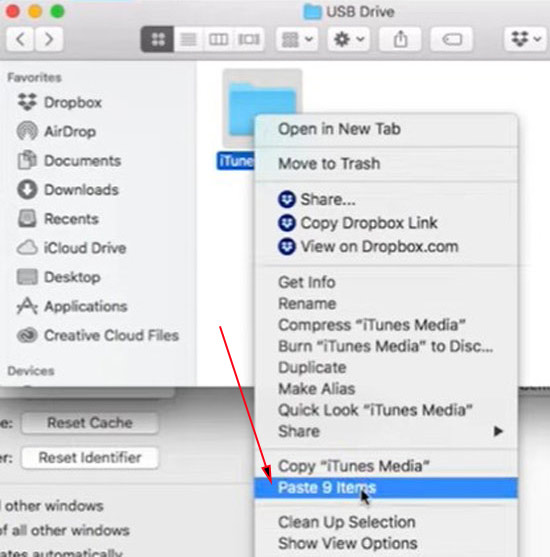 Part 2. How to Transfer Apple Music to USB Drive [Best Way]
Apart from buying Apple songs, an expert Apple Music downloader can also make Apple Music to USB drive a reality. Now, we will take you through a dedicated gadget that works on Apple Music audio format conversion.
Required Tools When Transferring Apple Music to USB Drive
Here, you can meet AudFree Apple Music Converter, a one-stop Apple Music solution. It's well-designed to help you unlock Apple Music protection. Without a doubt, it has the ability to convert Apple Music to USB-compatible audio formats. It can convert Apple Music to MP3, WAV, FLAC, M4A while preserving original audio quality. All ID3 tags, like track title, number, album, artist, and much more are saved in the converted files.
Thanks to this intelligent audio converter, you will freely copy Apple Music to USB without any restriction. After that, you can play Apple Music on all devices with a USB port. By the way, you can keep Apple Music conversions on a USB forever even after canceling the Apple Music subscription.
Here, let's have a quick glance at the required tools for exporting Apple Music to a USB drive.
AudFree Apple Music Converter for Mac/Windows
An active Apple Music account
Latest iTunes app
A USB flash drive
How to Download Apple Music to USB
In the following section, we will divide it into two parts. One is how to convert Apple Music to common audio files via AudFree. The other is how to put music from Apple Music onto USB. Please download the wanted Apple Music songs to a PC or Mac with your existing Apple Music account first. Then let's move on.
Step 1

Upload Apple Music Downloads to AudFree Auditior

On the AudFree Apple Music Converter, click the first 'Add' button at the bottom left to load the iTunes library. It will show the recently downloaded Apple Music songs. You can select and import them into the AudFree program. Alternatively, navigate to the original Apple Music file folder directly, then drag and drop Apple Music to load.
Step 2

Set Apple Music Output Format for USB

Move your mouse to the bottom right corner and click the 'Audio' icon. Then you'll be led to the 'Format Setting' window. In this window, you can define the output format. Currently, you can convert Apple Music songs to MP3, M4A, AAC, FLAC, WAV, or M4B to make the songs readable by most USB drives. Also, other output parameters such as bitrate, sample rate, codecs, etc. can be customized to your deals to get higher quality.
Step 3

Download Apple Music for USB drive

Please click the 'Convert' button to download Apple Music to unprotected files for USB. It will automatically break the protection of Apple Music. At the same time, it will convert Apple Music to MP3, WAV, or other formats at up to 30X faster speed.
Step 4

Put Music from Apple Music on a USB Stick

Once converted, please connect your USB stick to the computer. Then you can find the target Apple Music folder by clicking the 'Converted' button from AudFree Auditior. You can copy and paste them to your USB drive. Now, you are able to play Apple Music in your car, smart speakers, etc. via a USB port.
Part 3. Comparison of Two Ways to Copy Apple Music to USB
Which one to choose to copy Apple Music o a USB stick? Perheps the below table can help you out.
| | AudFree Auditior: Best Way | iTunes: Official Way |
| --- | --- | --- |
| Large Expenditure | ❌ | ✔ |
| Supported Output Format | MP3, FLAC, WAV, AAC, M4A, M4B | AAC only |
| Play Apple Music on Multiple Devices | ✔ | ❌ |
| Customize Output Settings | ✔ | ❌ |
Part 4. More FAQs about Apple Music to USB
Q1: Why can't I transfer music from iTunes to USB?
A: There are two potential reasons that should be blamed for this issue:
1) Insufficient USB space to store the music files
2) iTunes music files are copy-protected
To solve this problem, you can delete the extra content you don't need from the USB drive to free up its space. Also, check whether the iTunes songs you'd like to transfer to USB are converted to unprotected formats. If not, please use AudFree Apple Music Converter to make it. Afterward, you can put your converted iTunes songs to your USB Flash Drive successfully.
Q2: Can I put Apple Music to USB for cars?
A: Yes, you can. The two above-mentioned methods can help you out. Adopt one of the two fixes to get unprotected Apple Music files and save them to a USB. Later, plug the USB into your car, and then you manage to listen to Apple Music on a car while driving.
A: On a PC: Launch the File Folder and go to C:\Users\[username]\Music\iTunes\iTunes Media, where Apple Music downloads are saved.
On a Mac: Just navigate to User\Home\Music\Music\Media\Music, then you can find the Apple Music downloads.
Part 5. Summary
This is the complete guide on how to put music from Apple Music onto USB. It does work by purchasing songs from iTunes, however, with a large expenditure if you want to buy a lot of songs. Generally, AudFree Apple Music Converter should be taken priority for its all-in-one features. With it, you can transfer Apple Music content to an SD card or other devices, besides the USB, without limitations for offline playback.