Have you ever heard of Kindle Unlimited but not quite sure what it is? Well, it is a service supported that allows you to read, choosing from over one million ebooks, and thousands of audiobooks. Also supported by Amazon, Audible is another service that gives you one or two credits for any audiobooks in the catalog.
So here comes the questions: Which is a better service? Is there a benefit of one over the other? If you are a bookworm and cannot decide which service is best for you, keep on reading this detailed comparison on Kindle Unlimited vs Audible membership to find out the answer.

Part 1. What's the Difference Between Kindle Unlimited and Audible?
Subscription Plan and Free Trial
Kindle Unlimited subscription costs $9.99 per month which lets you choose from 1.5 million unlimited ebooks and 2,000 Audible audiobooks. You can borrow 10 titles including audiobooks, ebooks, and magazines at a time without due dates. It comes with a 30-day free trial so you can test it out fully before subscribing. Most Kindle Unlimited books cost from $0.99 to $4.99, so to get the benefits of this plan you'll have to make sure you can read a couple of books each month.
Audible provides mainly 2 subscription plans. Audible Gold membership costs $14.95 per month or $149.50 per year, which gets you 1 credit per month in exchange for one Audible title. Audible Platinum membership costs $22.95 per month or $229.50 per year, which gives you 2 credits every month. Newly registered users can get a 30-day free trial with 1 free audiobook. The number of titles you can access in Audible is at 200,000, but you'll also have access to radio programs, newspapers, and magazines that come in audio format.
So the major difference here is Kindle Unlimited allows you to borrow books, but with Audible, you keep the audiobooks as you own even after the cancellation of membership.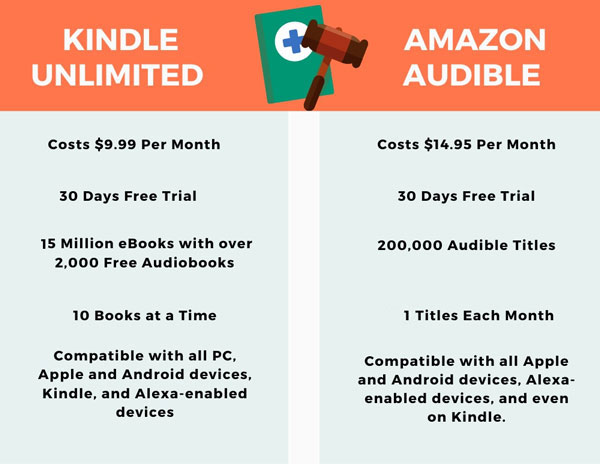 Compatibility
Don't be fooled by the name, you don't need to own a Kindle device to enjoy Kindle Unlimited. With the free Kindle app available on iOS, Android, Mac, and Windows PC, you can download Kindle Unlimited books anytime, anywhere. Once you download an eBook, the free audiobook will be added to your Audible library automatically. You can look for the Kindle Unlimited 'With Narration' icon on the book pages or browse the catalog of titles with free audiobooks. Besides that or you can enjoy the audiobooks separately on Kindle Fire tablets, iOS, or Android devices with the free Audible app.
As for Audible, it comes with wider compatibility. You can listen to your purchased Audible titles in the Audible app available in the App Store, Google Play Store, and Microsoft Store, or on Fire TV, Sonos speakers, using iTunes on a computer, etc. If you want, you can even use voice commands to play Audible on Alexa-enabled devices.
More Tips: If you are an audiobook lover who would like to enjoy Audible books on more devices that do not yet support Audible, we here introduce a useful tool - AudFree Audiobook Converter. It is a professional tool specialized in converting Audible books or iTunes audiobooks to MP3, FLAC, WAV, AAC, M4A, and M4B at 30X speed without audio quality loss. This smart converter is capable of preserving all metadata of audiobooks and splitting Audible books by chapters.
Availability
This might surprise you, but Kindle Unlimited is currently available in the US only. Users from some other countries such as Canada, UK, Germany, Italy, France, Spain, India, China can sign up with their local services but the accessible titles may be different.
On the contrary, Audible is available in most countries in the world. Similarly, the catalog of audiobook titles in different countries may differ due to the licensing restrictions.
Cancellation
Once you sign up for the free trial for Kindle Unlimited, you have the right to cancel the subscription at any point during 30 days. But please pay attention that if you did not cancel the subscription before the trial ends, it will start charging you $9.99 per month. After cancellation, you'll still have access to your borrowed titles until your membership expires that month. Your borrowed books will be removed from your library then.
It is basically the same with Audible, but you get to keep one audiobook forever even after the free trial ends, and all your titles in the library will be kept as well. Here's how to cancel Audible membership if you are interested. It is also worth mentioning that Audible offers a friendly return and exchange policy. If you are unsatisfied with certain titles for any reason, you can return them within 365 days after the original purchase date.
Part 2. Audible vs Kindle Unlimited: Pros & Cons
To give you a clearer idea of each service's benefits and drawbacks, we have listed their Pros & Cons respectively.
Audible
Pros:
1. Keep the Audible books after membership expires
2. Friendly return and exchange policy
3. Larger audiobook collection
4. Get great deals often
Cons:
1. Unused credits will expire
2. Certain users cannot purchase additional credits
Kindle Unlimited
Pros:
1. Unlimited reads from 1.5 million ebooks and 2,000 audiobooks
2. Comes with a variety of media options: ebooks, audiobooks, and magazines.
3. Cheaper than Audible membership
4. No due date for the borrowed books
Cons:
1. Most latest and popular titles are not included in the catalog
2. Once your subscription ends, all the titles you are reading or have read are removed
3. You may need to read several books a month to break even
Part 3. Conclusion: Which to Choose, Audible or Kindle Unlimited?
Coming back to the subject of this article: Which is a better service, Kindle Unlimited or Audible? I am afraid that there is no absolute answer to it, cause it depends. If you are an avid reader in the US, Kindle Unlimited is clearly a better option for you. If you don't have much time to sit down to read, and you prefer to enjoy audiobooks on the go, in the kitchen, then Audible with a larger library of audiobooks wins the game.
Which service do you use and how do you think of it? Comment down below and I'd like to know your opinion.