If you are looking for the ways to play Audible on Sonos, congratulations, you are in the right place. Although Audible books were not compatible with Sonos speaker for a couple of years once, Audible is finally back to Sonos again after restored the compatibility issue. Put it another way, using Audible on Sonos is a piece of cake because of the integration of Audible and Sonos.
Today, we will get down to the detailed instructions on how to listen to Audible on Sonos via Audible app and Sonos app. Meanwhile, we will introduce an alternative way to get Audible to work on Sonos even without Audible account.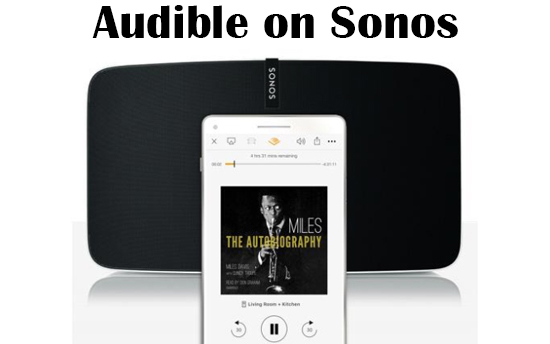 Part 1. Play Audible on Sonos via Audible / Sonos App
Sonos is easily famous for its small speakers, which can stream music, audiobooks, news from different services because of the cooperation with several dozen companies, including Audible, Amazon Music, Spotify, Pandora, iHeartRadio, etc. And Sonos speakers can work well with the most popular voice assistants like Google Assistant, Amazon Alexa and Siri.
On the other hand, Audible, as we all know, is the largest audiobook seller and producer around the world. It could be a blessing for audiobook lovers, in which you can find as many as audiobooks you can.
So it's really something to celebrate of its return for some Sonos owners who used to listen to Audible files on Sonos speakers. What's more, Audible offers two credits instead of the single credit for Sonos users who sign up for a 30-day free trial through Audible app and then they can download two free Audible books.
Here, let's get started to play Audible on Sonos One and other Sonos speakers below:
Audible on Sonos via Audible App
Step 1. Please turn on your Sonos speaker. If you have done it, please skip to the next step.
Step 2. Launch the Audible app on your mobile device and connect it to a WiFi network.
Step 3. Discover the audiobook that you'd like to play on Sonos, and tap the Audible title to play it.
Step 4. In the playing screen, it will pop up a window saying 'Sonos devices are available'.
Step 5. Hit on 'Connect to a device' button and there is the list of available devices you can see.
Step 6. And then please select 'Sonos device' as the target one. It will ask a requirement to allow the permissions. You just need to click 'Continue'.
Step 7. It will show some limitations when using Audible on Sonos, such as narration speed, chapter navigation are not available at this time. Just click 'OK' and start to listen to Audible files on Sonos speaker now.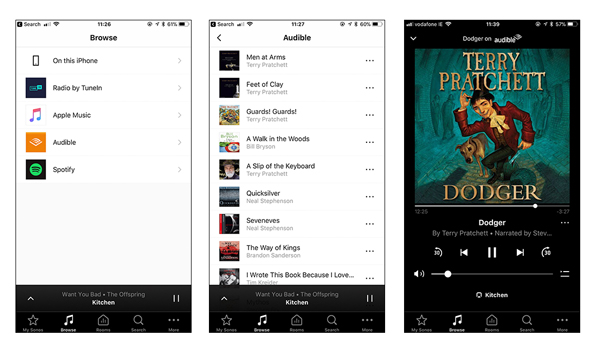 Audible on Sonos via Sonos App
Step 1. Launch Sonos app and tap the 'More' option from the bottom of the main screen.
Step 2. In the 'More' section, please click 'Add Music Service' > 'Audible' > 'Add to Sonos' button.
Step 3. Please authorize Audible account with Sonos app by signing in your Audible account details.
Step 4. Just click the 'Continue' button to finish it. Now please play Audible books, it will stream to Sonos speaker automatically.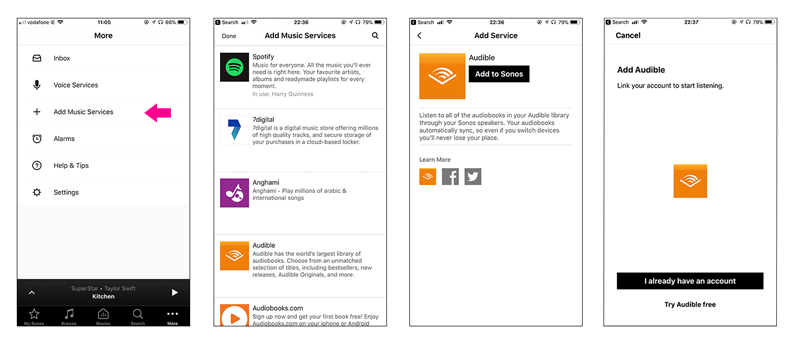 Now you can also play Audible on Sonos with Alexa by using voice commands without a problem.
Part 2. Listen to Audible on Sonos via Sonos Desktop Controller App
Without an Audible account but still would like to listen to Audible files on Sonos speaker, what should you do? As a matter of fact, it's easy to achieve this goal only if you have downloaded and converted Audible audiobooks to Sonos compatible audio formats, like MP3, FLAC, WAV, and more. After that, you can connect Audible to Sonos via WiFi network and play Audible audiobooks from your Sonos desktop controller app.
To convert Audible to MP3 or other Sonos speaker supported audio formats, here we can meet AudFree Audiobook Converter, which can not only convert Audible audio files to MP3, FLAC, WAV, AAC, M4A that Sonos can recognize well, but also split audiobooks by chapters or other time frames as you like. Besides, it supports keeping 100% original ID3 tags, costuming Audible audiobook playback, etc. Run at 30X faster speed, no need to worry about it will take you much time.
AudFree Audible to Sonos Converter
Step 1

Add Audible books to AudFree Software

Before adding Audible audiobooks to AudFree Audiobook Converter, please make sure you have downloaded them on your computer and authorize Audible account on iTunes. And then you can click the first 'Add Files' button to select Audible audiobooks from iTunes library and add to AudFree automatically. Alternatively, you can drag and drop Audible files to the AudFree's main interface directly.
Step 2

Define output audio parameters for Sonos

Sonos speaker can support a wide variety of audio formats, like MP3, FLAC, M4A, AAC. Fortunately, all Sonos supported audio formats can be defined in AudFree Audiobook Converter. Just click the 'audio' icon to open the setting window, in which you can choose one of Sonos audio format as the target output format. Besides, you can customize other output audio parameters, ID3 tags, audio effects, etc.
Step 3

Convert Audible files for Sonos One

When all settings are ready, please click the big 'Convert' button at the bottom-right corner of the main interface and then this powerful tool will convert added Audible books to common audio files that you can play on Sonos via Alexa. When the conversion process finishes, you can locate all audiobooks by clicking the 'history' > 'search' icon or 'file' icon to find them on your computer.
Step 4

Add Audible books to Sonos Desktop Controller

Please install the Sonos Desktop Controller app on your compute rand then open it. Select the 'Music Library Settings' from the 'Manage' menu, choose '+' on a Mac or 'Add' on a PC to locate Audible audiobook folder and then sign in your computer's password to finish adding Audible books. You can play Audible books on Sonos device via WiFi network.
Part 3. In Conclusion
Aside from the above two ways, you can also play Audible books on Sonos through the Line-In connection. Here we won't give the detailed steps since it's easy to operate.
Obviously, it's the direct method to listen to Audible on Sonos via the Audible app and Sonos app. But if you want to make Audible not only work on Sonos, but also on other popular smart speakers, such as Audible on Google Home, the second way is more effective. Besides, you can access to your Audible files even if you forget the Audible account.