In the modern society, as the pace of life gets faster and faster, Audible books offers an easy and convenient way to read in peace after busy work. People are generally used to downloading Audible books to their phones beforehand, so that they don't have to worry about not being able to access the books even if they're not connected to a WiFi source or the network situation is terrible.
So here's the question, do you have any ideas about downloading Audible books on your iPhone? If you want to play Audible books on iPhone offline, you've come to the right place. Here are effective solutions to download Audible books on iPhone for your reference, and then you can enjoy Audible books whenever and wherever possible.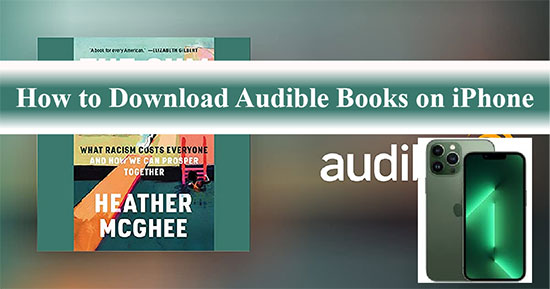 Part 1. Best Way to Download Audible Books on iPhone
First and foremost, as you probably know, Audible books itself is protected by digital copyright, which brings about download restrictions. In order to break this very annoying limitation, AudFree Audible Books Downloader is your indispensable helper, since it is designed to remove Audible books copyright protection. As a result, it's able to get Audible downloads on your computer and thus sync audible books with iPhone without any problems.
With the aid of this powerful Audible converter, you have the ability to easily download and convert Audible books to MP3, FLAC, WAV, etc. in order to listen to Audible on any built-in music player on your iPhone without the Audible app. In addition, this tool maintains lossless quality while downloading Audible books at up to 30X faster speed. Another remarkable feature of it is to split Audible books into chapters in the ideal way, which is really convenient and comprehensive.
How to Download Audible Books on iPhone
Step 1

Import Audible Books to AudFree Auditior

Download and run AudFree Auditior on your computer. Drag and drop Audible books file directly into AudFree Auditior's conversion window. If you prefer, you can also click the first "Add" button to import Audible files. Remember you can add multiple files at the same time for batch conversion.
Step 2

Customize Audible Books Output Format

Once added, click the "Format" button at the bottom right corner to select the Audible books output format you need to convert, including MP3, M4A, AAC, FLAC. By the way, if you want to save the output audio in lossless quality, check the option of "Keep lossless quality" at the bottom of the window. Tap the "Edit" icon to split large Audible books into chapters.
Step 3

Download Audible Books to the Computer

Click the "Convert" button to have AudFree Auditior begin downloading and converting Audible books according to the settings above. Once done, you can get the downloaded Audible books from the history folder so that you can freely transfer them to iPhone for offline playback.
Step 4

Add Audible Books to iPhone

By connecting your iPhone to your computer via USB cable, you can then sync your downloaded Audible books to iPhone, in which case you have the privilege of playing your favorite Audible books at all times and places using the iPhone's built-in player.
Part 2. How to Download Audible Books on iPhone Officially
In reality, Audible is an online audiobook and podcast service that offers millions of curated content for you to purchase and download. If you want to download Audible books on iPhone officially, buying the preferred books in advance is essential. Meanwhile, all downloaded Audible books are limited to play on on specific Audible-supported applications.
How to Buy Audible Books on iPhone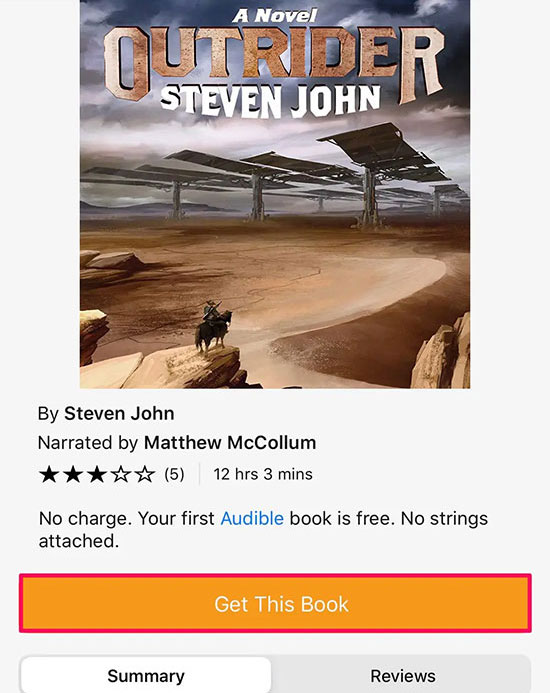 Step 1. Open the Audible app on your iPhone, click the shopping cart icon in the upper right corner to open the Audible store.
Step 2. Find the "Browse" option in the navigation, locate and select the Audible book you would like to purchase, and click "Add to Basket".
Step 3. Click on "Buy Audiobooks Now" and check that the relevant purchase details are correct. Incidentally, if you have a coupon, it will be automatically used for the purchase.
Step 4. Click "Proceed to Checkout" to choose to use a credit card or other payment method to complete your purchase, after which you can find the purchased book in your "Library" for listening and downloading.
How to Download Audible Books on iPhone Officially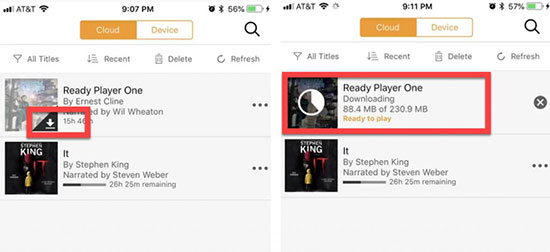 Step 1. Open the Audible app on your iPhone and sign into your Audible personal account if needed.
Step 2. Tap "Library" at the bottom of the screen, then select the orange "Cloud" at the top of the screen. You can see all your purchased items here, find the Audible book you want to download in the list, and click on the cover.
Step 3. Once downloaded, you won't see the download icon on top of the book cover, and the cover won't be grayed out. Then you have the freedom to listen to Audible books on iPhone offline.
Part 3. Can't Download Audible Books on iPhone - Easy Fixes
In general, some people complain that something went wrong with downloading Audible on iPhone, which leads to the result that you can't play Audible books on iPhone offline. On this basis, here are several solutions to the problem for you to choose from. Just check the following fixes carefully.
1. Update the Audible App
An outdated Audible app may cause problems with Audible books not downloading on your iPhone. In this case, in order to make the Audible books download properly, you need to update the Audible app on your device. Just launch the App Store on your iPhone and tap on the profile icon. Scroll through the downloads, select the "Update" button next to the Audible app, and then just tap Continue.
2. Change the Download Quality
Open the Audible app on your iPhone device and click on the profile and gear icons. Go to Data & Storage > Download by Quality and choose other quality. In other words, you can change the download quality of Audible books between standard quality and high quality to fix the problem.
3. Check the Download by Part Setting
Download Audible books by parts so that the files downloaded to iPhone are not too large and Audible books can be downloaded more easily. Just select Data & Storage > Download by Part and switch to the Download by Part option to fix the problem of Audible not downloading to iPhone
4. Uninstall and Reinstall the Audible App
In fact, a good attempt is to uninstall and reinstall the Audible app, as this method generally solves common Audible problems. Start by uninstalling the Audible app from your iPhone. Then go to the App Store and download and install the Audible app, after that try downloading the Audible books again.
5.Restart the Audible App and iPhone
The last simple and powerful method is to restart the Audible app and iPhone. Try to force close your Audible app and then check if the download problem still exists. If it still doesn't work, reboot your iPhone.
Part 4. In Conclusion
Obviously, if you want to play Audible books on your iPhone offline, you can choose the most effective methods to download Audible books on iPhone as described above. What are you waiting for? It's time to start a simple and comfortable Audible journey on iPhone without hassle.