Audible provides an easy and convenient way to read any form of digital media on the go. You can easily browse through millions of audiobooks on Audible and get more reading done in your life. Actually, we've taken to downloading our favorite Audible books for enjoyment even when we're not within range of an Internet connection.
However, sometimes Audible book downloading encounters some problems like Audible book not fully downloaded, Audible book queued not downloading, which will bring unpleasant experience. For this, this article compiles all the possible reasons and solutions for Audible book not downloading. Also, You'll learn the best way to back up Audible books to fix any Audible errors.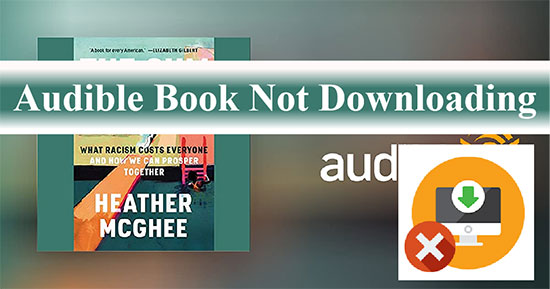 Part 1. Why Is My Audible Book Not Downloading
Once you have faced the situation of Audible app not downloading books, you need to first identify the possible factors that are causing this problem. Please refer to the following reasons to make a specific judgment.
1. Problems with download settings. Selecting certain settings in the Audible app is necessary in order to download Audible books smoothly.
2. Temporary Audible errors or malfunctions. If the Audible app malfunctions, it may also cause downloading problems.
3. Outdated Audible app. The latest version of the Audible app is required to ensure that the download process is carried out properly.
4. Not connected to the Internet. The Audible download function will only work if you are connected to the Internet.
Part 2. Solutions to Troubleshoot Audible Not Downloading
Solution 1. Update the Audible App
It is important to keep the Audible application up to date, as outdated apps often have glitches that are likely to cause Audible to not function properly, including download issues. You can follow the following methods to use the latest Audible app.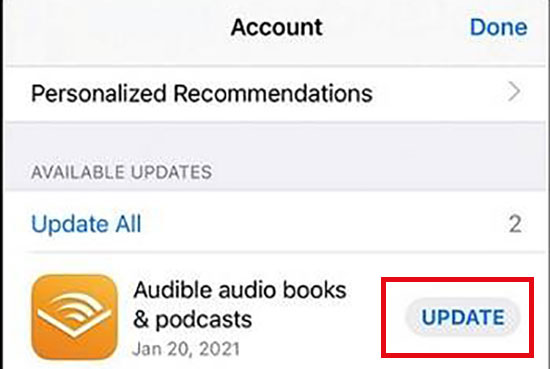 For iOS
Step 1. Launch the App Store on your iOS device and tap the profile icon at the top of the screen.
Step 2. Hit on on the Download section and you will see a number of apps. Scroll down to view the Audible app and tap the Update > Continue button next to it.
For Android
Step 1. Go to the Google Play Store on your Android device and navigate to the menu button.
Step 2. Tap the My Apps > Audible for Android icon, followed by selecting the Update and Continue button.
For Windows
Step 1. Open the Windows Store app and click the user icon in the upper right corner.
Step 2. Select the Downloads and Updates > Get Updates button in the drop-down menu. Then, Windows will check for updates for all installed apps. If the Audible app needs to be updated, you can simply tap the download icon next to it.
Solution 2. Change Download Quality of Audible Books
Normally, you are allowed to download Audible books as high quality or standard quality files, and high quality also means larger file size. In this case, you may try to change the download quality of Audible books to solve the problem of Audible book not downloading to iPhone, Android or Windows.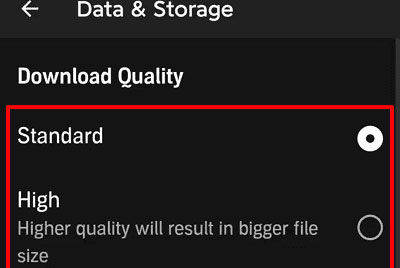 For iOS/Android
Step 1. Open the Audible app on your device, tap the profile icon in the top left corner and select Gear.
Step 2. Go to the Data & Storage section and under Download by Quality, change the Audible download quality to a quality that is currently unchecked.
For Windows
Step 1. Open the Audible app on your Windows device and tap the menu icon on the left.
Step 2. Tap the Settings and Downloads button, then click the Download Format section. At this point, you can change the Audible quality to Standard Quality or High Quality.
Solution 3. Check the Download by Parts Setting
When you download large Audible books, you can find that the available storage space of your device will be limited. In this way, it will also inevitably bring Audible not downloading issue. The fastest solution is to download Audible books by parts so that the Audible files won't take up too much storage space.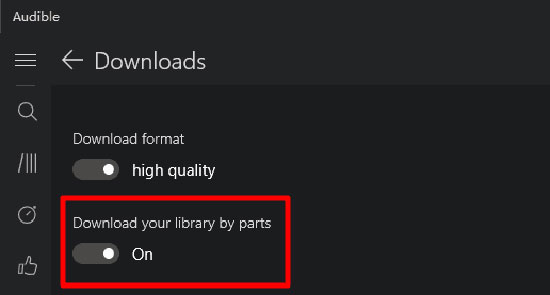 Step 1. Launch the Audible app on your iOS/Android device, then tap the profile and gear icons on the screen.
Step 2. Navigate to the Data & Storage > Download by Parts button. After that switch to the unselected Download by Parts setting.
For Windows
Step 1. Open the Audible app on your Windows device and tap menu and settings icon.
Step 2. Navigate to the Download > Download your library by Parts button, then try downloading the Audible book by section.
Solution 4. Reset the Audible App
If you find that the Audible book queued not downloading problem exists, a worthwhile approach is to force close your Audible application, but it will delete all cached data in the Audible app. Then reopen the Audible app to see if the download function is available.
Solution 5. Check Network Status
After you close and restart your Audible app, you are still experiencing Audible book not downloading issue. At this point, it is necessary to check if your Wi-Fi is on and if your internet connection is good. After that try to download the desired Audible book again.
Solution 6. Uninstall the Audible App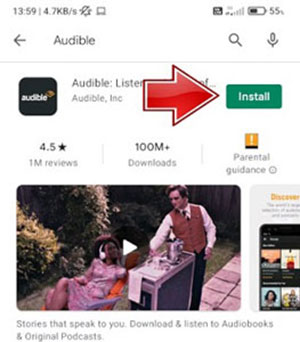 Sometimes, uninstalling the Audible app is a good way as it solves most Audible problems. However, it is worth noting that this attempt will clear the library of downloaded Audible books, so you can try uninstalling and reinstalling the Audible application as appropriate.
Part 3. How to Back up Audible Books without Audible App
Although you can temporarily solve the Audible not downloading problem by following the above solution, honestly, it's not sustainable and the best way is to backup Audible books so that you can always listen to them without any problems. Due to the limitations of the Audible AA/AAX format, it seems that you can only download the audiobooks you want in the Audible app officially.
But that's not the case, as long as you make good use of AudFree Audible Downloader, a professional tool dedicated to Audible book downloading and conversion. It can effectively convert Audible to MP3, AAC, WAV and other common formats without any quality loss. In this way, you have the freedom to transfer Audible to other devices and keep your favorite Audible books permanently for offline enjoyment.
How to Back up Audible Books without Audible App
Step 1

Import Audible Books to AudFree Auditior

Start AudFree Auditior on your computer first, after which you can import the Audible book of your choice by clicking the first "Add" button in the bottom left corner. Alternatively, a more direct method is to drag and drop the target Audible file to the conversion window.
Step 2

Change Audible Output Parameters

Click the "Format" icon in the bottom right corner to bring up the settings window. At this point, you can set the Audible output format to FLAC, MP3, ,WAV, etc. In addition, please customize other parameters as required, including codec, channel, sample rate. It is recommended that you can click the "Edit" icon to split Audible audiobooks by chapter.
Step 3

Back up Audible Books without Audible App

Now, press the "Convert" button and it will download the Audible audiobooks to the target folder on your computer as set above. Once it is done, you will have the privilege to save Audible books forever for occasional playback without Audible app. Also, you don't need to be bothered by Audible not downloading issue anymore.
Part 4. In Conclusion
This is all about how to solve Audible book not downloading difficulties. We hope this guide is helpful and you are able to backup and enjoy Audible book as much as you want. If you still have any questions about the above methods, please don't hesitate to ask them in the comment section.