Q: How do Audible books work in the car? Listening to audiobooks in the car is a fantastic use of skilling 2-hour round trip commute time every day. According to my investigation and study, I realize there are many ways allowing me to play Audible in the car, but which is the best way for this? Are there some complete tutorials of those ways?
Just like the description in Audible Custhelp, saying 'Nothing passes the time on a long drive better than a great audiobook.' It's an "icing on the cake" thing to skill the boring time and acquire knowledge at the same time by listening to Audible in the car. There are lots of ways working well to start car entertainment, including Android Auto or Apple CarPlay, USB drive, auxiliary cable, Bluetooth, FM Transmitter, etc. Here, we will give the detailed guide one by one so that you can choose the best way to listen to Audible in the car.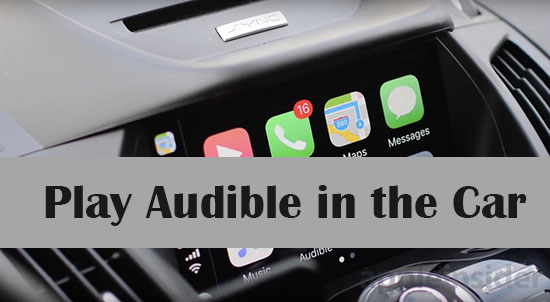 Part 1. Play Audible in the Car via Android Auto or Apple CarPlay
Have you ever heard Android Auto or Apple CarPlay? Android Auto is a mobile app, which is able to mirror qualified apps from the device to a car's compatible in-dash information an entertainment head unit. So does is CarPlay. Developed by Apple, CarPlay is a smarter that make a car radio or head unit as a display and then you can do things you want to do with your iPhone via car's built-in display directly.
Both of them contribute to offer a safer way when driving. They enable you to keep your main focus on the road while listen to audiobooks, music, etc. at the same time. Make sure your car is compatible with the Android Auto and Apple CarPlay, and your Android devices is running Android 5.0 or above version as well as Apple phone is iPhone 5 or later models with iOS 7.1 or above.
Play Audible from Car Display (Wireless) via Android Auto
Step 1. Pair your Android phone to the vehicle via USB cable and it might need you to update some apps, like Google Maps, etc.
Step 2. Check the Safety Information and Android Auto permissions to access your apps. Now, please switch on notifications for Android Auto.
Step 3. On your car's built-in display, select Android Auto. It will take a few second to make Wireless connection.
Step 4. Now, you can open Audible app and select audiobooks that you'd like to listen to, you can hear playing audio books from your car stereo.
Play Audible Books in the Car by Using Apple CarPlay
Step 1. Please plug your iPhone into the head unit of your car.
Step 2. You will see a CarPlay or smartphone icon showed near the port. If not, please tap the CarPlay logo on the display.
Step 3. Open Audible app on the display and tap 'My Library' to choose a title to play.
Step 3. The Audible book will play in the car and the player screen will show up in the car's display.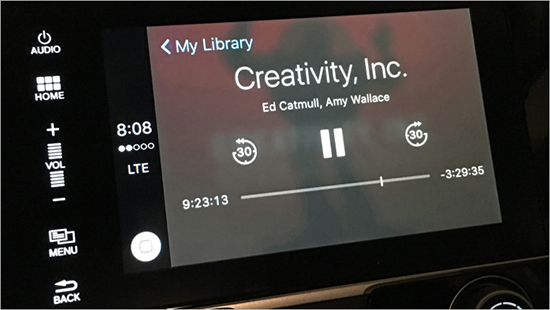 Part 2. Stream Audible Books in the Car through Bluetooth
The first way is easy to use but it requires a strong and fast cellular data connection on your phone. So, is there a way enables you to do this without Internet network? The answer could be Bluetooth that is a wireless technology standard for transferring media data between devices without using cellular data. Almost all car system is available for Bluetooth functionality, likewise, mobile devices, like phones and tablets also come with this feature.
You just need to activate this function on your car and phone, and pair your car with iPhone via Bluetooth and then you can easily stream Audible books from your phone to car for playback. As for the full tutorial, please visit: How to Listen to Audible Books via Bluetooth.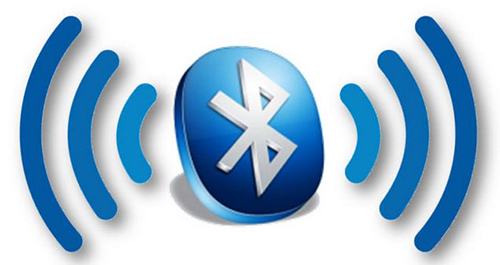 Part 3. Listen to Audible Books in the Car via USB Drive
The third method is to listen to Audible books in the car via USB Drive. If your car stereo has the ability to exchange data from USB and can play digital files from USB flash drive, you can have a try of this way no need to draw support mobile devices.
When it comes to saving Audible books to USB drive, first of all, you need to remove DRM from Audible books and convert audiobooks to MP3, M4A, FLAC, WAV without protection that can be compatible with USB stick. Here, you can get help from AudFree Audible Audiobook Converter, a professional Audible DRM removal software. With only three steps, you can unlock DRM technology built-in Audible files and transfer them to USB drive for playing in the car with ease. As for the detailed tutorial, please visit this source page: How to Transfer Audible Books to USB.
Part 4. Use Audible in the Car vis FM Transmitter
FM transmitter is a low-power FM audio transmitter Without requiring wired connection, it allows users to receive Audible audiobooks from phone to car audio system. If your car is available to receive radio signal from a portable audio device, including smartphone, you can use FM transmitter to use Audible in the car.
Just connect the FM transmitter on create a unique channel for your Audible books and then switch your car stereo to the same channel and then you can start to receive all audiobooks and play in your car system when driving.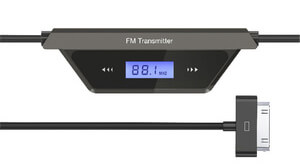 Part 5. Burn Audible to CD to Get in the Car
If your car still can play CDs and DVDs, it's also a possible way to get Audible in the car via burning Audible books to CD. After that, it couldn't be easier to plugging the Audible CDs to your car stereo and listen to Audible books in the car.
There are two ways to burn a CD from Audible audiobooks, respectively using the iTunes or an CD burning tool. If you don't know how to start, you can refer to this helpful instruction: How to Burn Audible to CD.