With $14.95 per month, Audible members can receive many great benefits such as monthly credits for any title in the Audible catalog, a 30% discount of credit card purchases, easy audiobook exchanges/returns, etc.
Yes. Audible is awesome. If you download a book using a credit by mistake or you are unsatisfied with certain titles for any reason, you can return them within 365 days after the original purchase date. For those who are new to Audible, here we will show you how to return Audible book for an exchange or a refund step by step, and more tips will be included as well.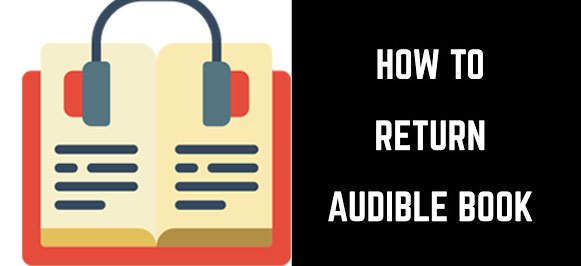 Part 1. Steps on How to Return a Book on Audible – Desktop/Mobile
There might be many reasons why we want to return a book on Audible. For example, there are some issues with the audio, or you don't like the book or narrator. A great benefit of Audible Membership is that it allows you to exchange or return your audiobook which you are unsatisfied with for any reason. Without further ado, let's see how do I return an Audible book exactly?
How to Return an Audible Book on Amazon Desktop Site
Step 1. Visit the Audible desktop site in a web browser and log in to your account.
Step 2. Once logged in, click your name from the top menu and select Account Details.
Step 3. Go to Purchase History page from the left menu.
Step 4. Find the title you'd like to return and click the Exchange or Return Title button next to it.
Step 5. When a window pops up, please select a reason for your return and click Exchange/Return Title.

Just like that, your unwanted Audible book is returned.
Note: You will be refunded with the same method of payment you used to purchase the title. If you purchased the title with a credit, then you will get your credit back immediately for your next Audible purchase. If the Audible book was purchased with a credit card, you'll receive a refund in approximately 7 to 10 business days.
How to Return Audible Book on Mobile
First of all, you can't return a book within the Audible app. You'll need to go to the Audible website and perform similar steps as above.

Step 1. Open a web browser on your mobile devices and visit the Audible mobile site.
Step 2. Log in with your Audible account and tap Menu from the upper-left corner.
Step 3. Go to My Account and Purchase History.
Step 4. Find your title you wish to return in the library, select it, and tap Return Title.
Step 5. Select return reason and then hit the Return Title button.
Part 2. Audible Returns Made Easy - Things You Should Know
What Is Audible's Return Policy?
According to Audible, their exchange policy "allows active Audible Premium Plus members to take a chance on a new narrator or story without losing a credit". In any case that Audible suspects abuse of this benefit, they reserve the right to limit the number of exchanges and refunds or even the loss of this benefit.
Audible's returns policy is designed so that you feel comfortable trying a random audiobook or a different narrator. And there are a few things you need to know about returning an Audible book:
1. You can only return the book within 365 days of purchasing it.
2. You will be refunded in the same way you bought it.
3. You can return a book even if you've listened to it.
How Many Audible Books Can I Return?
There doesn't appear to be a hard number on how many returns you can make.
As an Audible member, you can return audiobooks you are not completely satisfied with and choose another, but there will be limits on how many books you can return online. This limit varies based on the number of returns you've already made, and the timing of your return.
If Amazon thinks you're abusing the returns policy, you'll be unable to return books and your account may be suspended for a certain period. Audible will then reach out and assess why.
Why Does It Say "Not Eligible for Return"?
If you see the message "Not eligible for self-service exchange", don't worry. Only a certain number of titles can be returned through the Audible site, and you have probably maxed out the number of Audible books allowed. The good news is that you can still return your book by contacting Audible for assistance, through calls, emails, or chat options.
Can I Return an Audible Book I've Listened to in Full?
Audible has not specifically addressed on this issue. But the answer is yes, you can return audiobooks that you've listened to in full. Some Audible members have requested a return successfully.
I'm Not an Audible Member, Can I Return an Audible Book?
Yes, you can. But different from the steps we introduce above, you'll need to contact the Audible customer service to return or exchange 2 titles every 6 months.
Part 3. More Tips on How to Listen to Audible Books on All Devices
Being able to return Audible books is such a great benefit that encourages audiobook lovers to pick up a random audiobook. Besides the unspecific limits on how many returns you can make, Audible also implies some restrictions to the Audible audiobooks by encrypting them in AA and AAX formats. To put it simply, you are currently unable to listen to Audible books on all devices anytime and anywhere.
To solve this problem, we here recommend AudFree Audible Converter, which can help you encrypt and convert AA/AAX to MP3, FLAC, or other common audio formats at 30X or higher speed. All the metadata information will be kept during the converting process. In addition, a built-in splitting feature enables you to cut a large Audible book into small segments by chapters.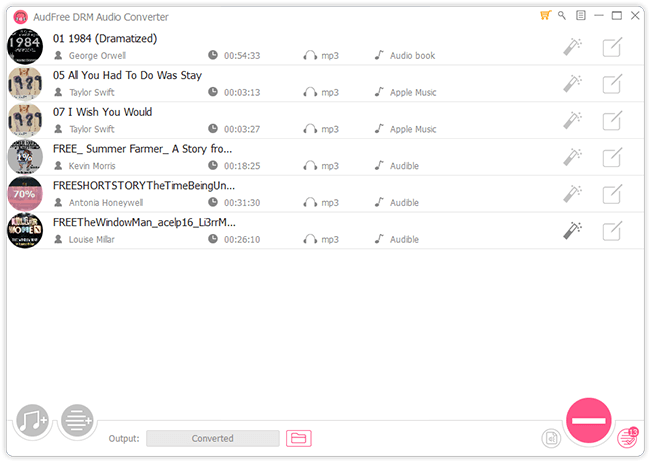 After installing AudFree AA/AAX Audible Converter and the iTunes app, you will be able to put Audible books to MP3 player following 3 simple steps below.
Step 1. Launch the AudFree software and click the '+' button to select Audible books from the iTunes library to AudFree.
Step 2. Please click the 'audio' icon to define the output format for your Audible books. We suggest you set the output audio format as MP3 as this audio format can be recognized by all devices.
Step 3. After all settings are saved, simply click the 'Convert' button at the bottom-right corner of the main interface and it will start converting at high speed. After that, you can locate the converted MP3 Audible books in the destination folder.
Bottom Line: Hope this article solves all your problems and helps you return Audible book at ease. For more useful tips on Audible audiobooks or music streaming services, please go to Resource from the top menu on our website or subscribe to newsletter now.