The world of audiobooks is booming and users are finding a variety of platforms to subscribe to. To find out which one is the best, we wanted to compare the 2 most powerful audiobook platforms on the market, Storytel vs Audible.
In this Audible vs Storytel comparison, you'll learn which service has a better audiobook library, audio quality, and price. We'll explain the differences between them, talk about the unique features of each platform, and their pros and cons. Resolving the Audible or Storytel debate may give you enough information to make the best decision with your time and money.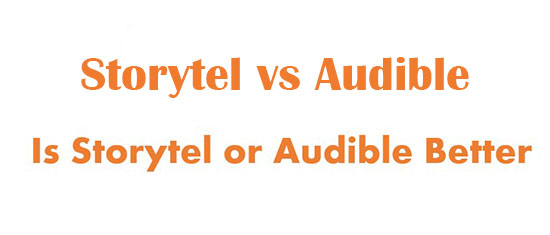 Part 1. What Is Audible and How Much Does It Cost
Audible is Amazon's audiobook platform for podcast and book lovers. It is presented in an ambitious way, ensuring a catalog of over 400,000 audiobooks. We will see titles and podcasts available only on this platform. Almost anything you can find on Amazon in eBook or hardcover format can be found on the Audible platform.
The service lets users trade in credits for books they retain full ownership of. Users can purchase up to four books per month, depending on the subscription plan.
How much does Audible cost? Audible costs €9.99/month for a single account. And there is a promotion: the first 3 months are free and we can cancel the subscription at any time.

Part 2. What Is Storytel and How Much Does It Cost
Storytel is a European-based subscription audiobook service that also offers eBooks. It supports covering more than 150 languages, including English, Dutch, Swedish, Hindi, German, Korean and more. It was created by Swedes Jonas Tellander and Jon Huksson, who founded Storytel (it was previously called Bokilur) as a startup in 2005.
Storytel assures us of a catalog of over 500,000 audiobooks, but we can also find podcasts on its streaming platform. While we don't see the appeal of famous actors, we do hear the voices of famous narrators or voice actors.
Regarding Storytel's prices, it offers a more diverse range of services, summarized in 3 plans: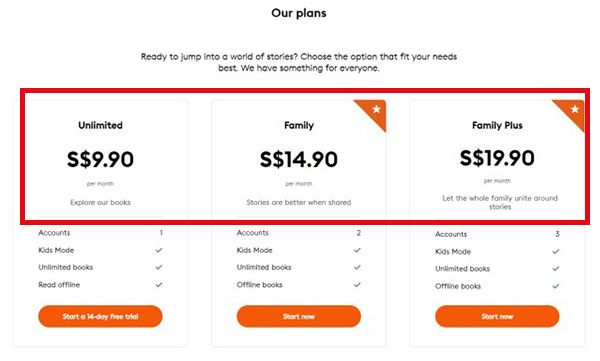 Unlimited: 12.99€/month and in return, we get an account, parental mode, and offline books.
Family: 19.99€/month with two accounts.
Family Plus: costs 24.99€/month with 3 accounts.

In this case, Storytel vs Audible, Storytel gives us only a 14-day trial period, while Amazon is 3 months.
Part 3. Audible vs Storytel: A Detailed Comparison
This Storytel vs Audible comparison has to be as complete as possible, so we're evaluating all the details of both platforms. The aspects to be evaluated will be: interface, player, setting, catalog, additional features, and compatibility.
1. Interface
In both Storytel Audible, the interface seems clean and displayed in the same way: through the main menu.
Audible divides that section into "recommendations", while Storytel shows us the main categories. Obviously, Storytel is cleaner and more straightforward.
The search engine is another important component in this comparison. And Audible places more emphasis on this aspect. At Storytel, we can use 'suggestions', but at Audible, we can do an advanced search to find what we want first.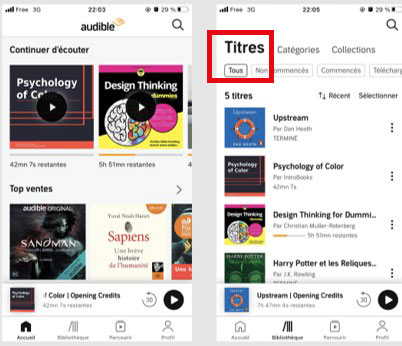 As for the exclusive titles for each platform, Storytel has not created a special section for them, but we can find them in the main menu in a summarized way. In the case of Audible, it has its own section of featured titles.
An important section is "My Library" where we will save the audiobooks we follow so we can listen to them later. Audible sorts the library by audiobooks, podcasts, and collections. However, Storytel provides us with filters to sort "shelves".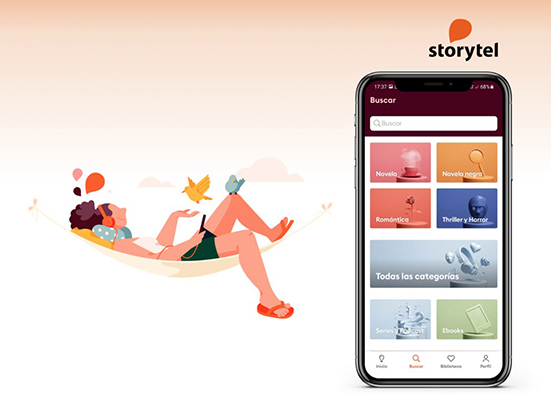 2. Player
Users will not be able to use the Storytel audiobook platform in the PC version. In order to be able to play audiobooks or podcasts, we will have to use the iOS or Android app. In the web version, we could only listen to one sample.
On the contrary, Audible can be used on both mobile and desktop. We can select chapters, advance the audiobook, skip chapters, etc. At the point of Storytel vs Audible player, Audible wins the duel.
As for the in-app player, Storytel's interface seems to be cleaner. Audible's interface will show more features.
3. Setting
We came to the setting section of Audible vs Storytel, which is an aspect of the application that needs to be taken into account. We see a very similar presentation, but a very different aspect of customization. Audible gives us more configuration options.
In Audible, we can configure many sections, including choosing where to download the audiobook or podcast. You can choose to download the audiobook to a microSD card. But this is not possible on Storytel.
4. Catalog
In this Storytel vs Audible comparison, we wanted to find out which platform has the best audiobook catalog.
Storytel's catalog consists of audiobooks and eBooks in five languages. They are Spanish, Catalan, Basque, English and Italian. However, Audible's catalog has titles in up to 11 languages. Besides, it has an additional 10,000 added to the extended catalog.
Both of Audible and Storytel have exclusive titles. But Storytel briefly describes on the main menu, while Audible has its own featured titles section. There may be some books that are available on one platform, but not on the other.
5. Additional Features
(1) Language Availability
Audible offers audiobooks in 11 languages while Storytel supports 5 languages. But Storytel has more Indian authors who can reach a large audience.
(2) Ease of use
Both platforms are fairly easy to use. However, those who have tried both platforms say Audible is more intuitive. If you haven't used a similar platform before and are concerned about ease of use, Audible may be the better choice.
(3) Bookmark Features
Both Audible and Storytel are fairly easy to use. If you're not sure how to choose and are concerned about ease of use, Audible may be the better choice. That's because those who have used both platforms say Audible is more intuitive.
One of the benefits of Storytel is that bookmarks on an eBook can be seamlessly transferred to its audiobook version. On Audible, this is only possible if you own both books. And it can sometimes be expensive since Kindle and Audible are separate subscriptions.
6. Compatibility
Storytel is only available for Android and iOS mobile devices. It does not support Windows and Mac devices. But it also supports Google Chromecast, Apple Watch, etc.
Audible is compatible with many different devices, including iOS and Android devices, Windows and Mac devices, etc. Besides, Audible on Alexa devices, Windows Phones, Flame Tablets, Kindle, etc. are also available.
In this point of compatibility of Storytel vs Audible, Audible wins.
Part 4. Is Storytel or Audible Better?
Which is the best audiobook app, Audible or Storytel? Actually, it's up to you to decide which one to choose. It depends on which one you focus more on. Because both Audible and Storytel have their own advantages and disadvantages. To give you a clearer picture of their differences, we've made a comparison table of Storytel vs Audible below.
| | Audible | Storytel |
| --- | --- | --- |
| Free Trial | 30 days | 14 days |
| Price | Cheaper | Different subscription types |
| Language Availability | More languages | Wider catalog in Spanish |
| Catalog | 400,000 audiobooks | 500,000 audiobooks |
| Compatiblity | Available on mobile and PC | Only on mobile |
| Setting | More configuration options | Easy setup |
Part 5. Conclusion & More tips
As we can see from this Storytel vs Audible comparison, Audible audiobook is far superior to its competitor, Storytel in some parts. So, if you decide to choose Audible and want to use it for a long time. Then you cannot miss AudFree Audio Converter. It's a professional audiobook downloader and converter for Audible.
With it, you can download Audible audiobooks as local files on your computer. In this way, you can keep them permanently even if your subscription has expired. Also, you can use it to convert Audible audiobooks to MP3, FLAC, AAC, etc. After converting, you can transfer audiobooks to other Audible-unsupported devices for listening.
If you are in urgent need of this software, please install it by clicking the 'Download' button above. You can check the user guide of Audible converter to get a detailed tutorial.