On July 28, 2020, Spotify launched a brand-new function of Group Session Beta which allows Spotify Premium users to share control of their listening playlist or podcast simultaneously with up to five friends on their own devices.
Sharing and listening to a favorite playlist or podcast with our friends and loved ones together is such a lovely thing to do. However, during the COVID-19 pandemic, it is suggested to keep social distancing, which means – No More Parties. Thanks to Spotify Group Session, it is now possible for groups of friends to create a Spotify group playlist and have a listening party remotely. Keep reading to find out more about the Spotify Group Session.

What is Spotify Group Session?
• Listening together from anywhere in real-time
• Invite up to five friends to the group
• Listen or control music on their own device
Actually, to many Spotify music lovers, they must be no stranger to this new feature, as Spotify has launched the first Spotify beta version of Group Session two months ago. But this time Spotify has made this 'party mode' even further now. No matter how long the distance may be, Spotify is able to give a real-time syncing playlist/podcast, which is greatly different from Spotify collaborative playlist feature.
Both the host and guests can control the music playback of this 'Spotify party playlist' including pause, play, skip, select songs or add songs to the queue. If one group member has made the choice, Spotify will sync on all member's devices without delay.
However, this feature is limited to Premium users and available on the Spotify mobile and tablet app only. If you don't have not yet a Premium subscription, you can get a Spotify free trial. Then, you can try this feature now, but remember to keep the peace among the group about what is going to play next.
How to Start a Spotify Group Session?
#1. The hosting account opens Spotify on mobile or tablet and starts playing music.
#2. Tap Devices Available icon at the bottom-left corner of the play screen.
#3. Scroll down to Start a Group Session, tap Start Session.
#4. Tap Invite Friend and select share to friends via social media/copying link/Spotify code.
Invited users who receive the Spotify code can save it to the photo gallery and go to the Search section in the app. Select the search bar and tap on the camera icon. Allow Spotify access to your camera, and then Select from Photos to scan the local Spotify code. Users invited to join the group session can leave the group anytime, and the host can End Session.
When and Where to Use Spotify Group Session?
Need some advice on when to use it? Check out these occasions:
• Having a marathon running or night jogging with your friends in different places of the country, and hoping to keep the same pace with a Spotify running playlist.
• Having a romantic meal over video calls with your long-distance significant other. You definitely need some Jazz or exotic music playing in the background for both.
• Hosting an online study group with your classmates on Zoom and feel like playing a Spotify group playlist filled with instrumental or classical music.
• Setting up a podcast sharing event with a group of podcast fans you meet online.
Alternative Ways to Listen to Spotify Music Together
Before the launch of Spotify Group Session, people can also set up a queue with friends being able to add songs to it in separate places via some third-party websites or apps.
JQBX (JU·KE·BOX)
JQBX enables users to play and listen to music in sync with friends from all over the world. JQBX integrates with Spotify, but it also requires a Spotify Premium account, similar to Spotify Group Session. What makes JQBX different is that you will have more options with the music choice.
Once you create a room, there is no limit to how many people can join it. Besides listening to synced music playing, everyone in the room can vote for the current playing track by giving a thumbs up or down, take turns to be DJ to play songs. In the built-in chat room, you get to share your opinions and thoughts on some music.
Discord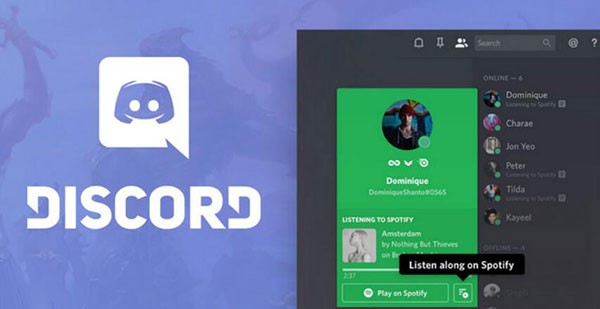 People who love video games must be familiar with Discord, which provides an instant messaging platform to communicate over voice, video, and text in communities ranging from games to business. With Spotify 's integration with Discord, you can listen to Spotify music in a collaborative playlist with your friends at the same time. You can use Spotify on Discord directly or play music on Discord via Listen Along function.
More Tips: How to Share and Play Spotify Music Together without Premium
As is mentioned above, the Spotify Group Session as well as the third-party apps all requires a Spotify Premium account to share and play Spotify music together with your friends. Is it possible to share your music taste on Spotify with others without a subscription? We are here to provide you with an easy way to share Spotify freely using AudFree Spotify Music Converter.
AudFree Spotify Music Converter is a professional software designed for Spotify free users to download Spotify music to local and share it with their friends effortlessly. With the latest technology built-in, it is capable of downloading Spotify tracks, playlist, album at 5X speed. In simple 3 steps, you'll get the downloaded Spotify music with this user-friendly tool.
Step 1. Launch AudFree Spotify Music Converter on your computer and drag your favorite music from the Spotify app into the tool.
Step 2. Customize output format for Spotify music and other parameters, like bit rate, sample rate, etc. to enhance Spotify music quality.
Step 3. Now click the Convert button to start the downloading process at rapid speed.
Within minutes, you can locate the Spotify music on your computer and share your favorite songs with your friends easily. If you don't wanna pay for the Premium to get Spotify Group Session yet, AudFree Spotify Music Converter is the best helper for you to share music and have a Spotify group listening.
Jul 30, 2020 6:34 PM
Posted by Alex Wilson to News