As the world of technology continues to evolve, music lovers are always looking for new and innovative ways to enjoy their favorite music. Fortunately, on July 28, 2020, Spotify introduced a brand-new function of Remote Group Session, which allows Spotify Premium users to share control of their listening playlist or podcast simultaneously with up to 7 friends on their own devices.
It's so lovely to share and listen to our favorite playlists or podcasts with our friends and loved ones. With Spotify Group Session, groups of friends can listen to music together in real time, regardless of their location. Now, keep reading to learn all about Spotify Group Session.

Part 1. More about Spotify Group Session
What Is Spotify Group Session?
Group Session Spotify is a feature that allows Premium users to listen to music together with friends or family members who also have a Premium account. With this feature, users can create a virtual listening room where group members can add songs, skip tracks and control the playback.
✔️ Listen in real time from anywhere
✔️ Invite up to 5 friends to join the group
✔️ Listen to or control music on your own device
✔️ Play Spotify on multiple devices at the same time
When and Where to Use Group Session Spotify?
⏳ Having a marathon running or night jogging with your friends in different places of the country, and hoping to keep the same pace with a Spotify running playlist.
⏳ Having a romantic meal over video calls with your long-distance significant other. You definitely need some Jazz or exotic music playing in the background for both.
⏳ Hosting an online study group with your classmates on Zoom and feeling like playing a Spotify group playlist filled with instrumental or classical music.
⏳ Setting up a podcast sharing event with a group of podcast fans you meet online.
Part 2. How to Start a Group Session on Spotify with Premium
Keep in mind that the Group Session feature is limited to Premium subscribers and is only available on Spotify mobile and tablet apps. In other words, you can't start Spotify Group Session PC. Also, if you don't have a Premium subscription yet, you can get Spotify Premium free trial first. Then, you can follow the steps below to do a Group Session on Spotify.
How to Do Spotify Group Session on Phone or Tablet
Step 1. Open Spotify on your phone or tablet and start playing music.
Step 2. Tap the "Connect device" icon in the bottom left corner of the playback screen.
Step 3. Scroll down to "Start a remote group session" and tap "Start session".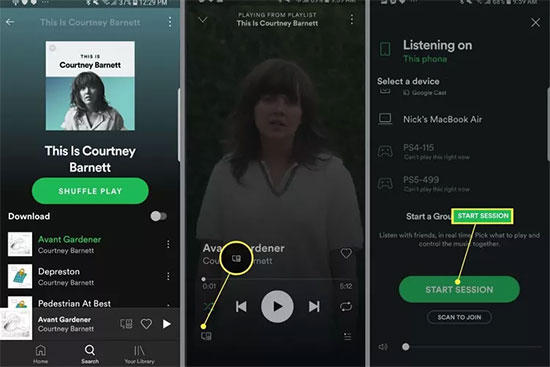 Step 4. Tap "Invite friends" and select share to friends via social media/copying link/Spotify code.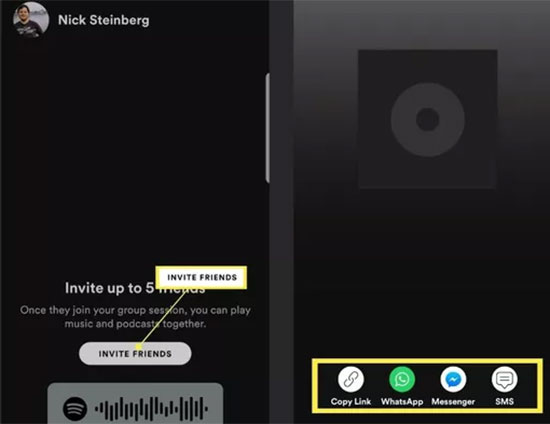 Step 5. Invited users who receive the Spotify code can scan the Spotify code to join Spotify Group Session.
Step 6. Once the group session starts, you can invite more friends by clicking on "Avatar" > "Add" at the bottom of the screen.
How to Leave Spotify Group Session
Whether you are a Group Session Spotify owner or an invitee, you can turn off Spotify Group Session and leave it at any time. Just follow the steps below.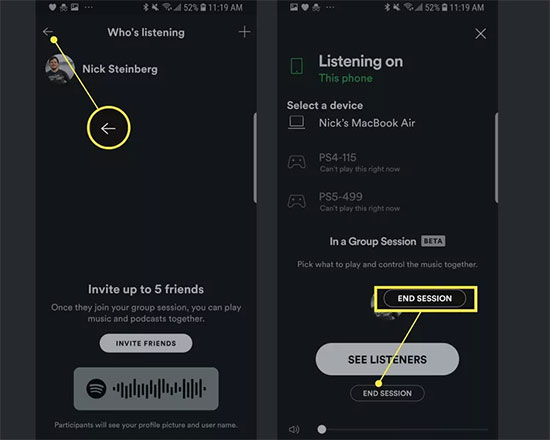 Step 1. Go to the Spotify app again.
Step 2. Select the "Connect Device" icon at the bottom of the screen.
Step 3. If you are the host, click the "End Session" button. Other members can simply click "Leave Session".
Step 4. Invited members can still scan the shared Spotify QR code to rejoin the session, if it is still going on.
Part 3. How to Play Spotify Music Together without Premium
As mentioned above, if you want to make a Group Session on Spotify, you need a Spotify Premium account to listen to Spotify music with friends. Is it possible to share your music tastes on Spotify with others without a subscription? We are here to offer you an easy way to share Spotify for free, namely by using AudFree Spotify Music Converter.
This professional software is specially prepared for Spotify Free users and Premium users to download Spotify music locally. With the latest technology built-in, it is capable of downloading Spotify tracks, playlists, albums to MP3, FLAC, AAC, WAV, etc. with 5 times faster speed. With it, you can get Spotify local downloads and share them with your friends without needing a Premium account.
How to Play Spotify Music Together without Premium
Step 1. Launch AudFree Spotify Music Converter on your computer and drag your favorite music from Spotify application to the main interface of AudFree Spotify Music Converter.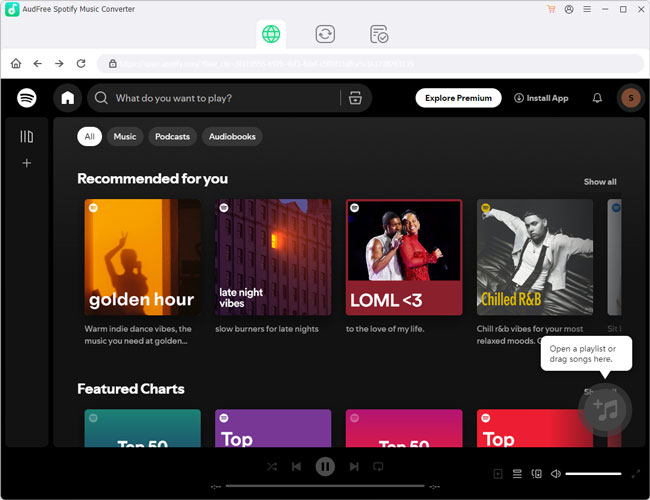 Step 2. Hit Menu > Preferences > Convert to launch the settings window. At this point, you can customize the output format of Spotify music and other parameters such as bit rate, sample rate, etc. to improve the quality of Spotify songs.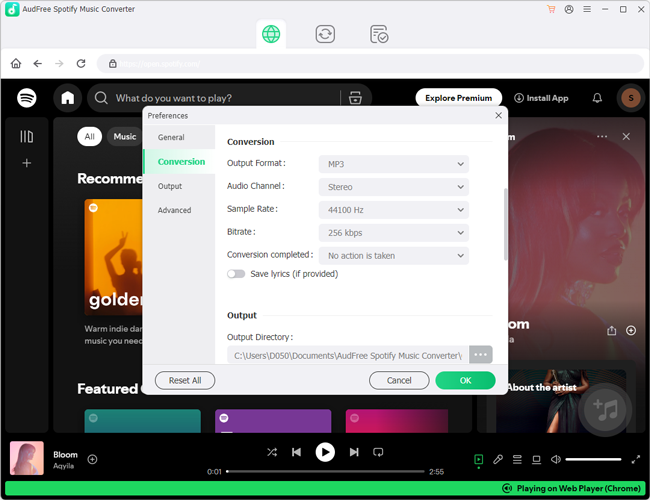 Step 3. Now click the Convert button to start the downloading process at rapid speed. Within minutes, you can locate the local Spotify music on your computer and share your favorite songs with your friends for free.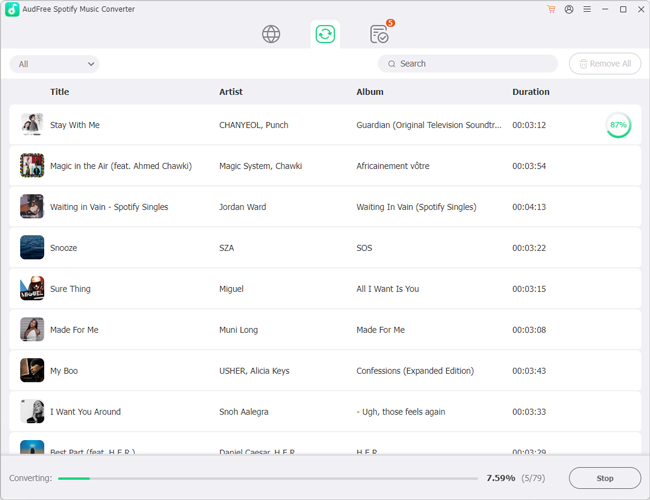 Part 4. How to Fix Spotify Group Session Not Working
Sometimes, users may experience issues with Spotify Group Session feature, such as it not working properly or disconnecting frequently. This can be frustrating, especially when you are trying to enjoy music together with others. Here are some solutions to try if you're having issues with Group Session Spotify.
🔍 Check Your Internet Connection
It is important to check your internet connection before starting a group session. Make sure you have a stable and strong internet connection to avoid any disruptions during the session.
🔍 Join the Spotify Group Session Again
Sometimes, leaving the session and joining again can help resolve issues with the feature.
🔍 Check Spotify Premium Account
The Group Session feature is only available to Spotify Premium subscribers. Ensure that everyone in the session has a valid premium account and has logged in successfully.
🔍 Check Device Compatibility
The Group Session feature is currently only available on mobile devices. Ensure that all devices involved in the session are compatible with the feature.
🔍 Restart the Spotify App
Simply restarting the app may fix any issues with Spotify Group Session. Close the app completely and then reopen it to see if the problem has been resolved.
Go to your phone's settings, find the Spotify app, and clear the cache and data. This will remove any temporary files and data that may be causing issues.
🔍 Disable Battery Optimization
Battery optimization can sometimes interfere with the functioning of Spotify Group Session. Therefore, it may be helpful to disable battery optimization, which will prevent the app from being closed in the background to save battery life.
Part 5. In Conclusion
Spotify Group Session is perfect for those times when you want to share your favorite playlists with friends or family members who are not physically present with you. Whether you have a Premium account or not, you can easily start Group Session Spotify by following the tutorial mentioned above. So why not give it a try and see how it can enhance your music listening experience?
May 22, 2023 6:34 PM
Updated by Alex Wilson to News