Do you have sufficient knowledge about the best app that can be used when choosing one from the YouTube Music or Spotify? Some people might say that YouTube Music is better than Spotify, or vice versa, but everyone gives the reasons based on their own experience. If you are about to choose one but don't know which is the right option to pick, then no worries.
In this article, we will let you know all about these apps to select the one you like the most and think about which one is best for you. We hope that by the end of this article, you can get to know all the details related to YouTube Music vs Spotify, so keep reading.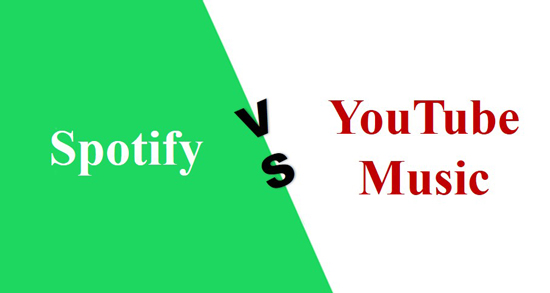 Part 1. What Is Spotify vs What Is YouTube Music
When we talk about YouTube Music vs Spotify, both are streaming services that allow you to gain access to unlimited music that you can listen to on your favorite devices whenever you need to.
We talk about YouTube Music first here. It offers music content that contains covers, remixes, and live performances that you don't find anywhere else with easy access. You can enhance your listening experience with its advanced features and discover new music quickly, like listening to your favorite songs with lyrics, switching between video and audio, and much more.
Spotify is a digital music, podcast, and video service that provides its users access to unlimited songs and other content from creators worldwide. This service can be used on multiple devices and played wherever you like. You can listen to unlimited songs for free, but to gain access to its upgraded version you need to go for the premium subscription.
Part 2. YouTube Music vs Spotify Free Plan
Although Spotify vs YT Music both have a free plan, both of these streaming services' free plans come along with a few limitations. Spotify lets users pick the music they like to play on particular playlists, such as the personalized Daily Mix. Users can only play songs in shuffle mode on others, which is irritating and doesn't seem convenient.
Songs can be skipped, but only six times per hour. Audio quality is also limited to 160kbps, so songs can't be downloaded for offline listening. As per, YouTube Music lets you choose and play any song you like, and makes it easier to use compared to Spotify. You can also skip track songs whenever you need them.
The best thing about Spotify-free music is that you can listen to your favorite song even if you turn off the screen of your phone, YouTube Music is not like that as the song will ultimately stop when you turn off the screen of your device.
Part 3. YouTube Music Premium vs Spotify Premium
Both Spotify vs YouTube Music offer premium subscriptions, but Spotify is a bit pricey. The sound quality that YouTube Premium provides is way better than the Spotify Premium, so if you want to enjoy music at its best, then maybe YouTube Music is the best option for you. The number of artists that you will find on the YouTube Music Premium plan is massive as compared to Spotify's Premium plan.
In case you are into English, then Spotify is the best shot for you, as the number of Indian songs is very less on Spotify. With Spotify's Premium plan, you can have many more additional features that you will not find on YouTube Music, so if you are looking for extra features, then Spotify's Premium version is a better option.
Part 4. YouTube Music Quality vs Spotify
When talking about the YouTube Music quality vs Spotify, the former can play content at a bit rate of up to 256kbps AAC, while the latter can stream up to 320kbps. Apart from that, if you need to preserve data, YouTube Music is a better choice as its data saver mode turns down the level to 48kbps AAC.
Spotify, when at its lowest Spotify bitrate, can stream at 96kbps. If you like the best possible quality to choose from, then try Spotify. But if you'd like to go for and stream music at the lowest possible rate, then YouTube Music is the go-to option.
Part 5. YouTube Music vs Spotify Song Count & Music Discovery
Spotify is a better option when it comes to discovering music. It has a playlist with music from artists and different genres users like to listen to. On Monday, a new one was released with 30 tracks. According to their listening results, the service makes up to six daily mixes for users.
On the other hand, YouTube Music doesn't have all these perks. While talking about the YouTube Music vs Spotify song count, then with Spotify, you can have a lot more playlists than YouTube Music. Though YouTube Music service lets you find playlists by users' mood or genre, the issue is that the selection is limited.
Part 6. YouTube Music vs Spotify Device Limitations
It depends on the users' requirements when we talk about the YouTube Music Premium vs Spotify limitations. In short, we can say that with Spotify, you are allowed to discover more music and have access to podcasts that come along with numerous features. In case you don't want to spend money, then YouTube Music is the best option for you as with Spotify you need to invest a few bucks.
Besides, Spotify music won't let you to listen to Spotify music offline on other devices. That's because it has the protection for its music files. So, if you want to use Spotify music anywhere, then you can try the AudFree Spotify Music Converter.
AudFree Spotify Music Converter is one of the best Spotify music converters. It allows you to download and convert your favorite Spotify music into different file formats including FLAC, MP3, WAV, M4A. You don't need to be worried about losing the quality of the original song here as everything runs smoothly. You can also play your favorite songs in offline mode.
How to Use AudFree Spotify Music Converter to Download Spotify Music for Offline Playback
Step 1

Open the AudFree Spotify Music Converter

Initially, launch AudFree Spotify Music Downloader on your computer. If you have installed the Spotify application before, the AudFree tool will start it via automatic processing. Choose the songs for download from the Spotify window, as you can drag them to the AudFree window as well.
Step 2

Reset output audio format for Spotify songs

Select the option of Preferences > Convert and set the output format, bit rate, sample rate, and audio channel for the Spotify music files. Then press the icon that says "OK" to save the settings.
Step 3

Convert Spotify music for use offline

In the end, choose the Convert option, click on it and you will see AudFree Spotify Playlist Converter will download Spotify songs to PC for offline playback. After that, press the File option to find the Spotify music files on your computer.
Downloading Songs from Spotify on Android
Step 1. Connect your Android phone with your PC with the USB cable.
Step 2. Find the converted Spotify music folder on your PC. Now drag it to your Android external file folder for syncing.
Step 3. From here you can enjoy Spotify music offline for free on your Android phone.
Part 7. Finals Thoughts
Hopefully, users who needed to know about Spotify vs YouTube Music quality have found all they want to know. Now it would be easier for you to choose the best tool in need. What's more, if you want to use Spotify songs with ease, then you can use along with the AudFree Spotify Music Converter. This tool can help convert and play Spotify music anywhere and anytime without any limit.