Q: "I've subscribed to Spotify Premium for offline listening without ads on my Android phone. But as time goes on, my Spotify music collection continues to grow, which is devouring my phone's internal storage. I'm gearing up to download Spotify to an SD card to free up more space. But how to do that?"
Indeed, the internal storage on a mobile device is very limited, so putting Spotify on an SD card is a great way to solve this dilemma. Then in this article, we'll show you two available methods on how to move Spotify to SD card on Android and other devices, whether you're using Spotify Free or Premium.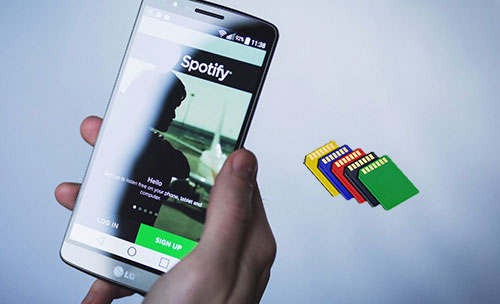 Part 1. How to Move Spotify to SD Card Android
Can I Move Spotify to SD Card
It is a frequently asked question: Can I download Spotify music to SD card? If you are an Android user, have you tried moving the Spotify app to an SD card before? If yes, you find that this option is grayed out under the Definitions > Application> Spotify. Though the Spotify app can't be transferred to the external SD card directly, Spotify allows premium users to store offline cache to an SD card on Android. Now, you can refer to the following detailed tutorial to move Spotify downloads to your SD card to release space for your device.
How to Download Music from Spotify to SD Card on Android
Step 1. On the Spotify Android app, click on the 'Your Library' section at the bottom.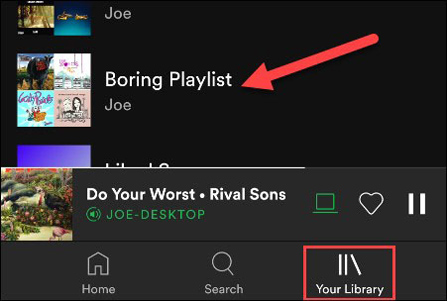 Step 2. Go to 'Settings' and tap the 'Other' > 'Storage' tabs.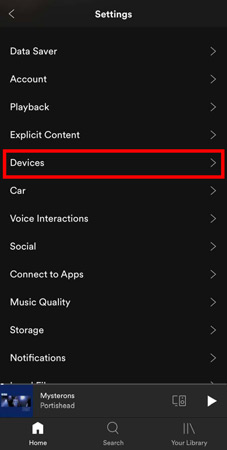 Step 3. Choose 'SD card' as the target place to store your Spotify music downloads.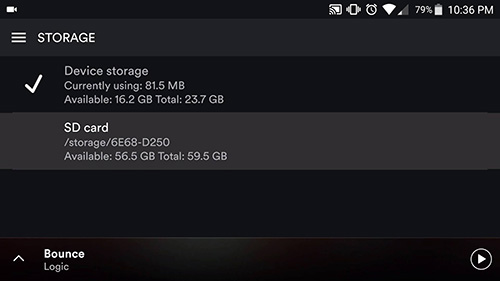 Step 4. Now, click 'OK' and you can change Spotify storage to SD cards.
📝 Note:
Make sure your Android SD card has at least 1GB of free memory.
A Spotify Premium account is requisite to move music to SD cards.
Extension: How to Change Spotify Storage to SD Card on Computers
Step 1. Insert your SD card into your computer.
Step 2. On Spotify, tap on the top-right Profile to open a menu and choose 'Settings' from the menu.
Step 3. Scroll down to the 'Storage' section that shows where Spotify downloads music to.
Step 4. Hit the 'Change location' button on the right of 'Offline storage location'.
Step 5. Select your SD card drive as the download location.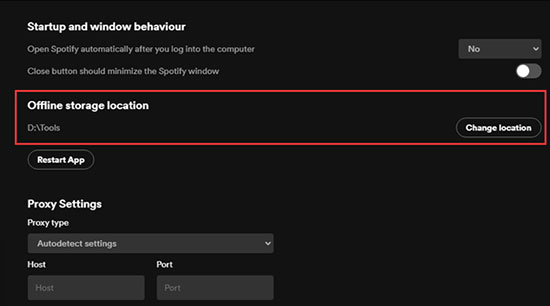 Part 2. How to Make Spotify Download and Save to SD Card Anywhere
As a paid user of Spotify, it's an easy task for you to transfer Spotify downloads to SD card with the way above. But if you are using a Spotify free account, you can't enjoy the download feature. Fortunately, we have found an alternative way to download music from Spotify to SD card that works for all Spotify users.
All you need is AudFree Spotify Music Downloader, which can download Spotify music without premium. This intelligent software can convert any Spotify content to MP3, FLAC, WAV, AAC, etc. with zero sound quality loss. After the conversion, you are free to save Spotify downloads to SD card.
Besides, it is capable of preserving all the metadata info such as ID3 tags of music. So, when you play Spotify conversions from an SD card with a built-in music player on your Android phone, it will be no different from listening to music on the Spotify app.
How to Make Spotify Download to SD Card on Computers
You can hit the above green download button to install the AudFree Spotify Music Converter on your Windows or Mac computer. Later, please refer to the detailed tutorial below to download Spotify songs without Premium for SD cards with this software.
Step 1

Import Spotify Music to AudFree SpoDable

On Spotify, tap on the right '...' icon on the track or playlist. Then from the pop-up list, choose 'Share' > 'Copy Link'. Proceed to paste the Spotify URL link to the search box on AudFree Spodable and press the '+' button to import songs. Or, drag & drop Spotify tracks, playlists, or albums to the AudFree window directly.
Step 2

Set Spotify Output Parameters for SD Card

Go to the top-right 'Menu' tab and select 'Preference' > 'Convert' section. Then you can opt to convert Spotify tunes to MP3, FLAC, AAC, WAV, M4A, and more as you want. It is recommended to choose MP3, which allows you to save as much storage for your SD card as possible. It's also available to customize other audio parameters, including the bit rate, sample rate, audio channel, and the like to make higher-quality audio.
Step 3

Download Spotify Music for SD Card Locally and Losslessly

Please kick off the converting process by simply tapping the 'Convert' button from the bottom-right corner of the main interface. Within minutes, you can locate the Spotify music files in the destination folder you set before by touching on the bottom File icon. Afterward, you can move the converted Spotify music to any external hard drives including an SD card.
How to Transfer Spotify Downloads to SD Card from Computer
Now that your Spotify songs have been saved in a normal format on your computer's local drive, it's time to put Spotify downloads on SD cards. Let's see the details together.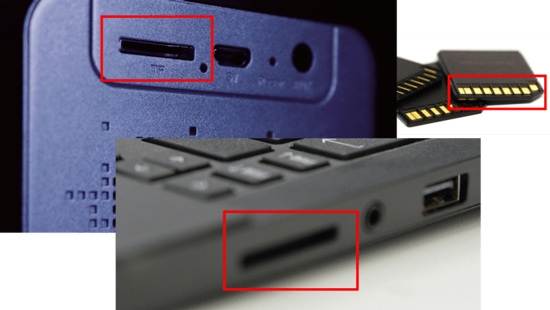 Step 1. Please insert your SD card into your computer via a card reader.
Step 2. Click on 'This PC' on your computer and double-click on the SD card in the drive list.
Step 3. Simply copy music from the converted folder to the SD card.
Step 4. Then you can insert the SD card containing Spotify music tracks to your Android device.
Step 5. Now, start enjoying Spotify stored on an SD card for offline playback.
Part 3. Fix: Can't Move Spotify Music to SD Card
Actually, some users encounter errors when trying to use Spotify on an SD card. Such as Spotify pops up a notification like this, "We can't move your data because your SD card may have a problem". Then they are unable to successfully select the Spotify storage location and Spotify won't download to SD card. Based on this, you can follow the tips below to fix Spotify not transferring to the SD card issue.
✔️ Restart Your Android Device
First, quit the Spotify app and turn off your Android device. Wait for a while and restart the Spotify app, then check if the error is fixed.
If too much cache files are on Spotify, the Spotify app may have more problems, which in turn leads to the inability to change the storage location of Spotify downloads. Just delete and clear the Spotify cache to solve the problem.
✔️ Disconnect and Plug SD Card In Again
Check whether you have inserted the SD card into your computer or mobile correctly. If not, please plug it out from your device and insert it again for a stable connection.
✔️ Replace SD Card
Sometimes, the problem may be with the external SD card you are using in some situations. For example, SD card not showing up on Spotify. The SD card may be locked or not compatible with your device. You can try using a different SD card and see if you can move Spotify to an SD card smoothly afterward.
✔️ Update Spotify App
The outdated Spotify app potentially has bugs or glitches to change storage location to an SD card.
✔️ Reinstall the Spotify App
You can also uninstall the Spotify application and reinstall it. Also, you need to change the default drive to the SD card to store Spotify on the SD card before reinstalling the app.
✔️ Use AudFree Spotify Music Downloader
If none of the above methods work, you may want to make use of AudFree Spotify Music Downloader to back up Spotify songs locally. Then it will be easy to download Spotify songs to SD cards or other devices without any problem.
Part 4. More FAQs about Spotify to SD Card
Q1: Where are Spotify downloads stored on Android?
A: Spotify downloads you saved on Android is archived to Android/data/com.spotify.mobile.android.ui/files/spotifycache/Storage/.
Q2: How to make Spotify change storage location for SD card?
A: Go to Settings on Spotify, scroll down to the 'Storage' section, and then click on 'Change location'. But note that even if you change the Spotify download location to an SD card, the downloads may be unplayable on some SD cards because they are copyright-protected.
Part 5. Conclusion
If you are a Spotify premium user, the official method is easier to move Spotify to SD card on Android. As for free users, you can reach the same goal just by using AudFree Spotify Music Downloader. It helps to download Spotify music locally and then you can save Spotify to an SD card without premium. With it, all users can keep Spotify music forever without worrying about storage.
By the way, do you have any other ideas for putting Spotify on an SD card? Please let us know by commenting below.