Q: "With the COVID-19 continuing to wreak havoc, we were forced to stay home for a few months, and during that time TikTok was a great place for me to watch videos and enjoy entertainment. At the same time, I came up with the idea of creating short videos on TikTok, but in the process, I had trouble adding Tidal Music to TikTok videos as soundtrack. Any adivce?"
To tell you the truth, using Tidal on TikTok is not that difficult with the assistance of professional third-party tools. Therefore, this article has carefully selected one of the best third-party software to make Tidal TikTok possible, just follow the tutorial below to play Tidal on TikTok step by step.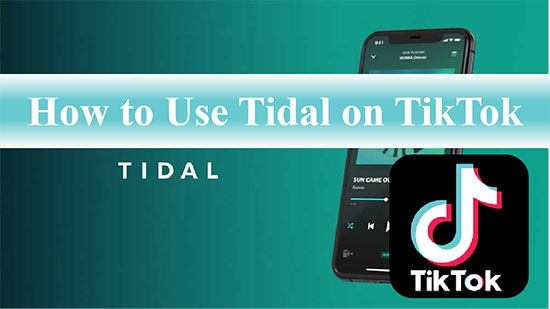 Part 1. What Is TikTok – What You Should Know
Today, TikTok is considered one of the most popular live streaming and video sharing apps in the world, dedicated to making, sharing and watching short videos. TikTok was officially launched in China in 2016 and has soared in popularity and created a craze upon its release. With it, everyone can become a video master as long as you're creative and thoughtful enough, and even newbies can get started quickly and share engaging videos in no time.
When talking about short videos, those 15-60 seconds clips you swiped on TikTok should come to your mind. Please note that what makes a video impressive is not only the content itself, but also the infectious soundtrack, which is why TikTok creators make an attempt to apply Tidal Music to TikTok for its rich music library.
Part 2. Can You Play Tidal on TikTok
Previously, you were allowed to apply your own music to TikTok videos, but this feature has now been deprecated due to copyright protection concerns. What's worse, if you add copyrighted music to TikTok, the video will be muted or deleted, in other words, you can't connect protected Tidal Music to TikTok directly.
Part 3. How to Import Tidal to TikTok - Tool Required
As already mentioned, most music streaming services are protected by digital rights, and Tidal is no exception. Therefore, breaking this protection restriction is an essential task in order to connect Tidal to TikTok with ease. In this case, AudFree Tidal Music Converter is a timely solution to this problem, as it is designed to download Tidal Music as local files and thus smoothly remove this annoying copyright limitation.
In addition, with the aid of AudFree Tidable, you can convert Tidal Music to MP3, FLAC, WAV whether you are a Tidal Free, Tidal HiFi or HiFi Plus user. As a unique and perfect Tidal TikTok solution, it is able to download and convert Tidal Music at 5X faster speed while retaining metadata information and ID3 tags. In consequence, you can import Tidal to TikTok whenever and wherever you like.
Part 4. How to Use Tidal on TikTok
Please follow the steps below to download Tidal Music as a local file on your computer, and then you can add Tidal to TikTok without any problems.
How to Download Tidal Music for TikTok
Step 1

Customize Tidal Output Format for TikTok

Make sure that the AudFree Tidal Music Converter and the Tidal app are installed on your computer. Launch the converter and the Tidal app will pop up automatically. Click on the "Preferences" option in the upper right menu bar and tap the "Convert" section in the settings window to customize the Tidal output format to MP3, FLAC, WAV, etc. Besides, you are allowed to click on "Archive output tracks" to sort songs by album or artist.
Step 2

Add Tidal Music to AudFree Tidable

Select your favorite Tidal Music, playlist and album in the Tidal app, then drag and drop them directly onto the conversion window of AudFree Tidable. Or copy and paste the track links into the search box at the top and press the '+' button.
Step 3

Download Tidal Music for TikTok

Simply press the "Convert" button to start the Tidal Music download and conversion process. Click on the "Converted" button marked with a red number to see all the Tidal Music downloads listed. After that, you can apply Tidal Music to TikTok with freedom.
How to Apply Tidal Music to TikTok
Since you have downloaded Tidal Music as local tracks, it's time to import Tidal to TikTok with the premise of using a video editing application such as InShot Video Editor. Here are the simple steps to add Tidal Music to TikTok video via InShot.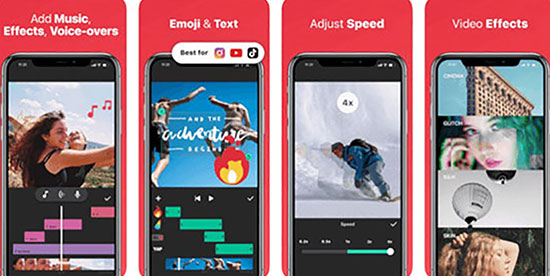 Step 1. First, transfer all the Tidal Music on the computer to your phone using a USB cable. After that, open the Inshot app on your Android or iOS device.
Step 2. Go to the home screen, click on the "Videos" button and select TikTok videos or your local videos.
Step 3. Add Tidal Music from your phone to the video by selecting the "Music" > "Tracks" icon from the editing tools displayed below.
Step 4. Click the Export button on the top right > "Other" > "Share to TikTok". In this way, you can successfully use Tidal Music on TikTok.
Part 5. In Conclusion
It's patently obvious that music plays a pivotal role in TikTok and the AudFree Tidal Music Converter is the best helper that makes Tidal TikTok a reality. As the old saying goes, practice makes perfect, so let's use your brilliance to play Tidal on TikTok and create amazing videos.