Live streaming has taken the world by storm nowadays, especially during the Covid-19 pandemic when we were stuck at home, watching many live streaming videos. Among the audience, more and more people want to turn into a streamer themselves and build their own channel. For beginners, Streamlabs OBS would be a great choice when it comes to broadcast software selection. It is widely used by Twitch, YouTube, and Facebook Live streamers.
Meanwhile, playing music in streaming can effectively add entertainment for you and your viewers. Since Spotify is a popular choice for users to listen to high-quality music, it would be novel to have Spotify Music playing when you live stream video games or other content. Fortunately, this article is going to help you achieve that, with detailed guidance on how to add Spotify to Streamlabs OBS in two advanced ways.

Part 1. What is Streamlabs OBS
In fact, Streamlabs OBS is a free and open source live streaming software built on the foundation of OBS (Open Broadcaster Software). Think of it this way, Streamlabs OBS is a newer, easier to use version of OBS, now more commonly referred to as Streamlabs.This simple, feature-rich streaming software was designed for streamers and is widely popular with gamers and live streamers.
The most impressive features include 3D masks, window capture and game capture, which is probably why gaming celebrities utilize it to enhance the viewing experience. In addition, you can use Streamlabs on almost all popular streaming platforms, such as Twitch, YouTube and Facebook, which creates new ways to interact with your audience.
Part 2. How to Add Spotify to Streamlabs
Streamlabs OBS is currently available for Windows and Mac computers. Before getting started, make sure you have installed the Spotify desktop app on your computer so that you can set up the Streamlabs app and add Spotify widget to Streamlabs OBS.
How to Set up Streamlabs App
Step 1. First, start the Streamlabs application on your computer and log in by selecting twitch, youtube, Facebook, or other platforms supported by Streamlabs.
Step 2. Then, select the main microphone and webcam to start the setup process directly.
Step 3. Choose any theme you like, please note that there are more than 250 free coverage topics for you to choose from in Streamlabs. The theme you select will then be applied to your stream so that viewers can watch it in real time.
Step 4. Newcomers to Streamlabs can easily set up the above steps. If you want to configure other settings, such as resolution, bit rate, rate control, frame rate, etc., you can also configure them in this window.
How to Add Spotify to Streamlabs OBS
Step 1. Launch the Spotify app, go to Streamlabs OBS and tap on the '+' button to add a new source to your scene.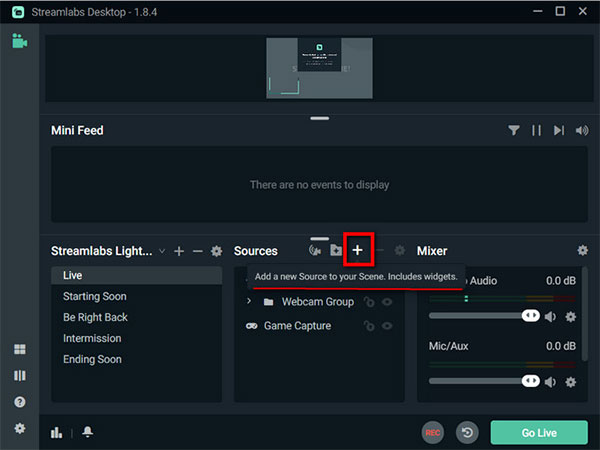 Step 2. In the newly opened window, select Window Capture under the Standard section, and name the source.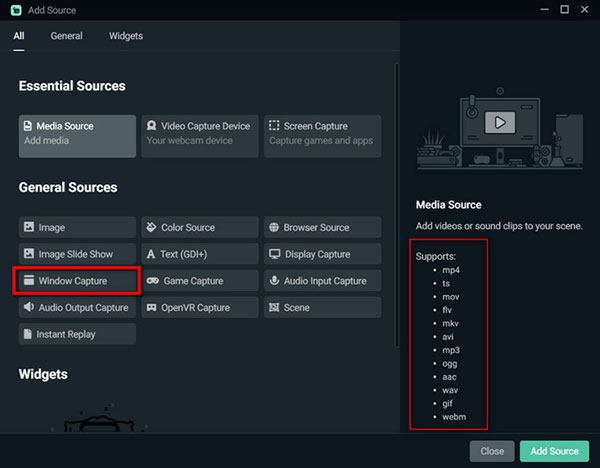 Step 3. Under Window, scroll down to select [Spotify.exe]: Spotify Free or Premium and hit Done.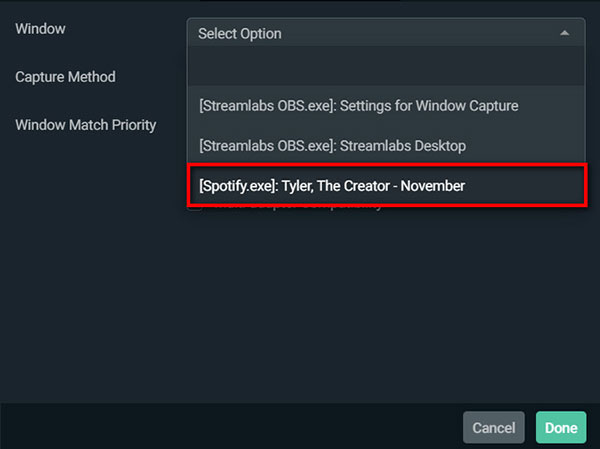 Step 4. Hold the Spotify window capture and right-click to select Transform and Stretch to Screen.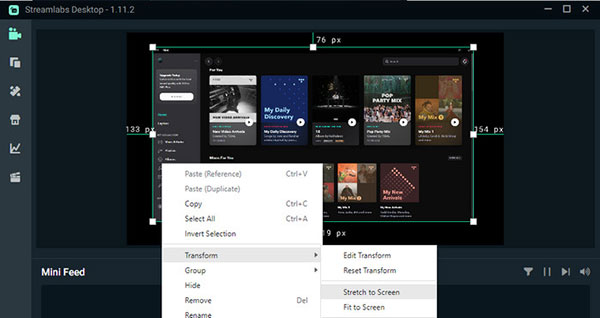 Step 5. Unclick everything, hold Alt on your keyboard, and then click on the window to adjust the scale and size of the Spotify app. You can now put it anywhere you want to display when streaming.

Now you can start playing some Spotify Music on Streamlabs OBS. The music will show up under the Desktop Audio.
Part 3. How to Play Spotify Music Offline on Streamlabs OBS
Now you have learned how to add Spotify Music to Streamlabs OBS officially, but be careful that you are not allowed to stream copyright-protected music unless you get permission. Otherwise, your channel would probably receive warnings and be banned for a while. For some copyright-free and royalty-free music on Spotify, you can search for some completely free music in "StreamBeats" and use them on streaming media.
If you are a long time Spotify user, you may know that only Spotify Premium users are allowed to download playlists for offline listening. We are here to introduce an alternative way to add Spotify Music to Streamlabs OBS for offline playback using the Spotify free account, so as to avoid any possible streaming problem. First and foremost, you will need a professional tool named AudFree Spotify Music Converter.
To tell you the truth, AudFree Spotify Music Converter is capable of downloading all Spotify contents with original quality preserved and converting Spotify Music to MP3 and other common audio formats. Moreover, it can run at 5X speed to download Spotify songs to computer locally, and keep all ID3 tag information such as title, album cover, artist, genre, etc. Therefore, you can add Spotify as a media source to Streamlabs OBS without restriction, and all this info will be displayed when streaming.
AudFree Spotify Music Converter
How to Play Spotify on Streamlabs OBS without Premium
Without further ado, let's download the AudFree Spotify Music Converter on your desktop and dive into this.
Step 1

Add Spotify Music to AudFree SpoDable

When you open the AudFree Spotify Music Converter, the Spotify app will launch itself so you can directly drag and drop music from Spotify to AudFree SpoDable's main interface. Or, you can copy the URL of Spotify Music and paste it to the search box of AudFree SpoDable. Then hit the '+' button to load music.
Step 2

Customize Output Settings for Streamlabs OBS

Now please go to Menu from the upper-right corner to open the setting window. Click Convert and here you can set Spotify Music output format, or customize the bite rate, sample rate, etc. according to your needs.
Step 3

Download Spotify Music for Offline Playback

When all settings are saved, please click the Convert tab at the bottom-right corner and all added Spotify Music will be downloaded and converted at fast speed. Once finish, you can check the downloaded Spotify Music in the converted history list.
Step 4

Put Spotify on Streamlabs OBS

Similar to the steps in Part 2, click the '+' button under Sources, and select Media Source. Choose the music files you have just downloaded using the AudFree Spotify Music Converter to connect Spotify to Streamlabs OBS. Enjoy Spotify Music streaming on your channel with your audience!
Part 4. Streamlabs OBS Spotify Music Insertion - What You Should Consider
As we all know, Spotify Music is created by artists and is usually protected by copyright. At present, with Spotify Music in Streamlabs OBS live stream as background sound, large platforms such as Twitter or YouTube pay special attention to music copyright. They even have special systems to monitor and detect whether copyrighted music tracks are used in real time.
Therefore, to avoid the above pitfalls, you should check whether the Music you want to use is royalty free before showing Spotify on Streamlabs. It is worth mentioning that Spotify Music downloaded through AudFree Spotify Music Converter is unprotected, thus you have the privilege to add Spotify Music to Streamlabs OBS with freedom.
Part 5. In Conclusion
Now that you know the perfect solution to add Spotify to OBS, it's able to capture Spotify on Streamlabs to enrich your content without hassle. Start a colorful streaming media experience and have fun in Streamlabs OBS.