Do you prefer to listen to Spotify music along with album art? Well, you are not alone. The album cover creates the mood and feel of the song. The art cover allows the listener to feel connected to the song and enjoy it even more. While listening to Spotify music on our smartphones, Spotify shows album art on the screen. But what if the cover is not there? Is Spotify down?
So, what to do if Spotify doesn't show an art album? Mobile and desktop users of the music streaming app can face this issue.
In this article, we will be answering your queries related to the Spotify album art not showing. We help you decipher the way you can easily get the art cover right on your screen.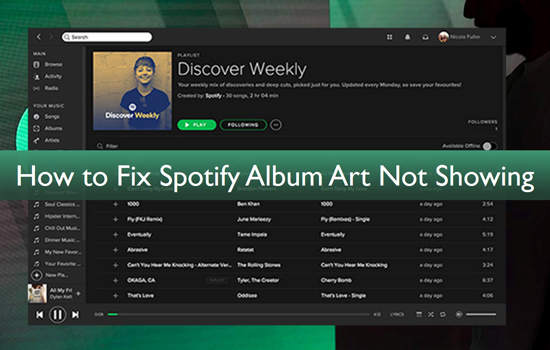 Part 1. FAQs of Spotify Album Art
Q1: How to Show Album Art on Spotify?
When you are playing a song on Spotify, the album cover appears at the bottom-left of the window. Instead of looking at the dull boring looking playlist, you can have an attractive-looking Spotify album cover right in front. In Spotify choose "View" and go to "View As Album Playlist". An alternative way is to Ctrl + G.
Q2: How to Add Album Art to Spotify Local Files?
Try adding the cover art on iTunes first, then transfer the song to Spotify via the local files, and then download the songs offline. You'll have to wait a few minutes for this to work.
Q3: How to View Spotify Album Art on Full Screen?
To get Spotify full-screen album art PC, all you need to do is click on the full-screen icon to the right side of the Play Bar.
Part 2. Spotify Album Art Not Showing - Common Solutions to Fix it
There could be various reasons where Spotify won't show album art covers making the song more appealing to you. We have piled up some simple solutions that will quickly solve this simple problem for you. The solutions that we have discussed below have proved to be successful for users who couldn't enjoy Spotify along with the art cover.
1. Restart the Application
Restarting an application is always the first solution that we come up with, anytime an application or our entire system comes to a halt. Do the same when album art is not showing on Spotify. Simply shut down the application and restart it. It can be tried on both your desktop and smartphone.
2. Adjust the Size of Spotify Window
We often make Spotify windows smaller just to make our desktop screens less cramped. Resizing the window makes the art album disappear from the screen. This problem is usually faced by desktop users. To solve this issue, all you need to do is resize the Spotify window to make it bigger and more visible.
3. Clear Spotify Cache
Maybe your Spotify cache is full and clearing some space will show album art on Spotify letting you enjoy the music. Although clearing Spotify cache will erase all your data and will also remove your offline downloaded songs. It might solve your problem but you will have to download all the songs again. So, if you want to save yourself the trouble, it's best to keep this one as your last point of escape.
4. Uninstall and Reinstall
Maybe the Spotify app needs a boost. If none of these solutions work for you, it's best to uninstall and then reinstall the app completely. Make sure to install the streaming app through a proper method and then restart all over again.
Part 3. How to Download Spotify Album as Local Files with Album Art Kept
Losing all your songs in the process of recovering the album art cover could be a big problem. To solve the issue of album art not showing on Spotify, a third-party Spotify converter is the best solution for recovering the Spotify album art cover along with offline listening to your favorite Spotify music.
AudFree Spotify Music Converter is an advanced music converter available for both Windows and Mac users. The converter is designed with the latest technology, helping users download Spotify music for easy access offline. It also retains 100% metadata of your songs, such as Spotify album arts, artists, track numbers, and so forth.
AudFree Spotify Music Converter has the definite advantage of breaking the Ogg Vorbis format applied to Spotify songs and playlists. It successfully transfers millions of songs from Spotify to MP3, AAC, M4A, FLAC, and other lossless formats.
As soon as you convert Spotify music, you can easily transfer it to any device and player for offline playback with Spotify album art kept. Besides, the converter is super easy to use and transfers music within minutes. This saves your time and energy.
Main Features of AudFree Spotify Music Converter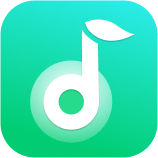 Convert Spotify music at a 5X faster speed as compared to other converters
Support a range of popular formats including MP3, FLAC, M4A, M4B, and more
Contains metadata and secures the album cover attached with the track
Perfectly reliable and easy-to-use for beginners and professionals alike
How to Convert Spotify Music to Local Files?
AudFree is perfectly compatible with the two famous operating systems i.e. Windows and Mac. So, download the version that supports your device. After downloading the software to your system, simply launch the converter and get started with the conversion process.
Step 1

Imports Spotify songs to AudFree

With the interface being user-friendly, all you need to do is import your favorite songs, tracks, and playlists from Spotify to the converter. There are two ways for importing music. First, you can simply drag and drop the tracks into the converter. Or you can use the "+" button and copy-paste the URL of the songs you wish to listen offline.
Step 2

Personalize Spotify output format

Now go to the Preference Menu and customize the output format according to your preference. You can choose the audio format for the converted track.
By default, MP3 is set as the output format. According to your choice, you can also adjust other settings which includes the speed of conversion, bit rate, sample rate, and channel codec, etc. You can also adjust the speed of the conversion to end the process quickly and smoothly. To maintain the high quality of Spotify music, it's better to set the speed at 1X.
Step 3

Initiate conversion of Spotify and keep album art

After you have imported unlimited songs and tracks to the converter and have finalized the output setting, all you need to do is select "OK". Then click on "Convert". The converter will automatically convert and download albums from Spotify and will save them on your device as locally saved files.
Part 4. In Conclusion
Spotify not showing album art is a common problem. One that can be handled easily. If the solutions we discussed above don't work out for you, using the AudFree Spotify Music Converter will surely give you the result you are looking for. Simply download the songs in your local file folder and enjoy them offline with the album cover right at the front. You can also avoid Spotify not showing on lock screen, among other Spotify playback issues.