As an undisputed leader in on-demand streaming music service, Spotify presents instant access to millions of different song pieces from all genres on the globe. It doesn't matter if you like old schools or the latest music tracks — its catalog is so huge that you cant stream it all for one lifetime.
Besides streaming, you have the option to download music for offline listening, which takes the listening experience to the next level.
However, a time comes when Spotify may start rising problems. You open Spotify and hit the "Play" to listen to your favorite music only to end up hearing no sound. You see the song playing but no sound. Before you proceed to anything, you'd most likely adjust the volume. But nothing happens. So, how do you go fixing no sound on Spotify?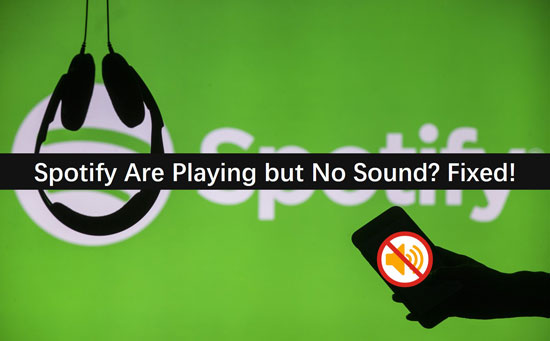 Part 1. Spotify Playing but no Sound: Effective Solutions
Many times, this problem arises from a poor internet connection, overused CPU, using an older version of Spotify, overloaded RAM, or technical issues of your Spotify app or your device. And multiple fixes can remedy the "Spotify no sound" error. But we will only focus on those that have worked for many with such error.
It isn't a must to execute all the fixes below. Just try one after the other until you find a solution that works for you.
1. Restart Spotify app and Log into Your Account Again
It isn't new for apps to hang or stop responding. Apps misbehave. And the cause of these problems might be overloaded RAM, virus attack, or overused CPU.
Before you proceed to anything else, restart your Spotify app as it might clear up some temporary glitch and then can get back to work. To execute a Spotify restart, log out of the app, then re-login. If the problem persists, proceed to the second fix.
2. Check Your Internet Connection
Since most "Spotify no sound" errors involve internet connection, checking your internet connection makes the right sense. But before you do any troubleshooting, check internet speed using other apps.
Open another app that requires an internet connection and check the speed. If it takes ages to load, troubleshoot your network because it might be having issues. You can try switching to from 4G to 3G or 3G to 2G. If the problem doesn't go, try different service providers if you're in the position to.
3. Update or Reinstall Spotify App
Next, you should take one of the key steps to diagnose "Spotify no sound" error: making sure your Spotify software is up-to-date. An older version of Spotify might be the culprit of "Spotify no sound" in Windows 10 or any other system.
Spotify undergoes periodic updates like any other software to present news tech trends to its users. So if you no sound from Spotify continue even after logging in and out and executing a restart, check out if there is an update of the app. If there is one, update your app and try again.
4. Free the RAM of Your Devices
At this point, if you can't get any sound from Spotify, it is worth checking the space on your RAM. If your RAM is less than 20%, that might be the problem.
An overloaded RAM causes almost all applications of your device to misfunction. But this is very easy to fix. Close some apps that you aren't currently using. Head over to the storage settings of your device and clear RAM. Better yet, you can uninstall apps that you don't use.
5. Play Other Songs
Sometimes the problem might be in a song. And when that is the case, try to play another song and see if you'll hear any sound.
6. Check if You Turn Off the Volume
Another uncommon, but the plausible scenario is that your system volume might be zero, causing Spotify to play but no sound.
Check whether you've turned off the volume slider of Spotify and ensure your device volume isn't off. Launch Spotify, and find Speaker icon, click on it to unmute Spotify.
Part 2. No Sound on Spotify: An Ultimate Solution
In some cases, you already downloaded songs from Spotify. You don't worry about the error "Spotify no sound." However, you can't share or transfer Spotify songs—they come with protection. And it doesn't matter if you're a Free or a Premium subscriber of Spotify, the tracks are unshareable and unplayable to other devices.
And that factor raises concern. If you need to listen to Spotify music offline on several devices, you'll need a Spotify Music downloader and converter. So we went to the deep corners of the web, scraped and scoured to bring you an all-in-one tool — AudFree Spotify Music Converter. Aiming at making full use of Spotify songs, AudFree Spotify Music Converter readily converts Spotify Ogg music format to MP3, FLAC, AAC, WAV, M4A, M4B, and other formats with zero quality loss.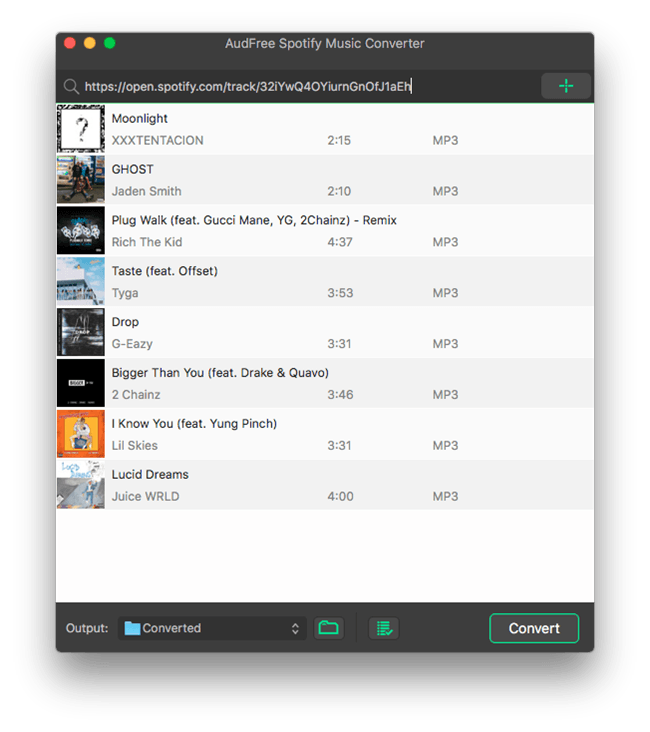 Step 1. Download and launch AudFree Spotify Music Converter. AudFree Spotify Music Downloader is an extremist. It allows free subscribers to download Spotify Music readily by merely dragging and droppingthe songs you need to AudFree's interface.
Step 2. Reset the output preferences. In AudFree's menu, find "Preferences" > "Convert" to customize the output parameters as you need.
Step 3. Download Spotify music.Hit the "Convert" icon, and the download process will start. Remember that the time needed to accomplish this process will depend on the bulkiness of your songs.
Step 4. After the download stage ends, you can locate your music via the 'history' icon.
Conclusion
The second ultimate solution removes protection from Spotify tracks and converts them to a plain format that any device can play. So, if your Spotify music doesn't have sound on particular devices, then you can play the converted music on other devices.
Matters of no sound equates to the device. Otherwise, other devices will be able to produce quality sound. You just need to play your music on the right device.