Have you played Spotify in the car before? A majority of people are using Apple CarPlay to listen to Spotify in their cars. With that, users can enjoy Spotify music while still driving cars. However, gradually, many users complain that Spotify Apple CarPlay not working or showing. They have been getting "Spotify is offline" or unable to see Spotify displayed on the Apple CarPlay.
In fact, since 16.2, lots of people have encountered this issue with Spotify on CarPlay, be it iPhone 8 or iPhone 13. Can you use Spotify on Apple Carplay? If you are also undergoing such Spotify CarPlay issues, please never miss this post. We will talk about almost everything about Spotify Carplay such as how to add Spotify on Apple CarPlay, why is Spotify not working on Apple CarPlay, and how to fix it. Let's explore together and see how those fixes work!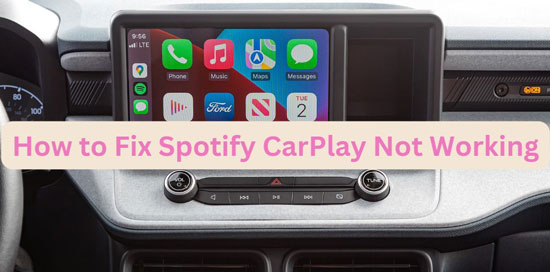 Part 1. How to Get Spotify on Apple Carplay
In the beginning, we will introduce how to get Spotify on Apple CarPlay with detailed instructions. If you just started using Spotify with Apple CarPlay, it is worth having a look.
Step 1. Connect your iPhone to your car's infotainment system compatible with Apple CarPlay through USB.
Step 2. On your iPhone, tap 'Settings' > 'General' > 'CarPlay' > 'Available Cars' and select your car.
Step 3. By clicking on 'Customize', you can get Spotify showing on the home screen of your Apple CarPlay.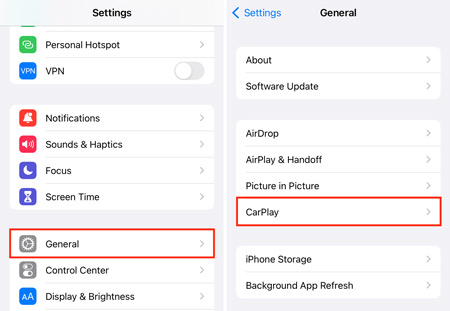 Part 2. Spotify Not Working on Carplay: Why and How to Fix IT
According to users' feedback and description, Spotify not working on Apple CarPlay issue can come down to several underlying factors as follows:
Unavailability of Car & CarPlay
Weird Connection to Apple CarPlay Stereo
Something Wrong with Car Infotainment System
Outdated Spotify App or iPhone System
Siri is Disabled
The screen Time Limit Is On
Battery Saver Mode Is Active
CarPlay Is Not Allowed While Locked
Fix 1. Check Availability of Car & CarPlay
On account of the copyright policies of Spotify, Spotify songs or playlists is not available in some regions. Also, it is likely that Spotify music is not supported by this type of car or your car does not support the Apple CarPlay. So it is necessary to check whether the region you are living in now supports both CarPlay and Spotify by visiting Apple Carplay Feature Availability and whether your car is compatible with CarPlay through checking CarPlay Available Models.
Moreover, Spotify Free users can change the region or country of their Spotify profile to resolve the problem:
Step 1. Navigate to the 'Account Overview' on the Spotify website.
Step 2. Click 'Account Profile' > 'Edit profile' > 'Country or region'.
Step 3. Change into a place where Spotify is available and tap on the 'Save' button.
Or you can upgrade to Spotify Premium since it removes such limitations for Spotify Premium users.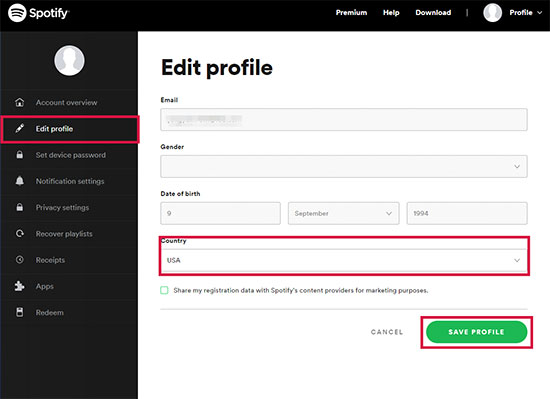 Fix 2. Check Connection to CarPlay Stereo
With a wired connection to CarPlay stereo, Spotify will also fail to work on Apple CarPlay. So you are required to check the connection to the CarPlay stereo again. Visiting 'Settings' > 'Bluetooth' or 'Settings' > 'Wi-Fi' to make sure the Bluetooth or Wi-Fi is on. Besides, click the CarPlay network, and make sure that Auto-Join is active.
Fix 3. Enable Siri
Most people are using a shortcut - Siri and voice commands to control Spotify playback on Apple CarPlay. So if Siri has been turned off, Apple CarPlay won't play Spotify. Take a look at the following guidance, you will understand how to play Spotify on Apple CarPlay with Siri:
Step 1. Make sure that you have turned on the Listen for "Hey Siri" feature. To make it, you can click on 'Settings' > 'Siri & Search'> Listen for "Hey Siri" on your iPhone.
Step 2. By speaking out "Hey, Siri" or pressing the 'Home' button, you can wake up Siri. Then dictate the text of your commands to Siri with the voice commands, for example, "Hey, Siri, play [the name of songs] on Spotify" They you can run Spotify with Siri.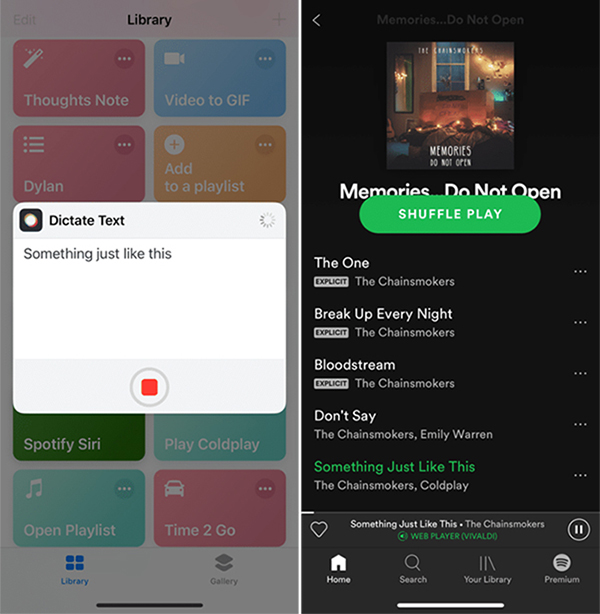 Fix 4. Turn Off Screen Time Limit
You may disable CarPlay while using the Screen Time Limit feature on your iPhone. You can remove the restriction from Apple CarPlay by the following steps:
Step 1. Navigate to Settings and scroll down to 'Screen time'. Then toggle it off.
Step 2. Tap on 'Content & Privacy Restrictions' > 'Allowed Apps' > 'CarPlay'. Then the CarPlay is enabled.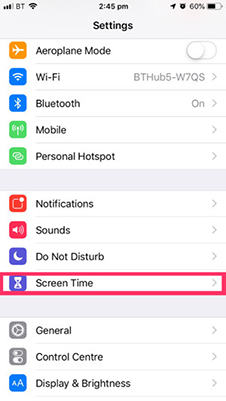 Fix 5. Deactivate Battery Saver Setting
Enabled the battery saver setting will restrict the smooth running of both iPhone and Spotify. It should be responsible for Spotify stops playing on CarPlay problem. So deactivate this setting in the steps below:
Step 1. Go to 'Settings'. Find and select the 'Battery & performance' option.
Step 2. Under Battery, toggle off the right button near 'Battery saver'.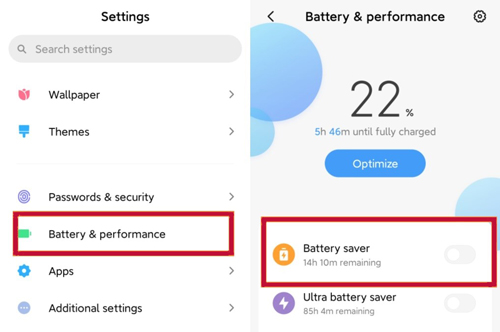 Fix 6. Allow CarPlay While Locked
Disable the 'allow CarPlay while locked' feature is also a culprit behind Spotify Apple CarPlay not working issue. You can resolve it this way:
On Settings, click 'General' > 'CarPlay', then you will see the 'Allow CarPlay while locked' option. Switch the option on.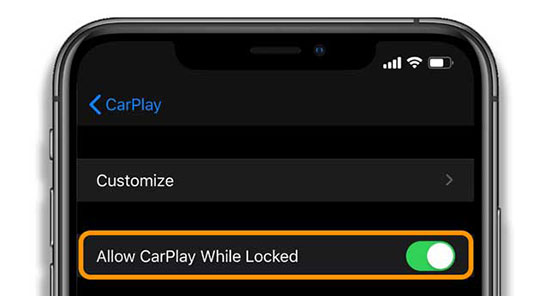 Note: On top of those methods, the following common tips also help a lot in getting Spotify to work on Apple CarPlay:
✔ Restart the infotainment system of cars
✔ Update the Spotify app or your iPhone
Part 3. Best Way to Fix Spotify Not Working on Apple Carplay
If the above-mentioned troubleshooting tips are not feasible, you can choose to contact Apple Support. But it will take you a lot of time and is not sure to work. Take it easy. Why not consider downloading songs from Spotify and transferring them to your Apple CarPlay for offline listening forever? Without needing to trial all the fixes above one by one, all you need is only a third-party music converter or downloader. Here, we'd like to recommend you use AudFree Spotify Music Converter, a perfect solution to avoid such Spotify CarPlay issues as Spotify not showing or working on Apple CarPlay.
This time-efficient gadget works to download and convert all types of Spotify music such as songs, playlists, albums, audiobooks, podcasts, etc. as local files with LOSSLESS sound quality. Through convert Spotify audios with OGG Vorbis format to commonly used output formats such as MP3, MAV, FLAC, etc., you are able to play Spotify music on all portable devices and players.
Besides, it allows you to download Spotify music for FREE for offline listening, be it Spotify Free or Spotify Premium subscription. With an intuitive and ads-free interface, this software is quite easy-to-use for beginners. By the way, it is compatible with both Windows and Mac.
Wonder how to use AudFree Spotify Music Converter? Here is a user guide prepared for you.
Step 1

Add Spotify Music to AudFree Spotify Music Converter

Launch AudFree Spotify Music Converter after installation, which will open the Spotify app automatically. Choose your favorite Spotify audios that you get ready to enjoy in your car with Apple CarPlay. Subsequently, copy and paste the URL link of Spotify songs or playlists to the search box of the AudFree Spotify Music Converter. tap on '+' icon to load up. Or try to drag and drop your the selected Spotify content to the main interface of the converter.
Step 2

Set Output Format as MP3 for Spotify Audios on Apple CarPlay

Head to the top-right toolbar of the converter and click on 'Preference'>'Convert'. In this way, you will be given access to customize output formats as MP3 for Spotify audio. Also, you are allowed to set the output audio format such as FLAC/WAV/AAC/W4A/WAB which are supported by Apple CarPlay. At the same time, you can personalize the bit rate, audio channels, sample rate, and other parameters for lossless Spotify audios.
Step 3

Start to Convert Spotify Music as MP3 to Play on Apple CarPlay

Simply hit the bottom-right 'Convert' button to commence the process of converting music from Spotify and wait for a while. Once the Spotify songs are saved into the destination folder, proceed to add the downloaded Spotify music to Apple CarPlay. After that, you can listen to your loved Spotify music in your car while still concentrating on driving without Spotify Apple Carplay not working or showing issues. Also, you can change Spotify playback speed at random.
Part 4. More FAQs about Spotify Carplay
Q1. My Apple Carplay shows "Spotify is offline". However, I am not offline. What's wrong with It?
In fact, the message "Spotify is offline" is followed by a prompt "You can play downloads from Your Library". But there is no content at all displayed on the Apple CarPlay. To solve this problem permanently, we recommend you download Spotify music with the third-party tool - AudFree Spotify Music Converter. Then import the Spotify downloads to Apple CarPlay in the way we mentioned above.
Q2. How to Turn on CarPlay Mode On/Off Spotify?
Here is a step-by-step instruction for you:
Step 1. On Spotify, tap on the gear icon at the very top right.
Step 2. On Settings, look about midway down, and tap on the 'Car' option.
Step 3. On the new menu, there are two options: Car Thing and Car View. Toggle on/off the right button next to 'Car View'.
Q3. How to Search on Spotify Carplay?
The process can be quite easy if you follow the instructions below:
Once added Spotify to Apple CarPlaty, from the home screen of Apple CarPlay, tap on the Spotify app to open it. Then type the name of songs on the search box of Spotify as you did before on your mobiles.
But to ensure security while driving, most Apple CarPlay users will choose the voice control assistant - Siri to control Spotify Apple CarPlay. With Siri, you needn't divert your attention during driving.
Part 5. In Conclusion
In this post, we have nailed down almost everything about Spotify Apple CarPlay. For example, we have talked about the trick to add Spotify to Apple CarPlay, potential reasons behind the Spotify Apple CarPlay not working or showing issue. Most importantly, we have found out the best way to troubleshoot the problem. That is to use the third-party gadget - AudFree Spotify Music Converter.
This program serves as a downloader and converter for Spotify Free and Premium members. It is capable to download and convert all types of Spotify music to various output audio formats. With it, you can listen to Spotify music on Apple CarPlay and other devices or players without such Spotify playback issues anymore. Just have a try!