A mounting number of Amazon Music users are complaining that Amazon Music skips songs after 30 seconds, which frustrates them a lot. Sadly, Amazon Music has not given them official troubleshooting workarounds to resolve it absolutely. So, those users have no idea about how to fix it.
Fortunately, this post will facilitate you to figure out why is Amazon Music skipping songs and offer practical remedies to get rid of the Amazon Music randomly skipping songs problem. Moreover, the best tool to solve that issue on all devices without hassle will be introduced followed by the common fixes. Let's get right off the point now!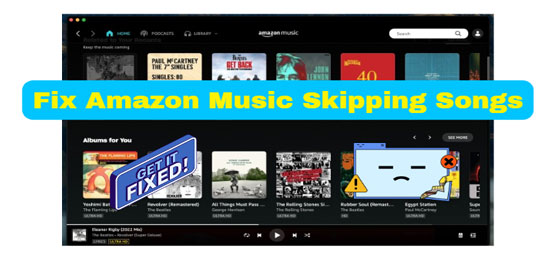 Part 1. Why Does Amazon Music Keep Skipping Songs
First, we will take you through the underlying reasons behind this Amazon Music playback error, helping you select a suitable method for such an issue later. As to most complaints, Amazon Music will skip songs in several cases, for example, after a few seconds, skip to the next song, or skip the end of a song. Furthermore, it will skip different kinds of songs including explicit songs, every song, part of songs, songs added to the cloud, or Amazon Music songs you bought.
After a comprehensive analysis according to testing and users' description, it can come down to the main factors:
✔️ Poor Internet Connection
✔️ Corrupted Cache files
✔️ Unavailability of Certain Contents
✔️ Glitches with Amazon Music Itself
✔️ Shuffle Mode Is On
✔️ The explicit Filtering Feature Is Active
Some reasons, like outdated Amazon Music app or device system firmware, can also play roles in the Amazon Music error. And whether using the Amazon Music app or Amazon Music web player, you have the possibility to encounter this problem.
Part 2. Fixes for Amazon Music Skipping Songs on Desktop/Mobile
Now, you've come to the troubleshooting step. In this part, corresponding tricks based on the factors aforementioned will be put forward with step-by-step instructions. Let's have a look!
🏷 Fix 1. Check the Wi-Fi or Mobile Network Connection
Poor network connection may result in bandwidth fluctuations, leaving Amazon Music playing stuttering or skipping occasionally. On the other hand, smooth online playback of Amazon Music, especially high-resolution audio requires a strong connection to the network. Thus, go to Settings on your phone or tablet, and then change to another internet.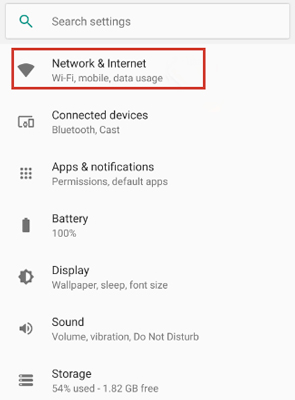 Amazon Music needs a lot of cache files to access its library faster and more smoothly. However, if those temporary files get corrupted, it will lead to songs skipping on Amazon Music on your iPhone, Android, or desktop. So, you can refer to the following steps to clear the cached files of Amazon Music:
For Android users, go to the 'Setting' app > 'Storage' > 'Clear Cache' from the Amazon Music page.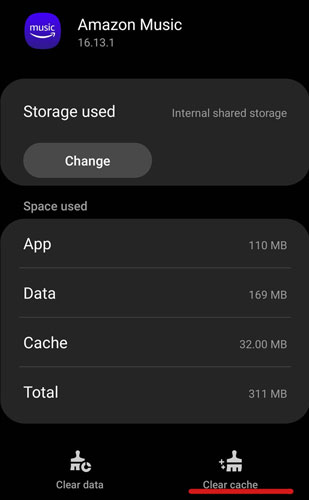 For iPhone users, head to the 'Settings' app. Then click on 'General' > 'iPhone Storage' > 'Amazon Music' > 'Documents & Data' to clear cache files of Amazon Music.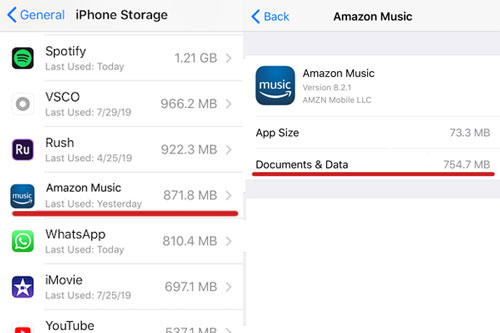 On the desktop, you need to sign out and sign in back to refresh Amazon Music data to sync the cache files. Alternatively, choose 'Reload Library' from Amazon Music settings.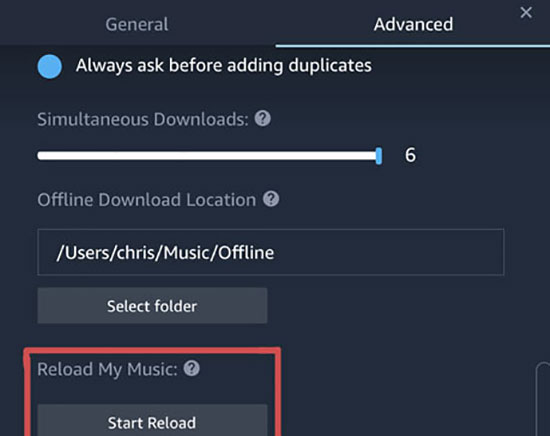 🏷 Fix 3. Upgrade to Amazon Music Prime/Unlimited
Due to Amazon Music copyright protection, Amazon Music Free users will run into a random skip limit while listening. You cannot control the playback order without an Amazon Music Prime or Unlimited subscription. Besides, some premium or exclusive content is inaccessible to free users. Therefore, follow the steps to subscribe to Prime or Unlimited Amazon Music:
Step 1. Go to the Amazon Music web player and tap on the top-right gear icon.
Step 2. From the drop-down menu, select 'Your Amazon Music Settings' where you can change your subscriptions.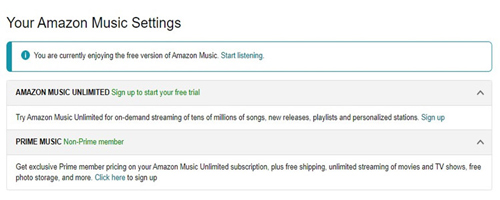 🏷 Fix 4. Turn Off Amazon Music Shuffle Mode
If you have an active Amazon Music Prime or Unlimited account, the shuffle and preview modes are accessible to you. With the shuffle mode, Amazon Music will randomly skip songs in a playlist.
To toggle off the modes, please look into the instructions as follows:
Step 1. On the Amazon Music app or web player, play a song.
Step 2. From the playing bar, click on the shuffle mode (like two intertwined arrows) until it turns white from the blue.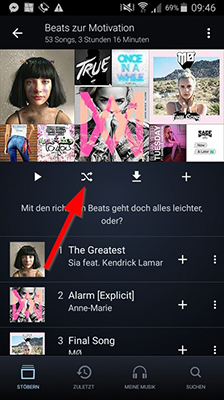 See Also: Amazon Music Shuffle Not Working
🏷 Fix 5. Disable Amazon Music Explicit Feature
The Amazon Music explicit filtering feature allows users to choose whether or not they want to hear explicit content in their music. Amazon Music will skip or not play explicit songs when the feature is enabled. But don't worry, you can get rid of this situation by blocking explicit songs on Amazon Music:
Step 1. Open the Amazon Music app on your device and tap on the top-right profile picture to pull down the menu.
Step 2. From the drop-down menu, choose 'Settings'.
Step 3. In the 'Playback' section, switch off the button next to 'Block explicit songs'.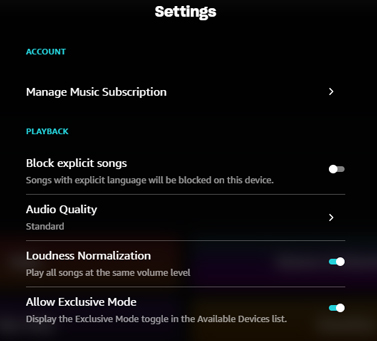 🏷 Fix 6. Unload and Download Amazon Music Songs
Some songs you download from Amazon Music may be problematic or not compatible now with the app. You will get stuck in this situation after switching from online mode to offline mode on Amazon Music. The downloaded Amazon Music will disappear. In this case, you have to delete and re-download those tracks. Operating details are displayed below:
Step 1. Find the songs you need to unload from Amazon Music.
Step 2. Touch on the three vertical dots on the item.
Step 3. From the pop-up list, choose 'Remove from Library'.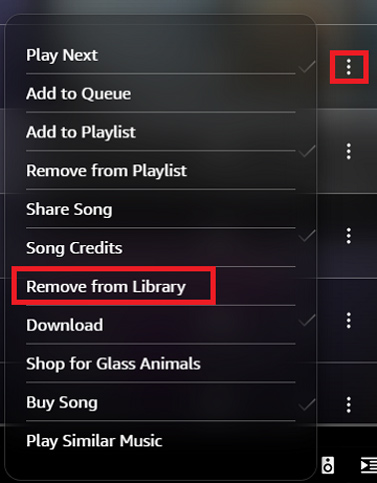 🏷 Fix 7. Switch Between Offline and Online Mode
When you stream Amazon Music offline, Amazon Music will skip over some songs you don't download before. To solve this problem, you are required to switch from the offline mode to the online mode by following the instruction:
Step 1. Tap on the bottom 'Library' section and then the gear icon in the upper right corner.
Step 2. From the pop-up menu, toggle off the 'Offline Mode' button.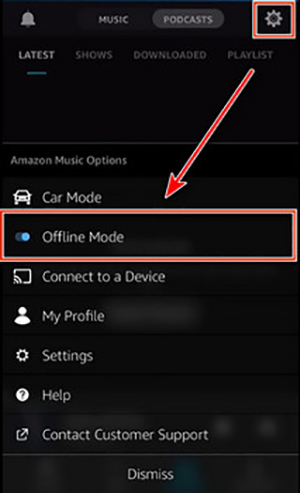 Note: As for other factors, you can stop Amazon Music from skipping songs via those general methods:
1. Restart the Amazon Music app or your device
2. Update to the latest version of the Amazon Music app and your device system firmware
3. Uninstall and install the Amazon Music app
Part 3. Best Way to Fix Amazon Music Songs Skipping Issue on All Devices
You may find that none of the above methods works for you since the Amazon Music app has some unexpected glitches. So, you need to get resort to a third-party tool to get rid of this issue thoroughly.
AudFree Amazon Music Converter should be taken priority. It is designed for all Amazon Music users, helping them download all content from Amazon Music for offline playing and convert the downloads to MP3, FLAC, AAC, M4A, and other commonly-used output formats. With expert conversion technology and fast 5X speed, this out-performing gadget can keep the original Amazon Music audio quality and metadata like ID3 tags. Thus, you can listen to Amazon Music on all devices or players off the grid without the Amazon Music skipping songs issue, even if you are an Amazon Music free user.
AudFree Amazon Music Converter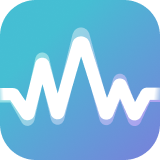 Support Amazon Music Free/Prime users to download Amazon Music offline
Convert playlists from Amazon Music to plain audio formats like MP3, FLAC, etc.
Start the Amazon Music conversion at 5X speed while keeping quality lossless
Play offline local Amazon Music files anywhere without any problems
Download Amazon Music for Offline Listening without Playback Error
If you are new to this converter, you can install it on your Mac or PC by hitting the above green 'Download' button. It offers you a free version forever. But please notice that, without a full version, you can only convert 1 minute for each file. To enjoy the complete feature, please get a license to unblock it. Now, come with us to look at how to use it.
Step 1

Copy Amazon Music Audio Files to AudFree Amable

The Amazon Music app will launch in sync while opening AudFree Amazon Music Converter. Copy the URL links of songs, playlists, albums, etc. from Amazon Music and paste them into the converter. Next, click the top-right '+' tab to add files. Or, you can use drag each track or the whole playlist from Amazon Music and drop them into AudFree's window.
Step 2

Choose Amazon Music Output Formats and Parameters

Touch the toolbar looking like three horizontal lines in the top right corner of the AudFree software. Then from the pop-up list, select 'Preferences' > 'Convert' to switch to the formats section. You can change the output formats and other parameters. There are 6 formats provided to you: MP3, AAC, FLAC, WAV, M4A, and M4B. To play on all devices more conveniently, we recommend converting Amazon Music to MP3.
Step 3

Export Amazon Music Locally without Playing Error

To commence the process by hitting the 'Convert' button in the bottom right corner. Then the Amazon Music files will be converted and stored locally. You can play those converted Amazon Music offline on any device you want at any time without the Amazon Music keeping skipping songs randomly issue.
Part 4. Extension: Why Can't I Skip Songs on Amazon Music
On the contrary, many people are seeking solutions to solve the Amazon Music can't skip songs trouble. They responded that when they want to skip to the next songs, Amazon Music will prompt them that "only 6 skips are allowed every 60 minutes". The skip button on the lock screen didn't work, which is annoying. In fact, for Amazon Prime and Free users, the playlist can only play in random order, allowing users to skip only 6 times on voice each hour, while Amazon Music for Unlimited users don't have this Amazon Music skip limit.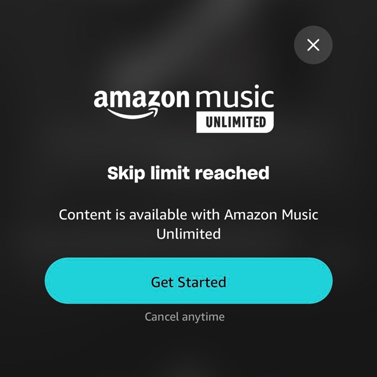 To solve this problem, you can upgrade to Amazon Music Unlimited. Or, you can skip songs manually since users on visual are able to stream tracks without skip restrictions.
If it is to no avail still, you can get support from Amazon Music Customer Service for further or give AudFree Amazon Music Converter a shot.
Part 5. FAQs about Amazon Music Skips Songs
Q1: If you skip a song on Amazon Music will it play later?
Nope. Skipping a song means that you tell Amazon Music to play the next songs in the playlist and the playing queue. The skipped tracks won't play until you add it as the next song again, choose to play it again, or use the back button.
Q2: What button can skip songs in the Amazon Music program?
By clicking on the Next button located in the current playback control bar and on the right of the Pause button, you can go back to play the songs. But with a voice assistant like Alexa, you can just say 'Alexa, skip songs'.
Part 6. In Conclusion
This post has come up with 7 troubleshooting fixes to get rid of the Amazon Music skipping songs issue, among which AudFree Amazon Music Converter can download Amazon Music as local files and play on any device. With it, you can be protected from encountering all Amazon Music playback errors.