Today, the prominence of music streaming services is increasing exceedingly. And on the market, music lovers have developed a persistent taste for Spotify and iHeartRadio. But who is the king, when Spotify vs iHeartRadio is put in a test?
They share the same market of music lovers, they have over 100 million subscribers (they are all the big players in the music streaming industry), but their distinctive feature creates the iHeartRadio vs. Spotify battle. Who appeals more to your ears? Let's put the two in a test, and have an in-depth view of who outcompete the other in the battle for music lovers' attention in the music streaming service industry.

What's Spotify vs What's iHeartRadio
Spotify
Spotify is a streaming music giant which dates its origin back in October 2008. Literally, Spotify is the creator of the music streaming market. It is one of the world's biggest player in the music streaming market today, with over 200 million subscribers across the globe. The service presents content with DRM protection from record label and media companies.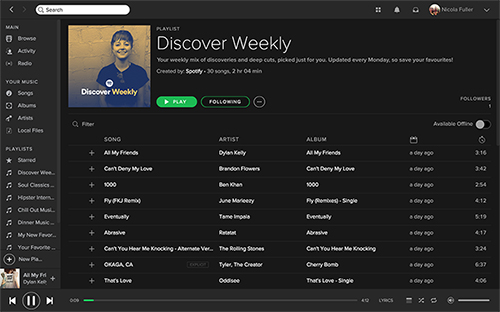 iHeartRadio
It is the USA terrestrial radio giant that started in April 2008. The radio giant launched two paid music streaming subscriptions, iHeartRadio Plus and iHeart All Access plans to unlock all-you-can-eat tunes and to take on streaming music services giants like Spotify. Furthermore, iHeartRadio lets you listen to top radio stations, comedy and sports alike.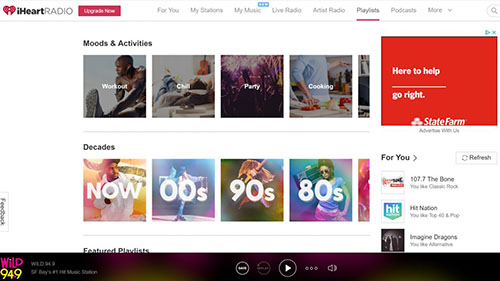 iHeartRadio VS. Spotify 2019
Both Spotify and iHeartRadio are giant in different ways. But let's dig deeper into specifics like music library, audio quality, music discovery, price, and other features and see who deliver what appeals to your ears.
Music Library
When it comes to the music library, Spotify has the world's most extensive music collection with 35 million + tracks but features like "New Releases" expands its music library. Spotify's catalog is deep and incorporates exclusive live sessions and many new singles that provides the best way to listen to established and rising artists.
On the flip side, iHeartRadio has over 20 million tracks on its catalog and streaming radio from over 1500 AM and FM live radio station across the entire globe.
When it comes to the music library, Spotify is far much ahead of iHeartRadio.
Audio Quality
Spotify allows you to choose the bitrate according to your listening experience. You can select from 24Kbps, 96Kbps, 160Kbps, and 320Kps depending on different subscriptions and devices. Many listeners won't notice the difference.
Tips: When you are using Spotify free account but like to explore nice listening experience, AudFree Spotify Music Converter can help you to make it available, which can increate Spotify bit rate from 160 kbps (for free users) to 320 kbps with ease and download Spotify music for offline playback freely.
At the same time, iHeartRadio streams at 128 kbps sound quality. You can also follow this tutorial to download and record iHeartRadio music to common audio files with high quality.
Spotify's ability to select a bit rate, and offering a higher quality makes it a better option when compared to iHeartRadio.
Music Discovery
On Spotify, music discovery is rather poor. You must enable Facebook to unlock social recommendation. "What's new" and "Top List" is disappointingly static. But when you search for a specific artist, it has a near to perfect algorithm that presents precise music you want to hear and won't play any other artist' music. Spotify also present suggestion depending on your favorite artist through the "like" feature that presents music you like, and "hide" feature that limits music that does not appeal to you.
iHeartRadio is a solid tool for music discovery because of its Discovery Tuner utility. Besides, the radio channel often plays new music. And when you have iHeartRadio All Access tier, it has a killer feature that flawlessly interlinks the radio and the streaming library that instantly adds the music of your desire to playlist. But the radio is subject to overplaying popular music which might inconvenience the discovery of new music.
On music discovery, Spotify has more features to discover new music than iHeartRadio.
Spotify premium vs iHeartRadio
iHeartRadio has new services, which offers different music streaming experience.
First off, there is iHeartRadio Plus which goes for $4.99 per month. The tier acts like a souped-up version of the existing radio streaming app. The tier allows you to play any song on demand, replay songs from custom and live video, get unlimited skips, and save songs from the radio to a playlist.
Second, there is iHeartRadio All Access tier for $9.99 a month, which directly competes with the giants, like Spotify in the music streaming world. The subscription unlocks all the service in the Plus tier, plus offline listening, unlimited access to millions of songs and the ability to create unlimited playlists.
This app also offers free playlists that are perfect for any moment. You can also go a notch higher and play free artist stations by creating personalized music stations that suit your preference.
On the other hand, Spotify has a $9.99 unlimited tier that offers a seamless experience across your entire library. And that's where Spotify shines. No more ads, No more shuffle-only mode, unlimited skips, offline listening — save up to 3333 each on 3 devices, best-compressed bitrate of 320kbps and Spotify connect which controls Spotify music across multiple devices.
Even though both Spotify and iHeartRadio have a free basic plan, Spotify Premium has tons of features compared to the features iHeartRadio offers for the same price.
User Experience and Device Compatibility
Comparing iHeartRadio vs Spotify 2019 user experience, Spotify has over 100 million paid subscribers globally, the highest number of paying subscribers in the music streaming market. In total, it has over 217 million active users worldwide. The number is well ahead of any other music streaming service there is.
On the other hand, iHeartRadio has a total of over 120 million users. The number of paid subscribers remains unknown, but it is pretty clear they provide an outstanding user experience.
As the data indicates, Spotify appears to interest music lovers more, both the free and paid subscribers. The high number of paying subscribers translates to an outstanding user experience people are willing to pay for.
In Conclusion
The overall performance of Spotify vs iHeartRadio all access will leave you with a tough decision. However, if you're only looking for radio listening with no ads, iHeartRadio is the obvious choice. However, if you're willing to pay for music streaming, it gets tricky. If you want to choose from a massive music catalog, a variety of audio quality, and seamless user experience, then the decision would be easier given the Spotify's excellent features.