Music streaming services have become increasingly popular in recent years, allowing users to access millions of songs with just the touch of a finger. The two leading music streaming services on the market today are Tidal and Spotify. However, both services offer unique features and benefits that make it difficult for users to decide which one to choose.
So, in this article, we'll take a closer look at Tidal vs Spotify, comparing some of their key features such as music library, price plans, sound quality and more to help you make an informed decision.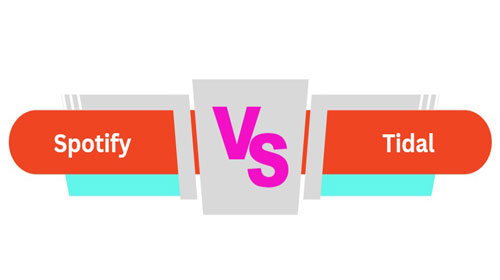 Part 1. Tidal vs Spotify: Overview
Tidal is a music streaming service that was launched in 2014 by Norwegian company Aspiro. It offers users the ability to stream music in lossless, high-fidelity audio quality, which means that the sound is much clearer and more detailed than what you would get from a standard music streaming service. Tidal also offers exclusive content from some of the biggest names in music, including Beyonce, Jay-Z, and Prince.
Spotify, on the other hand, is one of the oldest music streaming services in the world. It was launched in 2008 by Swedish company Spotify AB. Spotify offers a wide range of playlists and podcasts, as well as personalized recommendations based on a user's listening history. Spotify also has exclusive content from artists such as Taylor Swift and Joe Rogan.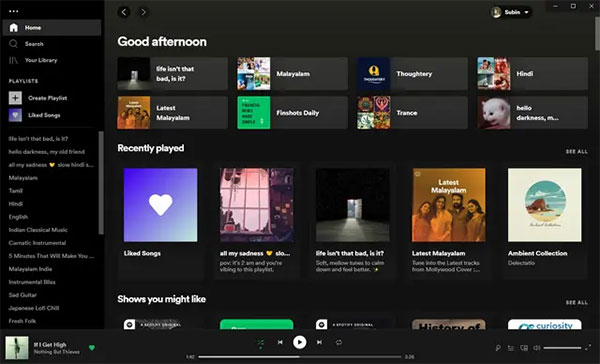 Is Tidal better than Spotify? You can find out the difference between Tidal and Spotify based on the following aspects.
Part 2. Music Library
When it comes to Spotify vs Tidal library, both Tidal and Spotify offer millions of songs for users to choose from. However, Tidal is known for its high-quality audio, offering users access to lossless audio and high-fidelity sound. Tidal also has a strong focus on exclusive content, with many artists releasing music exclusively on the platform.
In terms of music library size, Spotify offers a more extensive music library than Tidal. It has over 100 million songs available to stream, making it the largest music streaming service in the world. Spotify also offers personalized playlists based on user listening habits and preferences.
🏆 Winner: Spotify
Part 3. User Interface
Tidal has a darker and more sophisticated interface that is suitable for music lovers who want a more immersive experience. Tidal's interface has more features than Spotify's interface. It has a section called "My Collection" which allows you to easily access your favorite music, videos, and playlists. It also has a feature called "Tidal Rising" which highlights new and emerging artists.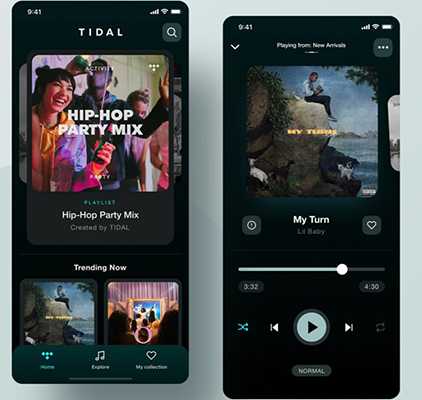 Spotify has a lighter and more colorful interface that is suitable for users who want a more fun and casual experience. Spotify's interface is simple and easy to use, with a search bar at the top and navigation tabs at the bottom. It also has a feature called "Your Library" which allows you to easily access your playlists, saved songs and podcasts.
🏆 Winner: Tidal
Part 4. Price Plans
Tidal and Spotify offer different price plans to suit different budgets and needs. Tidal has three price plans: Free, HiFi and HiFi Plus. The HiFi plan costs $9.99 per month and offers HiFi sound quality. The HiFi Plus plan costs $19.99 per month and offers MQA sound quality, which is great for audiophiles.
Spotify offers a free plan with ads, a premium plan for $9.99 per month. The premium plan removes ads and allows you to download Spotify songs for offline listening. Now, please refer to the detailed table below to see the difference in Tidal versus Spotify prices.
| | Free | Premium Individual | Premium Family | Premium Student | Others |
| --- | --- | --- | --- | --- | --- |
| Spotify | Yes | $9.99/month | $15.99/month | $4.99/month | Premium Duo: $12.99/month |
| Tidal | Yes | $9.99/month(HiFi); $19.99/month(HiFi Plus) | $14.99/month(HiFi); $29.99/month(HiFi Plus) | $4.99/month(HiFi); $9.99/month(HiFi Plus) | Military: $5.99/month(HiFi); $11.99/month(HiFi Plus) |
🏆 Winner: Spotify
Part 5. Sound Quality
Tidal offers three tiers of audio quality: Standard, HiFi, and Master. The Standard tier uses AAC at 160 kbps, while the HiFi tier uses lossless FLAC at 16-bit/44.1kHz. The Master tier uses MQA technology to deliver hi-res audio at 2304-9126kbps.
In comparison, Spotify offers five sound quality options: Automatic, Low, Normal, High and Very High. The Low option is compressed audio at 24 kbps, while the Normal option is at 96 kbps, and High tier offers 160kbps. The Very High tier option offers compressed audio at 320 kbps for its Premium subscribers.
In terms of Spotify vs Tidal quality, Tidal's HiFi and Master tiers offer higher quality audio than Spotify's Premium tier.
🏆 Winner: Tidal
Part 6. Device Support
As for Spotify versus Tidal availability, both Tidal and Spotify are widely accessible across multiple devices, including smartphones, tablets, computers, and smart speakers. However, Spotify has a larger market share and is available in more countries than Tidal. Spotify service also integrates with third-party apps like Google Maps and Waze for seamless listening on the go.
While Tidal has an advantage over Spotify when it comes to device support for high-quality audio. Tidal supports several devices that are compatible with lossless audio quality, such as Sonos speakers and McIntosh audio systems.
🏆 Winner: Spotify
In fact, there are some limitations to the usage of Spotify songs. For instance, Spotify music can only be played on Spotify app and authorized devices and players. This means that if you want to listen to your favorite Spotify songs on a device that is not authorized, such as an MP3 player or a car stereo, you may be out of luck.
This is where AudFree Spotify Music Converter comes in. It is a powerful tool that allows users to convert Spotify songs to common formats such as MP3, FLAC, WAV, and AAC. Then you can listen to Spotify songs on any device offline for free. Let's take a look at the following simple tutorial to use AudFree Spotify Music Converter.
Step 1. Click the Download button below to download and install AudFree Spotify Music Downloader.
Step 2. Launch it and select your favorite songs in the Spotify app. Drag and drop it directly to the main screen of the program.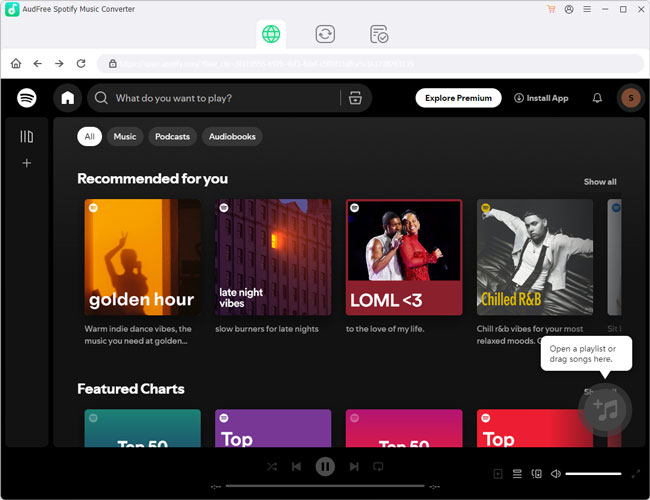 Step 3. Click "Menu" > "Preferences" > "Convert" in the upper right corner to choose output format, channel, sample rate, bit rate, etc.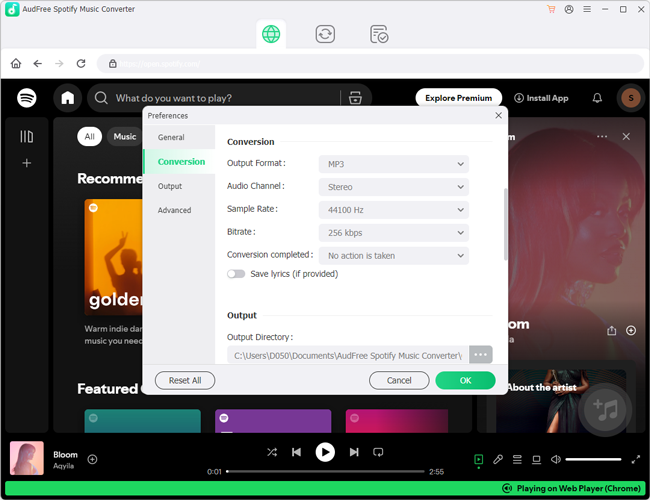 Step 4. Click "Convert" button to start converting Spotify to MP3 or other popular formats locally. Then you can listen to Spotify offline on other devices for free.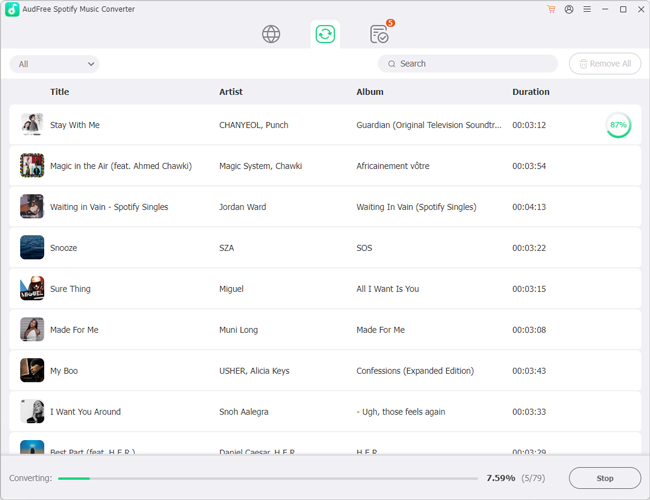 💡 Tips: If you are a Tidal user, you can use AudFree Tidal Music Converter to break the Tidal protection. It can download Tidal to FLAC and AAC to your computer locally so you can play it on any other player. To learn more details, you can refer to this source page: How to Download Tidal Music on PC.
Part 7. Music Discovery
Both Tidal and Spotify offer great options for music discovery. Spotify has a feature called "Discover Weekly" which creates a personalized playlist based on your listening habits. It also has "Daily Mixes" which are personalized playlists based on different genres.
See More: How to Find, Save and Download Spotify Daily Mix
Tidal also has a great feature called "My Mix" which creates personalized and exclusive playlists based on user preferences and habits. It also has a feature called "Tidal Rising" which highlights new and emerging artists.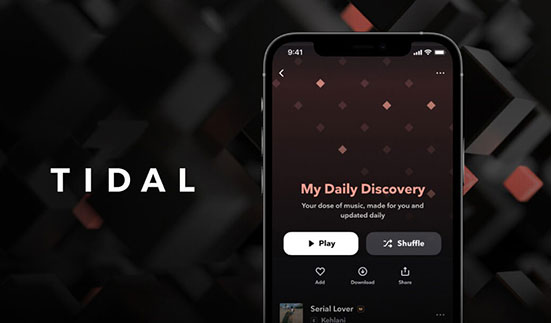 🏆 Winner: Spotify
Part 8. Social Features
Spotify is well-known for its social features, which include the ability to create and share playlists with friends, follow other users and see what they are listening to, and even collaborate on playlists with friends. Spotify also allows users to share their favorite songs and playlists on social media platforms such as Facebook and Twitter.
Tidal, on the other hand, has a more limited set of social features. While users can create and share playlists with other users, there is no option to collaborate on playlists or follow other users. However, Tidal does offer exclusive content such as live concerts and interviews with artists, which can be a draw for music enthusiasts.
🏆 Winner: Spotify
Part 9. Artist Payment
Regarding Spotify vs Tidal artist pay, Tidal pays artists more per stream than Spotify. Tidal pays an average of $0.0125 per stream, while Spotify pays an average of $0.0032 per stream. According to Tidal, it pays out 80% of its revenue to rights holders, which is higher than the industry average of around 70%.
Spotify has a larger user base and therefore generates more revenue overall. However, Spotify's payout per stream is lower than Tidal's. Spotify also faces criticism for its royalty payment model, which pays out based on the total number of streams rather than the number of listens by individual users. This means that popular artists and songs receive a larger share of the revenue, while smaller artists and songs receive less.
🏆 Winner: Tidal
Part 10. Which Is Better: Spotify vs Tidal
Is Tidal worth it over Spotify? You can make your own judgment based on the above mentioned Tidal vs Spotify sound quality, Tidal HiFi vs Spotify, etc. Also, the comparison table below will help.
Streaming Service
Tidal
Spotify
Launch Date
2014
2008
Audio Quality
Standard: AAC, 160 kbps
HiFi: FLAC, 16-bit/44.1kHz
Master: MQA, Hi-Res 2304-9126kbps
24kbps-320kbps
Price
Free
HiFi: $9.99/month
HiFi Plus: $19.99/month
Free
Premium: $9.99/month
Music Library
Over 100 million tracks
100 million songs and 5 million podcasts, audiobooks
Compatibility
iOS, Android, web, desktop
iOS, Android, web, desktop
Availability
56 countries
178 countries
Artist Payment
$0.0125 per stream
$0.0032 per stream
Tidal vs Spotify both have different strengths and weaknesses across different categories. If you are an audiophile who wants the best possible sound quality, then Tidal is the better option. If you are looking for a wider range of price plans and device support, then Spotify is the better option. Ultimately, it depends on your personal preferences and priorities when it comes to music streaming.