Music streaming services have grown steadily over the years that it virtually impossible to choose among the many options available. However, when it comes to sound quality and other great features, the two leading music streaming services are Tidal and Spotify.
Tidal is relatively new but is backed by some of the leading artists such as Jay Z, Kanye West, and Rihana among others. This gives it authenticity in the music industry and access to so many great offerings for users. Spotify, on the other hand, is one of the oldest music streaming services in the world and as everyone would expect it is also the most popular music streaming service in the world with over 70 million users worldwide.
This article provides a detailed comparison of these two music streaming services. To understand this Tidal vs Spotify comparison, let's consider a number of their important features and how they measure up to each other.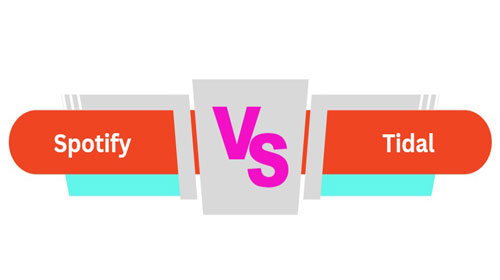 Tidal vs Spotify Music Library
When it comes to music library Tidal has an edge over Spotify. Tidal has over 53 million songs in its music library while Spotify has over 30 million songs. Although this difference may seem huge, actually it doesn't count a lot because generally, no individual will ever come close to listening to over 30 million songs in a year. However, if you are a real music lover, there some songs and a number of artists that may be missing on one platform and this may mean that you will want a service with the most songs.
When looking at the music libraries in this Tidal and Spotify comparison, it is also important to consider videos. Here Tidal still has an upper hand over Spotify. Tidal has over 200,000 HD quality music videos in its music libraries while Spotify is just beginning to test the waters in this area. If you love watching music videos then you will love Tidal more not just because of the number of videos they have but also the quality. In addition, the platform has videos for concerts and other events that are not available on any other music streaming platform.
However, it is important to mention the fact that Spotify makes up for its limited depth in tack numbers in the Spotify vs. tidal comparison by providing its user with the discover weekly playlist, which is an awesome feature that helps users finding new music that they haven't listened to yet. There is the release radar updated every Friday with newly released songs within the week. The Daily Mix feature will also help you discover new songs that you haven't listen to yet. Tidal also help you discover new music by providing you with curated playlists and recommended albums and tracks in hi-fi.
Spotify vs Tidal Price Plans
How about the price in the Tidal and Spotify comparison? In fact, there is no clear winner because they two services have similar pricing plans with very minor differences that won't make a lot of difference. Both Tidal and Spotify offer premium subscription plans at $9.99 per month, family plans at $14.99 per month and student plans for $4.99. The only difference is that Tidal offers a lossless high fidelity quality plan at $19.99 per month which way higher than any plan offered by Spotify. However, it also has a special plan for the military which goes for $5.99 per month.
Spotify vs Tidal Sound Quality
If sound quality is of the greatest importance when choosing a music streaming service then you will love Tidal any day. The service so far has the best sound quality than any competitor, but it comes at a cost. Their lossless High Fidelity music plan goes at 19.99 a month but lets you enjoy listening to music in FLAC format at 1411 kbps bit rate, which is the same quality as the music on your CD and about four times as the best quality offered by Spotify at 320kbps.
In this regard, Tidal is a clear winner in the Tidal HiFi vs. Spotify sound quality comparison. The premium subscription for the two services stream music at 320kbps but Spotify also stream music at both 96kbps and 160kbps. For a normal premium subscriber, the Spotify vs. tidal sound quality is more the same. However, for those of you who listen to our tidal music on external speakers then the tidal HiFi quality gives you the best quality.
Exclusive Tracks and Offers
Exclusives offers are one reason why many music lovers and especially the youth in the United States are shifting their allegiance to Tidal as opposed to Spotify. Tidal is backed by big names in the music industry this gives the platform the clout when it comes to offering exclusive tracks especially when a new album or single is released. Spotify also offers exclusive tracks but does not have the same clout and reach as Tidal.
Tidal is also known to give exclusive offers to its users in terms of exclusive tickets to events in the music industry. This stems from the fact that Tidal is backed by big names in the industry who makes it possible for users of the platform to have an early access to events or even win albums.
Conclusion and Suggestion
Spotify and Tidal operate at almost the same level in many aspects. This means that the choice of any particular music streaming services over the other is purely a personal choice based on personal preferences. However, it is important to note that Tidal has an edge over Spotify in terms of the libraries both in terms of the number of tracks on the side and videos on the platform. In addition, Tidal offers the best sound quality of any music streaming services out there.
More Tips: Transferring Spotify Songs to Tidal
If you are one of the many Spotify subscribers who has been totally sold out on the sound quality and video offering by Tidal then the only option you have is to make the big switch. If you had a large collection of songs from Spotify then you would want transfer all your playlists to your new Tidal account, right? However, the Spotify songs are usually protected by a DRM and you will have to remove this protection before moving them.
One of the best tools to use to do this is the AudFree Spotify Music Converter. This third-party music converter will download Spotify songs and playlists offline while breaking DRM protection and convert Spotify to any format such as the FLAC and AAC in which Tidal streams songs, and even MP3 that you can play on any other player. For more detailed information, you can refer to this source page: How to Transfer Spotify Playlist to Tidal.